Binh Thuy ancient house in Can Tho: The 150-year-old history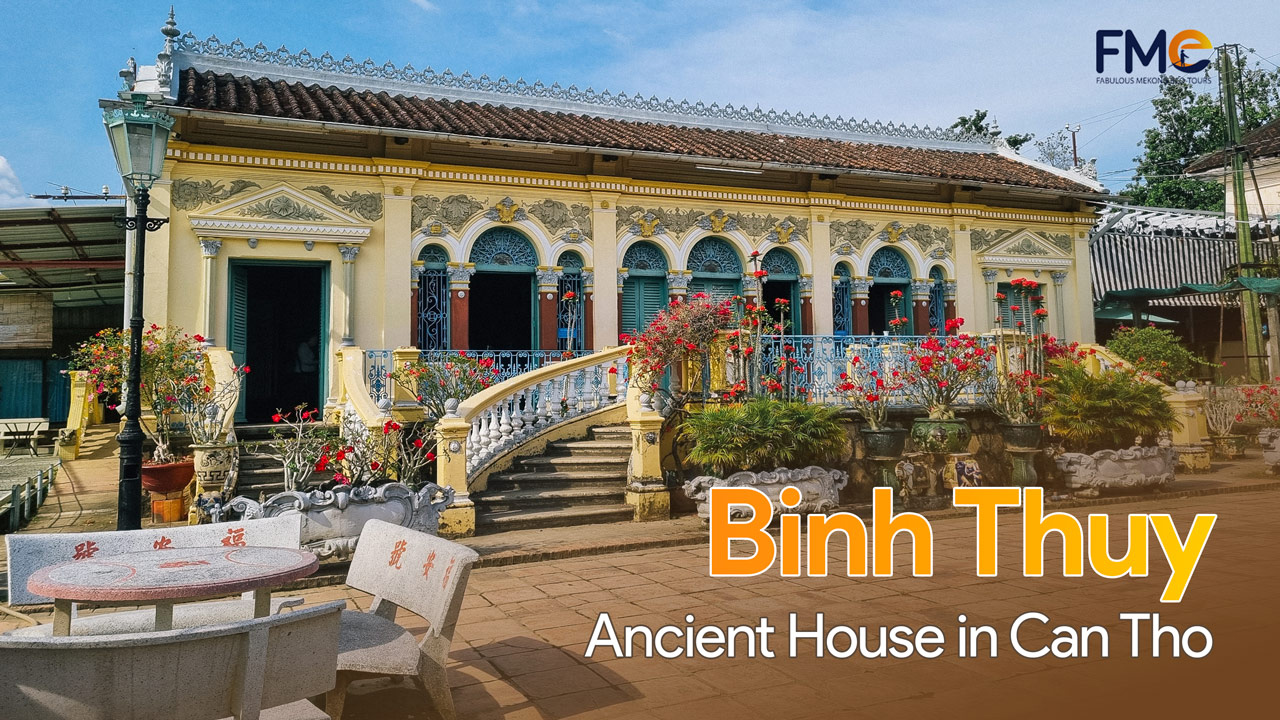 Binh Thuy ancient house can be considered one of the most prominent attractions in Can Tho and has been preserved quite completely until now. The house was built in 1870, with Eastern architecture mixed with a little Western breath, attracting people to visit and travel.
If you travel to Can Tho, try to visit this house. Here are the top 5 reasons that you should come to this ancient house once:
Contemplate antique and rare items dating back to ancient times.
Listen to mysterious stories about antiques in Binh Thuy ancient house.
Learn about the lifestyle and way of life of a wealthy family in ancient South Vietnam.
If you are a lover of ornamental plants, this place has a lot of rare ornamental plants for you to admire.
You can also take nostalgic photos.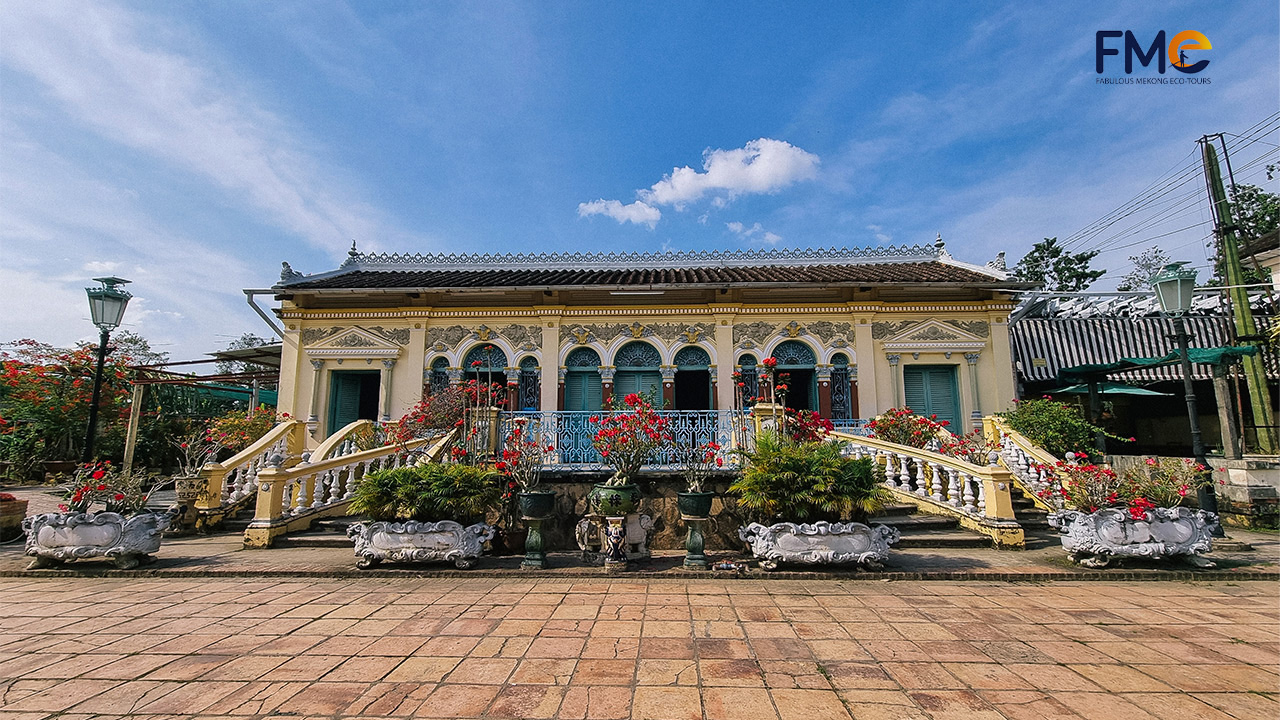 So now let's find out about this Binh Thuy ancient house in Can Tho with Fabulous Mekong Eco-tours.
Where is Binh Thuy ancient house?
Binh Thuy ancient house is about 10 km from the center of Can Tho city.
How to get to Binh Thuy ancient house?
By motorbike: If you are a lover of freedom, you can go to Binh Thuy ancient house by motorbike. Going by motorbike from the center of Can Tho to the old house only takes about 15 minutes. In addition, when you finish visiting the old house, you can visit other famous places in Can Tho.
By car: If you are traveling with many people such as a family or group, you can go by taxi or rent a 7-seat, 16-seat car.
The best time to visit Binh Thuy ancient house
Located in the western portion of the river, the Binh Thuy historic home in Can Tho experiences two distinct seasons throughout the year:
Dry period: December to August. The best months to visit Binh Thuy Ancient House are January through April when the weather is warm and sunny with a clear sky. Your photograph here will be really sparkly since the flowers in the garden at the old house display their lovely colors.
Rainy season: from September to November, you can enjoy popular tourist destinations in Can Tho including Cai Rang floating market, Bang Lang stork garden, Ba Bo flower village, etc. after visiting Binh Thuy ancient home.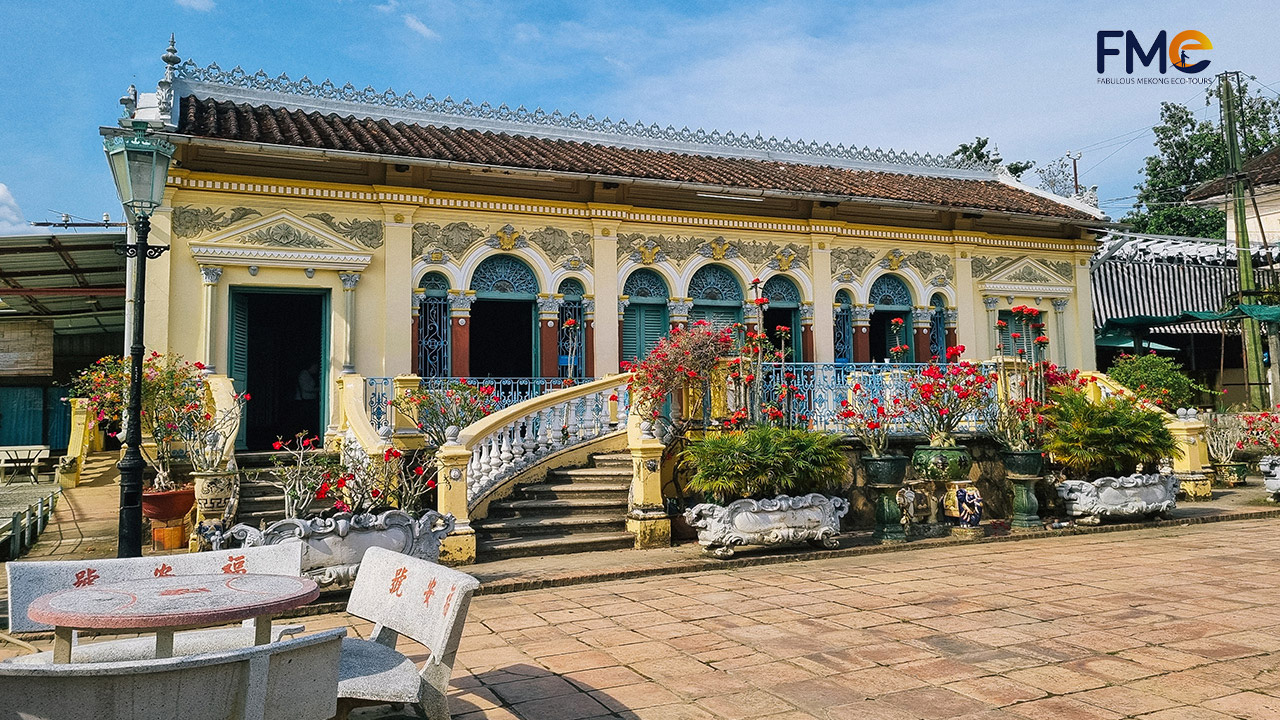 Opening hours and entrance fee
Opening hours:
Morning: 8 am – 12 am.
Afternoon: 2 pm – 6 pm.
This ancient house is still managed by the family, so you should visit the house at the opening hours above. The house will be closed at noon for the owner to rest.
Entrance fee: The ticket price to enter the ancient house is 20,000 VND per person ($0,8). And if visitors just stand outside the campus to visit, it's free.
In fact, this ticket price is not set by the local government, but by the old owner. Because this house is a heritage property owned by the Duong family, the ticket fee can also be understood as the money to ask the owner for permission to visit the house without limit.
Things to experience in Binh Thuy ancient house
Taking photos in nostalgic style
Tickets to visit Binh Thuy Ancient House are not limited in time, so if you have come here, you should take advantage of both admiring the beautiful architecture and taking pictures to check-in in a nostalgic style. Note that everyone should wear clothes with a bit of deep color, the image will be more beautiful when the color is up.
Learning about the lives of wealthy families in the past
Visit Binh Thuy Ancient House to step back in time and experience the opulent lifestyle of affluent Southern families. The housekeeper will describe the everyday routine of the Southern family more than a century ago: How to eat a family in the past, the significance of the reliefs and cement statues in the garden, and why a penjing was erected at the main gate, etc.
Visiting film studios of many famous movies
Because of its unique artistic and historical value, Binh Thuy Ancient House soon became an ideal studio for directors. Specifically, many famous films have been filmed here such as Cong Tu Bac Lieu, Nguoi Dep Tay Do, Nhung Neo Duong Phu Sa, Bao U Minh, No Doi, Dong Song Hoa Trang, etc.
The classic footage shot here also partly depicts the unique cultural values of the West during that period and makes the audience's hearts fall in love with the liberal and lyrical features of the Southern River region.
The most special among them is the most famous movie: "The lover" (The lover – 1992) by veteran director Jean Jacques Annaud (France).
Contemplating Mexican Cactus 12 meter high
A priceless plant in Binh Thuy Orchid Garden is the Mexican cactus. According to the owner of this giant cactus, this is a cactus that originated in Mexico and has been grown since the 1960s.
After more than 60 years, the tree grows big and strong, with a height of about 12m. To prevent the tree from falling, when the cactus was about 3-4m high, the owner made a protective zinc frame around it.
Currently, the cactus is located in the courtyard of the cafe on the grounds of Binh Thuy ancient house for visitors to admire. In addition, 20 years ago, the owner of Binh Thuy ancient house planted a cactus similar to Mexico. Currently, the tree is about 5m tall and is growing well.
Visiting a "national-level artistic monument" in Can Tho
In 2009, Binh Thuy ancient house was recognized by the Ministry of Culture, Sports, and Tourism as a "national-level artistic monument". Because of this, it is one of the few ancient houses that have remained intact today. Additionally, it has great value in helping studies into the history, culture, and traditions of the inhabitants of the river delta.
Visiting Binh Thuy orchid garden and antique store
Not only famous for its splendid and magnificent main house, but Binh Thuy ancient house is also famous near and far for its Binh Thuy orchid garden and a rich treasure of valuable antiques.
Mr. Duong Van Ngon, the fifth-generation descendant of the Duong family, has an interest in ornamental flowers. Mr. Ngon has collected wide rare orchid varieties from all over his home garden. In particular, the famous Mexican Kim cactus over 40 years old is extremely famous.
At that time, Mr. Duong Van Ngon also invited his friends from near and far to come here to enjoy flowers and have fun, turning Binh Thuy's ancient house into a rendezvous for those who love ornamental flowers.
Besides the beautiful Binh Thuy orchid garden, Binh Thuy ancient house is also a place to keep a treasure of rare antiques.
Since ancient times, the Duong family has been famous for their hobby of playing with antiques, many valuable antiques are collected and stored here such as marble tables and chairs from Yunnan (China), and French sofa sets. From the Louis period, cups from the Ming-Qing dynasties, and a pair of hanging lamps from the 19th century.
Listening to the story of seven sets of stone benches in Binh Thuy ancient house
In 1945, the French colonialists invaded our country, and the provisional state at that time launched the entire people's resistance. In December 1945, our army in Can Tho clashed with the French and the South became a fierce resistance battlefield. Our army ambushed many French officers at that time but also sacrificed all 7 revolutionary soldiers.
To commemorate the heroic feats and sacrifices of 7 soldiers, Mr. Duong Van Ngon built 7 sets of stone benches. Today, visitors to Binh Thuy ancient house can see these seven sets of stone benches in the left corner of the front yard.
History of Binh Thuy ancient house
Binh Thuy canal of the Long Tuyen ancient village at that time was a lush land all year round, and the people lived happily. This rich land is flocked by people from all over the world to live and do business.
Around the end of the 18th century, the Duong family, specifically Mr. Duong Van Vi (3rd generation), was also one of them when deciding to choose this place as a place to settle down and settle down for generations.
In the 1870s, the house was first built with sketchy architecture, constructed only of wood and tiled, used for ancestor worship.
The Duong family church is located on a field of about 8,000m2 in the East-West direction. It was not until more than 30 years later, after Mr. Duong Van Vi's death, that this house was designed and rebuilt by his youngest son, Duong Chan Ky, a wealthy landowner in the Mekong Delta in 1904, and completed around 1911.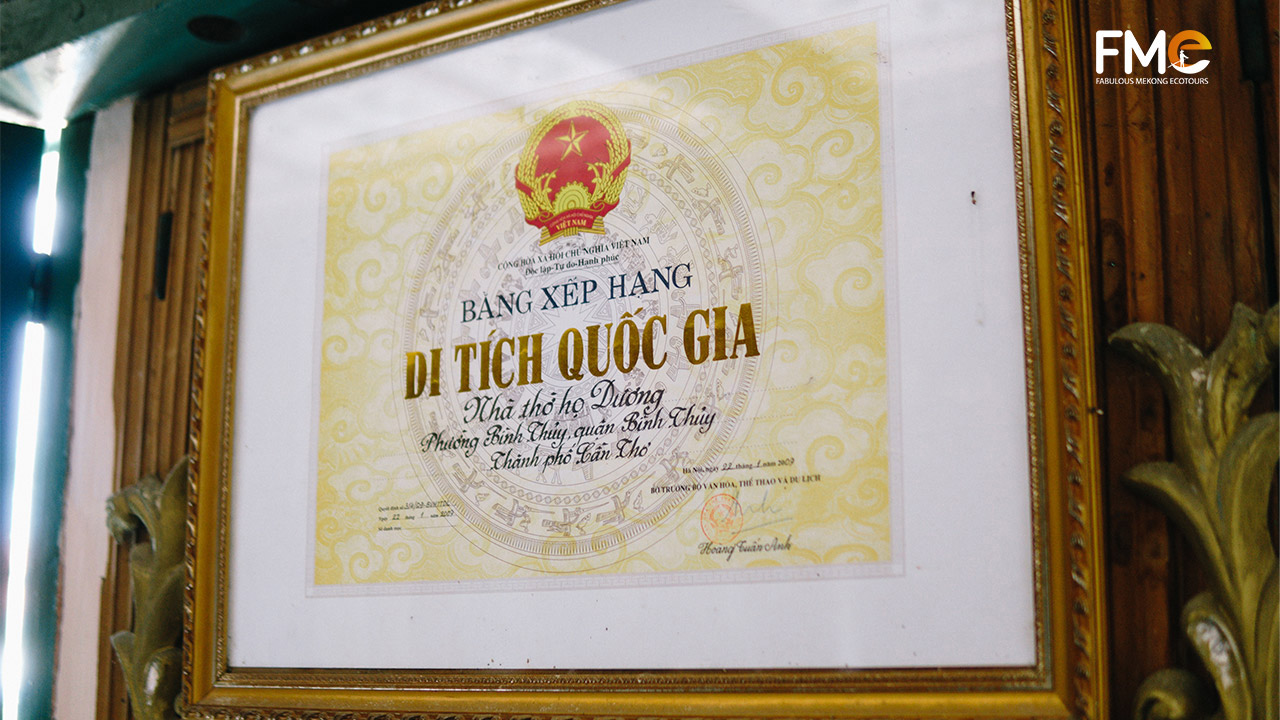 Especially, because at that time the Duong family was a wealthy, noble, prosperous family after 3 generations of working as a merchant, Mr. Duong Chan Ky had the opportunity to study abroad in France.
Thanks to the opportunity to be exposed to Western culture with his intelligent nature, and a special passion for architecture, art, and inherent feng shui, Mr. Duong Chan Ky has contributed to building a unique architecture. It is an ingenious and delicate combination of Western architecture into the cultural soul of the nation.
After completion, Binh Thuy ancient house is considered an architectural work bearing the impression of oriental elements, both ancient and dignified, and in harmony with the modern, liberal, and elegant features of the West. It has become a nostalgic mark with a history of nearly 150 years from the time of Long Tuyen ancient village to the present day.
The architecture of Binh Thuy ancient house
Binh Thuy ancient house, more than 150 years old, is one of the rare architectural works that still retains its inherent beauty through the ups and downs of history. The architecture of Binh Thuy Ancient House is an artistic and delicate combination of the values ​​of Western culture, with the national cultural soul in the worship space, decorative patterns, and motifs.
External architecture
With a total area of ​​​​about 6,000 m2, it can be said that this unique old house strictly adheres to the ancient feng shui rules in every construction detail. In front of the house are roads and rivers to catch the cool and fresh air, which is also a factor contributing to the convenience of moving.
In addition, the house is surrounded by a garden of fruit trees and flowers all year round: pine, fern, tall, fortune, porcelain… especially rare orchids and bonsai pots making this place both nostalgic, elegant, poetic, and full of freshness.
If you look from the outside, any visitor will think that the house is heavily influenced by Western culture, but if you go deep inside, you will discover a series of ethnic and cultural details that exist in the house.
A series of solid iron gate fences with concrete pillars as the main pillars, decorated with sophisticated motifs in European style, with goldfish, flowers, and leaves made of carved in a beautiful way and full of sophistication.
Inside, visitors will encounter a three-way gate according to Asian architecture, with 4 large pillars: 2 cement pillars and 2 wooden pillars. There are two large signs mounted here, with the words "Phu Tho Ho Duong" on the inside, "Phuoc An Hieu" on the front. The roof is covered with green glazed yin and yang tiles, the top is decorated with vivid and unique motifs.
When stepping through the three-way gate, visitors will see a large rockery about 4m, located in the aquarium straight on one axis with the main door from the road. This object is a screen that shields the house from the eyes of outsiders and goes straight inside.
To the left of the old house, there is a small earth god shrine, about 1m high, blue in color, roofed with yin and yang tiles, with no-frills motifs like a three-way gate. Behind the old house is a small aquarium, with a carp statue on the head, surrounded by a toad-shaped earthen statue.
Besides, the old house was also built on a fairly high foundation, the reason is also very simple to avoid flooding in the ancient land of the West. Another unique feature is that during the construction of the main house, the owner of the Duong family made a layer of salt about 10cm thick under the cement brick floor.
This is the experience of the people of the South in the past when building houses, to both repel insects and help keep the house airy but also avoid evil objects according to feng shui.
Internal architecture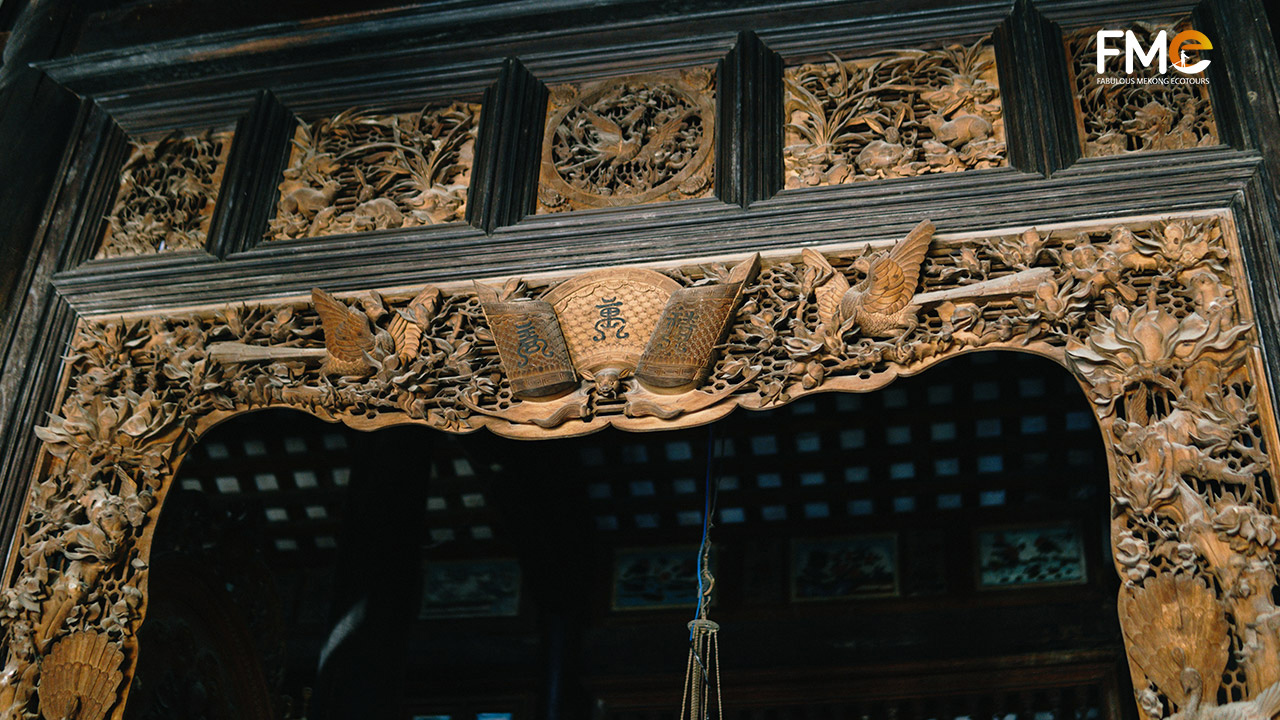 Binh Thuy ancient house has an architectural feature bearing the impression of East – West combined and it also broke the traditional 3-compartment house rule of Westerners when divided into 5 compartments in total. The dark brick background here is all imported directly from France.
In the front house, the middle house and the back house are built in a row and separated by delicately carved wooden circular doors.
The interior of the house has many antiques that are decorated and arranged symmetrically. The living room is in a classic European style with a French Louis XV salon set, a classic chandelier, etc.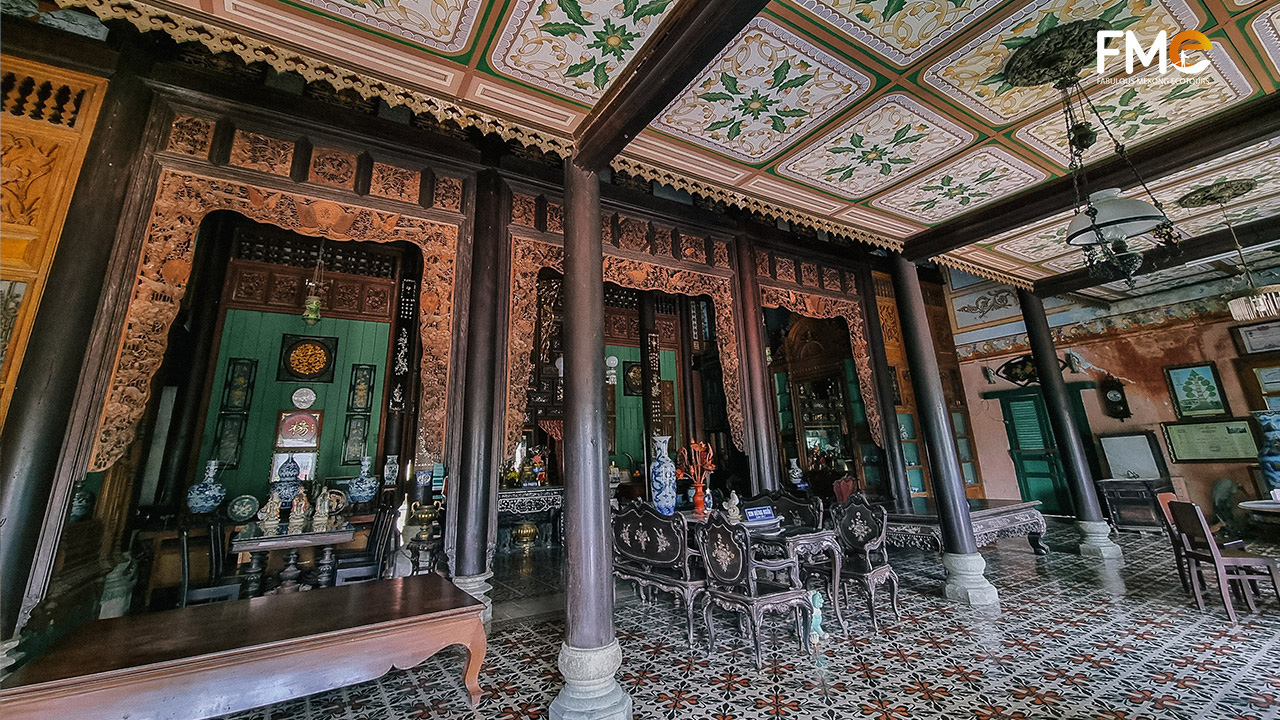 There are also other spaces in a lavish old Vietnamese style such as a set of wine cups from the Minh Thanh period, and a set of tables and chairs. Blue veined marble from Yunnan, 1.2m high green celadon vase… All have fully reproduced the image of a prosperous family at that time.
According to my experience as a tour guide in Can Tho, a special thing that we often find admiring the owner of Binh Thuy Ancient House is that although the East-West culture is mixed, the homeowner's place of worship still remains the same and has a very unique Vietnamese character.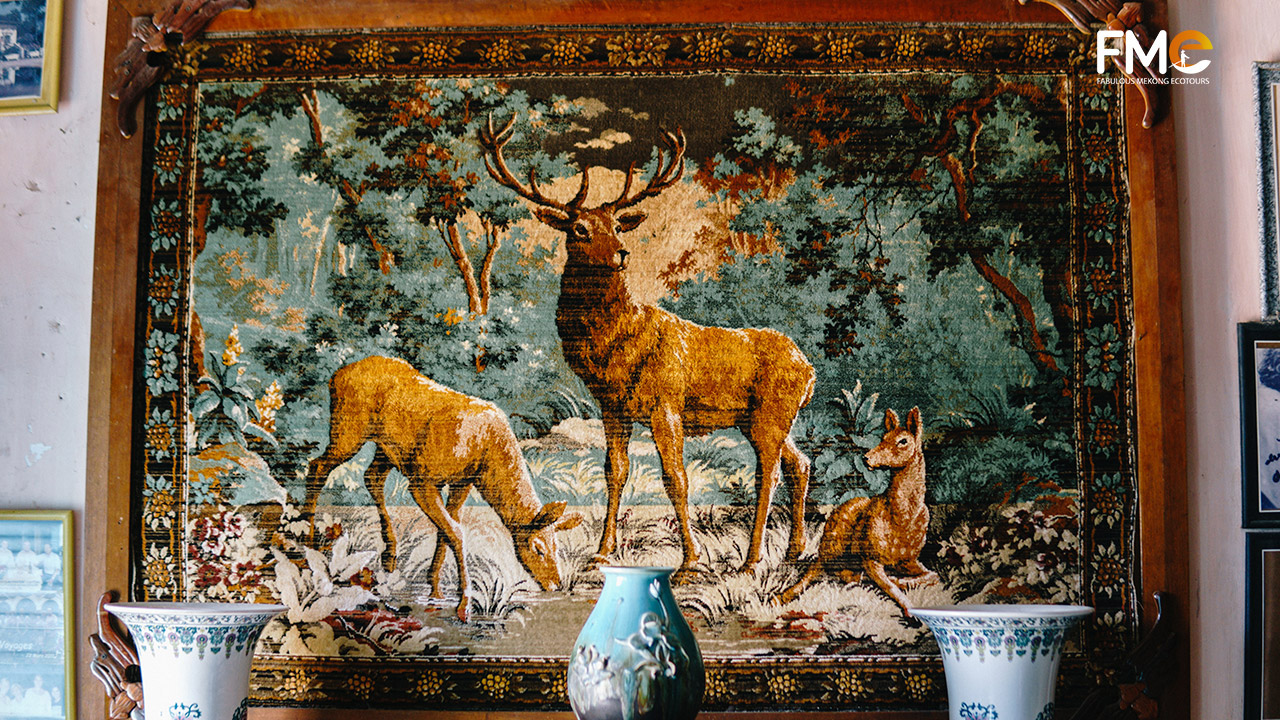 This also shows the sophistication as well as the aesthetic mind of the owner of the Duong family, although absorbing modern features but still retaining the soul of the nation.
Things visitors need to take into account.
You should take into account some things before visiting the Binh Thuy ancient house:
This ancient house is still managed by the family so visitors should visit the house on time. The house will close at noon.
If you take tourist photos, it's okay, if you shoot professional or wedding photos, you should ask the landlord because of a separate surcharge.
Most are antiques in the house, you should be careful if you bring small children.
You should take off your shoes and hat when entering the house.
What do other travelers feel after they visit Binh Thuy ancient house in Can Tho?
"Visiting the old house is really eye-opening. Maintaining such a house for tourists to visit must be very difficult. Hopefully, the house will last as long as possible." – Tue Tam.
"The ancient house has very beautiful and delicate architecture, although it is more than 100 years old, it is still preserved almost intact." – Cuong Nguyen.
"A must-visit address when coming to Can Tho, the house is more than 100 years old with very beautiful architecture. It's hot outside but it's cool inside. Really admire the hands of the workers who built the house." – Huyen Nguyen.
FAQ
Where is Binh Thuy ancient house in Can Tho?
Binh Thuy ancient house is about 10 km from the center of Can Tho city, located at 142/144 Bui Huu Nghia Street, Binh Thuy Ward, Binh Thuy District, Can Tho. 
How much does it cost to visit the Binh Thuy ancient house?
The ticket price to enter the ancient house is 20,000 VND per person ($0,8). And if visitors just stand outside the campus to visit, it's free.
What can visitors experience at Binh Thuy ancient house?
Visiting Binh Thuy ancient house, you will take pictures in a nostalgic style, listen to mysterious stories about this house and admire antique objects.
When is the time to visit Binh Thuy ancient house?
Opening hours:
– Morning: 8 am – 12 pm.
– Afternoon: 20 pm – 6 pm.
Find out more: Travel Guide to Can Tho.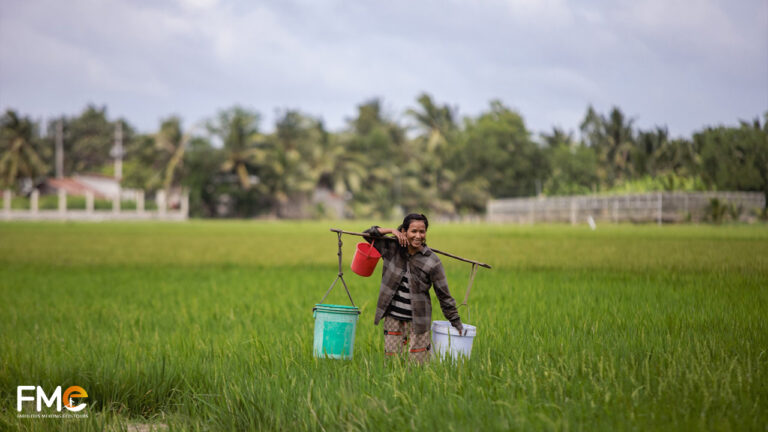 Images of the countryside in An Giang Vietnam, where honest farmers, rice fields, trees, cows, green rice-colored roads,... Explore photos now!
The Most Popular Tours offered by FME Travel