Can Tho Toilet Tips: How to find Public Restrooms and Toilets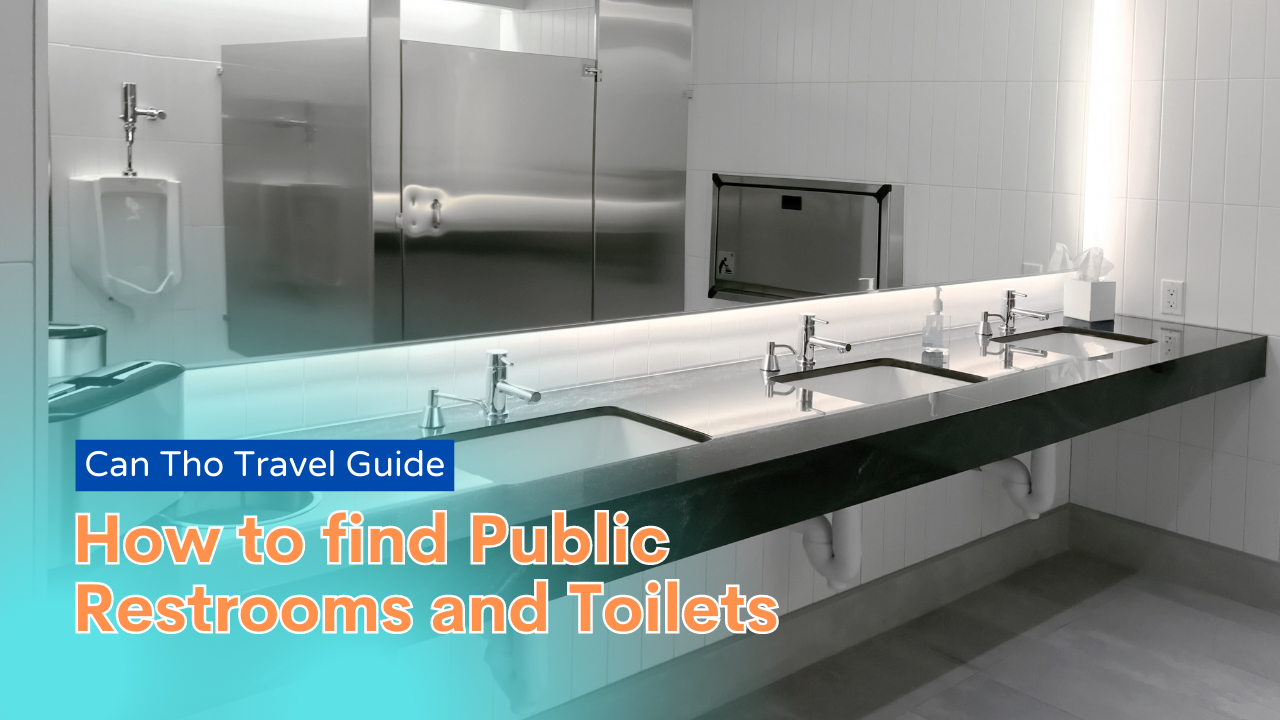 Can Tho, a bustling city in the Mekong Delta region of Vietnam, is a popular destination for travelers seeking an authentic Vietnamese experience. Whether you're exploring vibrant street markets, visiting picturesque small canals, or indulging in delicious local cuisine, it's essential to know where to find public restrooms or toilets.
In this blog, we, Fabulous Mekong Eco-tours, will show you how to locate public restrooms in coffee shops, malls, and other public places and provide some useful tips for a comfortable and hygienic experience.
Finding public restrooms in Can Tho
While finding a public restroom or toilet in rural areas may be challenging, finding relatively clean public restrooms or toilets in a metropolitan location like Can Tho is quite simple. Below are some locations where you can locate public toilets.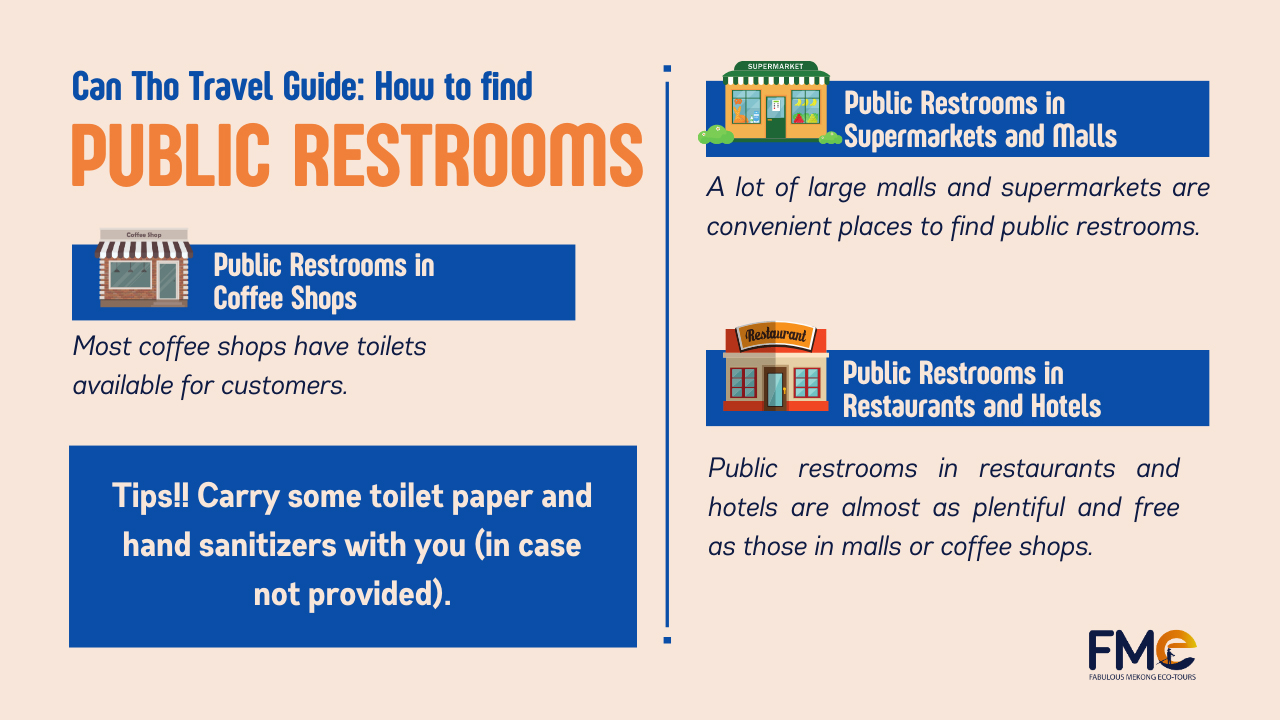 Public Restrooms in Coffee Shops
Coffee shops are ubiquitous in Can Tho, and they're a great place to take a break from sightseeing and indulge in a cup of Vietnamese coffee. Most coffee shops have toilets available for customers, although they may not always be obvious.
Tips: Look for signs that say "WC" or "Toilet" or ask a staff member to point you in the right direction. It's worth noting that some smaller coffee shops may not have restrooms, so it's always a good idea to ask before ordering.
Public Restrooms in Malls and Supermarkets
Can Tho has a lot of large malls and supermarkets which are convenient places to find public restrooms. The public restrooms in malls and supermarkets are usually clean and well-maintained so you can expect a comfortable experience.
If you're unsure, look for signs that indicate "Toilet" or "WC". You might also find public restrooms located on each floor of the mall. Some malls with public restrooms include Vincom Plaza Xuan Khanh and Big C Supermarket.
Public Restrooms in Restaurants and Hotels
Public restrooms in restaurants and hotels are almost as plentiful and free as those in malls or coffee shops. To use the toilets, however, you must remain in hotels or eat at restaurants. Some local or small restaurants do not have public restrooms, so make sure to inquire before eating.
Usually, instead of "Toilet", the local restaurants will use the Vietnamese term "Nhà Vệ Sinh" or "WC." If you are uncertain, you can ask the waiters where the restrooms are located.
Public Restrooms in Ninh Kieu Wharf
The public restroom at Ninh Kieu Wharf in Can Tho is a convenient facility for visitors who need to use the restroom while exploring the area. Inside, visitors will find clean and well-maintained facilities, with separate stalls for men and women. It is recommended to carry some toilet paper or tissues, as these may not always be available.
The toilet is located very easily by the sign that says "WC". Visitors can also ask staff or locals in the area for directions to the restroom.
Some notices when using public restrooms in Can Tho
Squatting Toilets
If you happen to use an old, Vietnamese-style toilet (it looks like a porcelain hole in the ground), you must squat over it to do your business. This type of toilet can still be found throughout Vietnam and unfortunately, some public parks may offer no alternative. After use, you may use some water to flush.
Multipurpose Toilets
Almost all public restrooms use international gender symbols, so you should have no trouble determining where to go. You can also use a private multipurpose restroom, which is usually designated for the elderly, people with disabilities, and families with young children. Unless there are no other choices, it is common courtesy to follow these directions.
Toilet Paper & Hand Sanitizer
Almost all bathrooms in Can Tho provide toilet paper and hand sanitizers; some in malls and high-end hotels even provide hand dryers. However, there are a few public restrooms that do not provide toilet paper or hand sanitizers, so carry some toilet paper and hand sanitizers with you to stay sanitary.
Conclusion
In conclusion, navigating public restrooms and toilets while traveling in Can Tho can be a challenge, but with the right information and preparation, it doesn't have to be a source of stress. By following the tips and recommendations outlined in this travel guide, you can confidently explore the city and take care of your personal needs along the way.
Remember to plan ahead, be mindful of cultural differences, and keep an open mind when encountering new experiences. With a bit of patience and resourcefulness, you can make the most of your time in Can Tho and enjoy all that this vibrant destination has to offer.
Thank you for reading our Can Tho travel guide on finding public restrooms and toilets. We hope you found this information useful and that it helps you have a comfortable and enjoyable trip. Safe travels!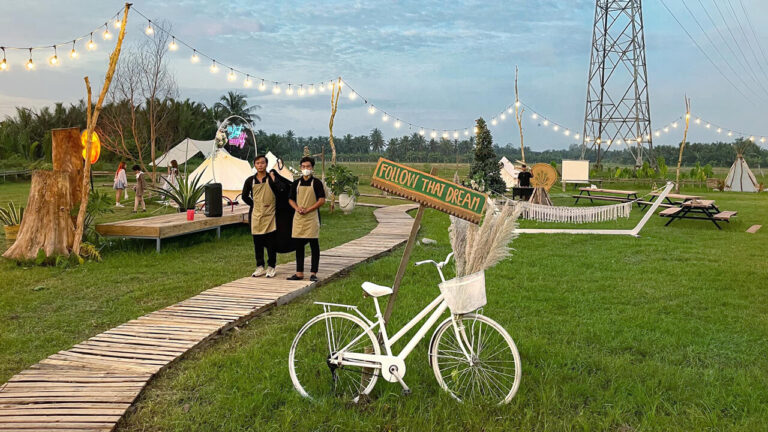 Classique Farm in Tra Vinh emerges as a brand-new outdoor camping destination that has captured the attention of the youth in the Mekong Delta.
The Most Popular Tours offered by FME Travel