Top must-visit local markets in Can Tho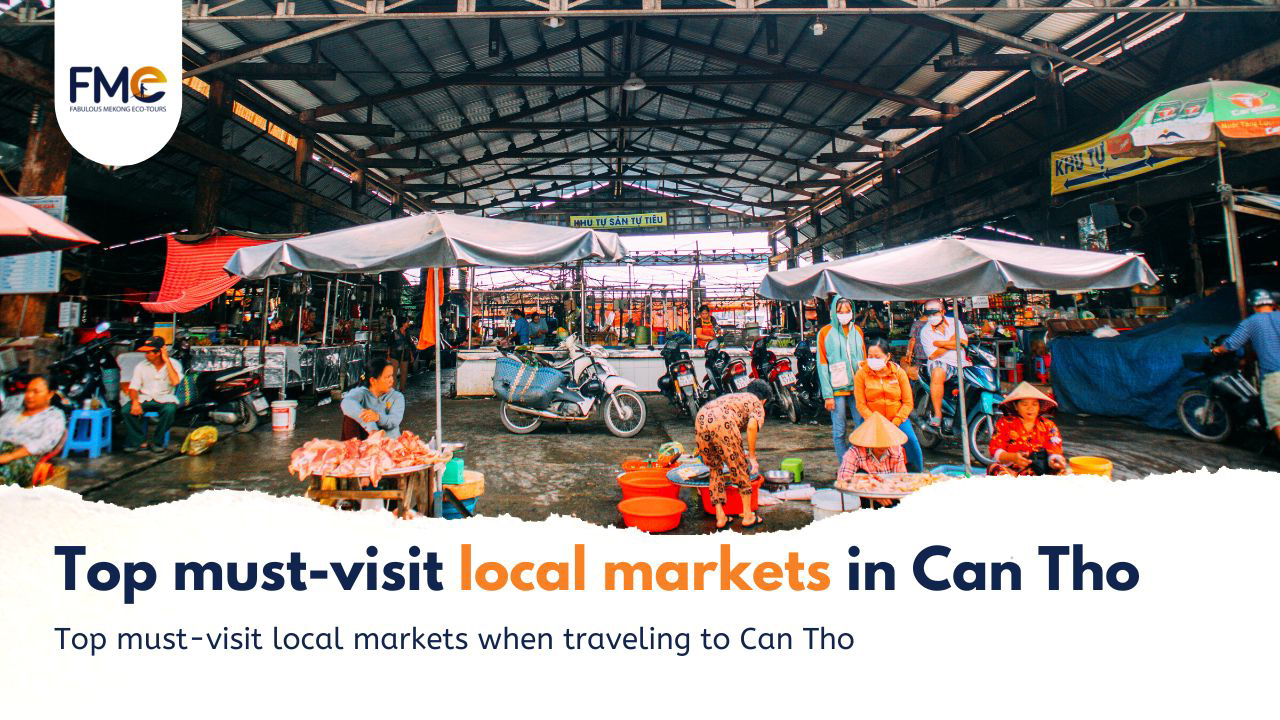 Can Tho is not only attractive because of the beauty of the natural landscapes, but also the rural and peaceful local life of the people here. And the local markets are the perfect places to get to know more about the lives of the Mekong Delta people.
Local markets are where you can see how they prepare things to sell from dawn or the dishes are being cooked with a sweet smell. What's more wonderful is when you enjoy a bowl of "bún riêu" in the middle of a lively market or try to bid for an item you want to buy.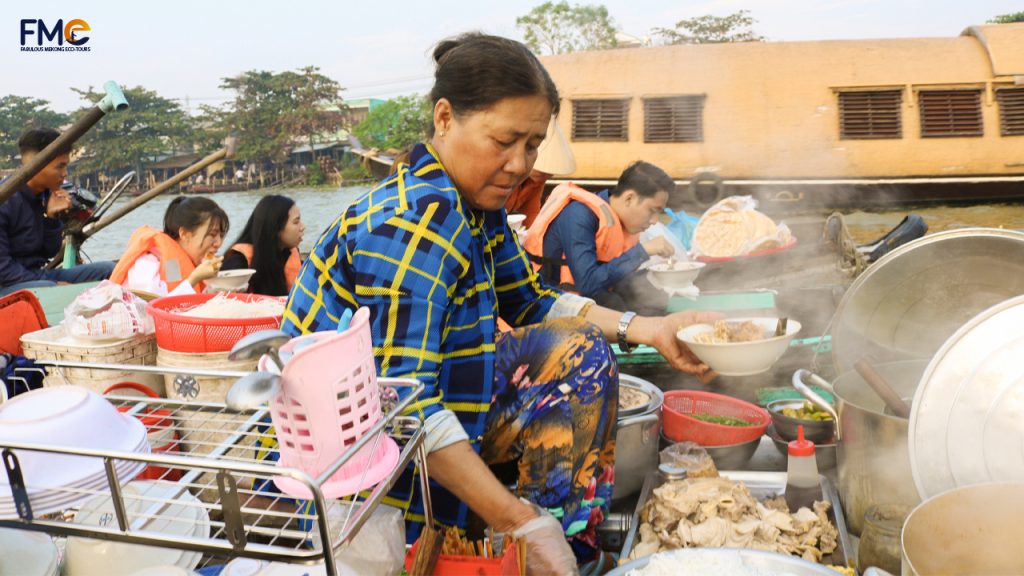 Have you tried those yet? FME believes that it will be a great experience to visit the markets in Vietnam and especially the markets in Can Tho. And here is the top list of famous markets in Can Tho that FME wants to recommend to you.
List of the local market that FME would like to introduce to readers
1. Cai Rang Floating Market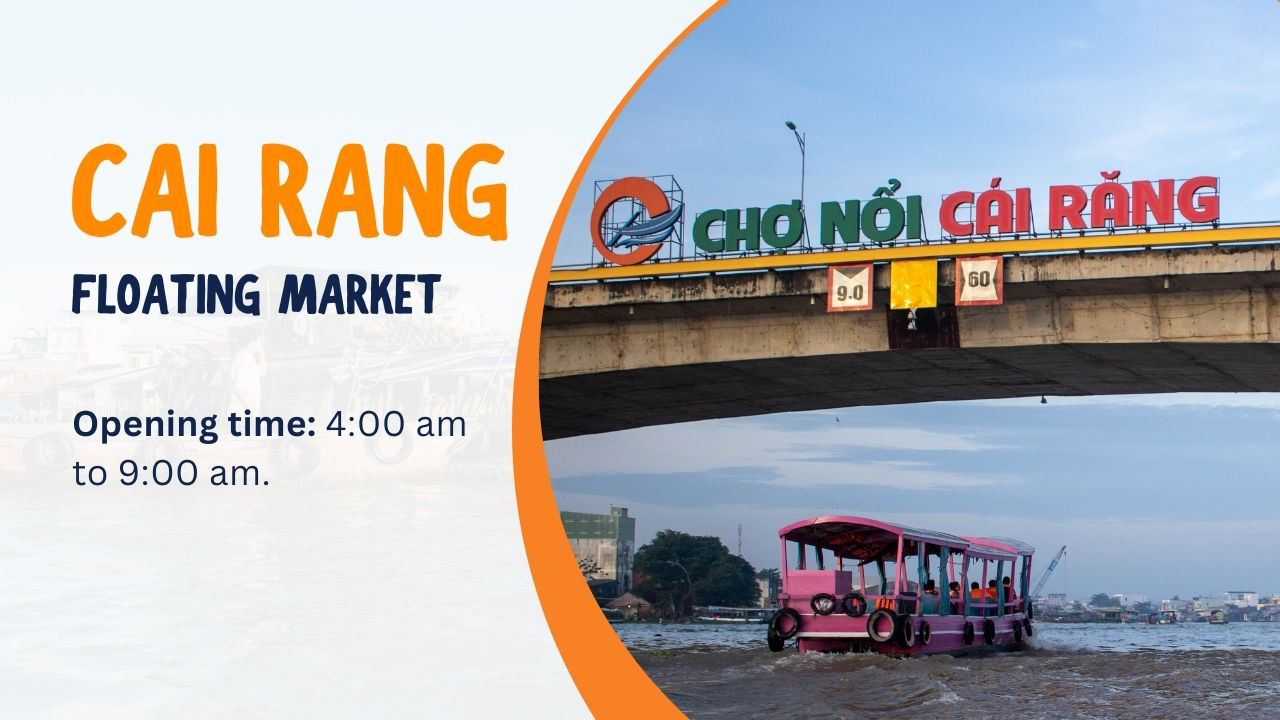 Traveling to Can Tho will be a mistake if you do not visit Cai Rang floating market because this is one of the famous and extremely unique Can Tho markets. The reason why Cai Rang floating market is special is because this is the market where most of the goods are sold on boats, not on the mainland like other markets.
And you will see the scene of hundred boats gathering in one place to sell all kinds of goods and especially agricultural products and seasonal fruits. And that is a very unique culture in the Cai Rang floating market that cannot be found anywhere else.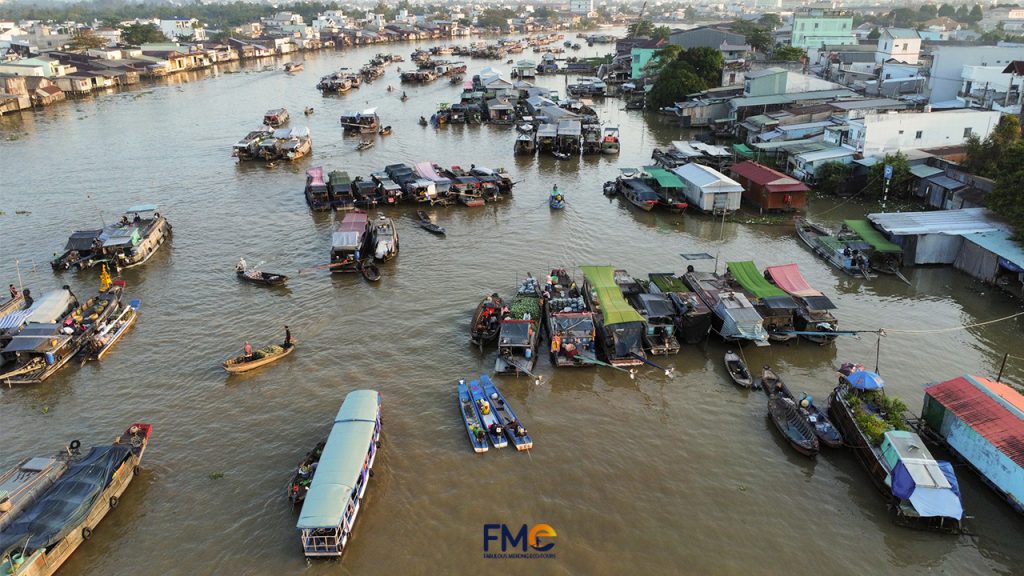 Besides selling a variety of fruits, there are many small boats weaving around the river selling breakfast for guests and locals on the boat such as congee, broken rice, hủ tiếu, bún riêu,… and assorted varieties of drinks such as tea, coffee, soy milk, pineapple coconut, etc.
The life of a ferryman in Cai Rang Floating Market: Rustic boat life at Viet Nam Floating Market.
And there's a pub right on the river so don't be too surprised! What is more wonderful than when you are sitting on a boat, in the middle of a large river and enjoying a bowl of hot noodles with a cup of Vietnamese coffee. FME Travel believes that this will be an experience that you will never forget.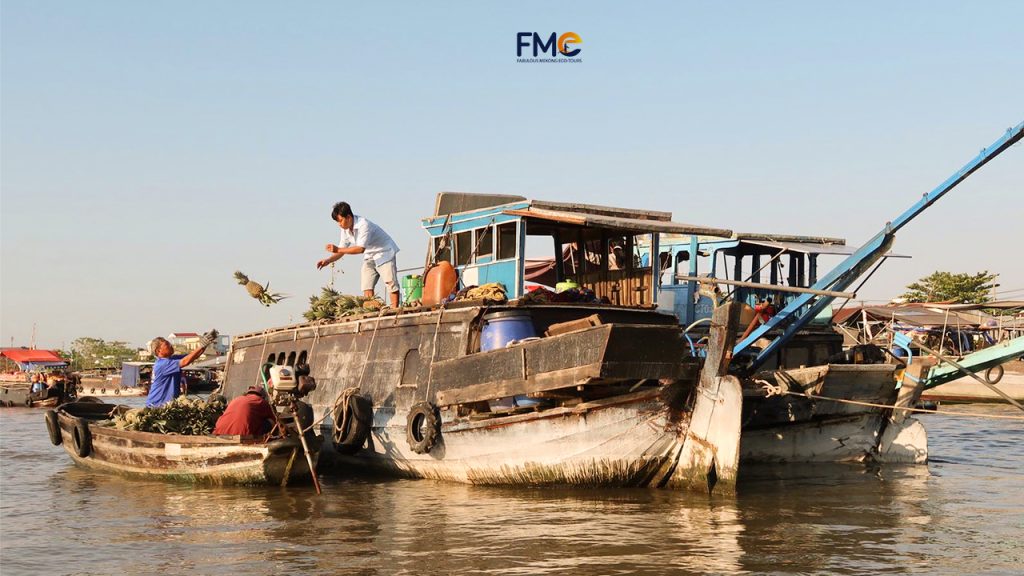 Cai Rang floating market is located near Cai Rang bridge, about 6 km from the center of Can Tho city by road and takes about 30 minutes by big boat from Ninh Kieu and 45 minutes by small boat.
Operating time: 4:00 am to 9:00 am.
Book Now: Floating Market Tour in Can Tho.
2. Tan An Market Can Tho – The oldest wholesale market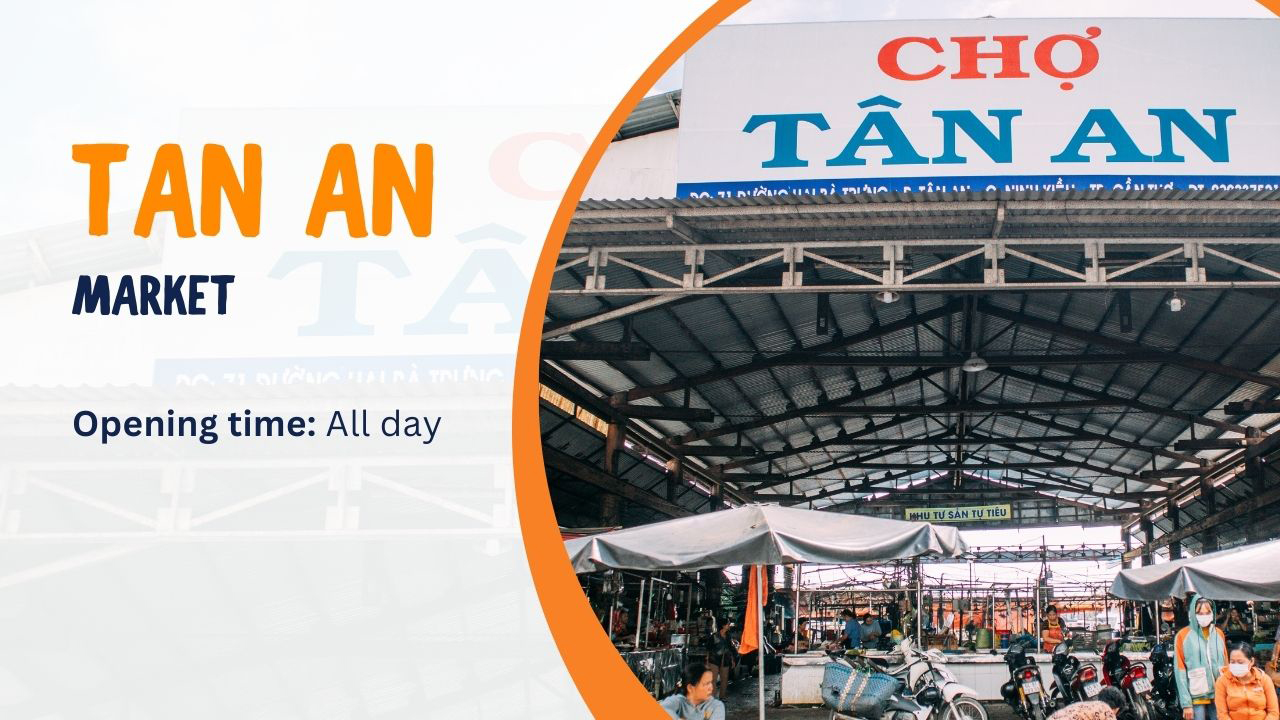 Tan An Market is the famous and oldest wholesale market in the city, considered the place where all the "strange goods" of the Can Tho river region are.
This is also a place to supply and distribute goods to other markets, so it is always bustling and busy. And if you want to buy cheap goods, you definitely cannot ignore this wholesale market.
3. An Lac Market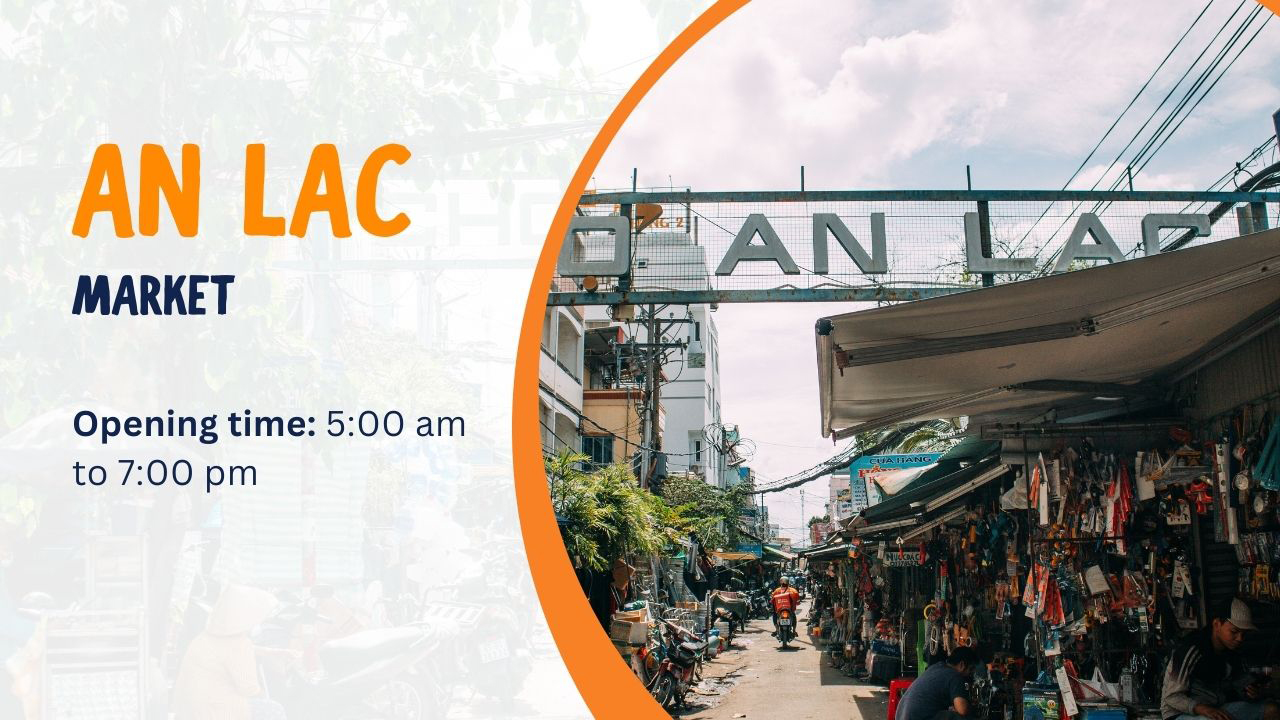 An Lac Market – is a spontaneous market over 30 years old in the center of Can Tho. An Lac is a name full of aspirations of the people here. In addition, the market is also known as Cho Sat, so it is considered a highlight in Can Tho markets. Because in the early days most of the goods here were items of iron, copper, aluminum, lead, etc.
Currently, the market also trades agricultural products and consumer goods like other Can Tho markets to serve the needs of the people.
Although this is a small market, the products sold are very diverse. Therefore, visitors can walk around the market and find many things to buy here.
4. Cai Khe Market in Can Tho – the largest traditional trade center in Can Tho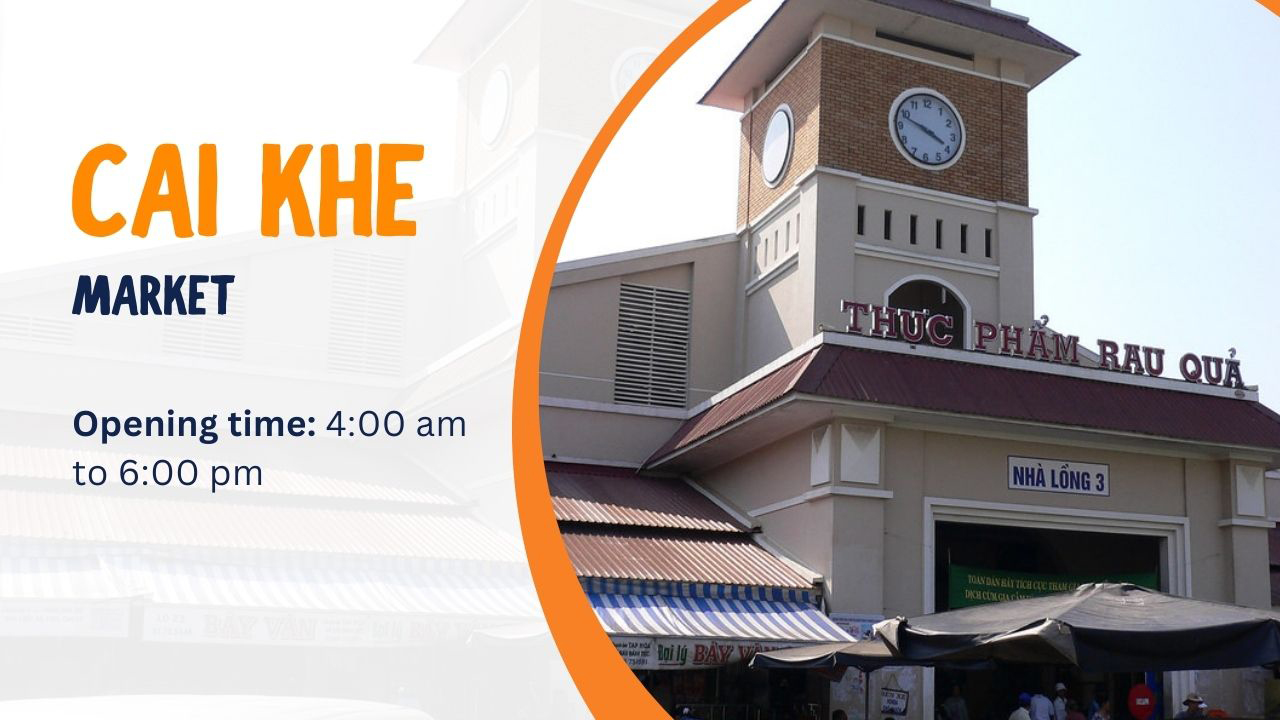 Before commercial centers like Coopmart, Sense City, etc. appeared, Cai Khe market was an exclusive trade center. Cai Khe Market, one of Can Tho's markets, has a large scale both in terms of area and items.
As one of the large-scale Can Tho markets, Cai Khe market specializes in providing wholesale and retail of all kinds of goods at relatively low prices.
The market has 3 large cage houses divided into 3 zones with different types of goods:
Zone 1: is a place to sell food, agricultural products, and seafood
Zone 2: is a place to sell clothes
Zone 3: is a place to sell shoes
5. Can Tho Ancient Market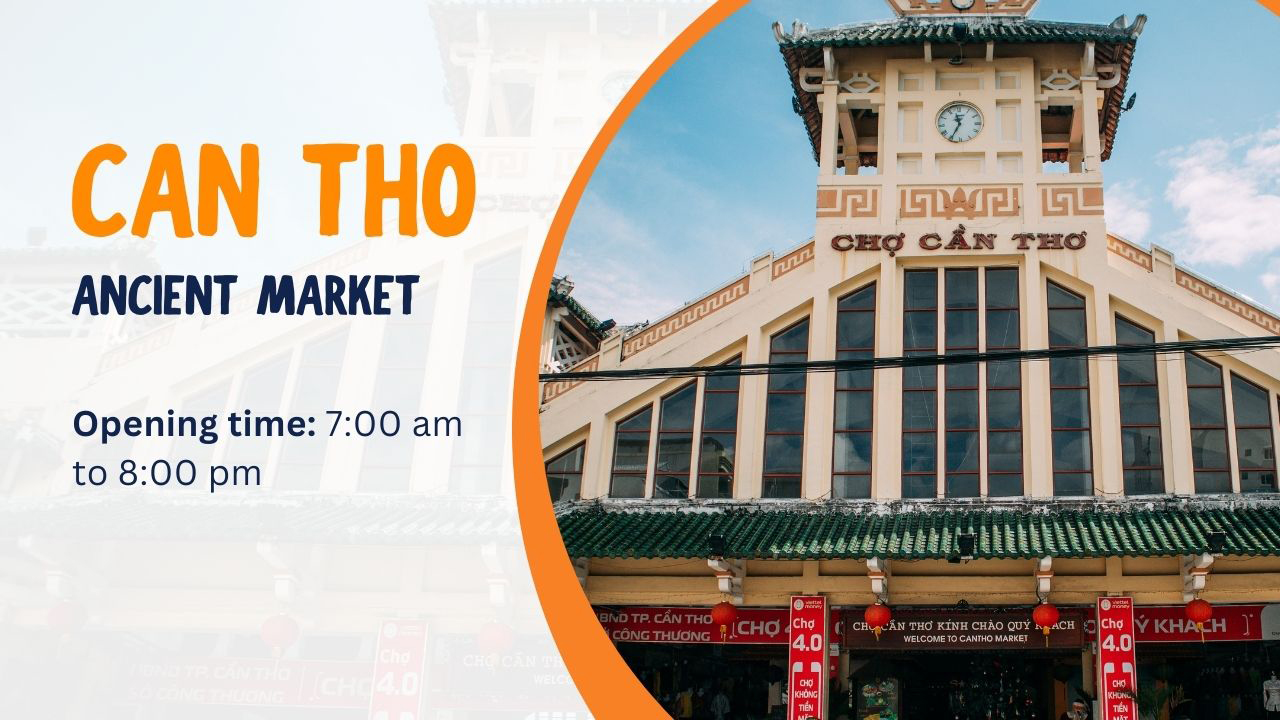 Can Tho Market is also known as Can Tho ancient market because this work has passed its 107th year (as of 2022). This is the oldest market compared to other Can Tho markets. Can Tho Market is considered a historical work and has become a symbol of Can Tho city.
The market has both ancient and modern architecture that makes us feel nostalgic. The bold red tile roof has a Vietnamese style mixed with Western architecture with curved and soaring ceilings.
That is why this is a place that attracts many domestic and foreign tourists to visit, check in, and take nostalgic photos of the time of young people. In addition, when you come here, you can shop for handicrafts made as souvenirs.
6. Xuan Khanh Market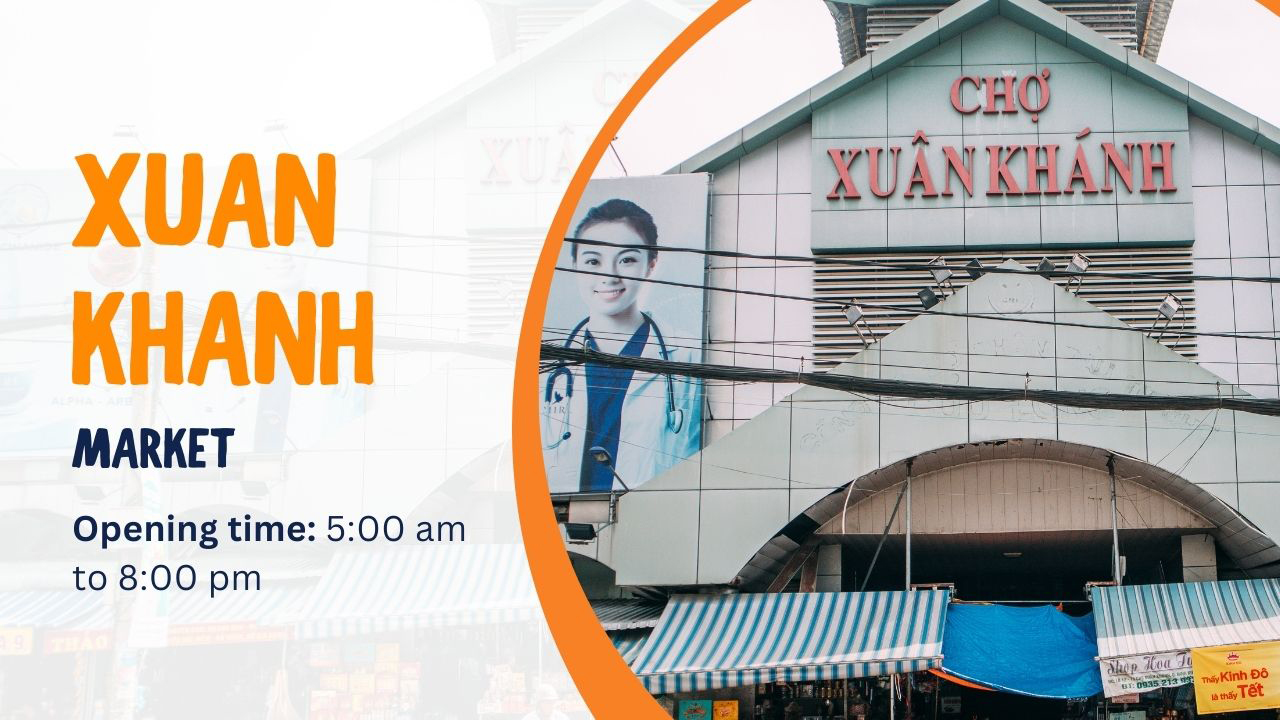 Xuân Khánh Market is located on an arterial road in the city center. The market is quite small compared to other Can Tho markets and mainly provides fresh fruits and vegetables for local people.
If you have a tight schedule but still want to buy some local specialties as souvenirs without spending too much time, Xuan Khanh market is an optimal choice.
7. An Binh Market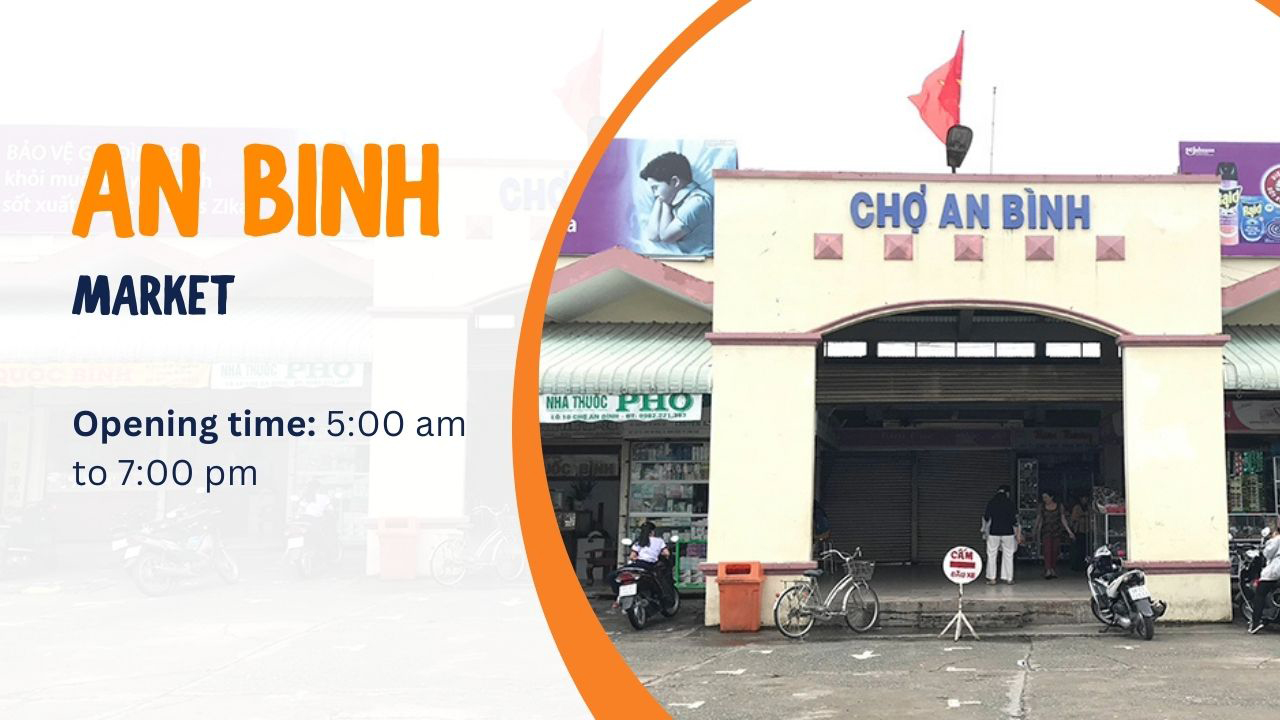 An Bình Market – the name evokes a sense of peace for visitors when they first come here. The market is not as big and famous as many other Can Tho markets, mainly providing fresh fruits, vegetables, and goods for local people.
When visiting this market, visitors will see that the market has two main rows, one facing the main road and the other facing the river. And the market has a pier to serve the trade and transport of goods from the Cai Rang floating market
8. Ninh Kieu Night Market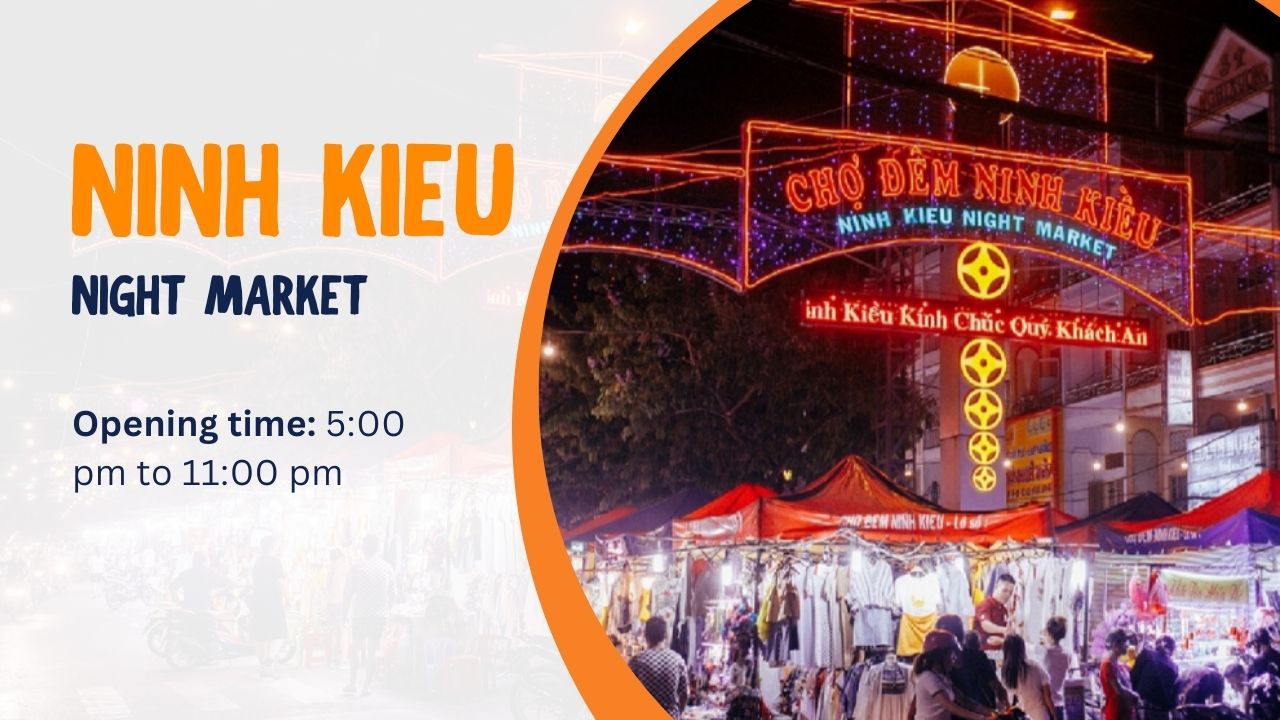 Ninh Kieu Night Market is not only a major trading center of the city, but it is also known as an entertainment, and culinary paradise that is extremely attractive to tourists.
The market is divided into two main areas: The first area will be a place to sell items from clothes and souvenirs to handmade goods and handicrafts. Zone 2 will be a place to sell food. When coming here, visitors will enjoy the unique and diverse street foods.
Address: Hai Bà Trưng, Ninh Kieu District, Cần Thơ City
Operating time: 17:00 – 23:00
9. Phong Dien floating market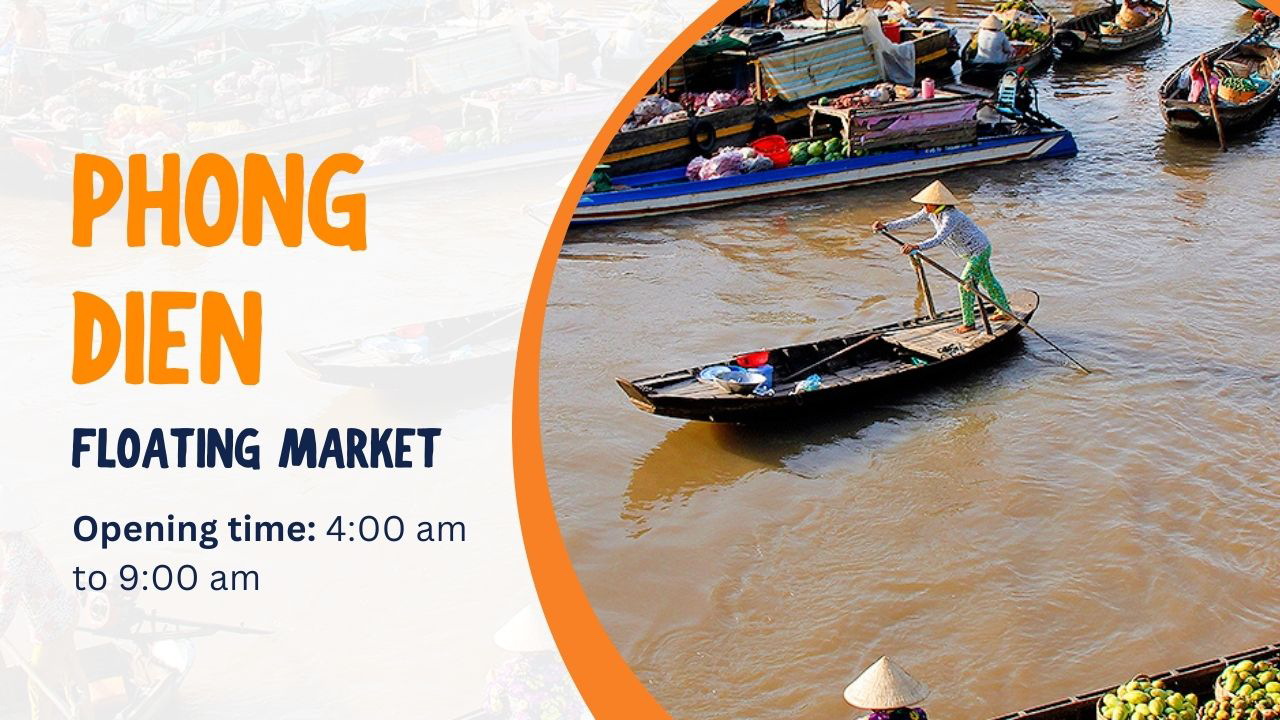 Along with Cai Rang floating market, Phong Dien floating market is also a tourist destination that attracts a large number of visitors.
Phong Dien Floating Market is a special characteristic of the trading culture of the river garden, which has been associated with many generations and is the pride of the local people of Phong Dien district in particular and the people of the West in general.
There are many dishes and fruits with bold colors of Can Tho cuisine. You can buy delicious fresh fruits such as dragon fruit, mango, plum, rambutan, and guava… In addition, the market also sells food such as hột vịt lộn,hủ tiếu, bún riêu, phở bánh mì.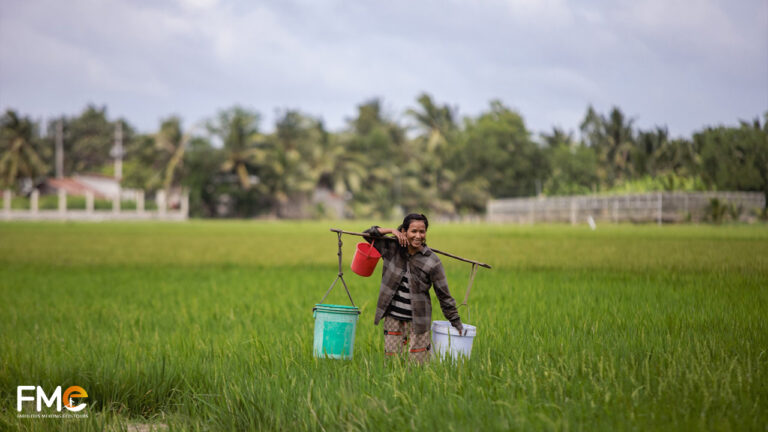 Images of the countryside in An Giang Vietnam, where honest farmers, rice fields, trees, cows, green rice-colored roads,... Explore photos now!
The Most Popular Tours offered by FME Travel