Lua Dai Viet Restaurant in Bui Vien Street (Sai Gon)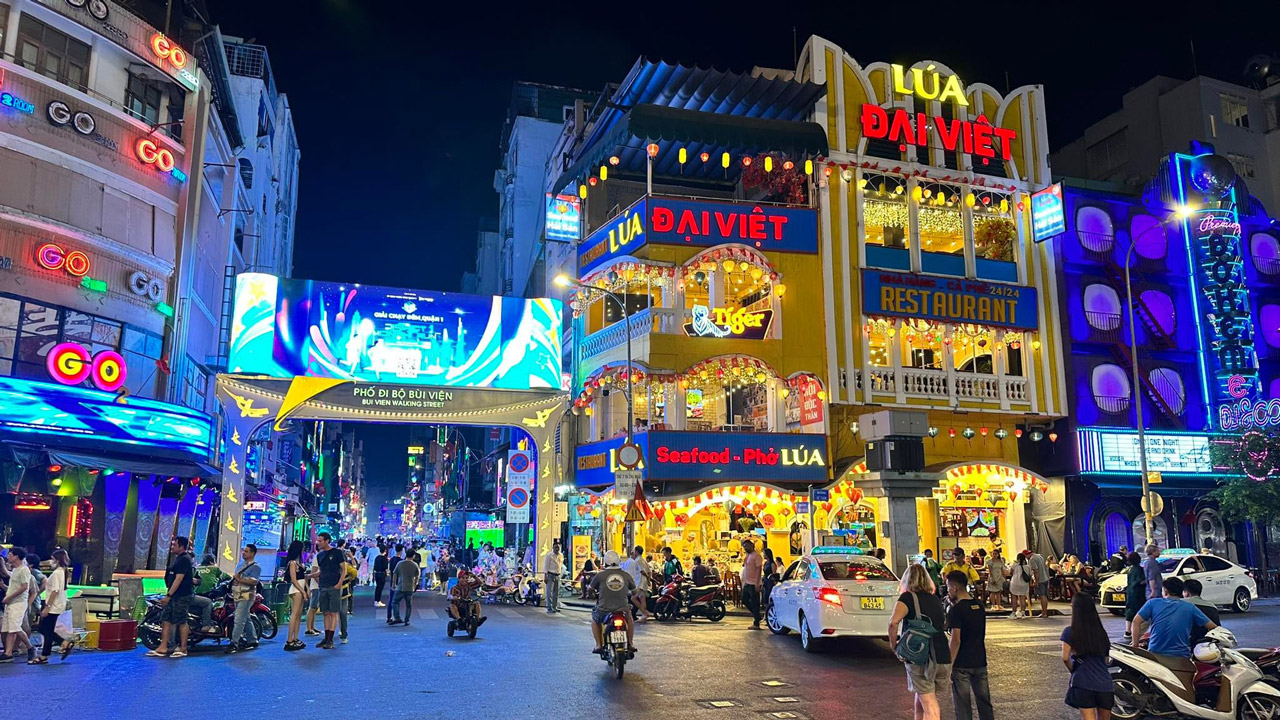 Lua Dai Viet restaurant is one of the few local restaurants that serves delicious Vietnamese specialties on Bui Vien street. The food is great and reasonably priced, making it a great choice for family meals or business meetings.
Lua Dai Viet stands out from other restaurants that only serve tourist-friendly versions of Vietnamese cuisine or are limited in their menu offerings.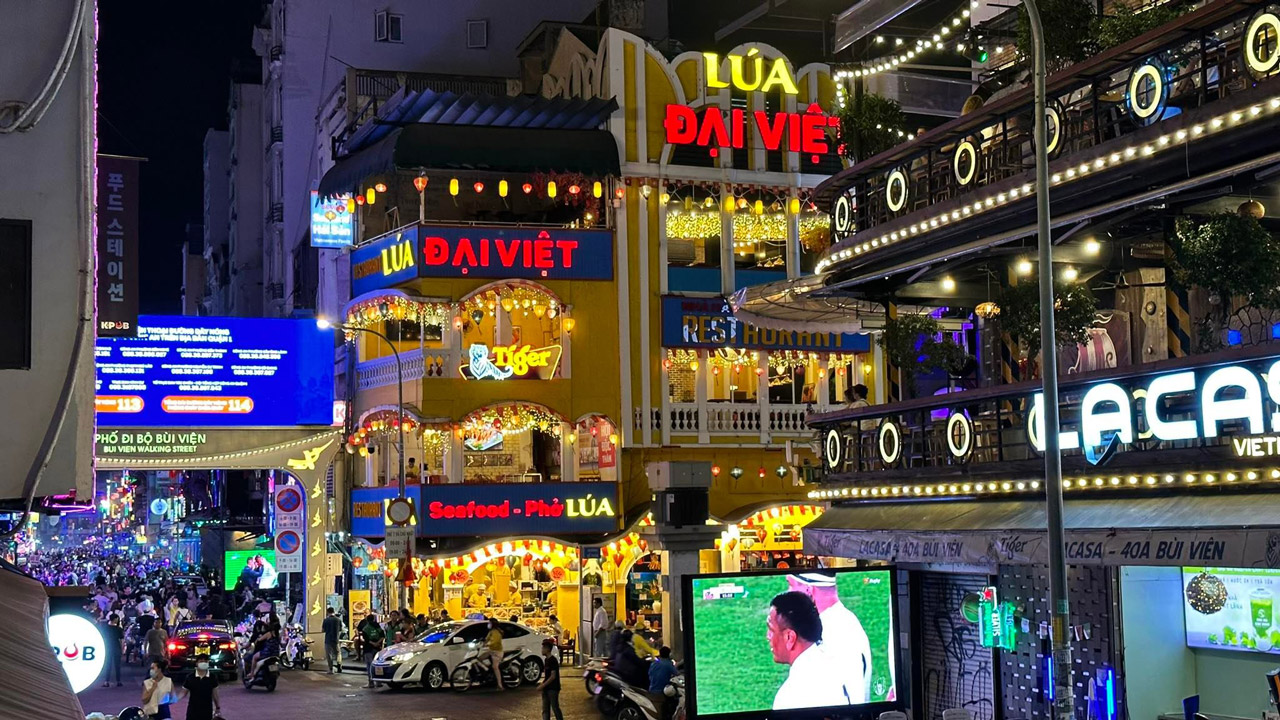 The name Lua Dai Viet reflects the restaurant's authentic Vietnamese character. Despite its location on one of the busiest streets in Saigon, you'll be pleased with the short wait times and courteous staff. What's surprising is that the restaurant has many regular customers in Saigon who come back with their families (which is truly rare on Bui Vien street).
I have personally visited the restaurant a few times and tried to be as objective as possible in order to share with you a special dining experience in the bustling urban environment of Saigon.
General Information about Lua Dai Viet Restaurant
The restaurant is located right in the center of Bui Vien Walking Street. Lua Dai Viet is located at the intersection of Bui Vien and De Tham streets. It is next to Light Pub and across from Valentine Hotel.
Location: In the center of Bui Vien Walking Street.
Address: 189-191-193 De Tham Street, Pham Ngu Lao Ward, District 1, Ho Chi Minh City.
Google Maps: https://goo.gl/maps/FjhfsG7F4FFR5it78
Opening Hours: 24/24.
Phone: 0902344455
Prices: from 79,000 VND ($3) – 239,000 VND ($10) and up.
Nourishing the Soul Through Local Cuisine and Diversity at Lua Dai Viet
Lua Dai Viet's standout feature is its fusion of traditional Vietnamese cuisine with a diverse array of Western dishes. I was blown away by the variety of options available, all while maintaining exceptional quality.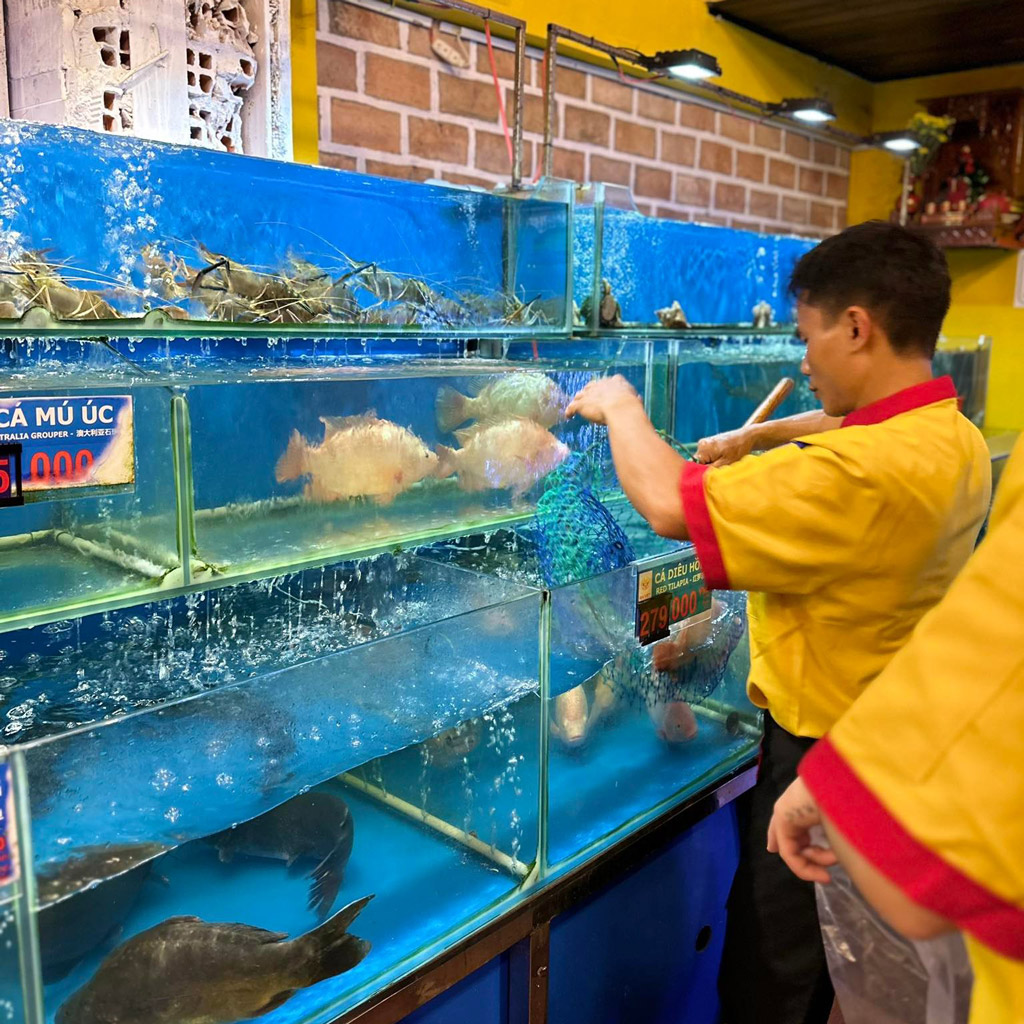 Indulging in Vietnam's Traditional Culinary Delights
The local Vietnamese dishes at Lua Dai Viet truly satisfied my palate, with options ranging from roast chicken to "bông điên điển" fish hotpot, "cá kèo" hotpot, crispy fried tilapia, spring rolls, lotus root salad, "bún ốc", "bún riêu cua", and so much more.
With over 600 unique dishes on the menu, you'll be able to experience the essence of Vietnamese cuisine from every corner of the country.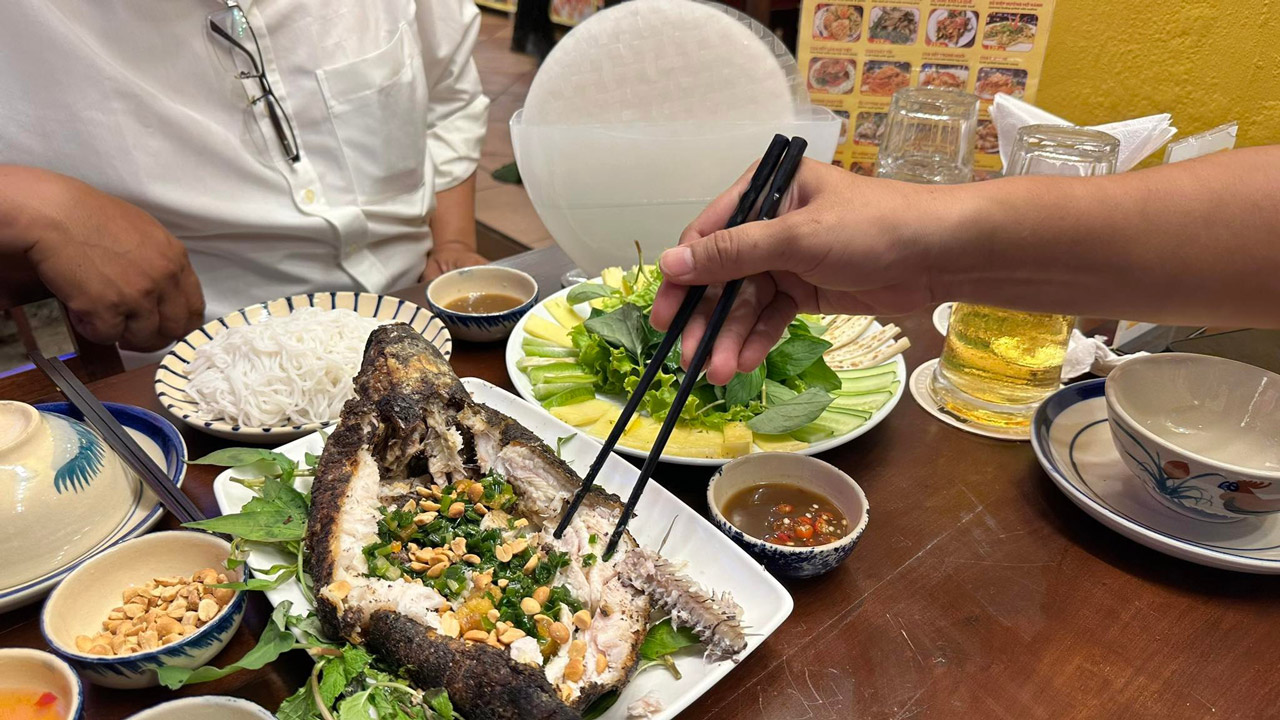 Vietnamese Spring Rolls
Did you know that Vietnam has over 103 types of spring rolls? Lua Dai Viet offers a wide selection of these "street food" delicacies. But what sets them apart is their unique me-based dipping sauce.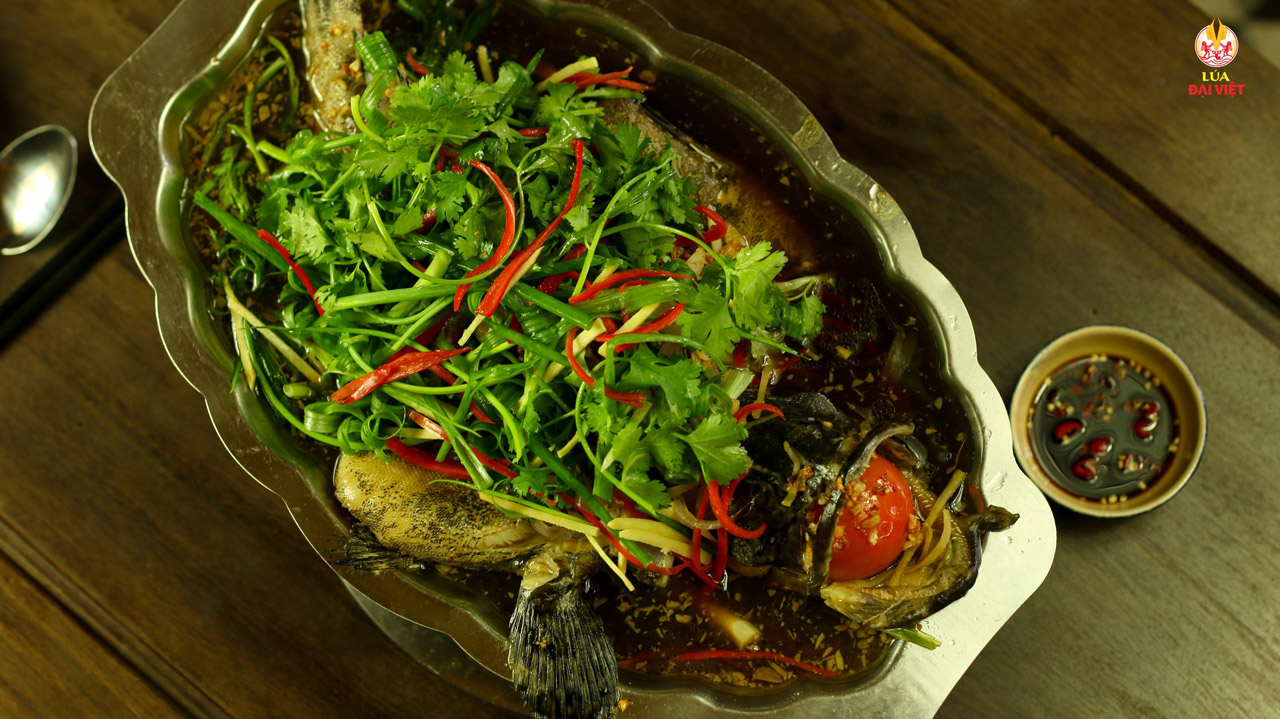 What makes these spring rolls special is that the filling doesn't dictate their flavor; instead, the sauce does. The dipping sauce is a tangy, sweet me fish sauce, enhanced by the crunchy texture of ground peanuts.
Bông điên điển Fish Hotpot
"July sees the water rise, the Mekong River overflowing its banks," and with it comes the vibrant yellow blossoms of the bông điên điển, a local plant in the Mekong Delta.
Bông điên điển used to be a common food source during tough times. Today, it's a staple ingredient in many local dishes such as cá linh bông điên điển hotpot, bánh xèo, and is an essential accompaniment to most hotpot meals.
At Lua Dai Viet, you'll get to taste natural bông điên điển and the freshest local vegetables that only the Mekong Delta can offer. I highly recommend trying the bông điên điển fish hotpot and stir-fried bông điên điển with tép trấu.
Crispy Fried Tilapia
Crispy fried tilapia is a favorite among diners because of its sweet, buttery flesh, crispy skin, and scales. When paired with a variety of fresh, locally-sourced vegetables, it's a dish that won't leave you feeling greasy like many other fried foods. Choose from the dipping sauces on offer to find the perfect balance of sweet and savory.
If you're looking for a restaurant that captures the essence of Vietnamese cuisine while also providing unique twists on traditional dishes, Lua Dai Viet is the place to go. Come for the diverse menu, stay for the cultural experience.
Discover Authentic European Cuisine from Vietnam at Lua Dai Viet
Lúa Đại Việt restaurant offers a delightful brunch menu with over 15 classic European dishes to satisfy even the most discerning international taste buds. They are committed to using only fresh, locally sourced beef with clear origins, ensuring the highest quality ingredients in every dish.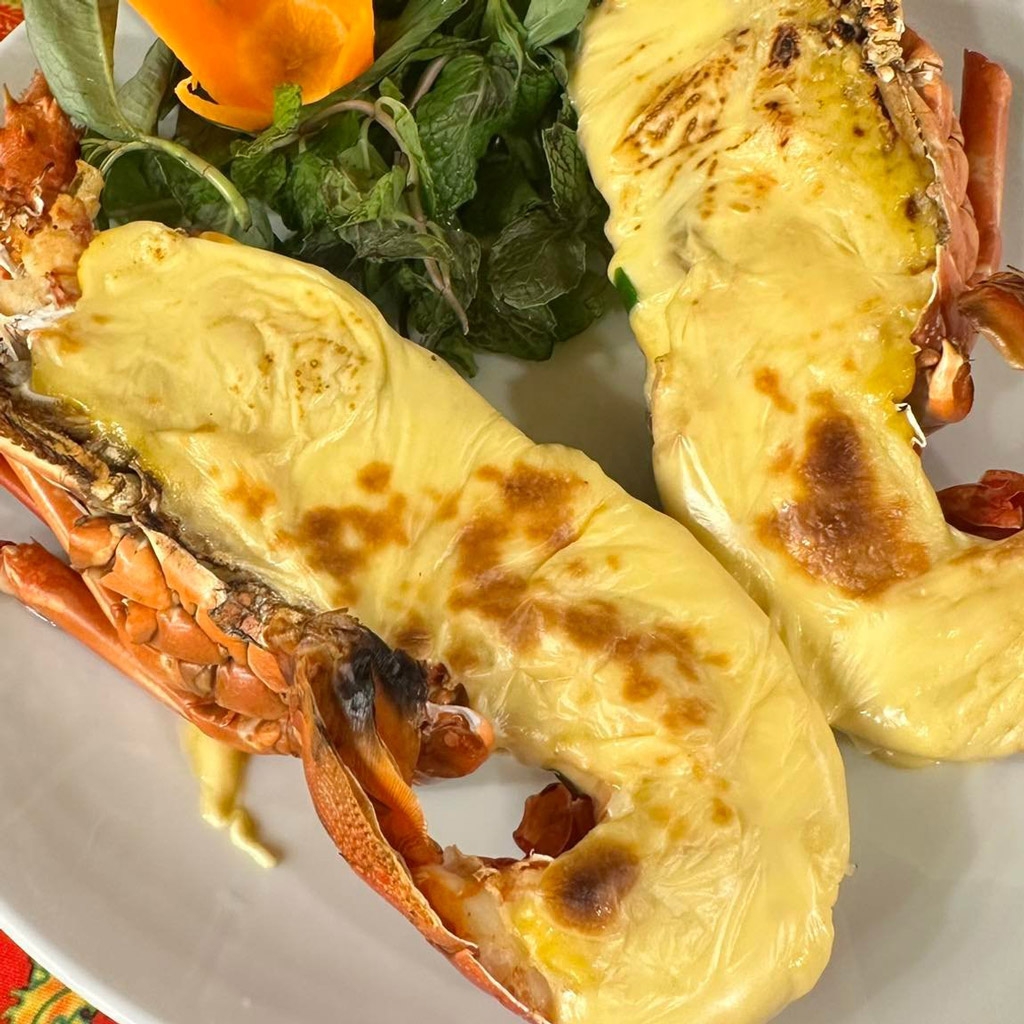 Brunch is perfect for those who have flexible schedules and prefer to wake up late, savor their meals, and enjoy a cup of coffee to kickstart their day at their own pace. They can enjoy Lúa Đại Việt's European-style dishes, such as Beefsteak, sandwiches (with various sausages, eggs, and cheese), Hambergur, and Italian pasta.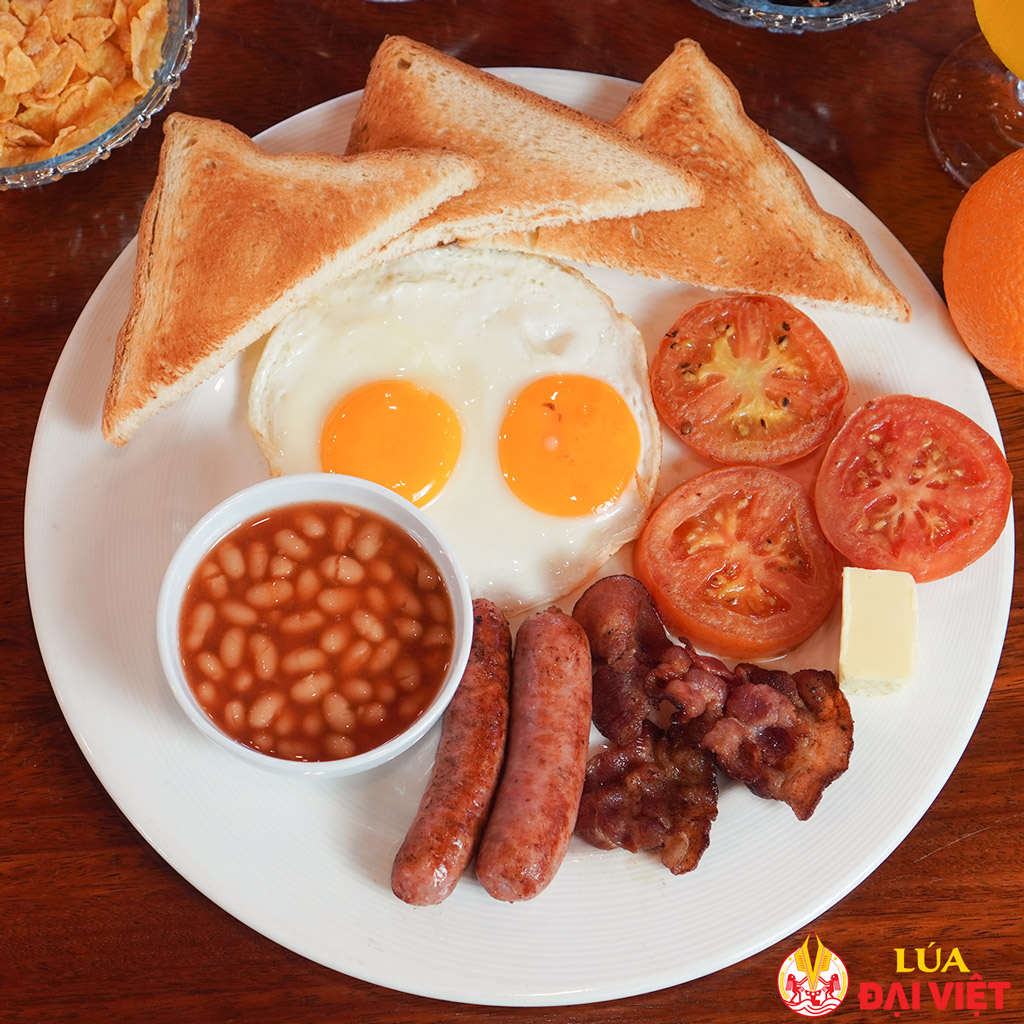 The restaurant's European-style dishes are popular favorites, and they are carefully prepared using only fresh and locally sourced ingredients. At Lúa Đại Việt, they are committed to providing the best quality dishes, and this is reflected in their use of only the freshest and highest quality ingredients.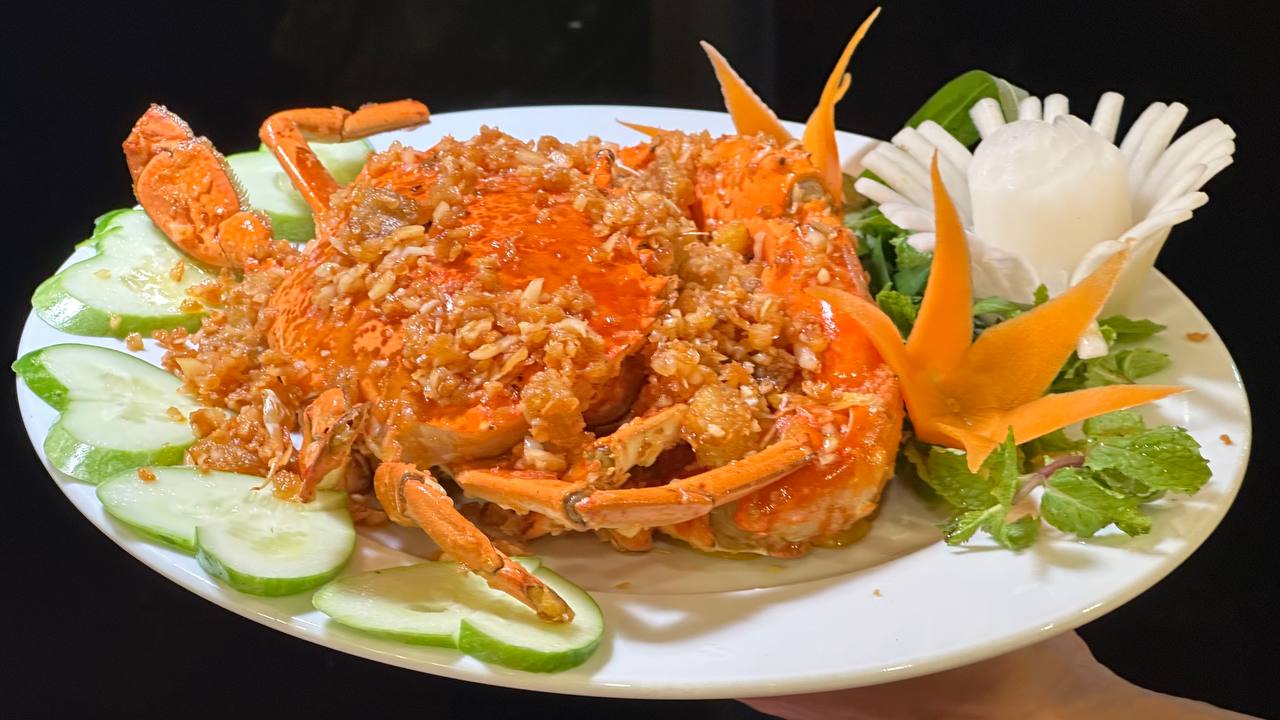 Stunning View of Bui Vien Pedestrian Street
The restaurant's spacious setting overlooks the bustling pedestrian street of Bui Vien, one of the liveliest areas in Saigon. Enjoying your meal while people-watching adds to the dining experience. Plus, Bui Vien street is full of entertaining activities, such as magic shows and lively music performances.
Architecture with Hoi An-style colors
The restaurant's decor exudes a strong Vietnamese vibe, offering guests a unique experience of enjoying delicious meals in a rustic Vietnamese space. The spacious and comfortable setting is a plus point for this Hoi An-themed restaurant.
Although it may not evoke a sense of warmth or luxury, personally, I appreciate the casual atmosphere that the restaurant brings. Whether dining with family for some scrumptious food or hosting a business party, I find the ambiance to be suitable for my purpose.
Find out more: Top 10 Restaurants in Bui Vien Street.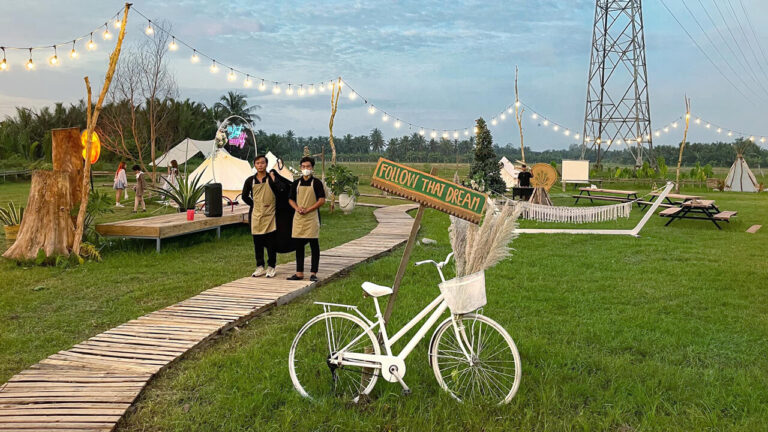 Classique Farm in Tra Vinh emerges as a brand-new outdoor camping destination that has captured the attention of the youth in the Mekong Delta.
The Most Popular Tours offered by FME Travel