Mai Hien Vegan Kitchen - A Delicious Vegan Restaurant in Can Tho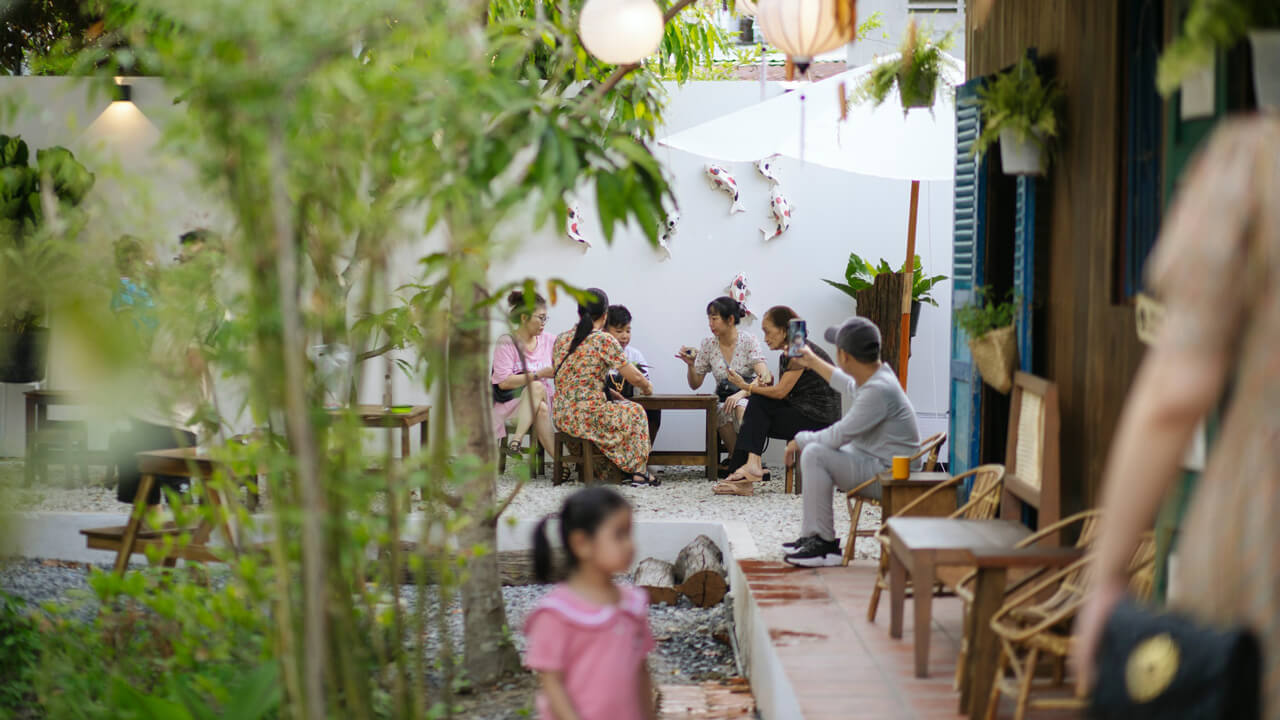 Nestled in an ordinary small alley in Can Tho, Mai Hien Vegetarian Kitchen has a space with a rustic Mekong Delta Vietnam style. With a lotus pond, water bucket, and simple rustic bamboo bed, it is enough to make those who come to the restaurant feel heartbroken and "miss their grandmother" if you are from the Mekong Delta.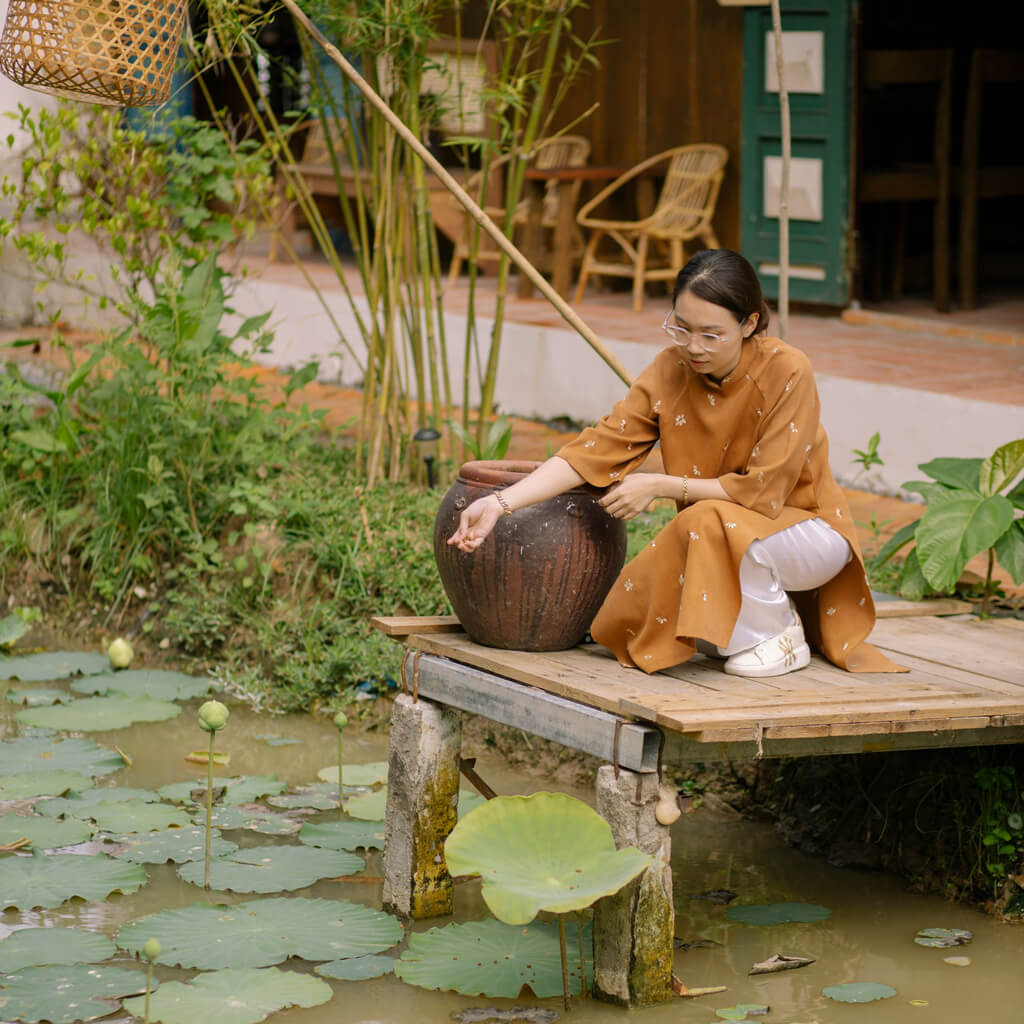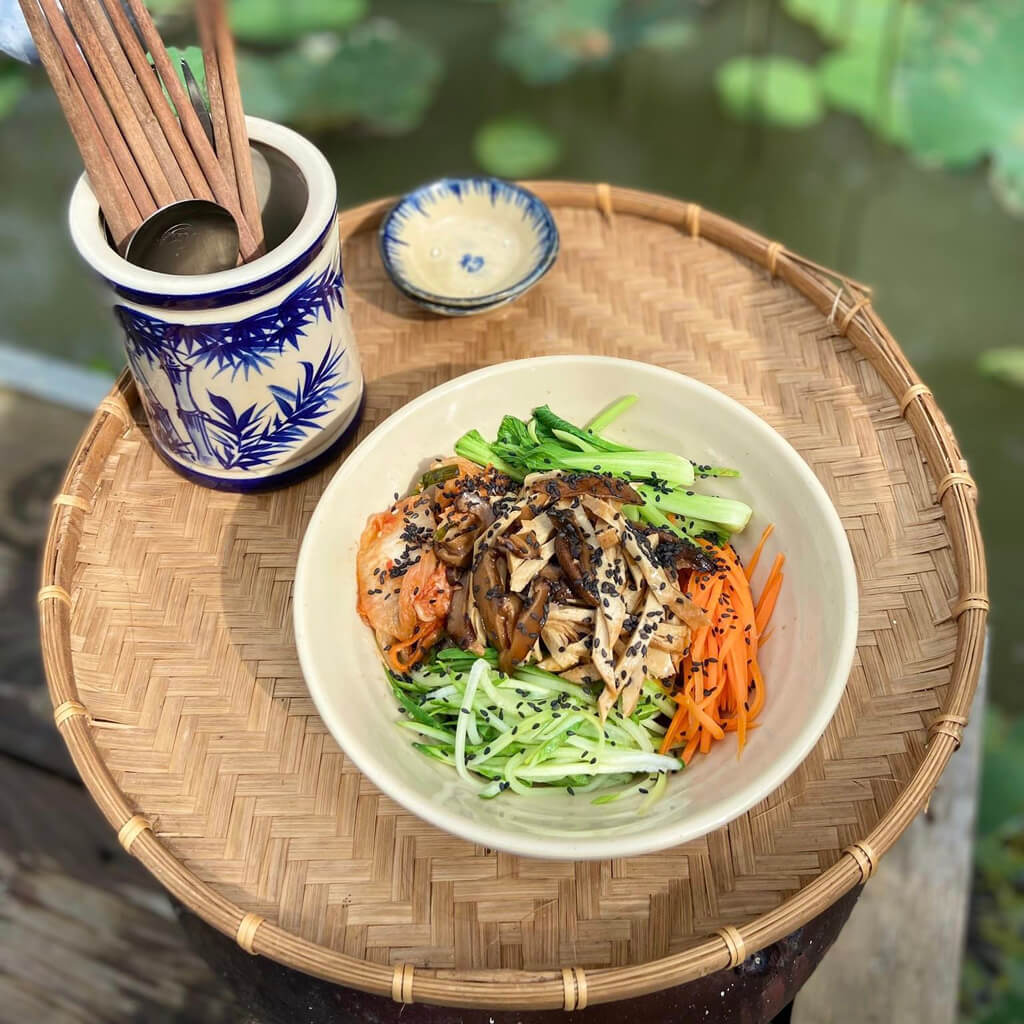 The special thing about Mai Hien Vegetarian Kitchen is its attractive vegetarian cuisine.
Location
Address: Alley 8, Đinh Tiên Hoàng Street, Thới Bình Ward, Ninh Kiều District, Can Tho.
Phone: 0969 339 070
Open hours: from 7:00 AM to 9:00 PM daily.
Address: 8 Dinh Tien Hoang/alley 8, An Hoi, Ninh Kieu, Can Tho
Google Maps: https://maps.app.goo.gl/tfjCeaXiCsNBhhgB9
Mai Hien Vegan Kitchen is a peaceful and cozy place for all vegetarians, whether you're Buddhist or not. When you visit here, you'll feel like you're transported back to a peaceful countryside, where the dishes are not only of great quality but also exceptionally healthy.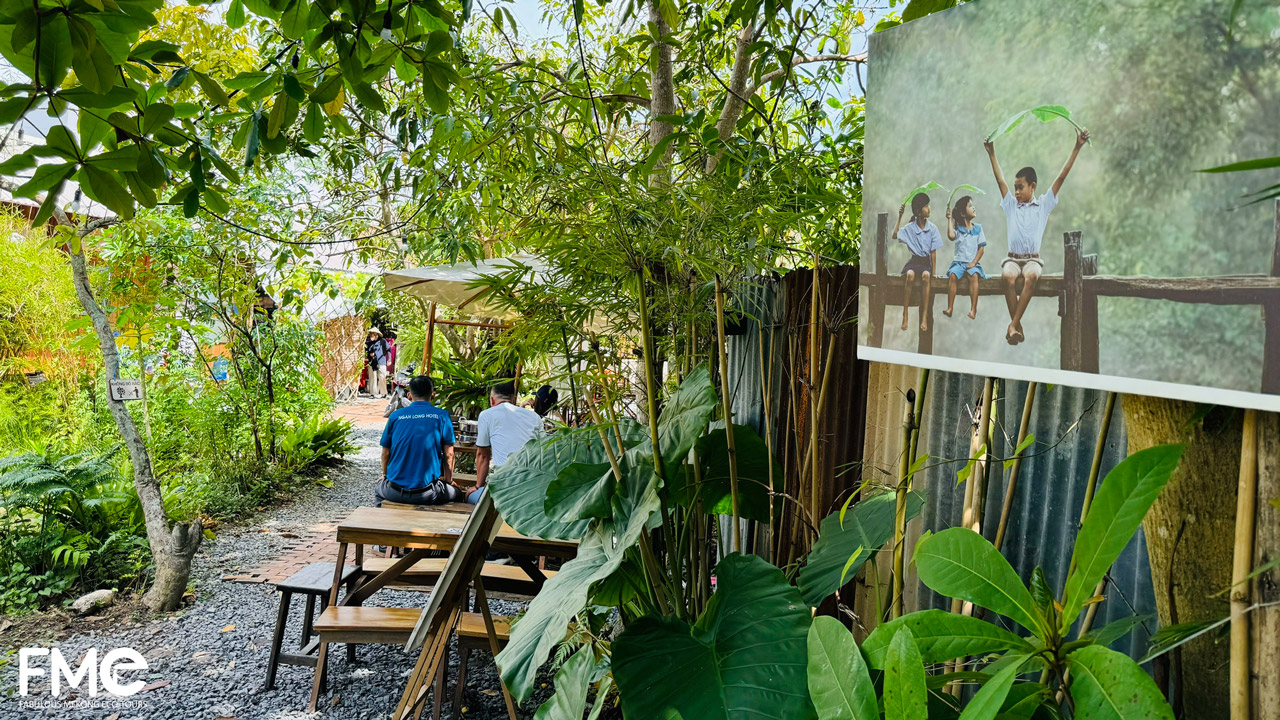 Ambience at Mai Hien Vegan Kitchen
Upon entering Mai Hien Vegan Kitchen, you'll experience absolute tranquility and an ambiance that exudes a nostalgic charm, perfect for meditation and finding peace. The restaurant offers a spacious, clean, and breezy environment, adorned with lush greenery that embodies the essence of the Mekong Delta.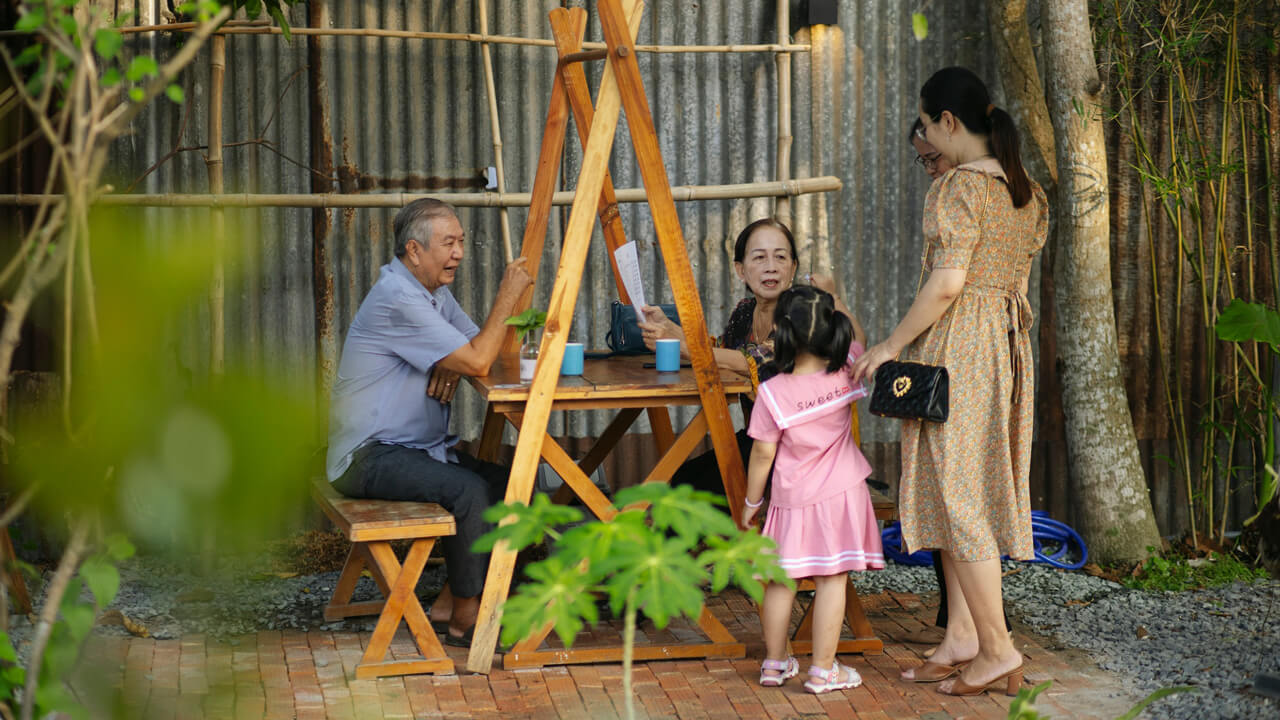 Traditional Aesthetics
Mai Hien Vegan Kitchen employs traditional materials like wood, woven bamboo, and leaves – familiar elements in the daily life of Southern Vietnam. Using these materials in the restaurant's design creates a unique and culturally rich aesthetic, preserving the spirit of ancient Vietnamese culture.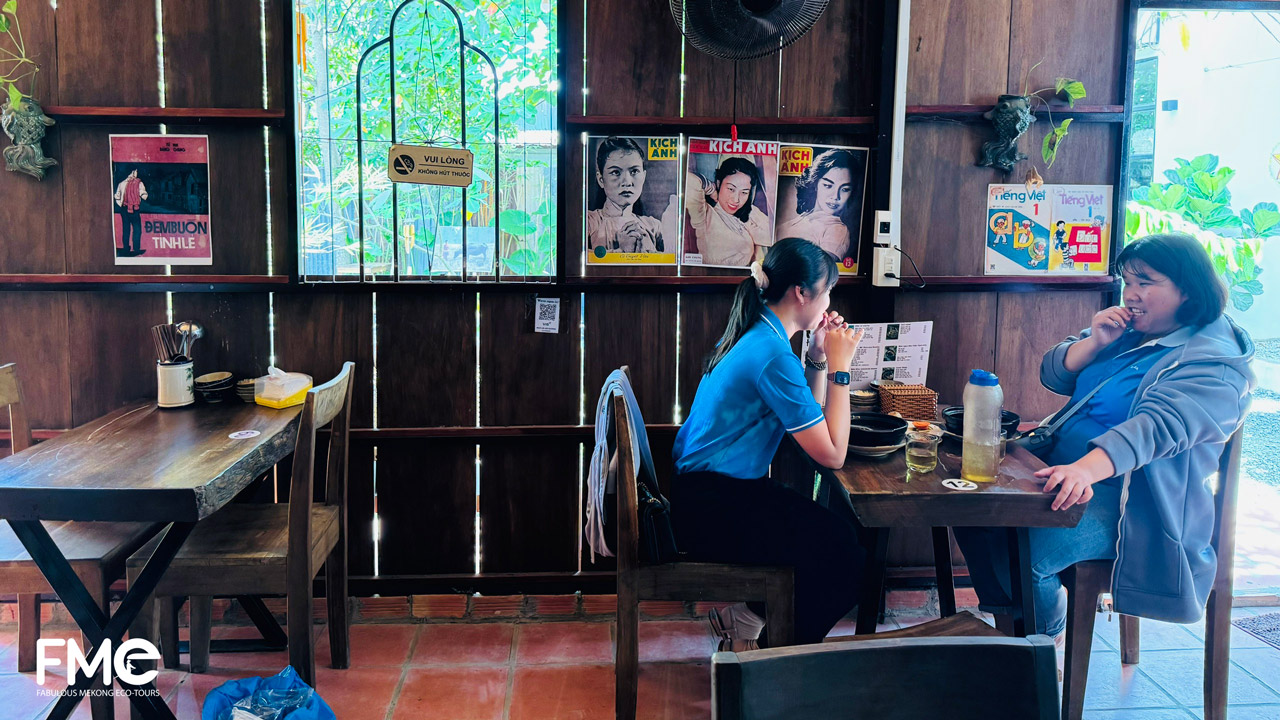 Charming Simplicity
The restaurant's simple yet alluring interior design has made it a favorite spot for many customers. Its rustic, unpretentious, warm, and cozy setting has attracted numerous young people for photography with a "nostalgic childhood" theme.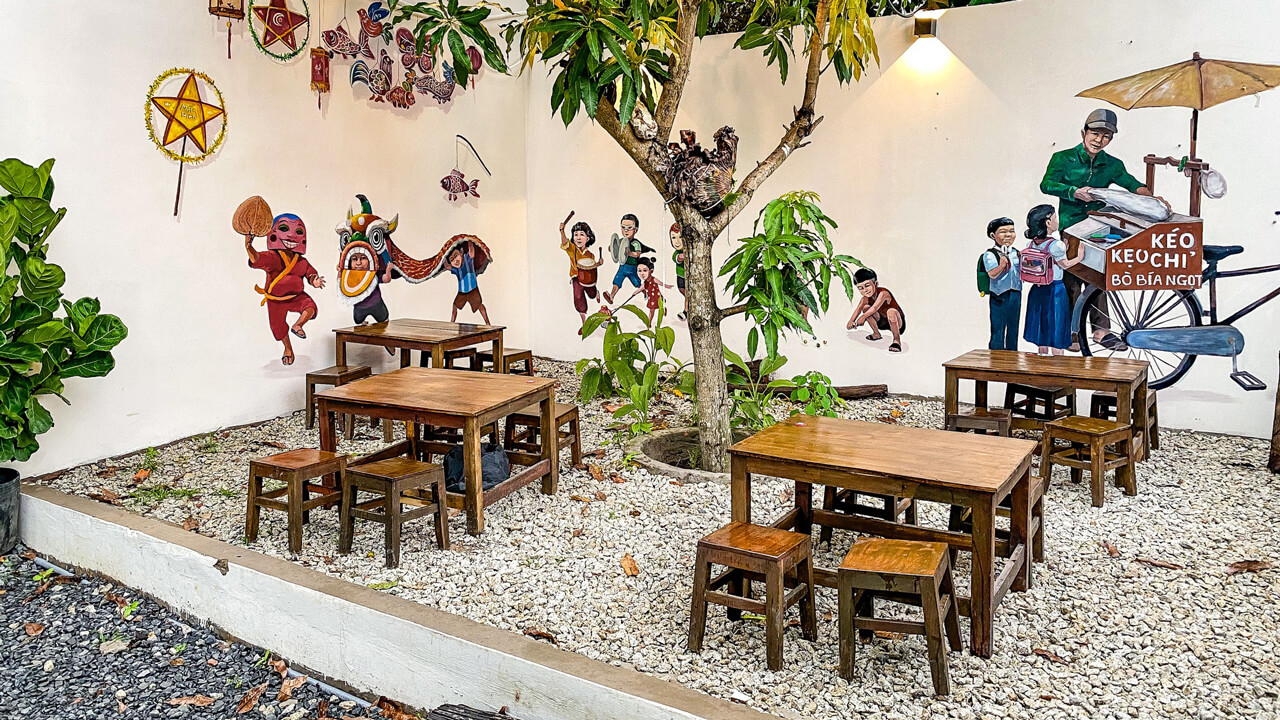 Diverse and Delicious Menu
Vegan cuisine has become increasingly popular in Vietnam, offering natural and nutritious dishes that promote well-being and tranquility. Every dish at Mai Hien Vegan Kitchen carries the gentle flavors of nature and the dedication of the chefs.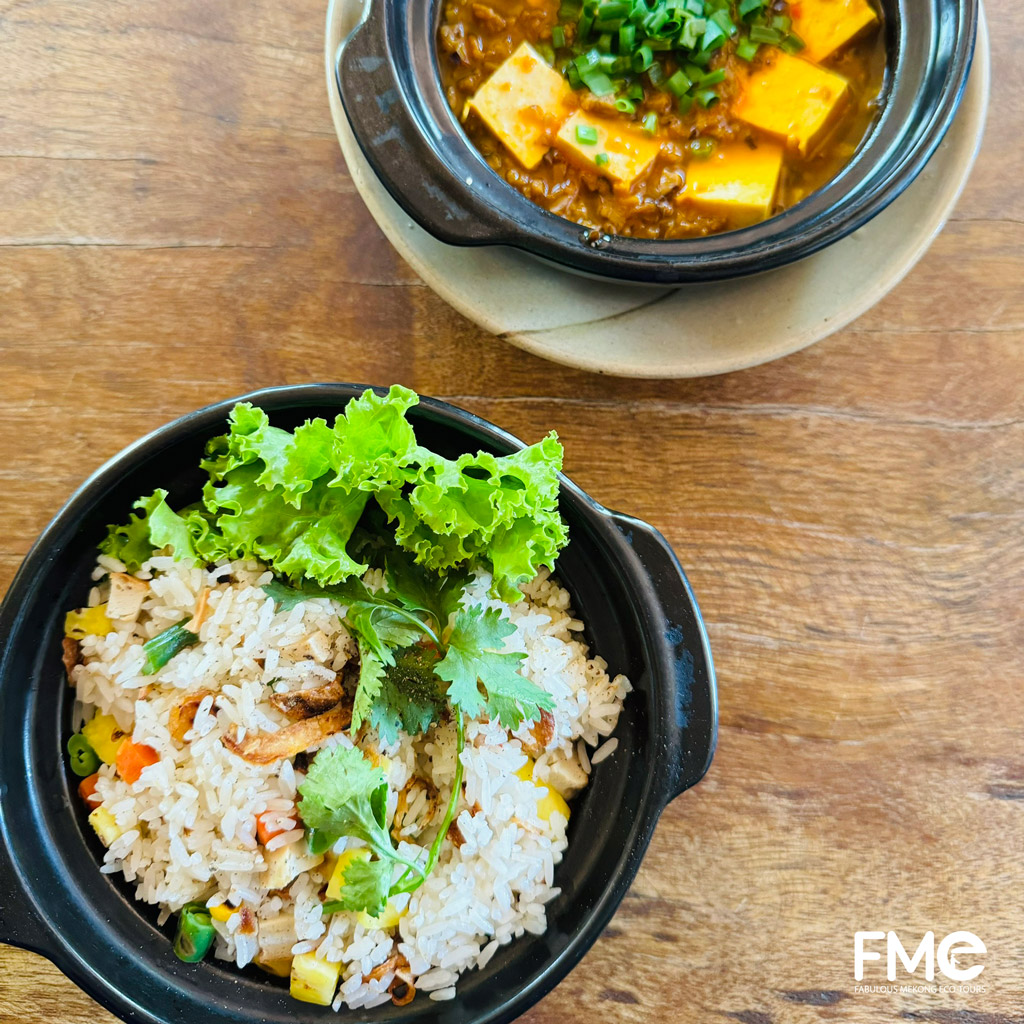 Prepared with fresh and wholesome ingredients, mainly derived from nature, such as vegetables, tubers, fruits, various mushrooms, tofu, etc., all dishes are guaranteed for quality.
Variety of Delights
The extensive and varied menu covers breakfast, appetizers, main courses, rice dishes, hot pots, desserts, and beverages. Prices start from just 32,000 VND ($1.3).
You can relish a wide range of appetizing dishes such as boiled and stir-fried vegetables, salads, Quang-style noodles, vermicelli, sour soup, and more, all true to the flavors of the Mekong Delta. Mai Hien Vegan Kitchen brings its unique style to the world of vegetarian cuisine.
Delicious Vegan Dishes at Mai Hien Vegan Kitchen
Spicy Vegan Noodles: Combining the sour and spicy flavors that are characteristic of the Mekong Delta, these noodles are both refreshing and delicious. With various vegetables, mushrooms, and tofu, they provide a healthy and nutritious option that can help with weight loss, maintaining good health, and combating aging.
Mai Hien Vegan Hot Pot: A unique and exclusive recipe featuring fresh water coconut as a key ingredient, alongside other pure vegan ingredients that provide nutrients and energy. This dish embodies both the flavors of nature and the passion of the Mai Hien kitchen team.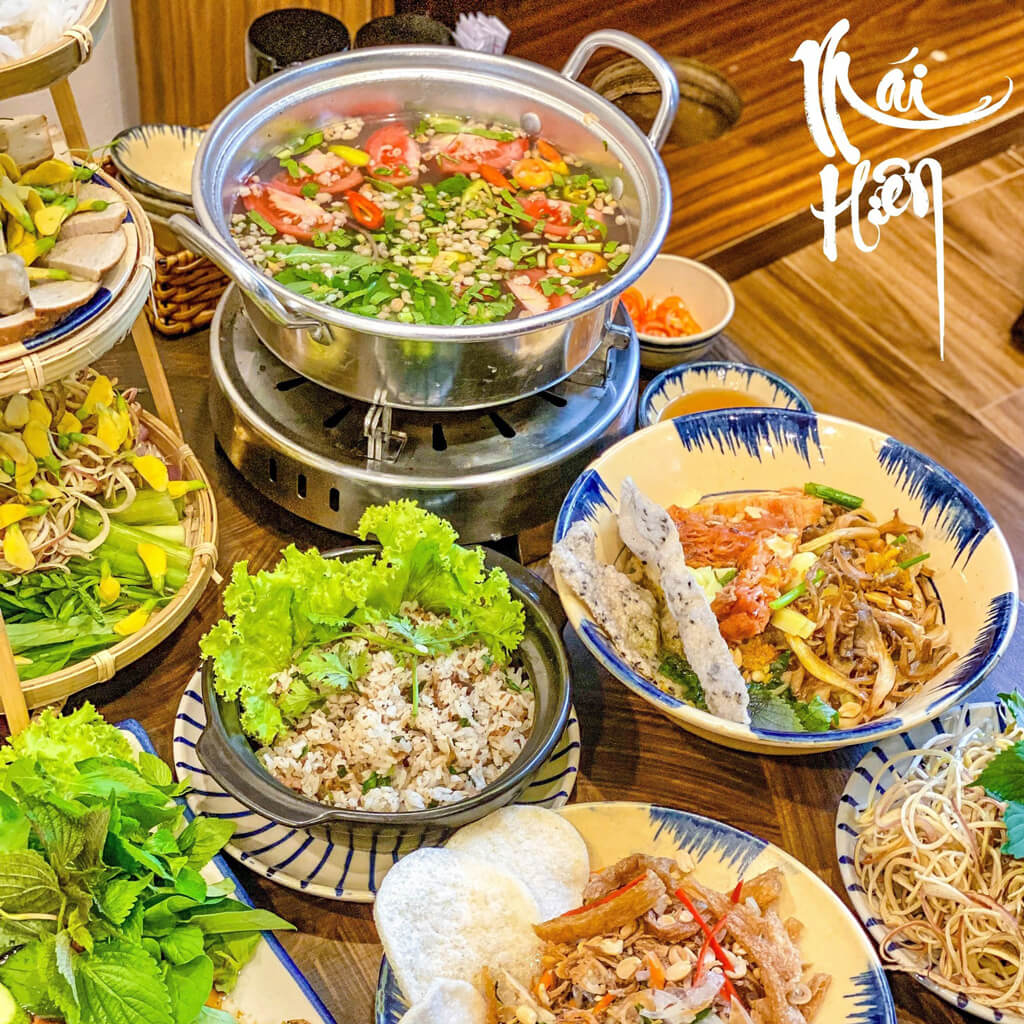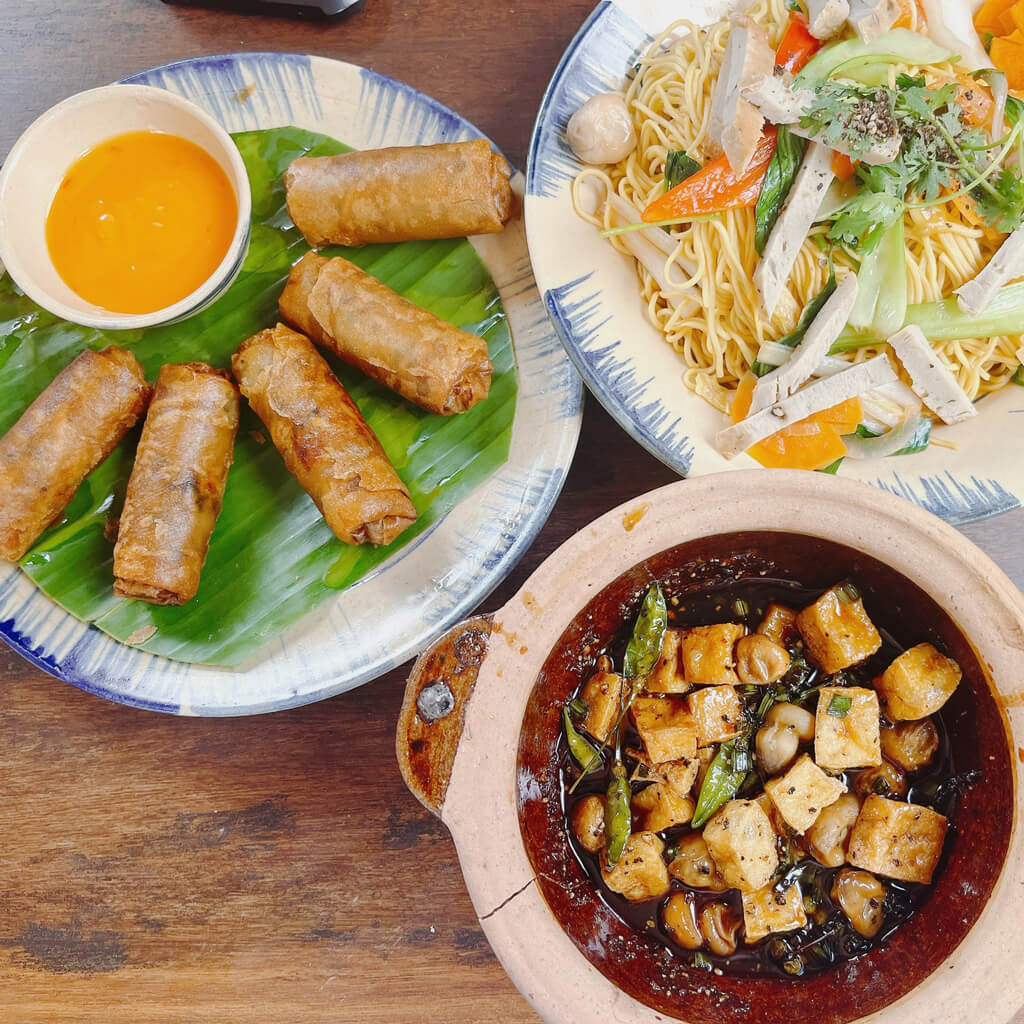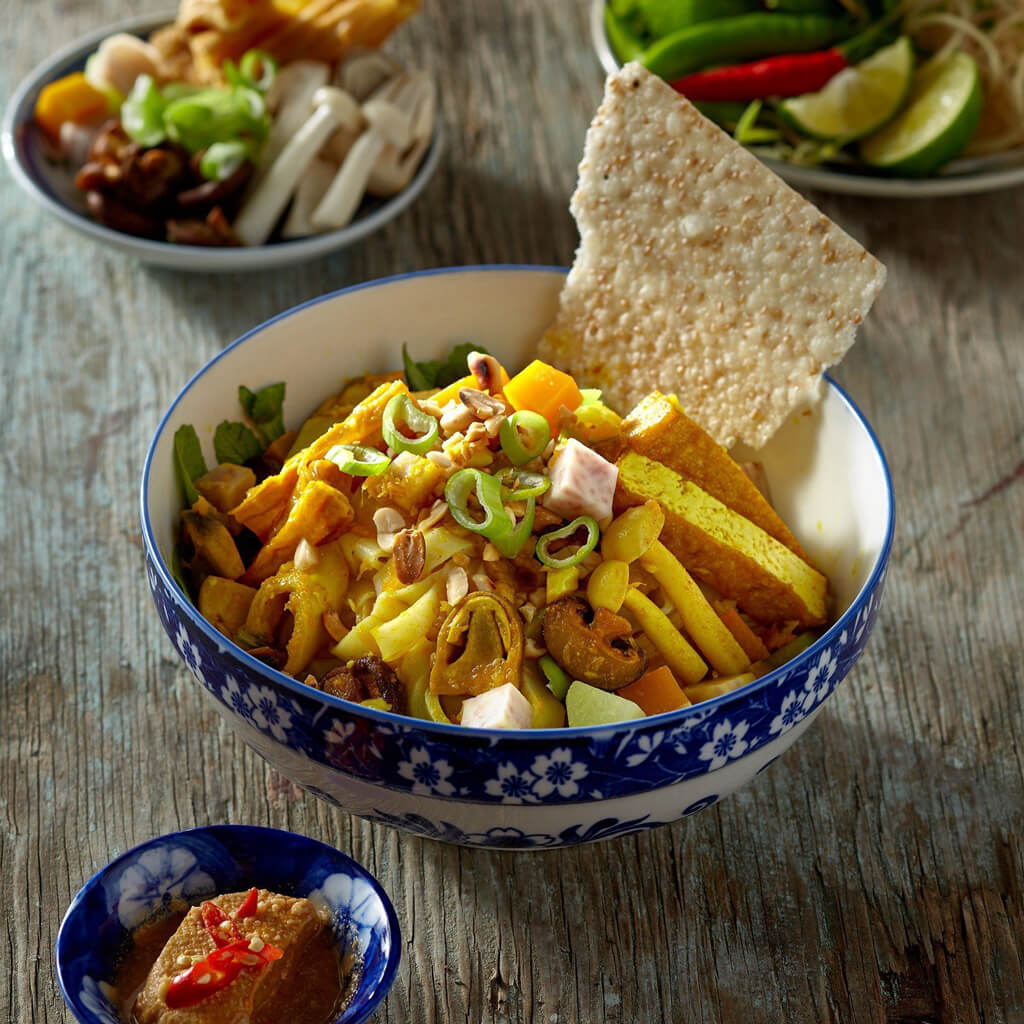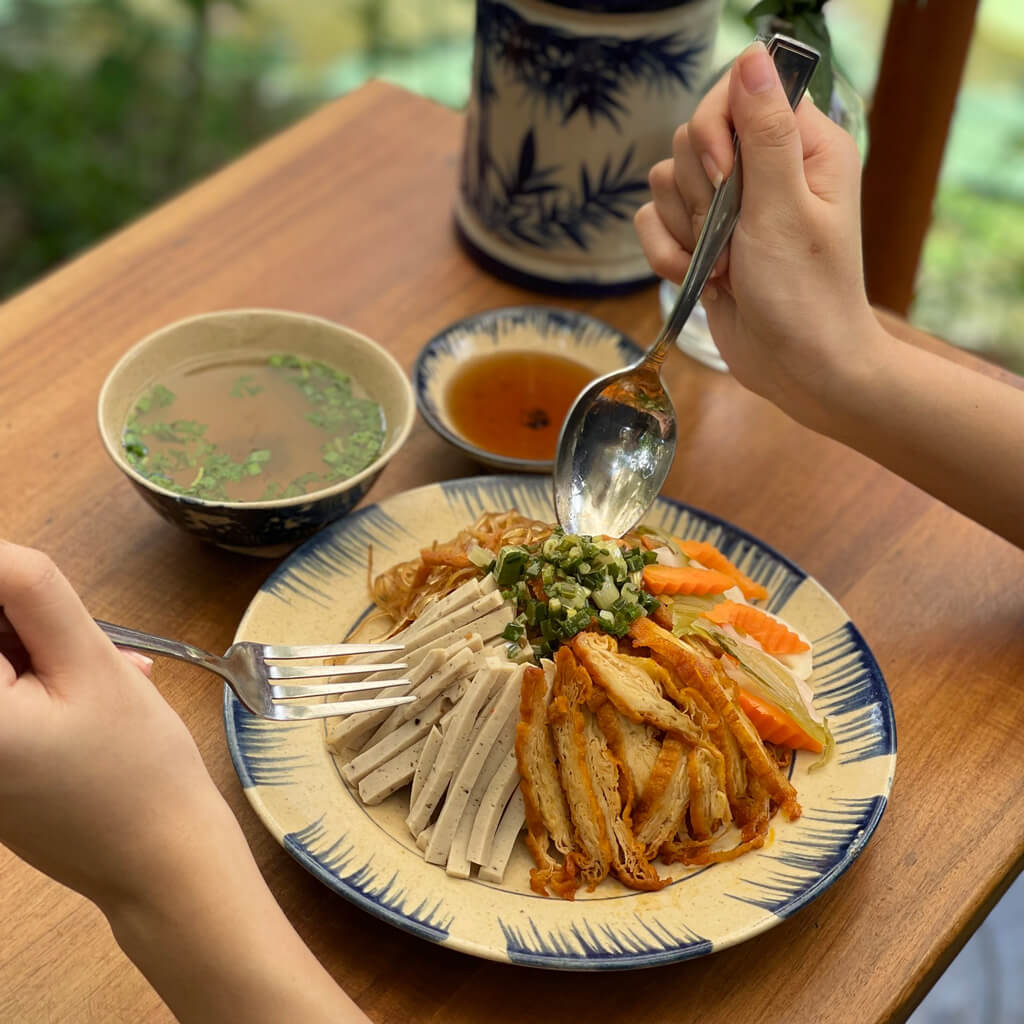 In addition to these specialties, the restaurant also offers vermicelli, Quang-style noodles, broken rice, and more, each brimming with flavor and artistry.
Outstanding Service
The restaurant's staff is highly professional and attentive, ensuring that even the most discerning guests leave with a satisfied palate and heart. Vegan cuisine continues to be loved by many for its health benefits, body cleansing, environmental sustainability, and its potential for youthfulness.
Head over to Mai Hien Vegan Kitchen to savor the most delectable vegan dishes in the heart of the Mekong Delta.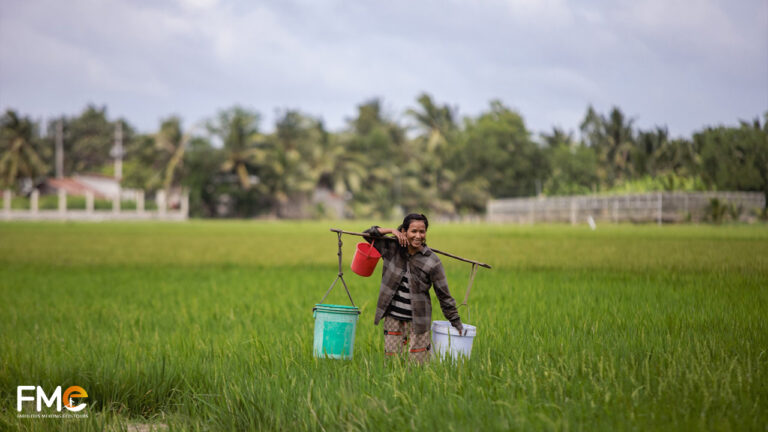 Images of the countryside in An Giang Vietnam, where honest farmers, rice fields, trees, cows, green rice-colored roads,... Explore photos now!
The Most Popular Tours offered by FME Travel