Son Islet in Can Tho - Explore Vietnamese Countryside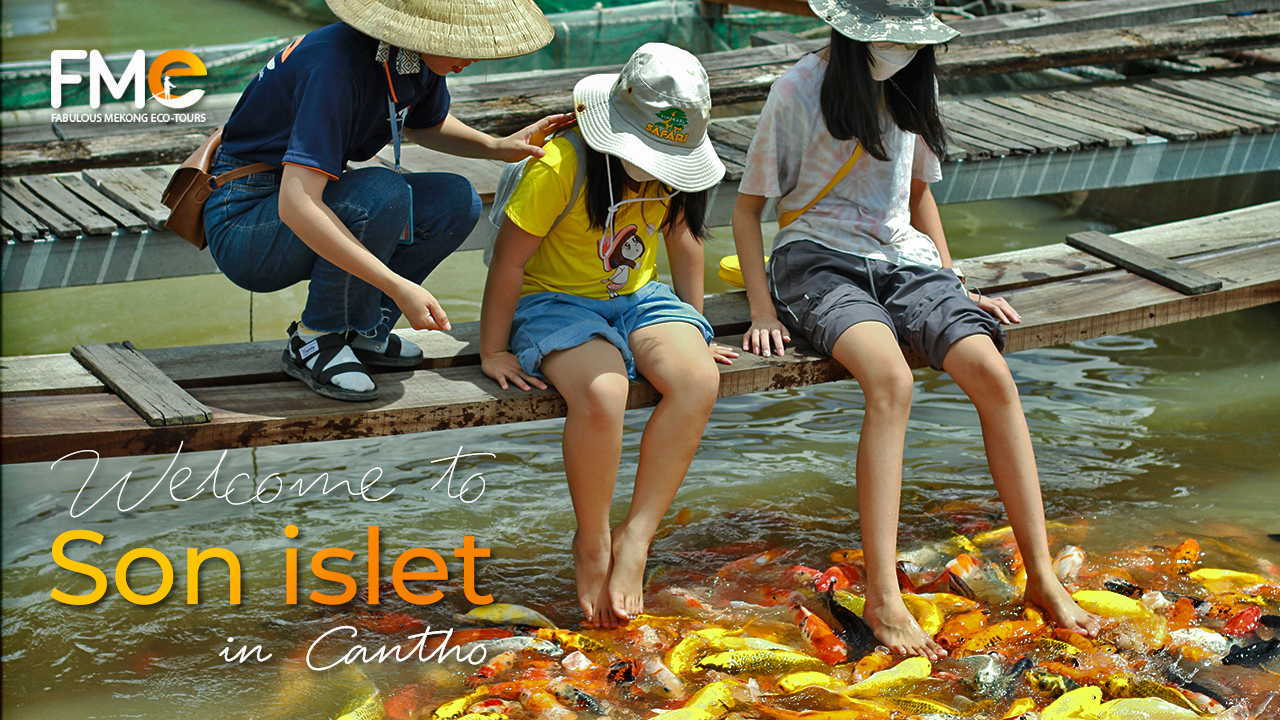 Are you looking for a travel experience in the Mekong Delta, especially Can Tho city? Or if you want to immerse in the daily routine of tropical Southwest locals such as catching fish, crab, boating, cooking with the locals and enjoying the rustic dishes; Son Islet is a perfect destination imbued with condensed Southwest culture.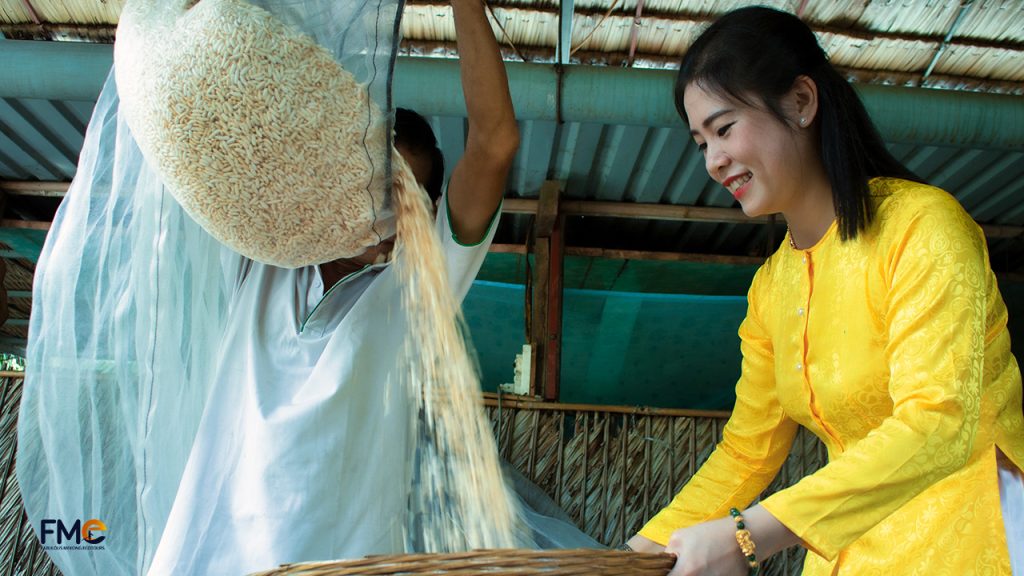 Opposed to the bustling life in the city center, Son Islet has a very different atmosphere with the beauty of the Southwest countryside. Let's explore all about Son, which is called a "green pearl" laying in the middle of the river in this article.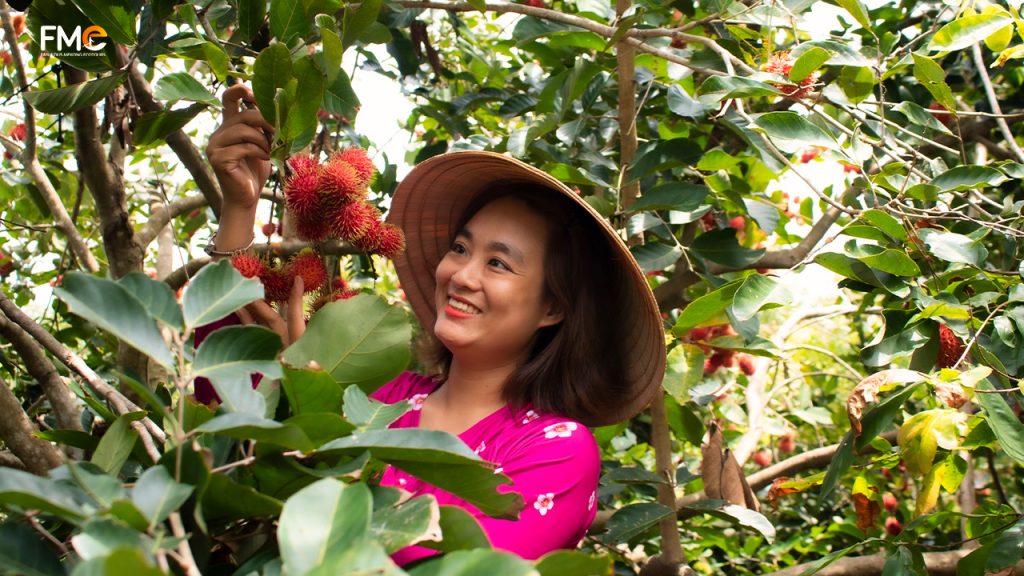 Things To Experience And Food
When you visit Son, the first most impressive things you will experience are the lifestyle and activities of local people. They are very hospitable, friendly and know how to create a comfortable atmosphere for the visitors.
Each house on this islet has its own function, some raise fish, some grow fruit trees, some cook, etc. You can visit almost any local's house to experience the activities and lifestyle here.
And don't forget to immerse yourself into the nature and the daily life of Son Islet such as slapping ditches to catch fish, finding snails, crab, picking vegetables, rowing, boating along the canals, enjoying rustic dishes, etc.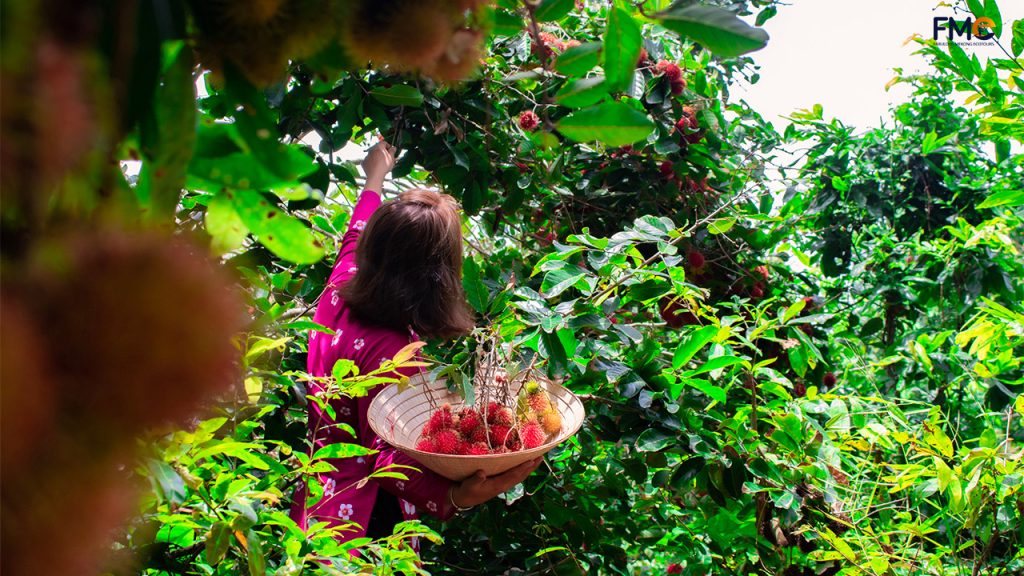 Son Islet fish raft village
Before entering the orchards, you can visit the fishing houseboats which are owned by families of people who choose water-associating life.
From fishing rafts that prodive fishes for diners and restaurants, the owners took advantage of them as attractions for tourism. There are about 50 houseboats around the islet which make this islet interesting and unique with the visitors.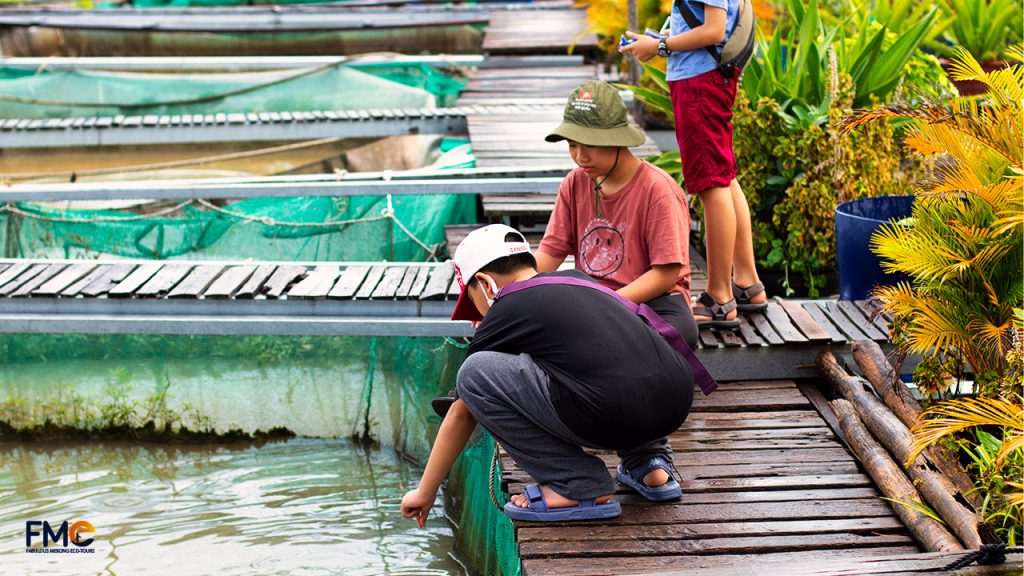 At Uncle Bay Bon's fish raft, you can explore the fish farming process, how to raise and train the fish, listen to his stories of raising fish and observe the fish swim around. There are thousands of different fish with different colors which are raised such as strabismus fish, pangasius, etc.
There are especially Koi fish ponds which are very colorful and nice to see. It is very comfortable observing the water-splash of fish eating food and enjoying the cool wind from the river.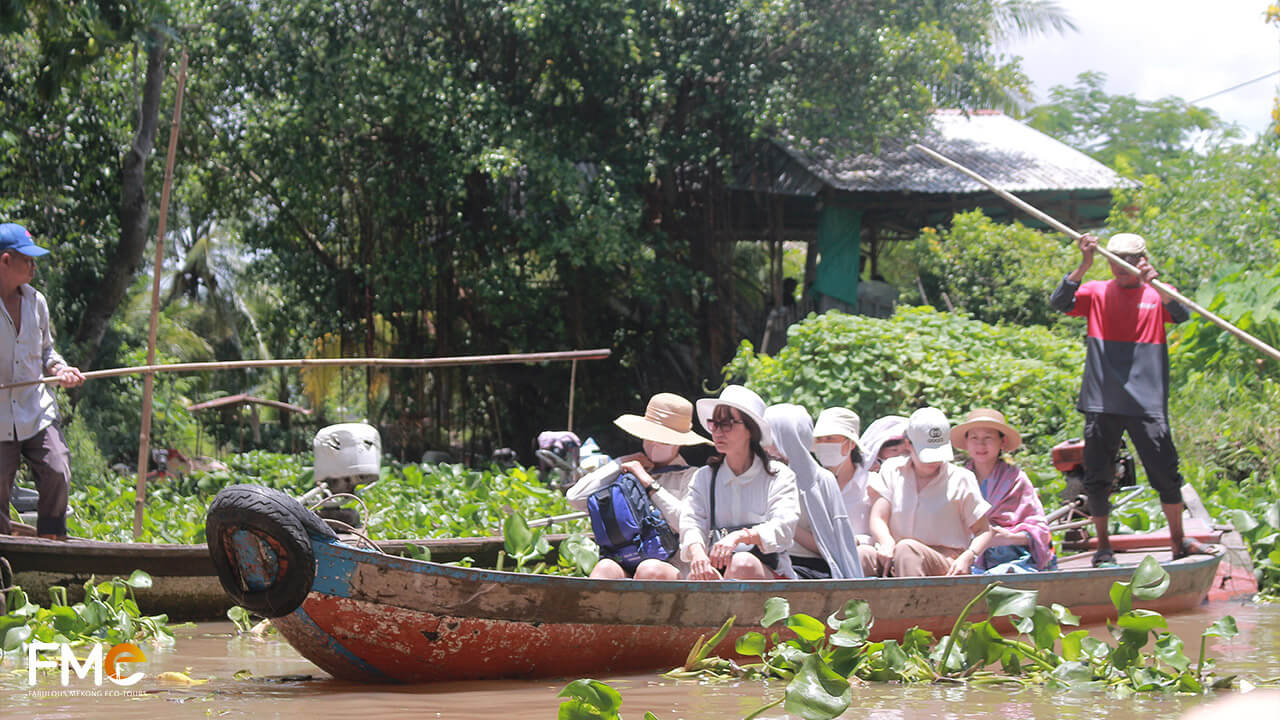 Visiting the seasonal orchards
Thanks to the fertile soil and wet weather, the orchards in Son Islet are very laden. There are the most popular tropical fruits such as rambutan, longan, pomelo, dragon fruit with red flesh, guava, star apple, jackfruit, etc. And each orchard can have one kind of fruit or a combination of many kinds of them.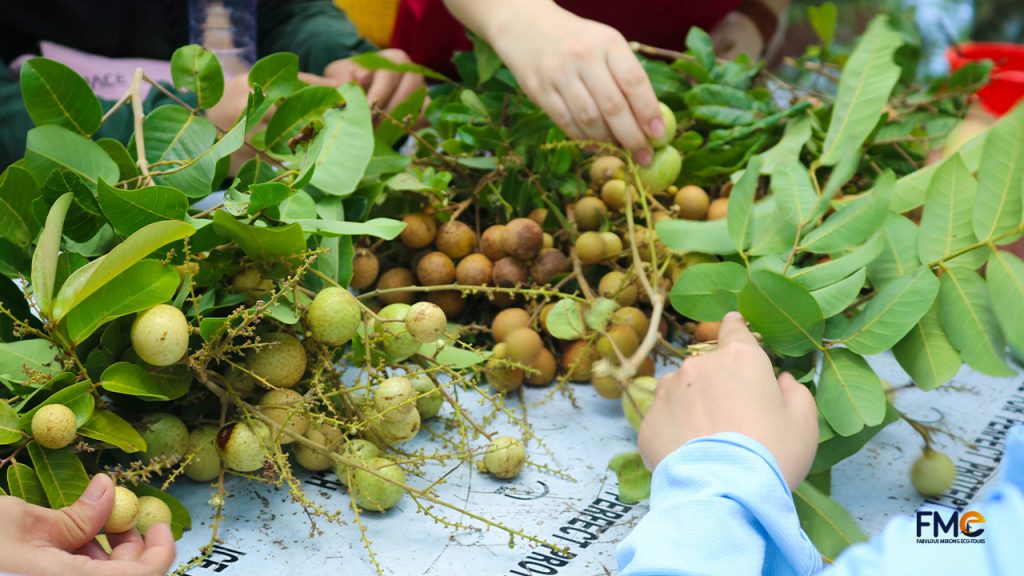 When you visit an orchard in Son Islet, you are able to hand-pick right in the garden (but not too much) and enjoy the fresh fruits. Tourists can also buy fresh fruits from the orchards directly.
Most of all, the orchards in Son Islet have poetic beautiful scenery with cool climate which can possibly make you feel relaxed when visiting them.
Making southern traditional cakes
It would be a regret if you miss this activity. When visiting Son Islet, you should experience making the southwest folk cakes with the instruction of the local women.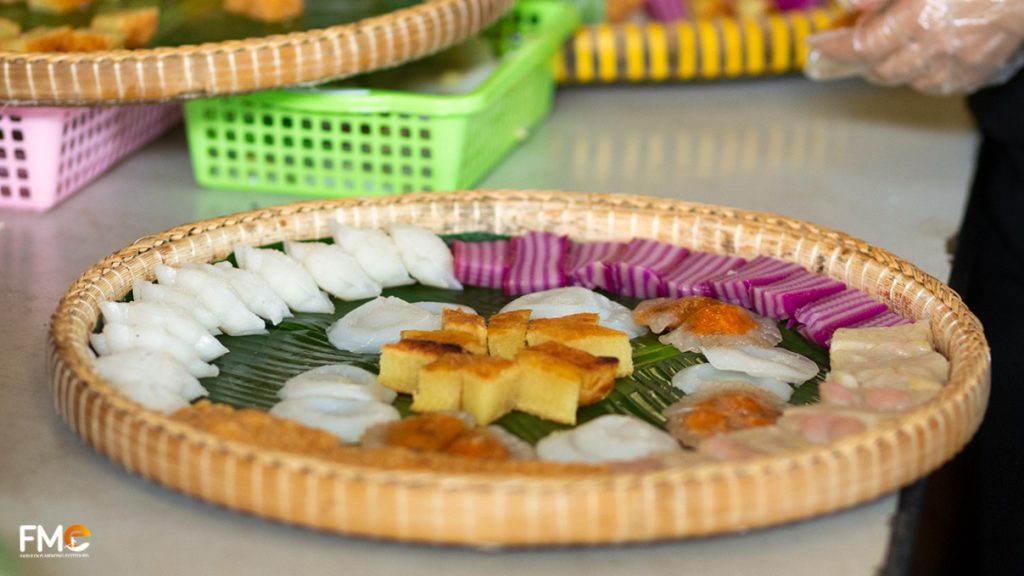 There are some kinds of cake which are very popular in the South culture such as bánh kẹp nướng (dry cake), bánh khọt, bánh lá mít (jackfruit leaf cake), bánh xèo (pancake), bánh in, bánh da lợn (pig skin cake), etc. Those traditional cakes are made very simple utilizing local ingredients. Coconut milk is usually eaten with those cuisines.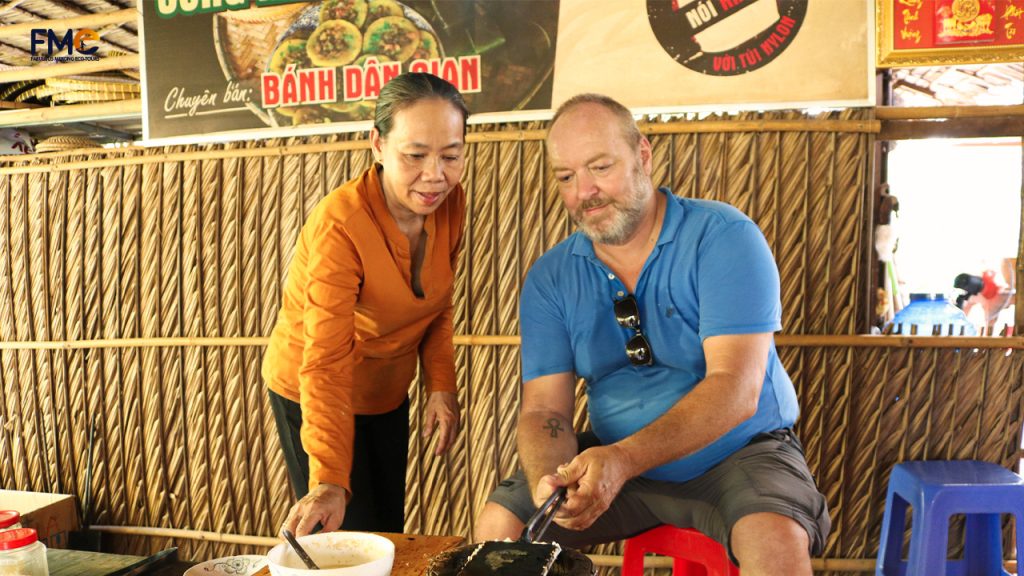 It would be a tasty experience when you start from the beginning of the cake making process as you prepare ingredients, mix, pour the mixture and after all enjoy your own dish!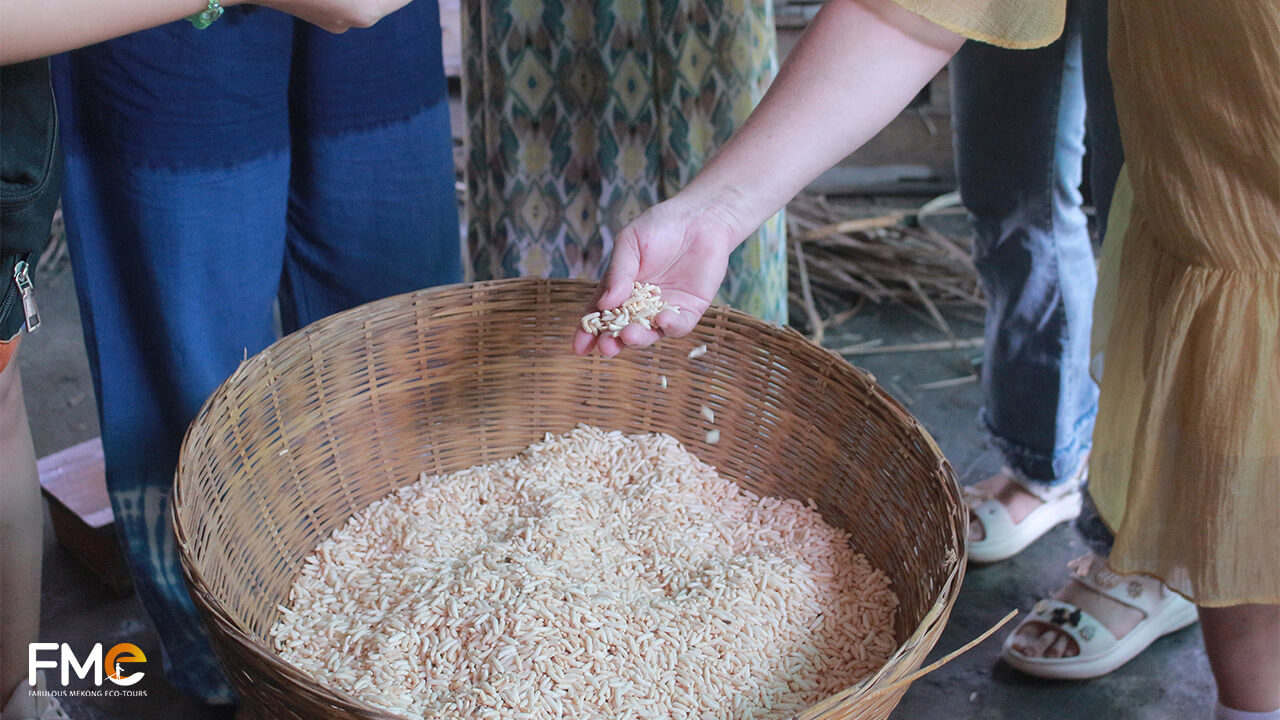 Feeding Fish
At Song Khanh Garden, you can experience feeding rice for catfish and basa fish. It is very strange that the local people will make a sound to "call" the fish, then when they gather, we can feed them with rice or fish's food. If you want to join this activity, you should pre-contact with Song Khanh Garden.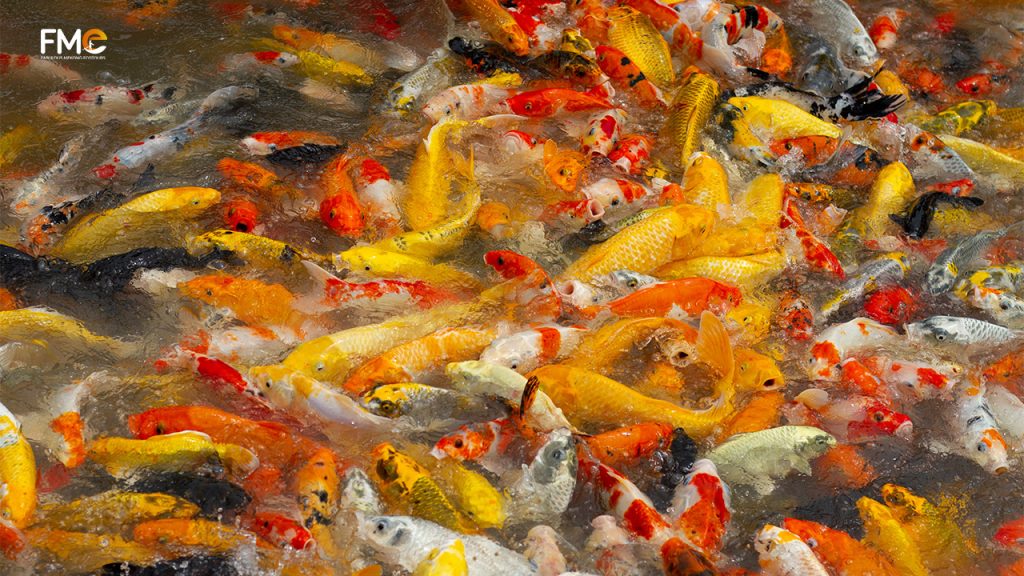 Watching Flying Snakehead Fish
Flying Snakehead fish is a specialty of Son Islet. When the owner taps on the keng, a hundred snakehead fish will gather on the water surface and when food is thrown down, we will be impressed by a hundred snakehead fish flying into the air to catch the food. This performance is very wonderful and requires high skills of the fish trainer.
Have lunch with local dish
After having a great time for outside activities such as struggling to catch fish, you can have lunch right at the garden or local houses and enjoy rustic dishes. Or you can even enjoy on-site your own fish, snail or crab you did catch. The local people will cook them for you and you can join cooking too.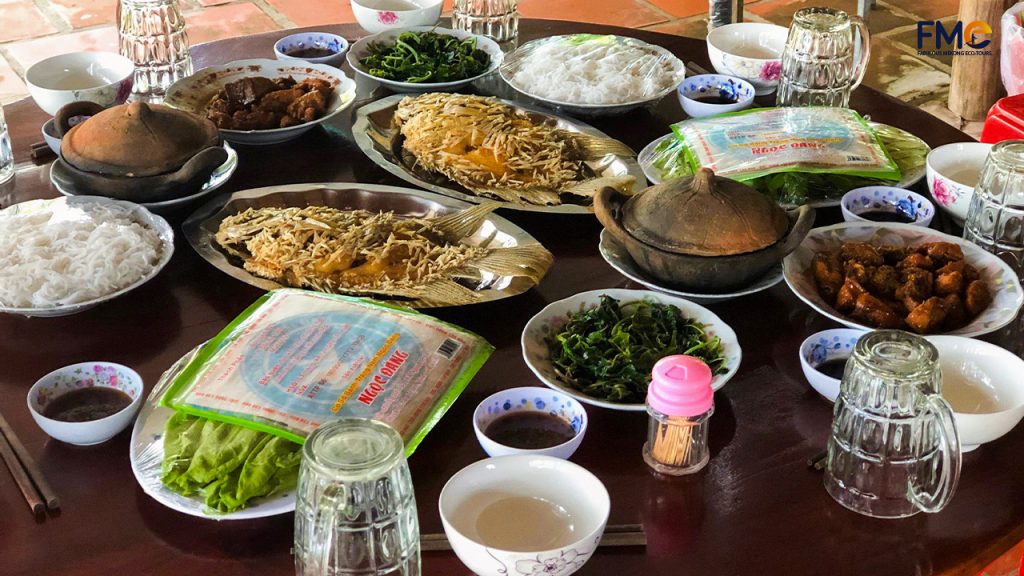 It is very great to have hotpot dishes in the cool climate of Son Islet, such as snakehead fish hotpot, fermented fish hotpot, etc. Or you can try fried fish eaten with rice paper, rice noodles and coriander, you will never forget the taste of this cuisine.
Besides, stew fish, grilled fish, grilled snails, steamed snails, steamed chicken with laksa leaves, steamed fish or dishes with water-hyacinth are also delicious and popular. After that, you can have dessert with the traditional cakes or you can drink lotus tea. 
And Enjoying The Atmosphere Here
Peaceful atmosphere here with the cool breeze from the river and fresh air will release your stress. Walking along the countryside road, you can see the scenery on both sides, fish ponds, orchards, locals houses with ancient style, they harmonize to make a wonderful poetic countryside scenery.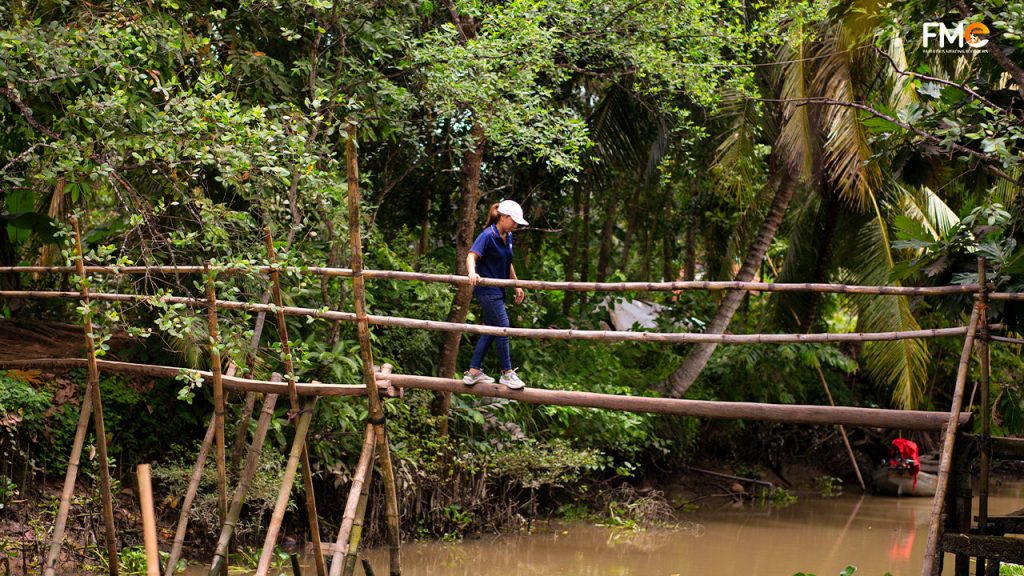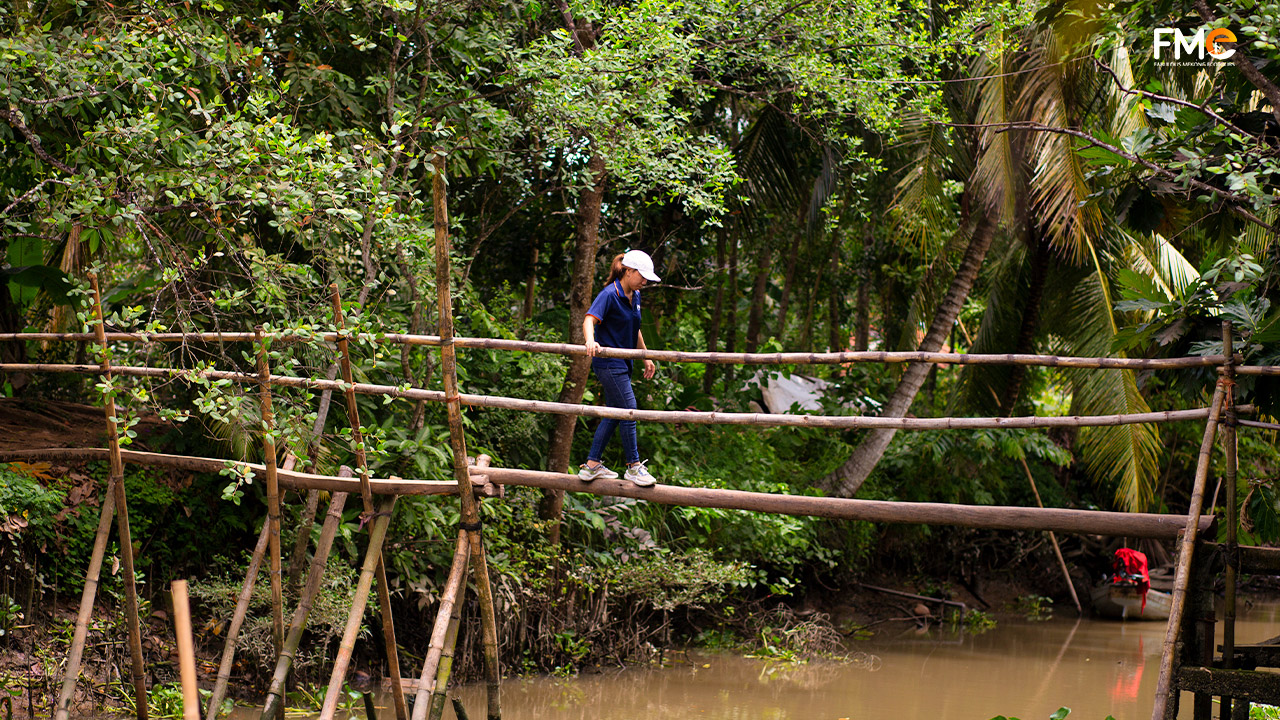 The thing that causes curiosity, excitement and a little bit of fear for the tourists is the monkey bridge. It is a kind of handmade bridge that the locals use bamboo sticked together to make. It is quite hard and thrilling when you firstly cross the monkey bridge.
Those images of quiet canals with dinghy on the surface and ancient houses made of wood or leaf (thatch houses) would make you have clear feelings about the values of Southwest culture.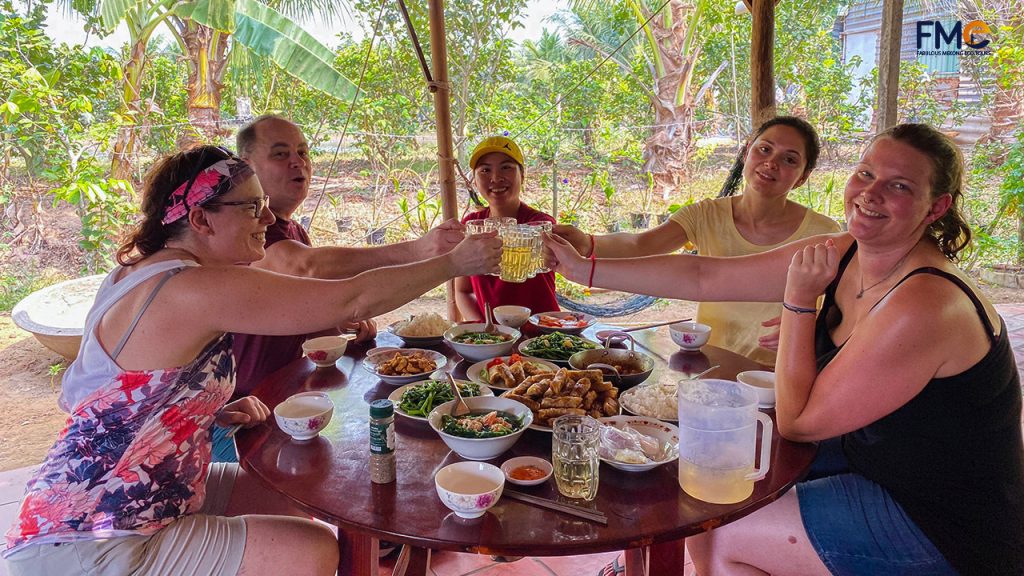 In the afternoon, you are able to witness a hundred of white and black storks flying in the stork garden. It is very wonderful to see it. Besides, there is a lotus field with pink or white lotuses which is very charming in the summer.
Still, there are more interesting and strange things waiting for you to experience at Son Islet that words are not enough to describe.
Unique Things About Son Islet
The most special of Son Islet is the community-based tourism. This is a unique tourism model that all households on the islet combine to make the tourism services together. And this kind of tourism model started in 2014 which gave all the citizens here the opportunity to expand their income from the combination of farming and tourism.
Each house on the islet has its own character. Those households that have orchards can serve the tourist fruits, households that have fish rafts provide tourists fishing service and visitation, those that have cooking professions can support visitors to experience the cooking, and some households that do the homestay business, etc.
They are all supporting and compensating for each other to contribute to the development of Son Islet Eco-Tourism.
When you visit here, you can enjoy all the dishes by the "community meal" – a specialty in Son Islet. Each family will prepare one dish and serve it to you, the locals will bike to deliver the cuisines from house to house to give the all-round meals for visitors. It is a very good and meaningful idea!
Where is Son Islet?
Located on the middle of Hau river, Binh Thuy district, Can Tho city, Son Islet is opposite Co Bac ferry station on the right and is opposite Tan Quoi town, Vinh Long province on the left. Son Islet is not far from the mainland so it takes just 5 to 10 minutes to cross the river by ferry-boat.
Son Islet has an area of 70 hectares and less than 100 households. It has a diverse ecosystem with fertile rich soil, fresh air and luxuriant orchards. Most of all, the local people living in Son Islet are very friendly and hospitable.
Adress: Bùi Hữu Nghĩa, Bình Thủy, Cần Thơ, Vietnam.
Google Maps: https://goo.gl/maps/QA34Z6K9oRN7napeA
Why Is It Named Son Islet?
In the past, there were a lot of gardenia trees on Son Islet, which is called "cây sơn" in Vietnamese. The gardenia tree sap was collected to be used for painting the altar and wooden furniture called "sơn son thếp vàng" in Vietnamese. And that is how people call this oasis Son Islet.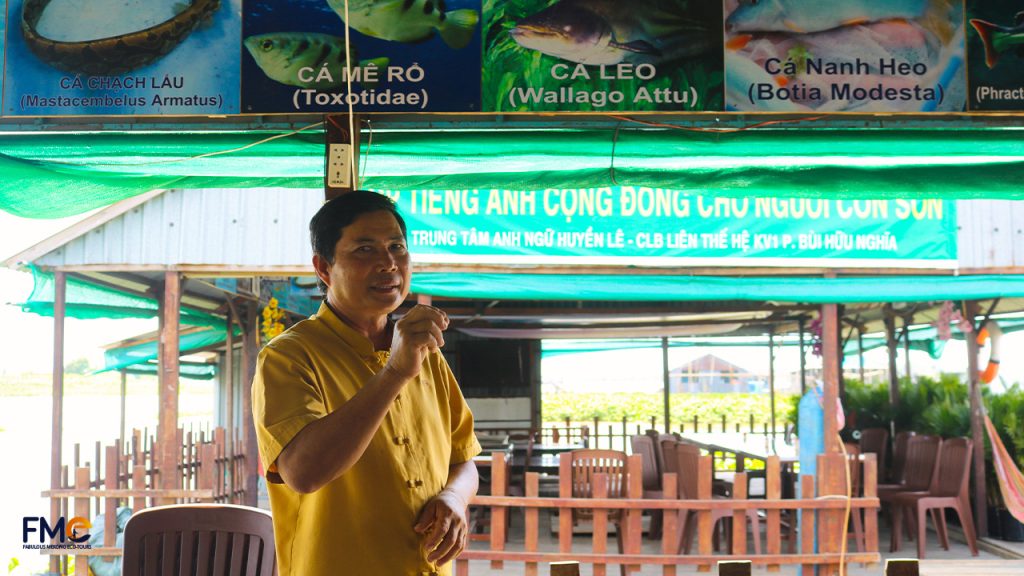 Exploiting trees' sap and making wooden furniture were the original handicraft of this islet at the beginning. However, this handicraft gradually disappeared and was replaced by raising fish, gardening and growing fruit trees.
Stories About The Formation
According to some documents, before it had the name Cồn Sơn (Son Islet), it was called Con Linh. Due to a serious pandemic in Binh Thuy region which caused many deaths, and those corpses drifted into the islet bank; the locals made an altar to worship and pray for the ghosts of the dead to be soon liberated.
Since they recognized it sacred, the islet was named Con Linh ("Linh" stands for and means sacredness)
To other folktales, there were many monsters under the water that caused disasters and harmed people on this river. Therefore, the locals made an altar to pray for mild weather and peace for this region. And after that, a mudflat gradually rose out of the water surface and became larger, so the locals called this islet Con Linh.
The Best Time To Visit Son islet
Son Islet opens for tourists all year round, but the most beautiful time to visit Son Islet is during the fruit season – from April to July. April and May are the beginning of the rainy season in the Southwest which makes the soil more fertile and the plants more luxuriant.
This is the time of harvesting many kinds of fruits. It would be wonderful to observe the laden fruit gardens and enjoy the tastes of them in this harvest season.
It would be cooler in the morning and you will find it interesting walking along the islet. At noon, when it gets hotter, you should stay at locals' households to have lunch and rest. If you want to experience the night in Son Islet, you have to pre-contact the homestay to stay overnight.
Of course, Son Islet still has its own beauties in the other seasons. In the remaining seasons, there are still many interesting activities for the visitors to join so you can be wallowed in the green, fresh air and the Southwest culture here.
Accommodation
If you want to stay overnight in Son Islet, there are some households that have the homestay services. Remember to pre-contact the owners of homestays in advance if you want to book because only a few households do homestay business and there are some days off.
It would be easier to visit Son Islet during the day and return before night. So you can rest or take a nap at the household where you have lunch. You can also take a nap on any hammock that hangs in the house or garden.
How To Get To Son Islet?
Son Islet is about 9km away from Can Tho city center, following National Highway 91 to Co Bac ferry station in Alley 13, Binh Thuy ward, Binh Thuy district. You can book a technology motorbike or taxi to get there. Use Google Maps to search for "Bến đò Cô Bắc" or "Bến tàu du lịch Cồn Sơn" to avoid getting lost.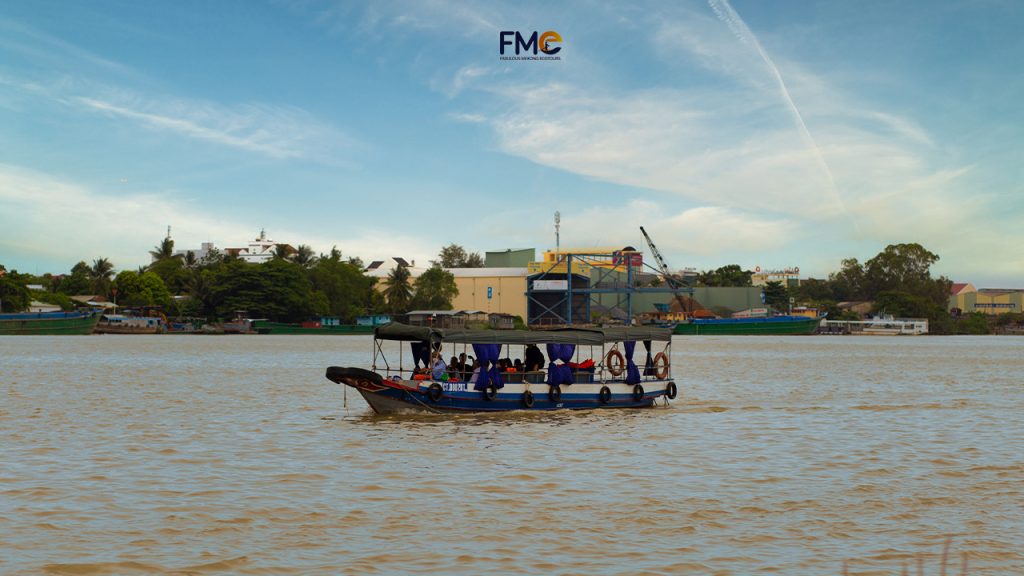 At the ferry station, you have to park vehicles in the parking lot and buy a ticket to get on the ferry-boat to move to the islet. There is a combo ticket which consists of ferry return-ticket, Son Islet guide, ticket to go fishing farm and other experiences on the islet. You can arrive there by grab, taxi or rental motorbike.
Ferry ticket price: 10,000 – 20,000 VND
If you look for nearby attractions, there is the Binh Thuy ancient house (about 3 km away from Son Islet) where you can explore the combination of old french architecture and oriental feng shui. Nearby is Nam Nha Pagoda and Binh Thuy Temple which are typicals of Southwest spirituals.
If you don't have enough time and want to experience representative destinations in Can Tho, you can book us – Fabulous Mekong Eco-Tours for 1-2 days Can Tho tour which includes the Cai Rang floating market, Son islet, Binh Thuy ancient house, Cacao Farm, Boat tour, Bike tour, Food Tour, etc. And furthermore, we also have Mekong Delta tours. Our contact information is attached below.
Things You Need To Take Into Account
One important thing you need to know for a perfect trip is to contact in advance with the travel-making households in Son Islet before you arrive. So the locals can have enough time to prepare the attractions, dishes, and resting places for you.
As high-aware tourists, we should always remember to "keep-it-clean". Because there are not many authentic places like this, putting trash in the right place and keeping the environment clean are necessary. The high awareness of tourists is also the motivation for the locals to make the services better.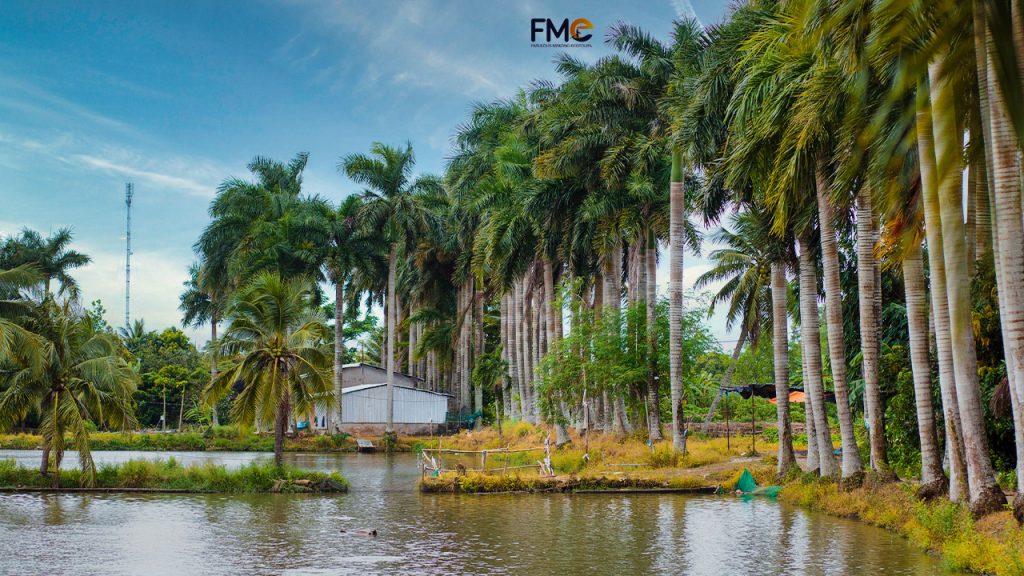 Remember to bring a raincoat in the rainy season, and umbrella, sunglasses, hat and sunscreen so that you can avoid skin being tanned. Bring mosquito repellent cream if you want to stay overnight!
Review of tourists
"An eco-tourism with standard Southwest orchards, reasonable prices and delicious food. Specialties are rare in other places. The locals and tour guide are very enthusiastic. It's suitable for family and friends or groups of domestic and foreign tourists to experience services such as visiting fish rafts on Hau River, rare and preserved fish such as red-tailed, koi fish,… Besides, there are seasonal orchards, rustic dishes, traditional cake making and South folk performance. – Trí Nguyễn
"There are many attractive services here with good prices and gentle locals. The cuisine served on the islet is organic and self-sufficient." – Kid Sand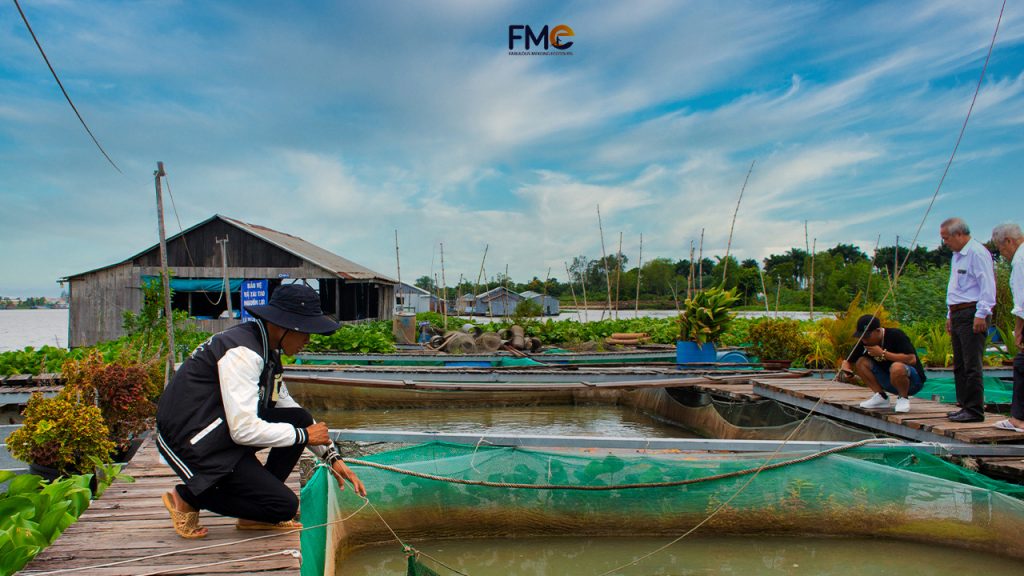 "It is very fabulous! The tour guides are very enthusiastic and gentle. The locals who do the community tourism are very friendly and hospitable. There are many kinds of seasonal fruits at this countryside islet. If you have not visited here, let's do one!" – Huỳnh Mai Trần
The beauty of green orchards, brown color of river, canals and hospitable locals at Son Islet Islet will leave you an impression that you would never forget. This is definitely a must-go destination for you when you arrive at the Mekong Delta!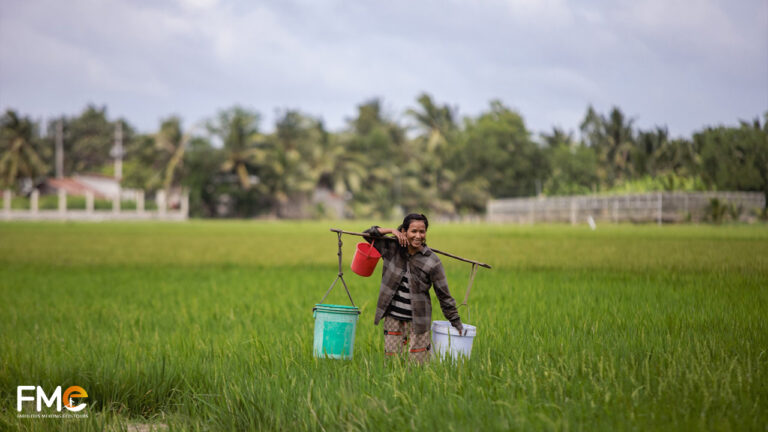 Images of the countryside in An Giang Vietnam, where honest farmers, rice fields, trees, cows, green rice-colored roads,... Explore photos now!
The Most Popular Tours offered by FME Travel