11 Best Local Coffee Shops in Can Tho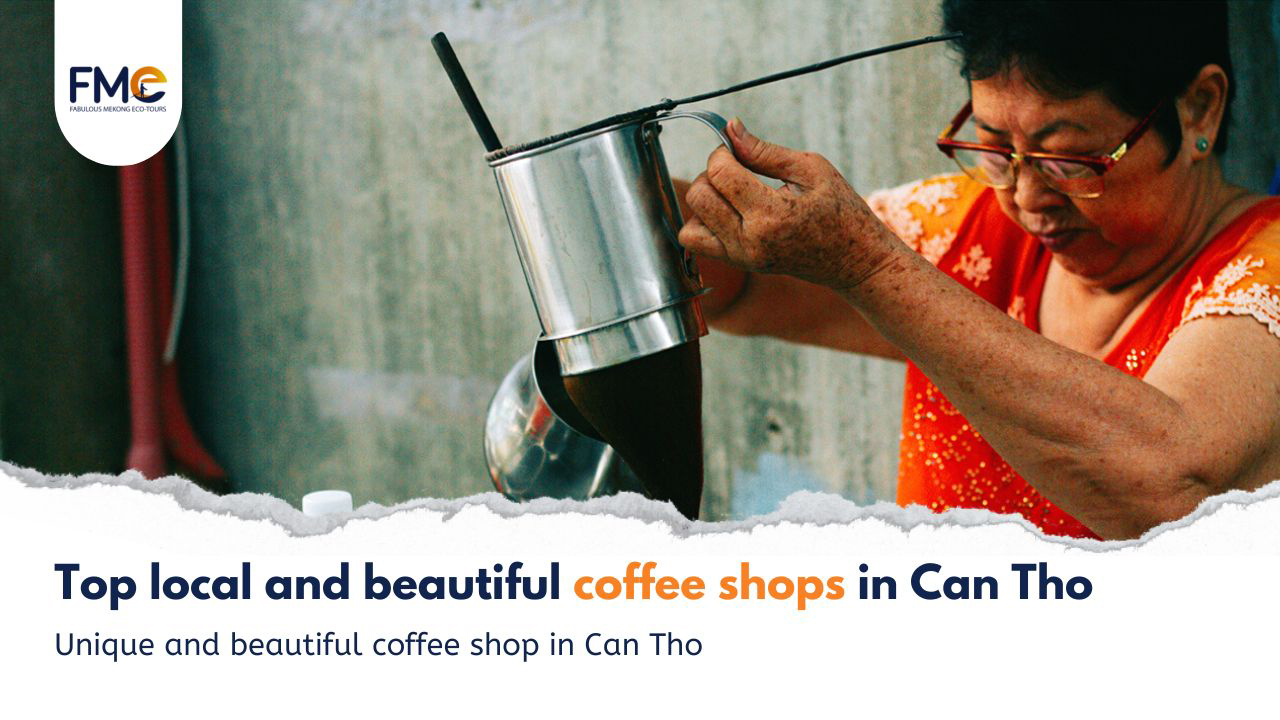 Vietnam is the world's second-largest coffee producer. So it is no surprise that coffee shops are everywhere in Vietnam, from busy street stalls to unassuming little cafes hidden around the corner.
Vietnamese people have their own style of enjoying coffee, they do not consider coffee as a quick drink that has anti-drowsy effects but enjoy coffee as a culture of sipping and contemplation.
Vietnam in general and Can Tho city in particular, is one of the places for coffee addicts or travelers who want to experience the Vietnamese amazing local coffee culture. 
Here are top 11 of famous coffee shops in Can Tho that are provided:
1. Mr. Tu Goat Milk & Coffee Shop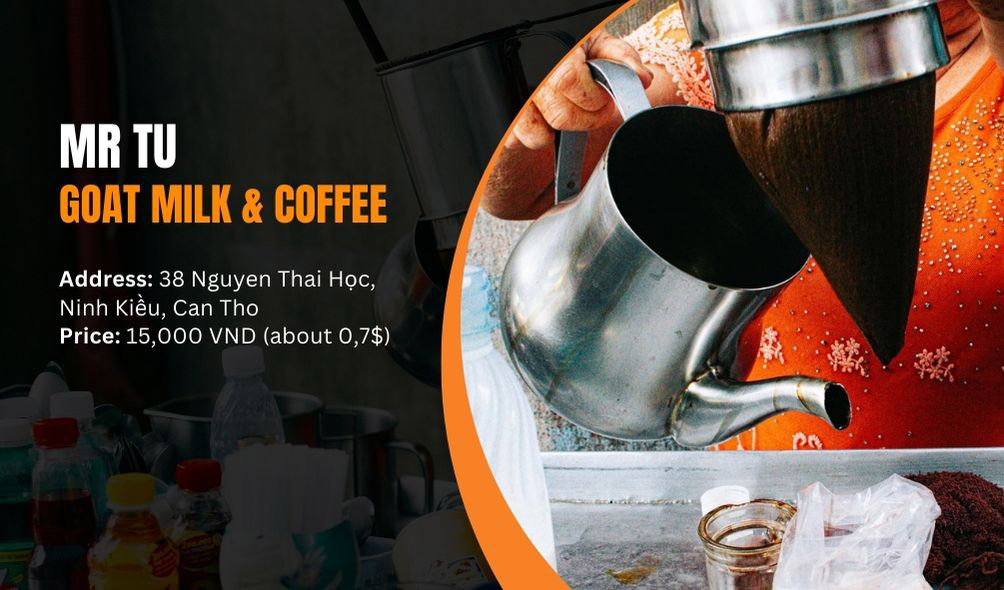 Have you ever tried drinking coffee with goat milk? It sounds strange, but it is the signature of Mr. Tu's goat milk cafe which has been located on the corner of Nguyen Thai Hoc street for more than 20 years.
Wake up early to enjoy this special goat's milk coffee because goat's milk is only served in the early morning.
I believe that a glass of fragrant, light-fat goat's milk with the typical Vietnamese coffee will give you an energetic morning.
Address: 38 Nguyen Thai Hoc street, Tan An ward, NInh Kieu district, Can Tho
Price: 15,000 (0,7$)
2. Ca phe Vot Can Tho (Racket Cafe Cantho)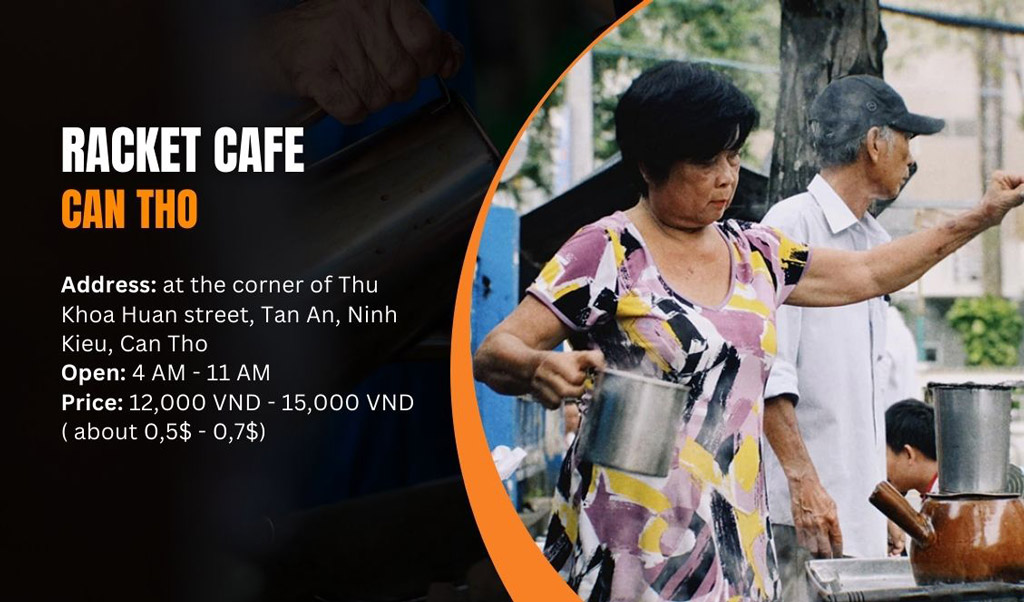 "Ca phe Vot" has existed for nearly half a century, but through the changes of time, it still retains its original taste, and street coffee culture and brings nostalgia to locals here in Can Tho.
This is an unsigned cafe, located on the sidewalk attached to the corner of Thu Khoa Huan street. The coffee dishes simply include two traditional types such as condensed milk coffee and iced coffee with the interesting feature of South Vietnamese people being "vot" coffee.
Note: "vot" coffee is using a racket (it means vot) to put the coffee powder in a pot of hot water
Address: at the corner of Thu Khoa Huan street, Tan An ward, Ninh Kieu District, Can Tho
Open: 4 AM – 11 AM
Price: 12,000 VND – 15,000 VND (about 0,5$ – 0,7$)
Google Maps: https://goo.gl/maps/Fhix1HcPpoFoApKe6
3. Tu Diec Cafe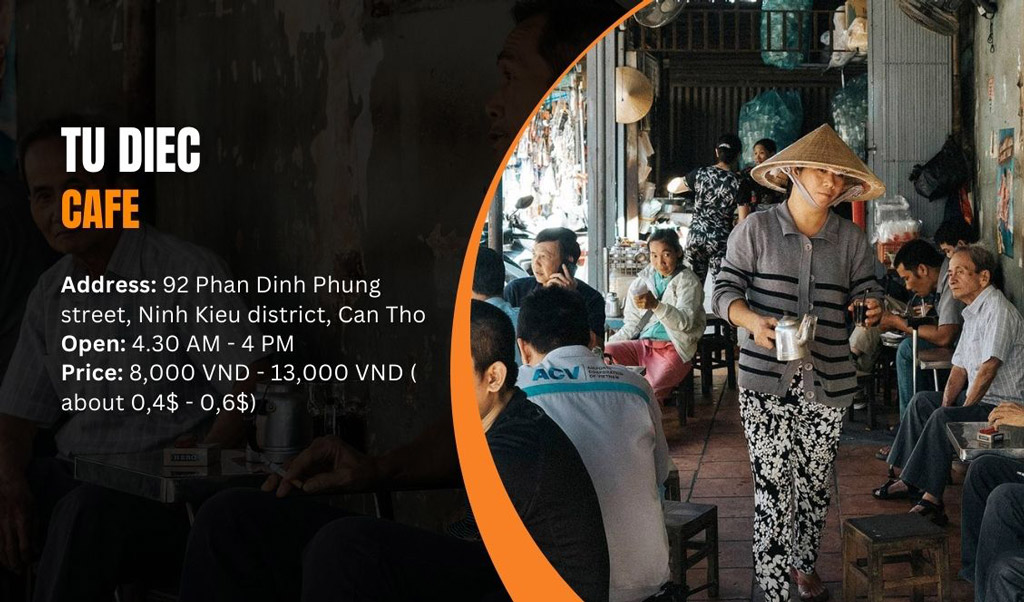 The shop is located on Phan Dinh Phung street with a narrow space with a few simple tables and chairs. The menu features a few options only, all of which are simple yet typical drinks of a Vietnamese coffee shop. Anyone, even the most picky drinkers, should enjoy the drinks in this cafe.
Personally, the special attraction of the shop probably comes from the bar that is placed publicly in front of guests. In addition to sipping a cup of coffee in the morning listening to stories from the elderly aunts and uncles, you can also see how skillfully the owner makes coffee.
Address: 92 Phan Dinh Phung street, Ninh Kieu district, Can Tho
Open: 4.30 AM – 4 PM
Price: 8,000 VND – 13,000 VND (about 0,4$ – 0,6$)
Google Maps: https://goo.gl/maps/JzwG43D9CFoTfRt9A
4. Tiem ca phe so 4 (So 4 Coffee Shop)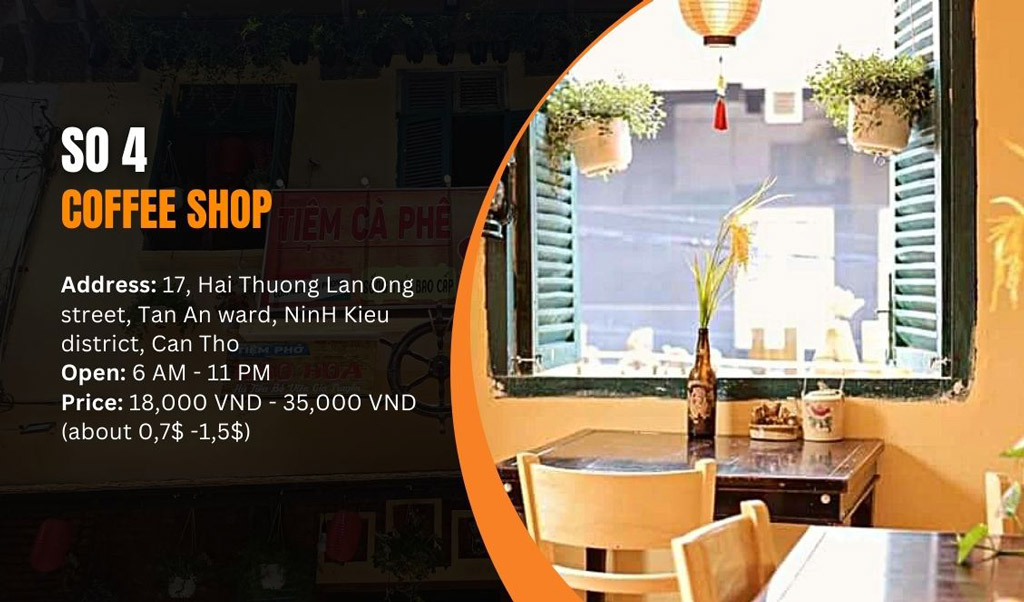 This is the place for those who love the cozy and rustic features of traditional Vietnamese families. The shop has a cool, quiet space and the most interesting point is not only enjoying the charming taste of coffee but also listening to the melodious sounds of old songs.
There are many corners that are meticulously decorated for taking photos of customers' check-in. Especially on Tet holiday, the shop offers ao dai rental service so that customers can freely create their own beautiful photos.
Address: 17, Hai Thuong Lan Ong street, Tan An ward, NinH Kieu district, Can Tho
Open: 6 AM – 11 PM
Price: 18,000 VND – 35,000 VND (about 0,7$ -1,5$)
Explore more about Can Tho cuisine: Must-try local food in Can Tho.
5. Banh Mi Da Beo Coffee Shop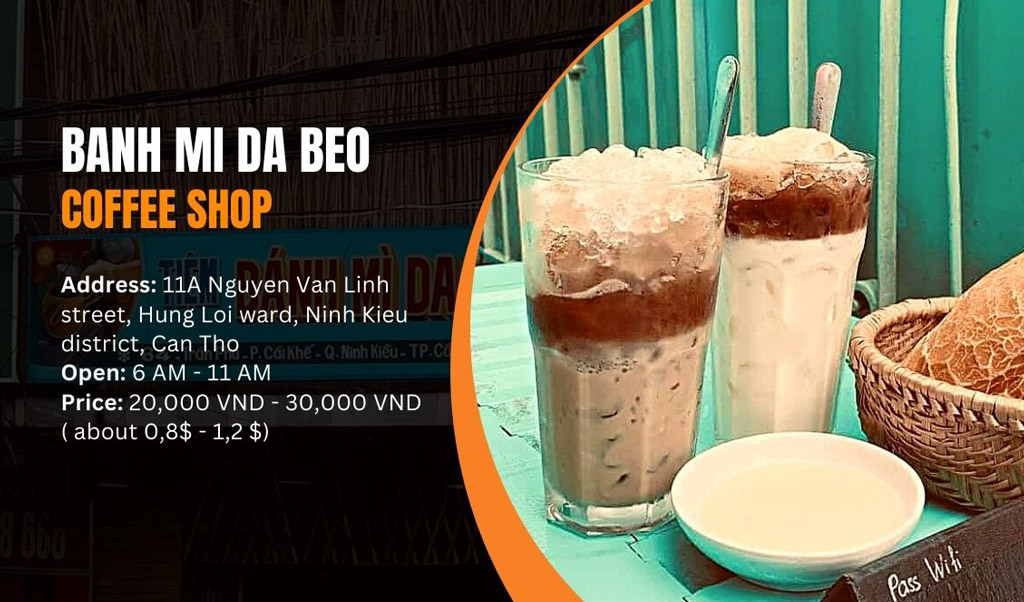 With an ancient and nostalgic style with faded wooden tables and chairs, Ca Phe Banh Mi Da Beo has attracted and captured the hearts of diners with its airy space and gentle drinks. Coming here, just enjoying a delicious cup of coffee and banh mi in the early morning watching the crowded traffic, nothing is more wonderful.
Coffee is the main drink at the shop with a flavor suitable for many people's taste, the aromatic coffee not too bitter mixed with the sweetness and fat of milk.
If you happen to drop by Banh Mi Da Beo coffee shop, do not miss banh mi with condensed milk. Trust me, it is definitely worth a visit.
Address: 11A Nguyen Van Linh street, Hung Loi ward, Ninh Kieu district, Can Tho
Open: 6 AM – 11 AM
Price: 20,000 VND – 30,000 VND (about 0,8$ – 1,2 $)
Google Maps: https://goo.gl/maps/cEmAjj3MttBc5bMN8
6. Song Tho – Bird Nest Coffee Shop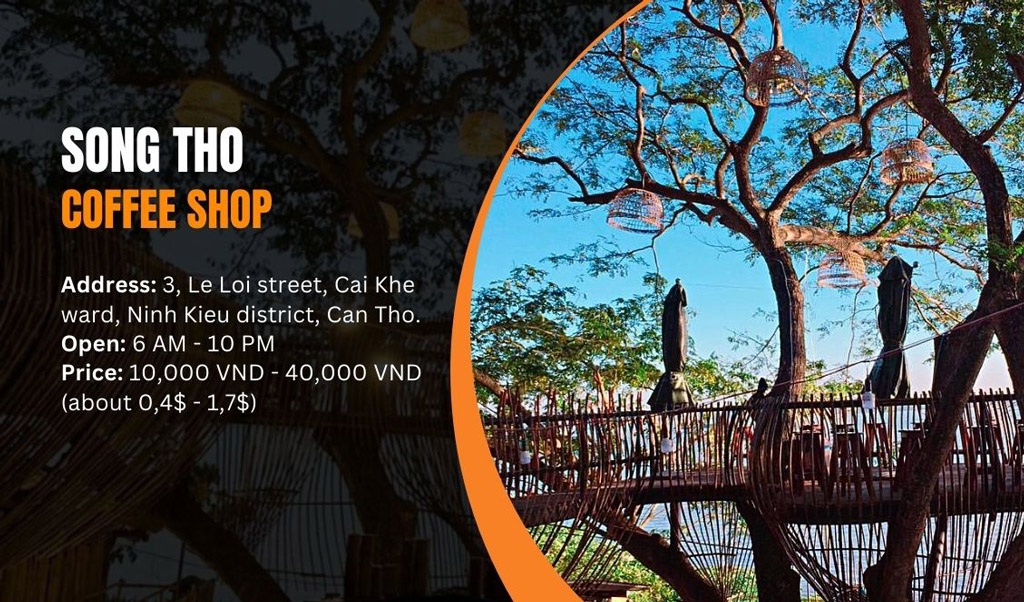 Have you ever experienced drinking coffee on a tree? So Song coffee will surprise you. The highlight of Song Tho Cafe is the fancy bird's nest design and the arrangement of tables and chairs on the tree trunk to bring many unique check-in corners.
Eating while enjoying the view of Hau River from the tops of ancient trees is an "extremely chill" experience. The menu of the restaurant is quite diverse, including food, cakes and drinks, but all are familiar dishes, not too special.
Address: 3, Le Loi street, Cai Khe ward, Ninh Kieu district, Can Tho.
Open: 6 AM – 10 PM
Price: 10,000 VND – 40,000 VND (about 0,4$ – 1,7$)
Google Maps: https://goo.gl/maps/qSqT7AmERZMeG1WB9
7. Cafe 1985 Can Tho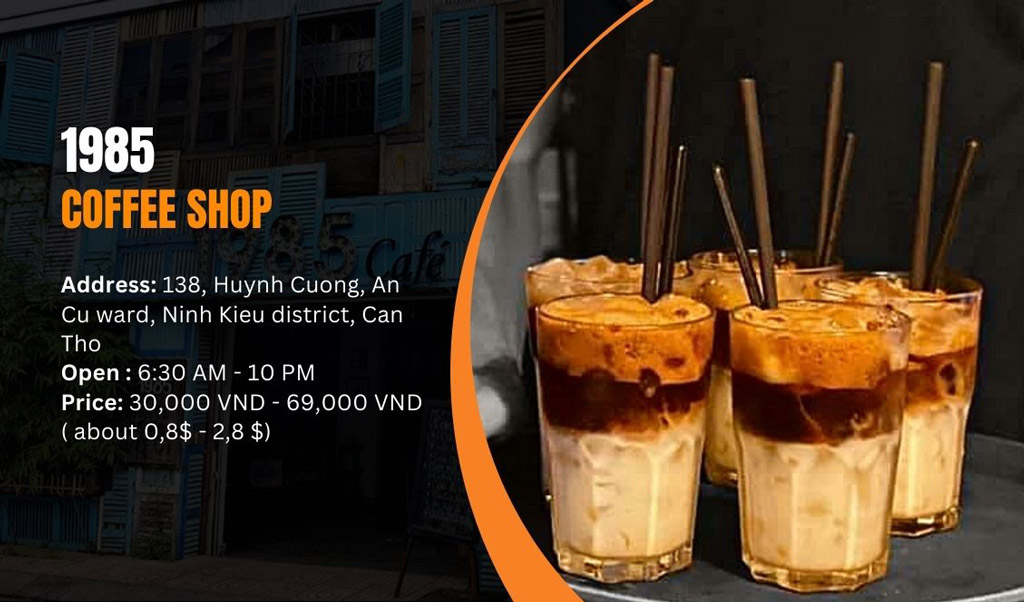 1985 Cafe has a classic beauty with an extremely large space with many different areas. The shop is decorated with classic items with the color of memories. The menu offers a variety of drinks for you to choose from and is extremely diverse to suit all ages.
Especially, every night, at Cafe 1985 Can Tho, there will be an acoustic music band performing. A small note is that the price of drinks in the evening will be slightly higher than during the day, but this is completely reasonable for you to drink while listening to music.
Address: 138, Huynh Cuong, An Cu ward, Ninh Kieu district, Can Tho
Open: 6:30 AM – 10 PM 
Price: 30,000 VND – 69,000 VND (about 0,8$ – 2,8 $) 
8. Am Thanh Xua Coffee Shop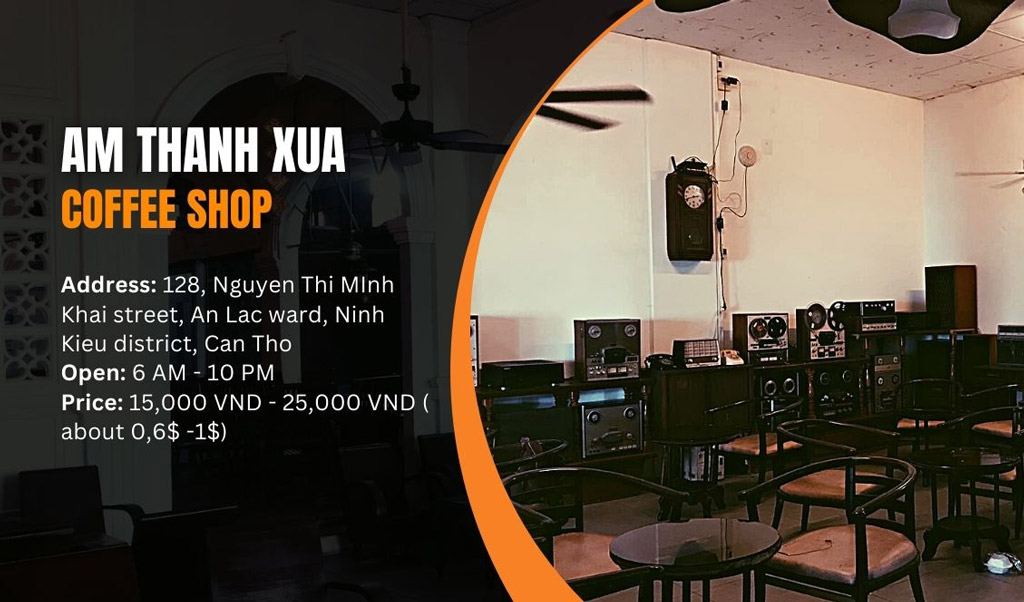 First to mention the space, the space here is full of nostalgia, the shop is decorated with a series of antique speakers, usually in the morning the owner will open the recordings before 1975, so it brings the feeling full of memories.
Moreover, the shop also has quite a few items with a long life such as ceiling fans, Manson lights, etc. The service attitude of the staff is really welcoming and the prices of the drinks are reasonable, which will make you want to come back here again.
Address: 128, Nguyen Thi MInh Khai street, An Lac ward, Ninh Kieu district, Can Tho
Open: 6 AM – 10 PM
Price: 15,000 VND – 25,000 VND (about 0,6$ -1$)
Google Maps: https://goo.gl/maps/QT5ZdC3iVXcmN5CUA
9. Co Ngoan Coffee Shop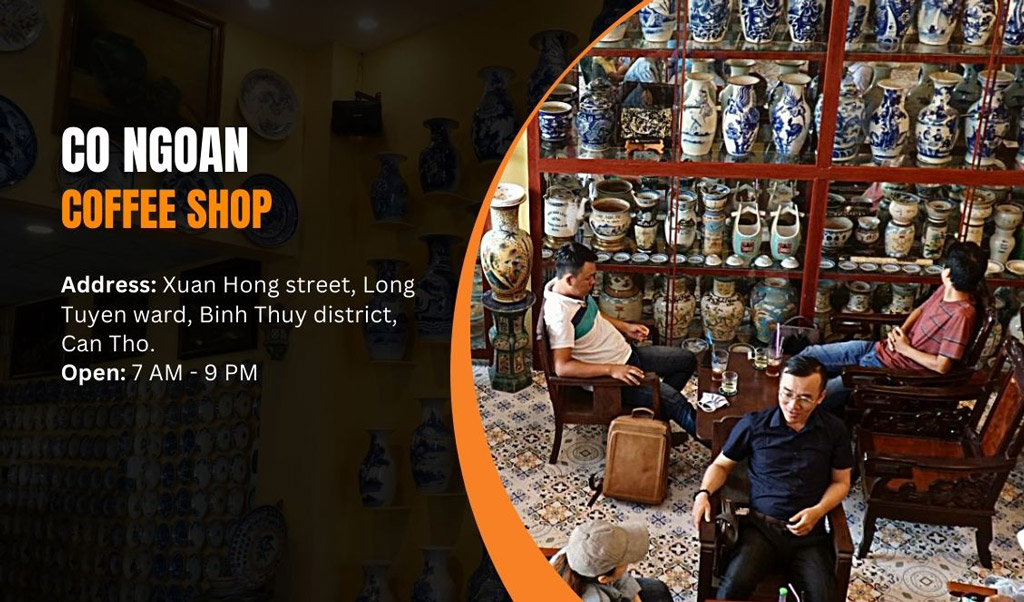 Co Ngoan coffee shop is a paradise for antique enthusiasts. Inside the shop, there are about 5000 different antiques and more than 3000 sets of plates are mounted on the wall. In addition, there is a coffee area and areas displaying many antiques such as televisions, oil lamps, money tables,…
It's really wonderful that Co Ngoan can become a place that combines the coffee culture and the historical culture of the Vietnamese people.
10. Côti Cafe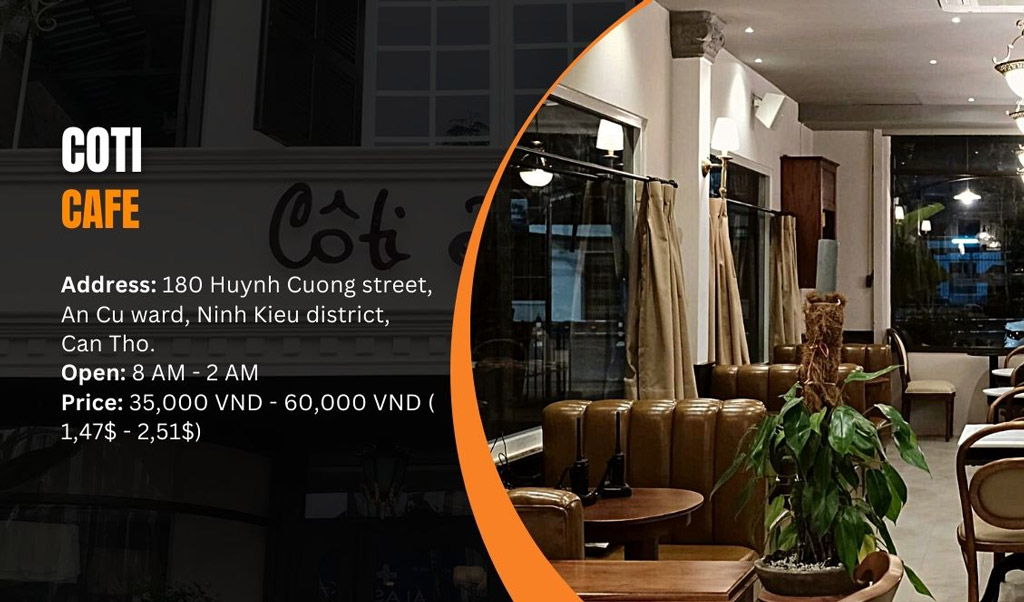 Coti cafe is a favorite destination of both locals and foreigners living in Can Tho. The cafe follows the delicate and simple decoration style when choosing a brown wood tone as the main color, putting on a quiet look to create comfort for customers.
There you can treat yourself to excellent dishes or drinks, and of course, coffee. Beside, the owner has reserved a space for bookshelves where you can read a favorite book and also enjoy a cup of fragrant coffee.
Address: 180 Huynh Cuong street, An Cu ward, Ninh Kieu district, Can Tho.
Open: 8 AM – 2 AM
Price: 35,000 VND – 60,000 VND ( 1,47$ – 2,51$)
11. Cho Nau Nostalgia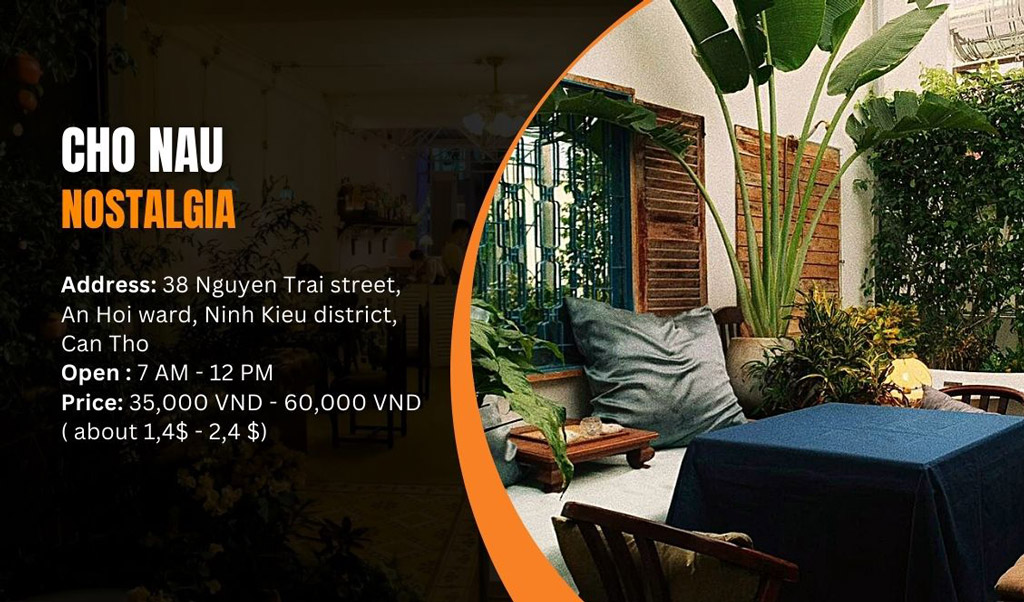 Coming to Cho Nau Nostalgia, visitors seem to be immersed in the space of old Saigon in the very old years with classic exhibits such as radio stations, black and white televisions, dial phones, etc.
The shop has 2 separate floors with the first floor space specializing in serving coffee of all kinds from traditional to combining Vietnamese coffee with modern recipes. On the second floor, guests can enjoy trendy and classy cocktails in a very chill space overlooking the street.
Address: 38 Nguyen Trai street, An Hoi ward, Ninh Kieu district, Can Tho
Open: 7 AM – 12 PM
Price: 35,000 VND – 60,000 VND (about 1,4$ – 2,4 $)
Google Maps: https://goo.gl/maps/JopaM7jMuF1rpKhS6
Reference to prepare expenses for your trip to Can Tho: Can Tho Travel Expenses.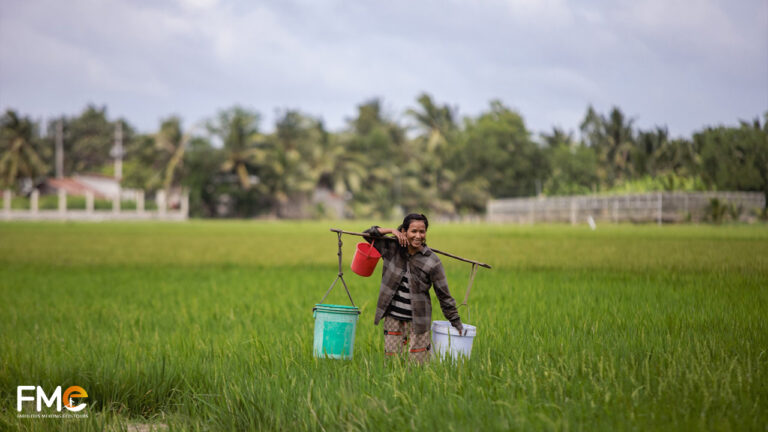 Images of the countryside in An Giang Vietnam, where honest farmers, rice fields, trees, cows, green rice-colored roads,... Explore photos now!
The Most Popular Tours offered by FME Travel