Top 8 Ecolodges & Homestay in Can Tho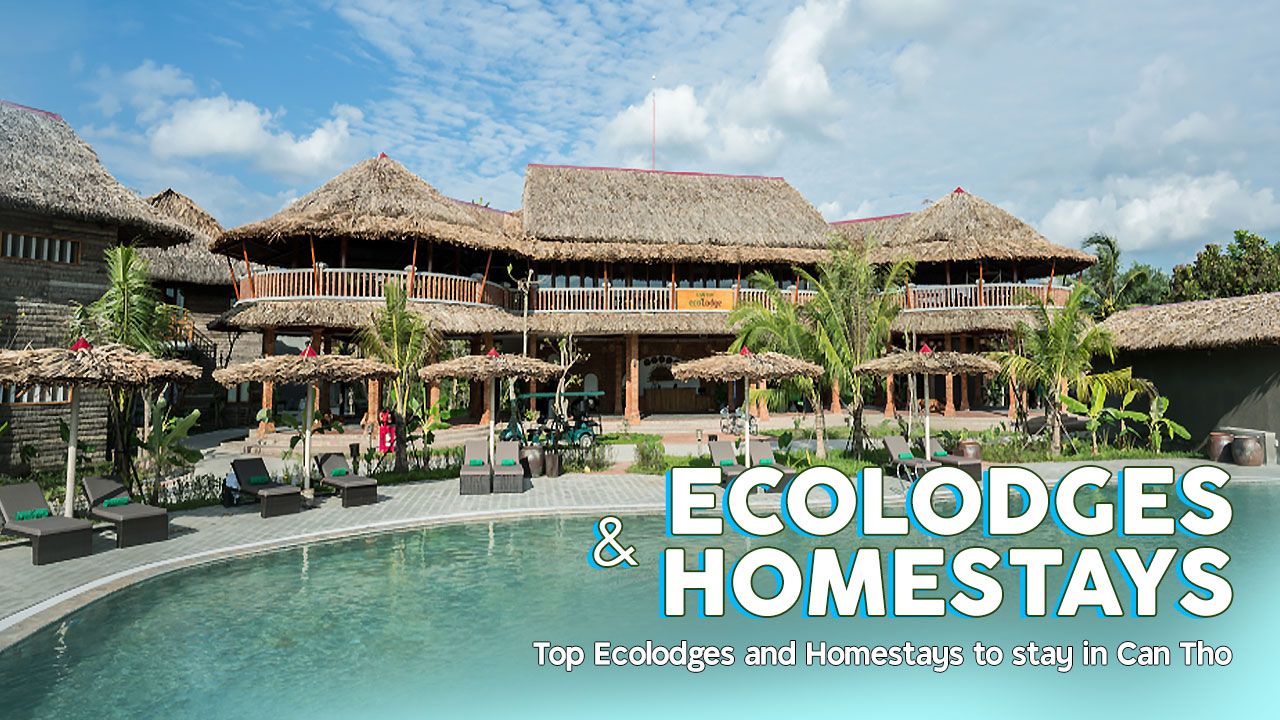 Accommodation is one of the essential factors contributing to the success of your trip, especially when traveling to Can Tho of the Mekong Delta. So surely having a good place to stay and relax will give you more energy to explore all the wonderful things here.
To help you have a better trip plan to Can Tho and also to enhance your travel experience, We, Fabulous Mekong Eco-tours, are pleased to suggest to you the list of best Ecolodges and Homestays in Can tho that you should not miss.
Find out more: Can Tho tour.
List of the Top Ecolodges & Homestays in Can Tho by FME would include:
1. Can Tho Ecolodge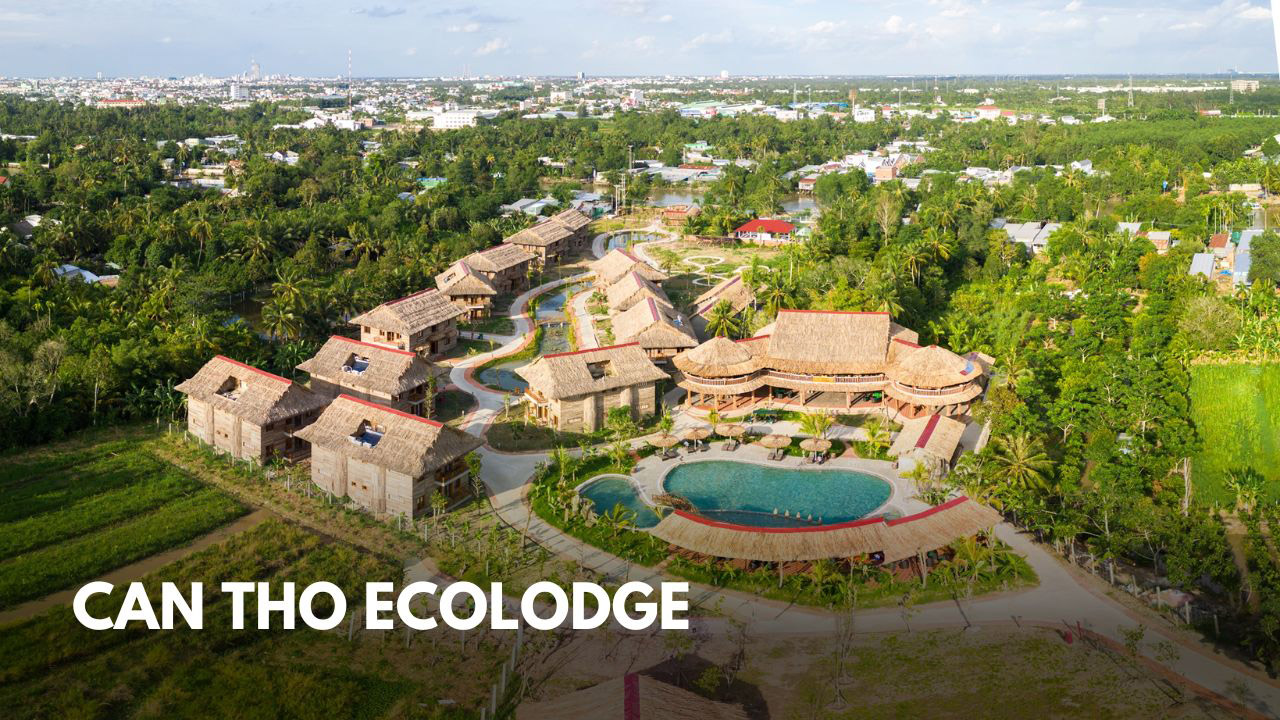 Can Tho Ecolodge is one of the resorts that attract a lot of foreign tourists here. This homestay in Can Tho has an overall architecture like a "smurf" village with idyllic thatched houses and thatched roofs.
In the resort, there are quite a lot of services such as restaurants, swimming pools, spa resorts … You can take bicycles to run around to visit the fruit gardens of the people.
This is a peaceful place, away from the hustle and bustle of the city. Homestay is close to Cai Rang floating market, and the traditional rice noodle factory, so you can move to these attractions easily.
Review:
"Nice and friendly staff. Spacious room. Relaxing ambiance. Nice to have a walk around the area. Free use of bikes from reception area to rooms. Restaurant offers good food and hearty free breakfasts." – Kune27
"Good bed, huge! Room massive, bathroom too. Breakfast was fine. All the staff were really friendly and happy. Small resort but lovely plant life bringing in birds and insects. Pool is great, especially with the big kids pool next to the main one." – Amy
2. Mekong Silt Ecolodge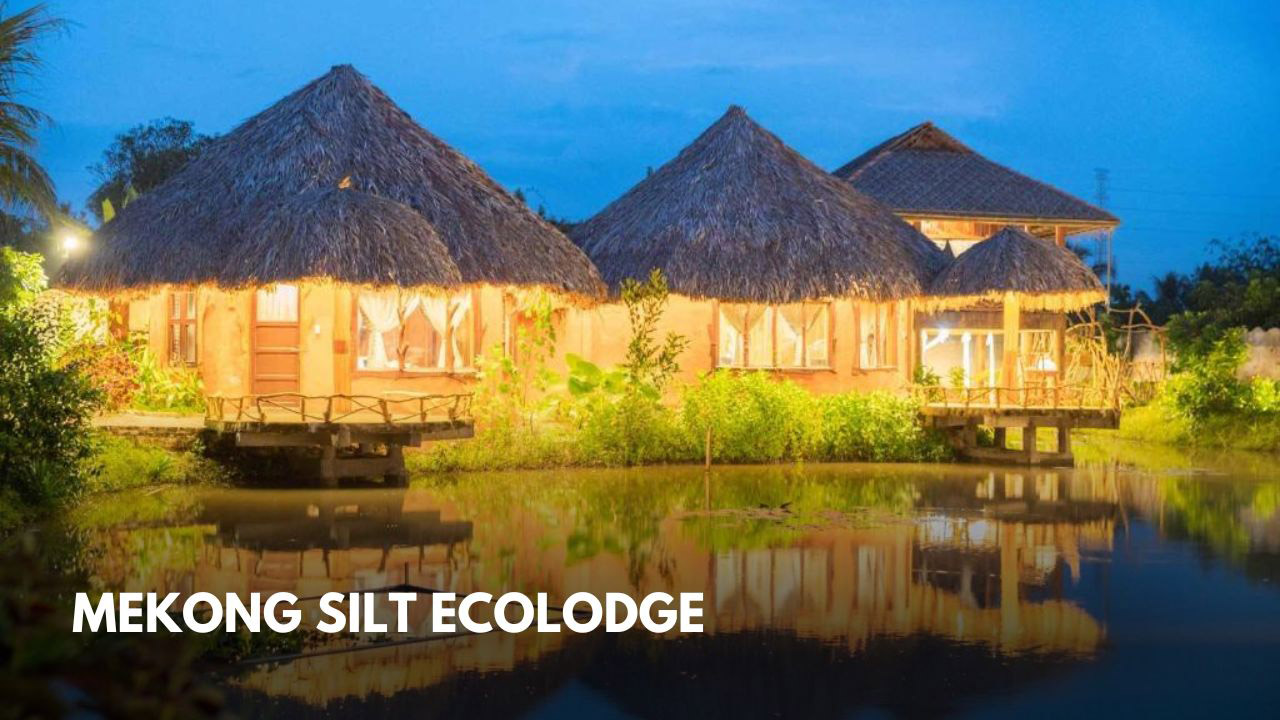 If you are looking for a homestay with a peaceful but equally luxurious space in the countryside of Can Tho, Mekong Silt Ecolodge is definitely the place for you.
Homestay owns 22 rooms with delicate and elegant architecture, close to nature. Coming here, visitors will be surprised to see the homestay's campus with a variety of colorful ornamental flowers in the countryside. Ponds full of lotus flowers, and water lilies with a variety of farmed fish create a peaceful space, away from the hustle and bustle of the city.
Besides, this rural resort also invests in a modern swimming pool with spacious and airy space; The bar area serves European and American music with green grass suitable for cozy outdoor barbecues.
The specialty of Mekong Silt is the houses with the model of a "room boat" inspired by the image of a merchant's life on the river. The boat is fully furnished with cozy bedrooms, comfortable bathrooms, sun loungers, and sightseeing.
Room price: 1,400,000 – 1,800,000 VND/room/night ($58.77 – $75.57)
Address: My Khanh, Phong Dien (opposite Truc Lam Zen Monastery, Nguyen Van Cu street)
Google Maps: https://goo.gl/maps/D821Lx46ELbg6unw7
Review:
"We had a really lovely stay at the Mekong Silt Ecolodge. The bungalows are based in beautiful scenery with loads of fruit trees and beautiful surroundings, the pool is gorgeous and the rooms are lovely with great built in mosquito nets! We had a great stay here. We are also very grateful to the very helpful and kind staff that made our stay perfect!" – Elen Francis
"The place is beautiful, inside the nature we love it. The rooms/boats have super good equipment, the design and the organization were super good!" – Olimpia
3. Hometravel Mekong Can Tho
Hometravel Mekong Can Tho is an ideal place to enjoy the cool and quiet space. Being in harmony with the nature of the West River is extremely fresh. Staying here, you can experience the bold rural lifestyle.
Located about 3 km from Cai Rang floating market and about 8 km from Ninh Kieu wharf. So you can go to the floating market to watch the sunrise, and enjoy the specialty fruits.
Room price: 200,000-800,000 VND/room/night ($8.40 – $33.59)
Address: 178C, Thanh My area, Thuong Thanh, Cai Rang District, Can Tho City
Google Maps: https://goo.gl/maps/5ESWH6PJJytg9WEs6
Review:
"The staff was amazing, always available and helpful, funny and sweet. The place is very peaceful, taking a nap in front of the Mekong is a great experience. Easy to get to Can Tho by taxi or renting a motorbike. You can also travel around the delta from there. We had an amazing time there." – Sara
"The staff was very friendly and could not be better. They are literally the best. The tour is great and the bungalows are very nice and charming." – Maria
4. Vam Xang Rustic Home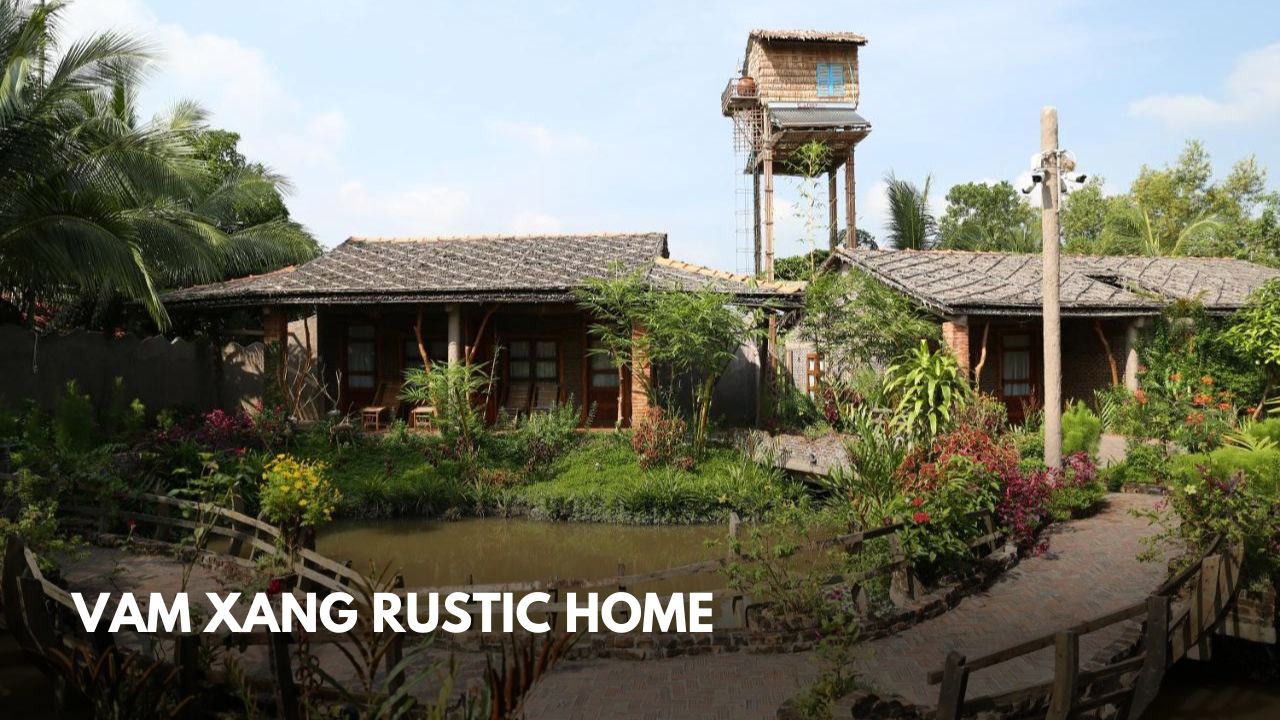 Vam Xang rustic home with fully equipped bungalows, unique architecture, swimming pool, restaurant, garden, and old house,… Staying here, you can experience making traditional cakes: Quai vạc, tai yen, Banh xeo, banh khot, banh tieu, ..
There is also a bicycle tour to explore Phong Dien village, the traditional craft of the smithy,,….
Room price: 800,000-1,700,000 VND/room/night. ($33.59 – $71.37)
Address: 002 Nhon Loc 1, Phong Dien town, Phong Dien district, Can Tho City
Google Maps: https://goo.gl/maps/PRTtmv2SmGUVnDd66
Review:
"The home stay was beyond my expectations! Very calm, peaceful with a nicely done garden, the room was very clean with modern comfort." – Lu
"An extraordinary place. A slice of paradise. Beautiful, beautiful setting, lush, tranquil and elegant." – Caroline
5. Mekong Rustic Can Tho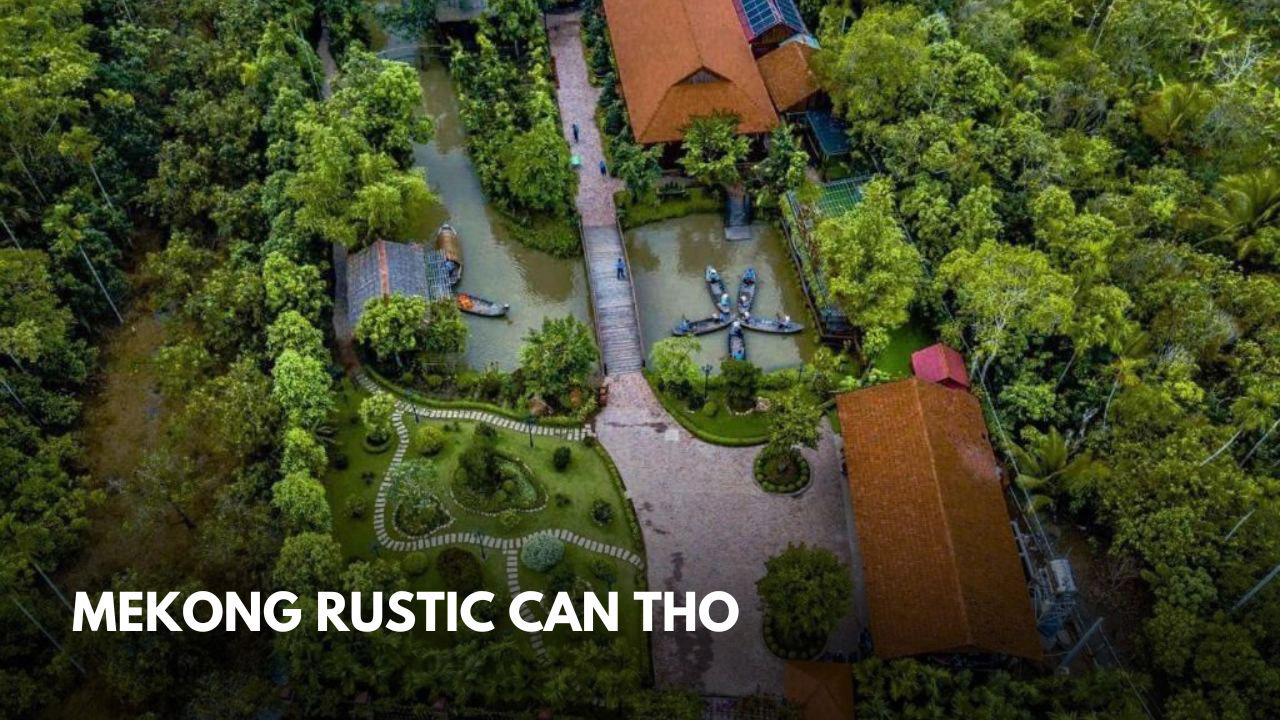 Mekong Rustic Homestay will give you the most relaxing and comfortable moments. Each room of this homestay is a wooden house, with a thatched roof, simple and simple, but also fully equipped (large double bed, bathroom, television, refrigerator, …).
The homestay campus also has a swimming pool, and a Western restaurant for you to enjoy delicious food.
Address: Address: Nhon Loc 1 Hamlet, Nguyen Van Cu, Phong Dien Dist., Can Tho
Room price: 1,400,000 – 2,000,000 VND/night ($62.97 – $83.96)
Google Maps: https://goo.gl/maps/zVCfhqMnWRCotwiG8
Review:
"I am very satisfied with this place. The room was very nice and warm. The outdoor bathroom is a new experience for me. Swimming pool is quite spacious, very suitable for adults and children to swim. The staff at the homestay are very attentive and take care of customers very enthusiastically, even talking with my children is very fun. I highly recommend this homestay and promise to return if I have the opportunity." – Le Bihan
"I am most impressed with the staff because they are very enthusiastic, attentive and fun. I found this to be a peaceful, airy, cool, green, clean and beautiful place. When I stay here, I feel like returning to the countryside. This helps me to be at peace after tiring working days, temporarily forgetting the worries of a fast-paced life." – Huu Tinh
6. Gao Homestay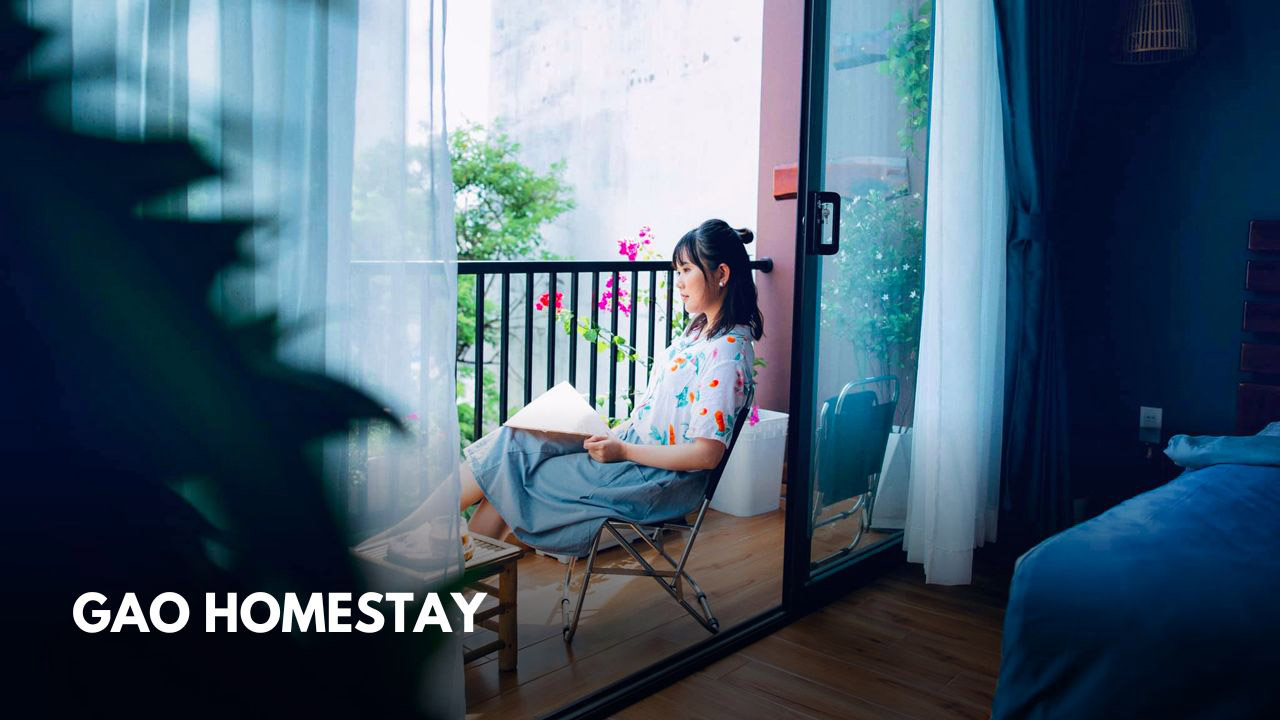 Gao homestay is a quite special homestay in Can Tho, it is located right in the center of the city. Bring a luxurious, modern, and youthful look with its own design style in each room.
Each room is fully equipped and has a balcony with a very nice view. Due to its proximity to the center, you can easily move to supermarkets, parks, and Ninh Kieu Quay…
Room price: 300,000-500,000 VND/room/night. ($12.59 – $20.98)
Address: 133/2C Tran Hung Dao Street, An Phu Ward, Ninh Kieu District, Can Tho City
Google Maps: https://goo.gl/maps/9cvtKBUy5KpxTRCq8
Review:
"A worthy place to stay for a business trip or a visit to Can Tho. The family is self-opened and directly managed so it will be much better. Rooms are clean, designed according to the trend, trendy, simple but very beautiful and delicate. The price is also very affordable." – Tu An
"Room quality is very good. Staff and owner are very friendly and funny. Gao Homestay is a worthy place to stay." – Hau Trung Doan
7. Magnolia's Can Tho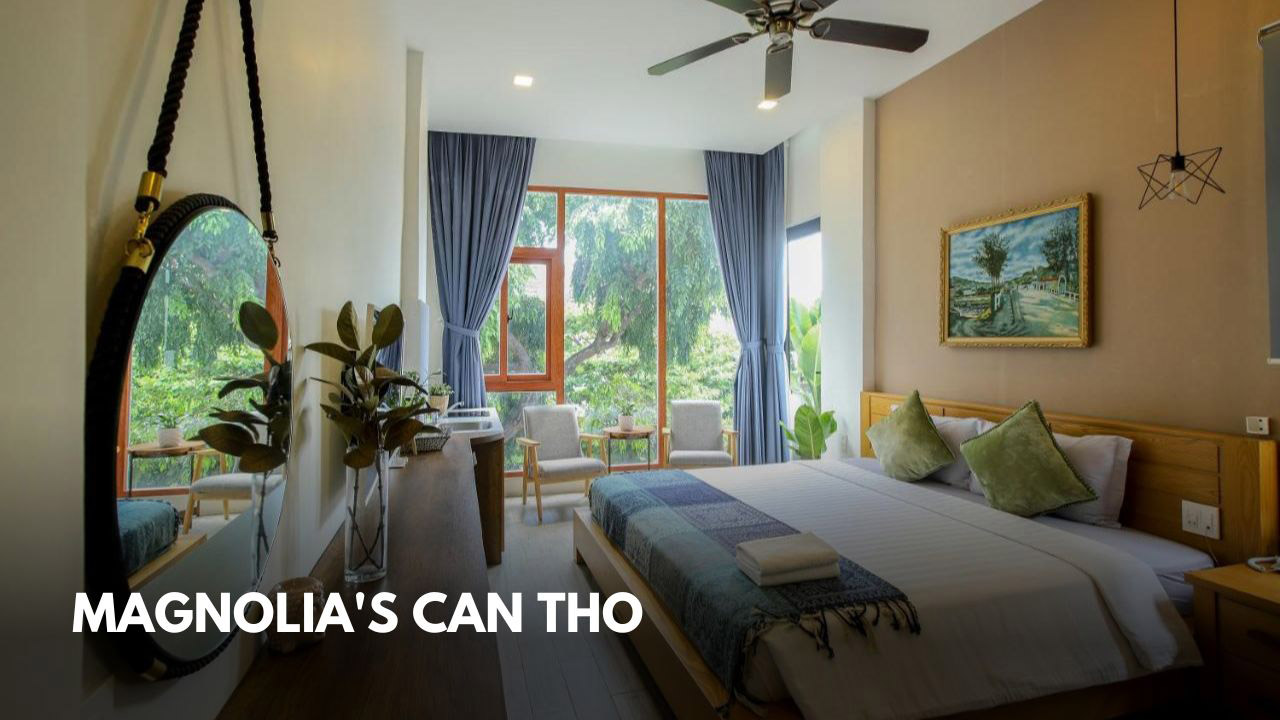 If you want to find a place to rest in the city center, near tourist attractions, this is the place you should try. With a luxurious and quiet space, you can relax after a long day of exploring.
Magnolia's Can Tho homestay radiates luxury from every angle, a space covered with green trees. You can enjoy morning coffee downstairs with a very nice view. It is located right in the center, 1.5km from Vincom Plaza Xuan Khanh, near Ninh Kieu Wharf. The ideal place for domestic and foreign guests to choose as a stopover.
Here, in addition to professional motel services, we also provide self-catering kitchens and cheap car rental services.
Room price: 730,000-1,270,000 VND/room/night ($30.61 – $53.26)
Address: 79 Chau Van Liem, Tan An Ward, Ninh Kieu District, Can Tho City.
Google Maps: https://goo.gl/maps/Qj4nQN6uiiKafuuS9
Review:
"Lovely boutique hotel in a great location with a lovely coffee shop downstairs. Room nicely decorated/ furnished. staff were friendly and helpful" – Catherine
"Good facilities, very clean, everything worked well." – Lee
8. 54 homestay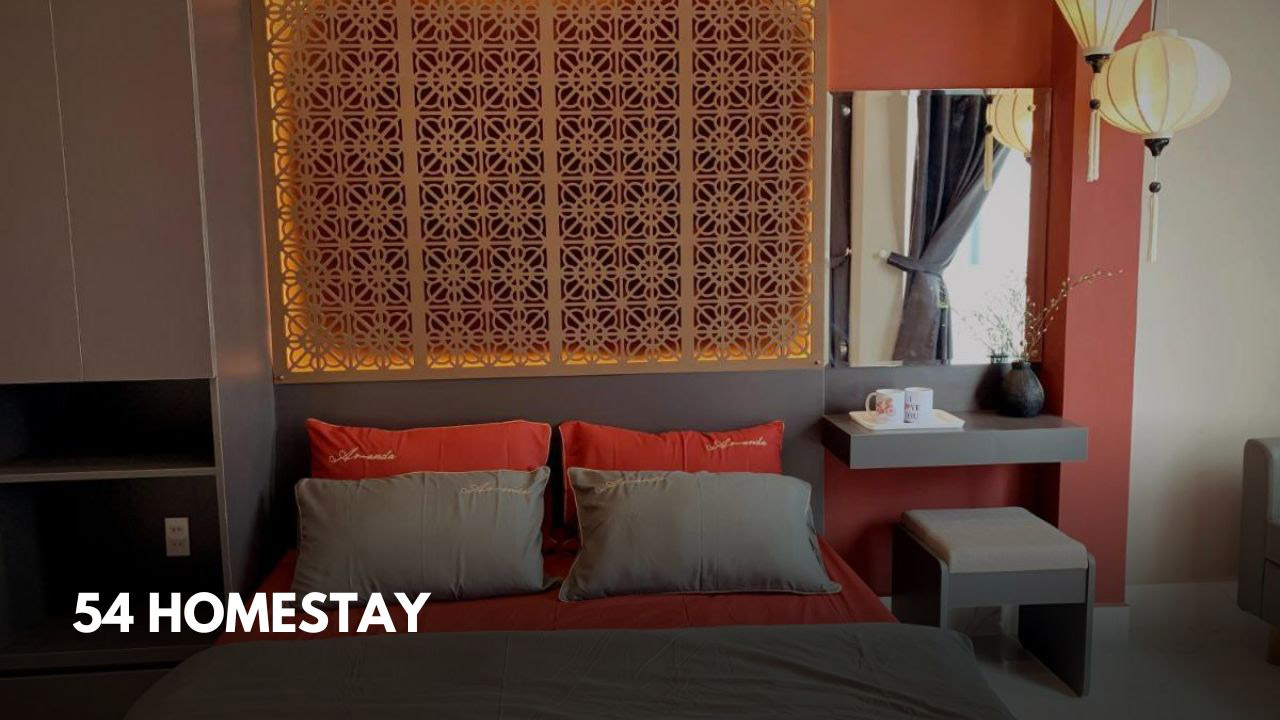 54 homestay is one of the homestays that are favored by many young tourists. It is both modern and romantic in its own way.
Located right in the area of Night Market, Ninh Kieu Quay, and Ancient Tan An Market. You can enjoy playing and experience many different dishes. Homestay has full facilities such as a parking lot, party terrace, and free kitchen, … You have many choices for hourly, daily, and long-term room rental…
Room price: 250,000-350,000 VND/room/night. ($10.48- $20.96)
Address: 54/7a Nguyen Thai Hoc, Ninh Kieu District, Can Tho City.  (Ninh Kieu Quay Night Market)
Google Maps: https://goo.gl/maps/UzYY9NVczQji3oTb7
Review:
"A wonderful place to stay. Very comfortable. Great location. The staff were friendly and helpful. I highly recommend 54 Homestays." – Mark
"Cute little room, modernly furnished in a good location and friendly staff." – Igor
You can check out some other accommodations here.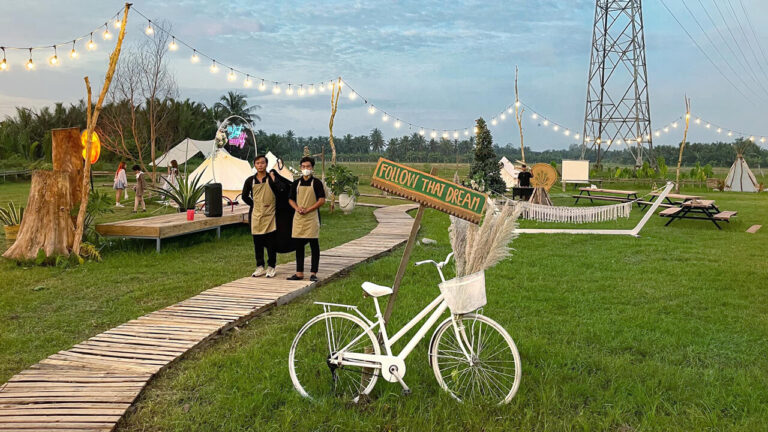 Classique Farm in Tra Vinh emerges as a brand-new outdoor camping destination that has captured the attention of the youth in the Mekong Delta.
The Most Popular Tours offered by FME Travel