Cai Rang Floating Market (Viet Nam) - All You Need to Know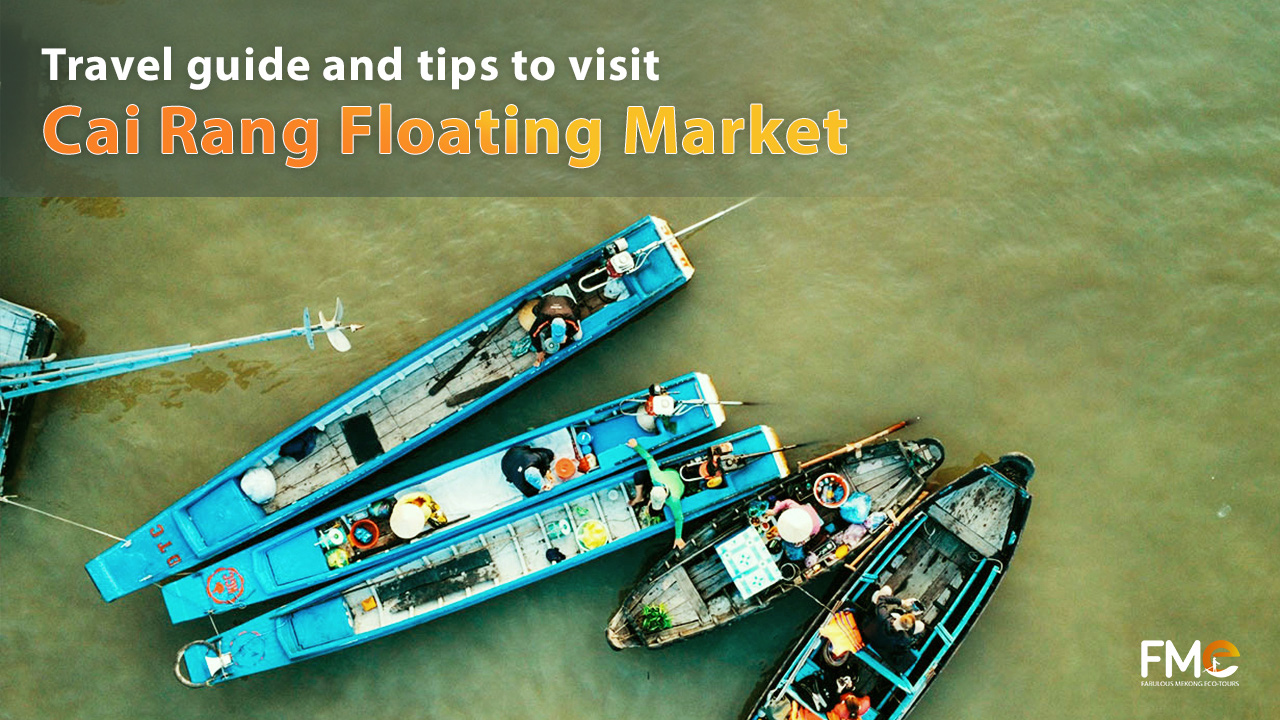 Cai Rang floating market is a valuable "specialty" of Can Tho people in particular and the Mekong people in general. Whoever comes to Mekong Delta will at least visit this market once. This is the unique water culture in the southwestern region that cannot be compared to other places.
When coming here, visitors will have a better understanding of the lifestyle of the locals as well as the long culture of trading on the water of southwestern region communities.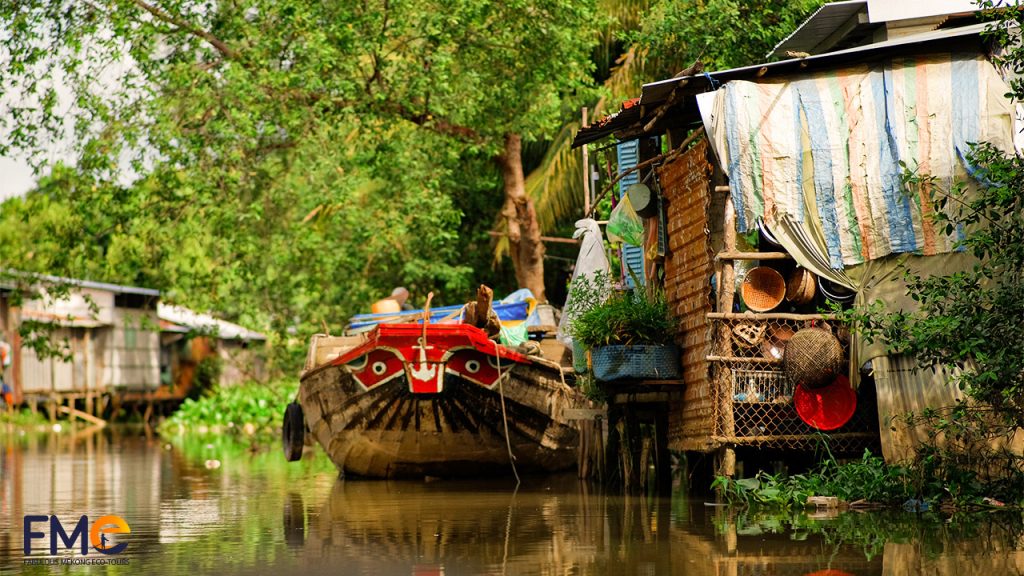 There are both people who live on boats as their houses and people who come from other provinces, they just come here to sell their products and come back to their villages after they have finished selling everything. They come here 2-3 times a week.
I established FME-Fabulous Mekong Ecotours with my business partner. We have been doing eco-tours in Can Tho for the last several years, hoping to bring our local lives and culture to eco-tourism. We hope to provide useful experiences for your trip to Cai Rang floating market.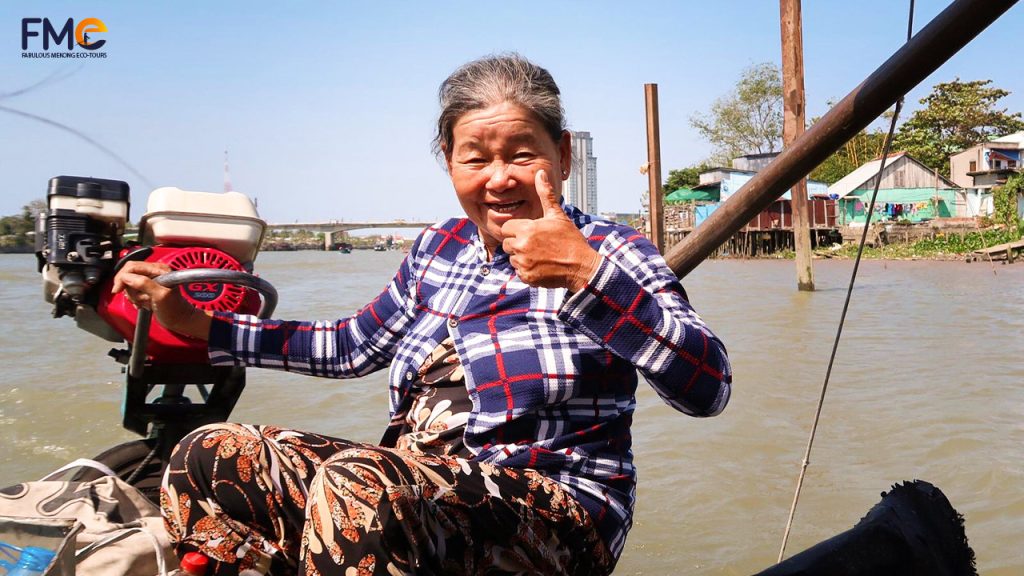 The gracefulness of Cai Rang floating market
Coming to the Viet Nam floating market, it is such an interesting moment when you see the locals juggling goods from boat to boat or walking on planks between two boats so as to exchange products. You will also have the chance to immerse yourself in the simple life of the rural area in Vietnam.
Working as an international tour guide for the last 9 years, I have been to this market more than a thousand times. However, I never feel bored or fed up with this as every time I am here, It brings me different feelings. It sometimes reminds me of my childhood. When I was a kid, my family was living on a boat.
I totally understand how difficult it is to live on a boat like this. But you will not see the tiredness on local people's faces, except for their smiles. It's considered as a part of their characteristics.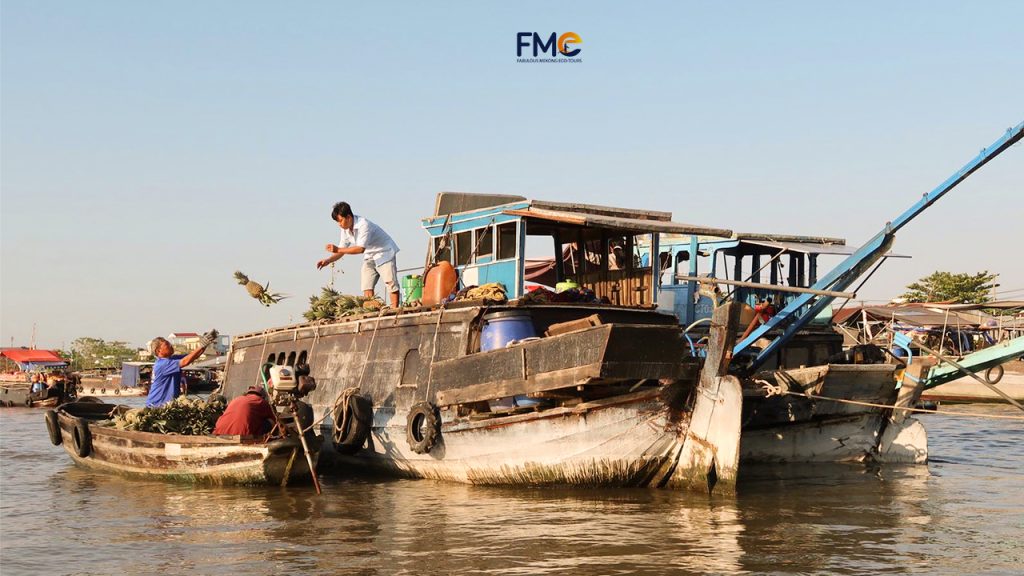 The bustling trading scene
When you arrive at the market, you will soon find hundreds of boats moored in the river as sort of permanent market stalls. Other boats maneuver past it and occasionally moor to trade.
After a successful negotiation, the goods are transferred from one boat to another. It is beautiful to see, but above all is the uniqueness, because there are just a few places in the world where people trade in this way.
You will also see many people live on boats which carry their everything since they don't have any house on land. In particular, you will see children follow their parents on boats.
It is difficult for them to go to school, but they are trying their best to send their children to school with the hope that education is the nearest way to change their life and be successful. They will move from their boat to a smaller boat to get on land to school.
Breakfast on the boat at Cai Rang floating market
The Cai Rang floating market operates very early in the morning and for that reason, you will also see "floating restaurants" that serve delicious breakfasts. The most popular dishes sold here are com tam (broken rice), bun rieu and hu tieu (pork rice noodles broth-which is highly recommended).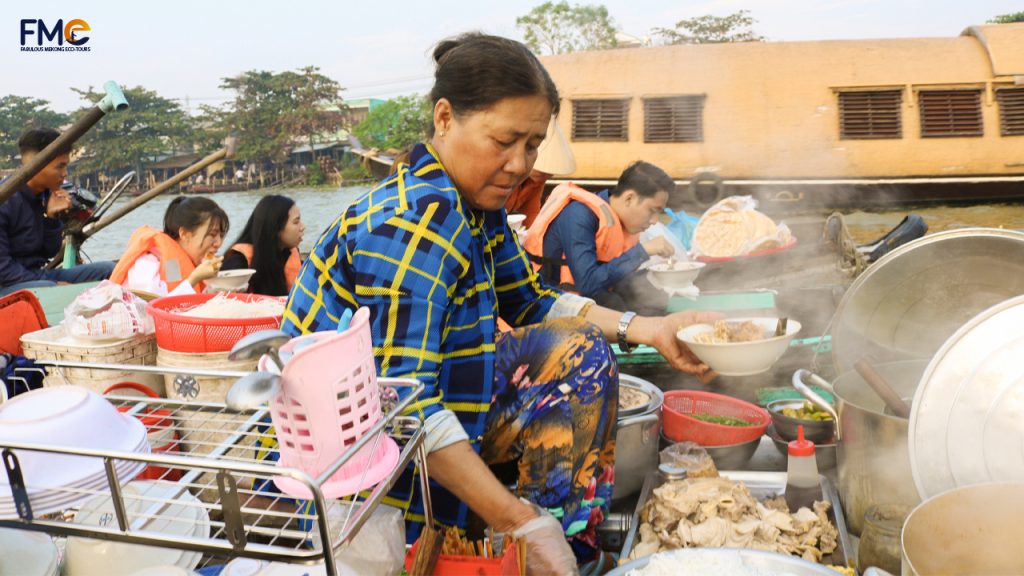 Discover Can Tho's unique local dish: Nem Nuong – Vietnam Pork BBQ ROLLS in Can Tho.
It often costs about 40,000 VND ($ 1.5) for each bowl. The price of them is very cheap, so you can fill up your stomach with a healthy meal. The lady who is serving this dish of hu tieu is called the noodle queen as she has the best hu tieu at the floating market. If you ever come to Cai Rang floating market, give yourself a chance to enjoy her hu tieu.
Additionally, a strong cup of coffee can give you more energy if you have to wake up early to get to the market. If you are not familiar with the bitterness of coffee, coconut offers a different option for you.
Famous Chef Gordon Ramsay even proclaimed that the bowl of noodles he ate at Cai Rang contained one of the best broths he has ever tasted.
He loved the dish so much that he decided to include it as a challenge for the contestants in the top 5 in his worldwide famous cooking show – Masterchef US. So, one piece of advice for visitors is that do not miss out hu tieu (or pork rice noodles) there.
I will never forget the incredible feeling of sitting on the boat in the early morning when the fog still covers almost everything. Holding a bowl of hu tieu in the cold weather like that is one of the must-experiences at Cai Rang floating market.
The daily life of the locals
Soaking up in the bustling atmosphere of the special market, you can observe and learn about the lives of many families with several generations living together on boats.
There are boats as "mobile houses" on the river with flower pots, animals, and full interiors such as TV, DVD, stereo, etc. including motorcycles parked on the boat. Not only is the vehicle used to purchase and deliver, but it is also the residence of traders' families. All daily activities take place on boats.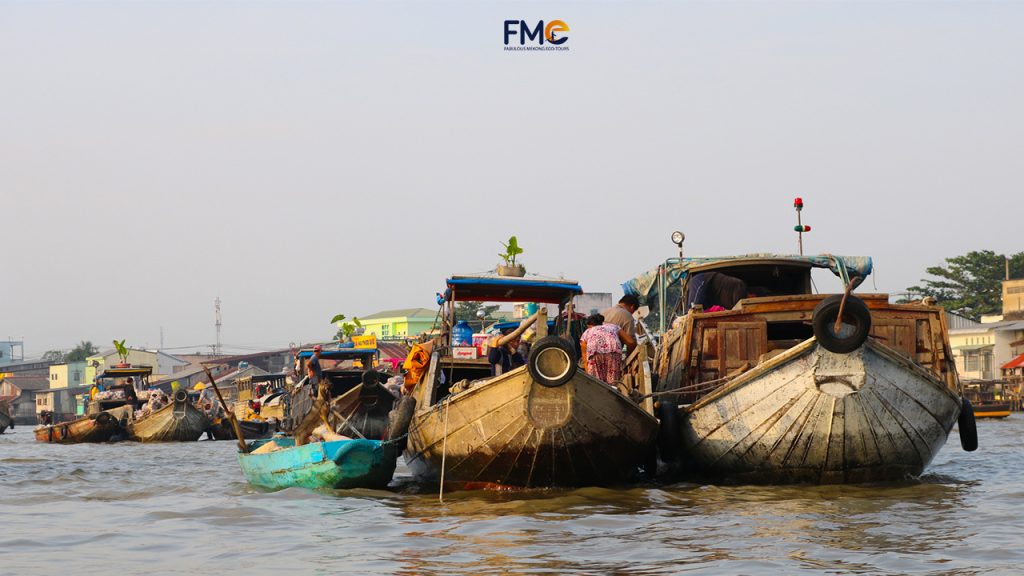 See the unique things about Cai Rang floating market
In this bustling floating market, the cries of the sellers seem to be swallowed in the vastness of the river and lost in the noise of boat engines. The disadvantaged condition facilitates the birth of a unique advertising tool: a pole of sample goods (or "cây bẹo").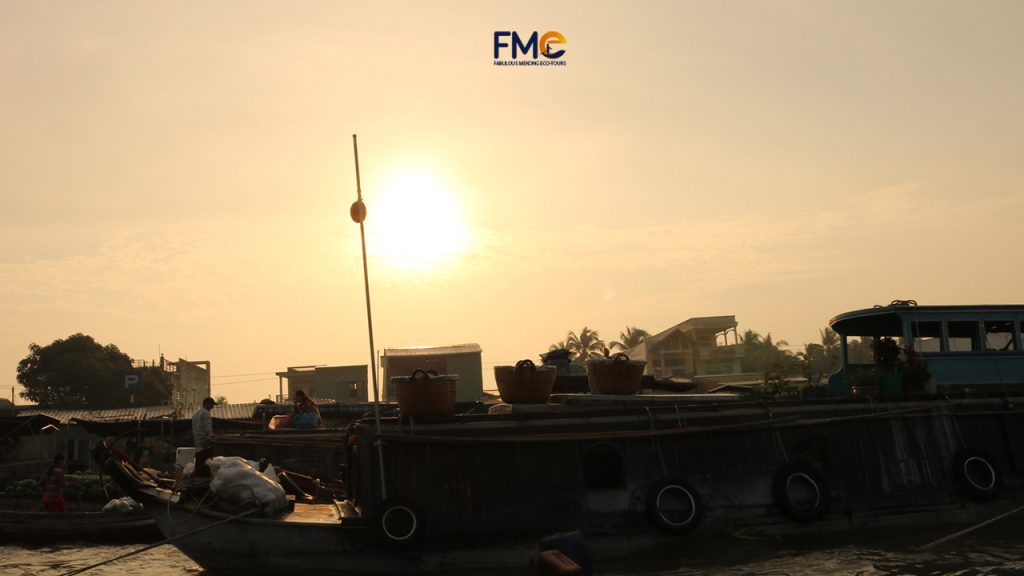 They prepare a tall pole, then hang the products they sell on that pole. People call it a "Bẹo". The agricultural products that sellers would hang are sweet potatoes, cabbages, carrots, or pumpkins, etc. Moreover, there is one thing that forms the uniqueness of Viet Nam floating market. It is 4 "hanging".
Hanging something to sell: As explained above, sellers hang the agricultural products or goods they sell on the pole to invite buyers.
Hanging without selling: It is the only pole hanging people's clothes. Floating market life sometimes takes a few days living on boats. They eat and do the laundry on the boat. From there appeared the type of clothes hanging.
Do not hang but sell: Those are just mobile shops such as cafes, which sell food or drink to people living on the boat. They use small boats to weave through hundreds of boats to offer service. They do not use the pole to invite but come to the place to sell to guests or people living here.
Hanging one thing to sell another: For those who are about to "retire". They can not hang a boat on a pole to sell. They decide to hang water coconut (nepal palm) leaves on top in order to let others understand that the boat owner wants to sell the boat. Hanging one thing to sell another implies that.
Cai Rang floating market and other ones in the Mekong Delta
Floating markets in the Mekong Delta have been a way of life and trading places for over 100 years because of the complex and extensive river system of the Mekong region.
The floating markets are among the highlights of the Mekong Delta, but since there are quite a few floating markets in the Mekong Delta, it is helpful to know which ones are the best. So quickly view this list!
What are the floating markets that you should visit?
Cai Be Floating Market in Tien Giang province: If you live in Ho Chi Minh City and have a few hours in the south, this market will be a reasonable place for you to visit even though there aren't many ships trading there.
Phong Dien floating market: This market, which is in the southwest of Can Tho, opens at 4:30 am on most days and there are a few local merchants' boats there.
Long Xuyen floating market is located in An Giang province: For those who live close to the province of An Giang, this market is a proper choice. It opens at five in the morning and is a less crowded market.
Tra On the floating market: It's in Vinh Long Province and people there start trading quite early, between two and three in the morning. This market is actually not so well-known for tourism.
Nga Nam floating market: It is a market in the province of Soc Trang that opens around three or four in the morning and is a good option for people who live near Soc Trang and have a long staying time in the Mekong Delta.
Overview of Cai Rang floating market
The Vietnamese name of Cai Rang Floating Market is Chợ Nổi Cái Răng.
Cai Rang floating market, the largest floating market in the Mekong Delta, has long been a unique tourist destination in the South of Vietnam. This market which has been voted one of the 10 most impressive markets in the world by the Rough Guide Travel Magazine has attracted many domestic as well as foreign visitors.
This floating market is not only a place, it is also a mood. When you pay a visit to this market, you will have the chance to discover the unique culture and the lifestyle of the locals.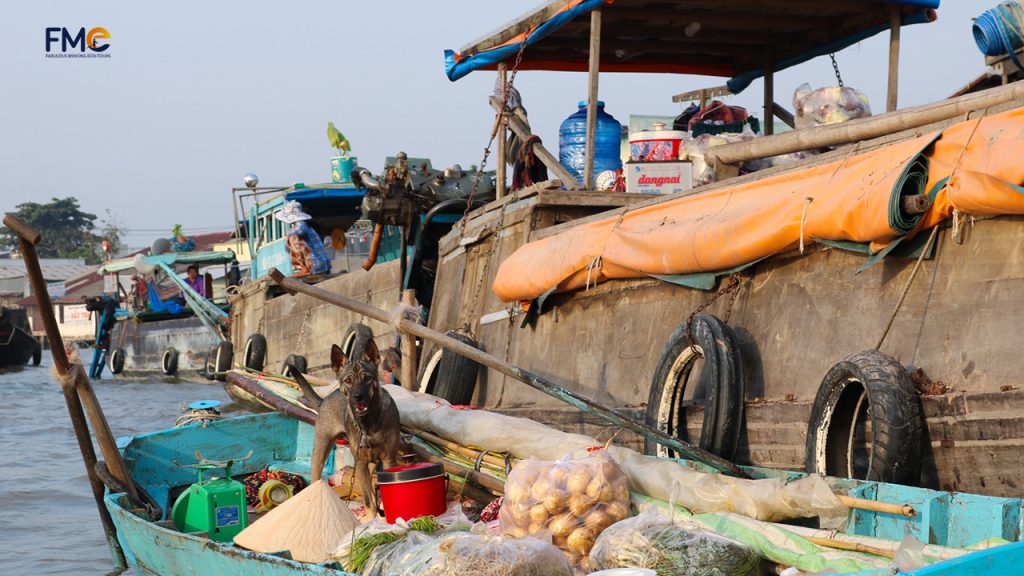 Because it is the central market in the region, you can find most of the Mekong specialties here. You see boats full of vegetables, roots or fresh fruits. The market starts early in the morning and reaches its peak around 6 a.m to 8 a.m. If you want to visit the market, you should spend a night in the neighborhood.
History of Cai Rang floating market
If the Northern mountainous areas have colorful markets known to be the love market then the Mekong Delta region attracts tourists by its floating markets with Cai Rang floating market being the most outstanding.
According to French sources recorded in 1899, the market was established hundreds of years ago due to the local people's habit of traveling and doing business by boat on the region's waterway systems.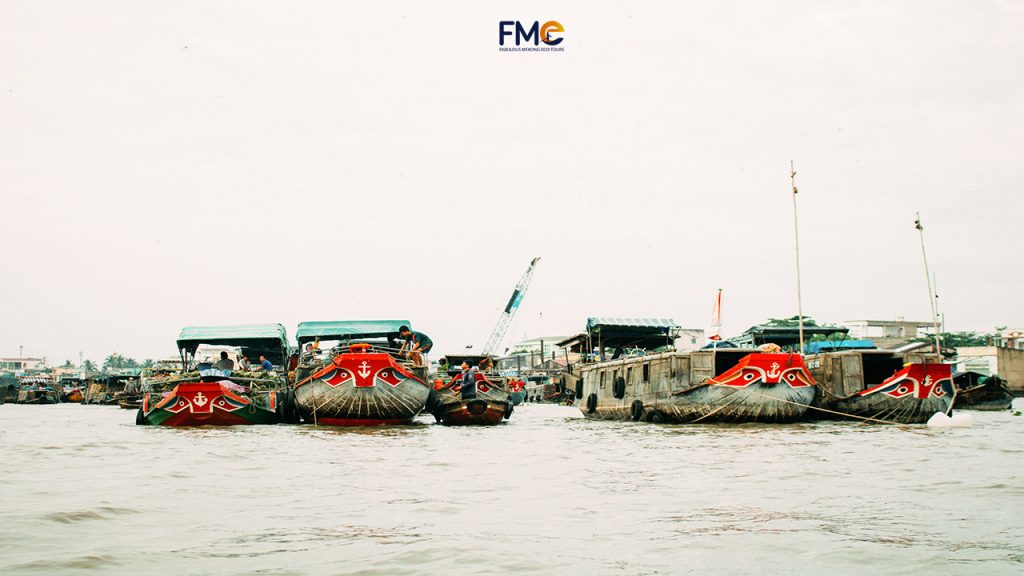 In the Mekong Delta region, boats and rafts are important means of transportation, like motorbikes and cars are in other regions. In the early 20th century, the Mekong Delta region was still a wild area. The inhabitants were mainly immigrants from the North and the Central parts.
Partly because the Mekong Delta is known as the kingdom of canals and rivers, partly because in the past motor vehicles were quite rare, undeveloped waterways became the main route for transporting between Can Tho and its neighboring provinces like An Giang, Tra Vinh, Soc Trang, Vinh Long, etc.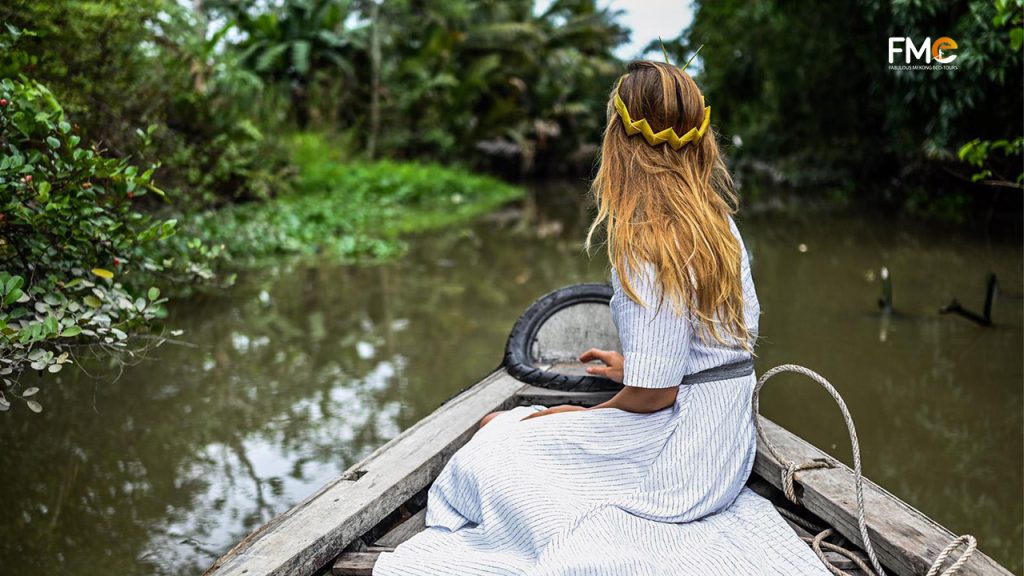 In the present time, even though the infrastructure has been improved a lot, as a result of which more and more products are transported on roads.
In addition to that, the traffic network has developed dramatically and expanded widely; however, Cai Rang floating market is still being maintained and brings multiple values to the locals as well as the country in terms of tourism, culture, and economy.
The market helps form canal civilization with so many traders living on the river and linking their whole lives with their boats. On the deck of the boats, visitors can see generations of one family, children or babies, and even some dogs, chickens, and gardens, as the boats are the mobile homes of the family.
The best time to visit Cai Rang floating market
The weather is fairly comfortable, so you can visit the Cai Rang floating market all year round.
If you hesitate that the rainy season may disturb your trip then get rid of your worries because the cool atmosphere of the rainy season gives you a relaxing and enjoyable trip.
The dry season is the season of harvesting tropical fruits, which means that more types of fruits and agricultural products will be in abundance. Visiting the market this season offers you a chance to taste some signature fruits like rambutans, durians, and star apples, etc.
The busiest time is from dawn to approximately 9:30 a.m. In the early morning, about one kilometer downstream of Can Tho river, it looks like a maze with hundreds of boats of all sizes that are anchored along the river bank.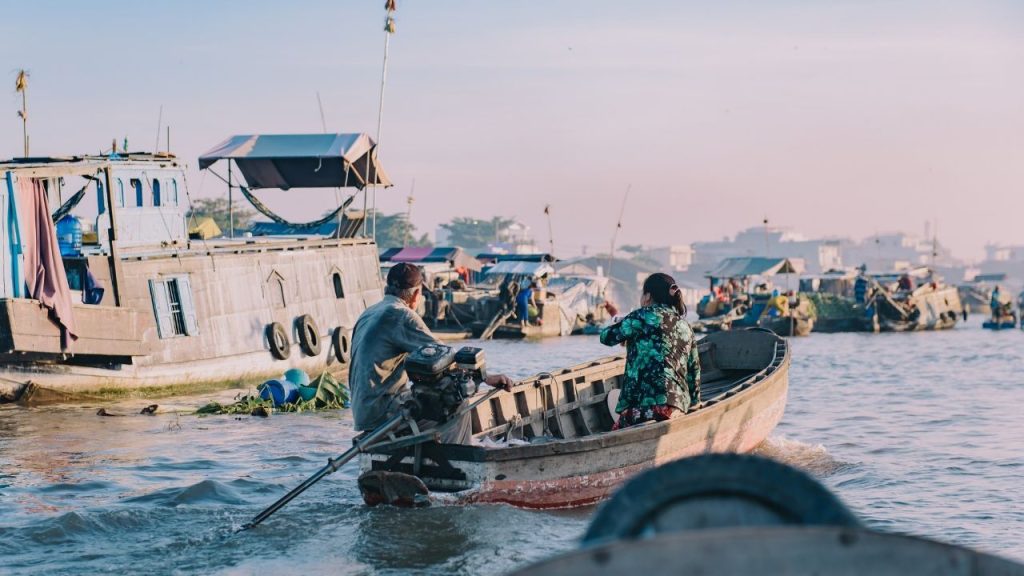 It is advisable to go in the early morning from 6-8 a.m, as this is the most bustling and exciting time at the market.
I am so lucky to have a chance to visit the Cai Rang floating market in the early morning. The crowds of the trading scene, the atmosphere of the early market and the excitement inside your heart are the main motivations to wake you up in the morning.
Travel Guide and Tips
What to wear and bring when you visit Cai Rang floating market?
When going to this region you should absolutely avoid warm and thick clothes if you don't want to feel hot and sweaty.
The advice is that you should prepare spacious, cool, good sweat-absorbing clothes with bright colors like green, white, blue,etc. to avoid the heat. Bright colors will help you minimize the sunray on your body and skin.
You should bring sunscreen, sunglasses, digital gadgets, and cash, in case you want to spend it on yourself.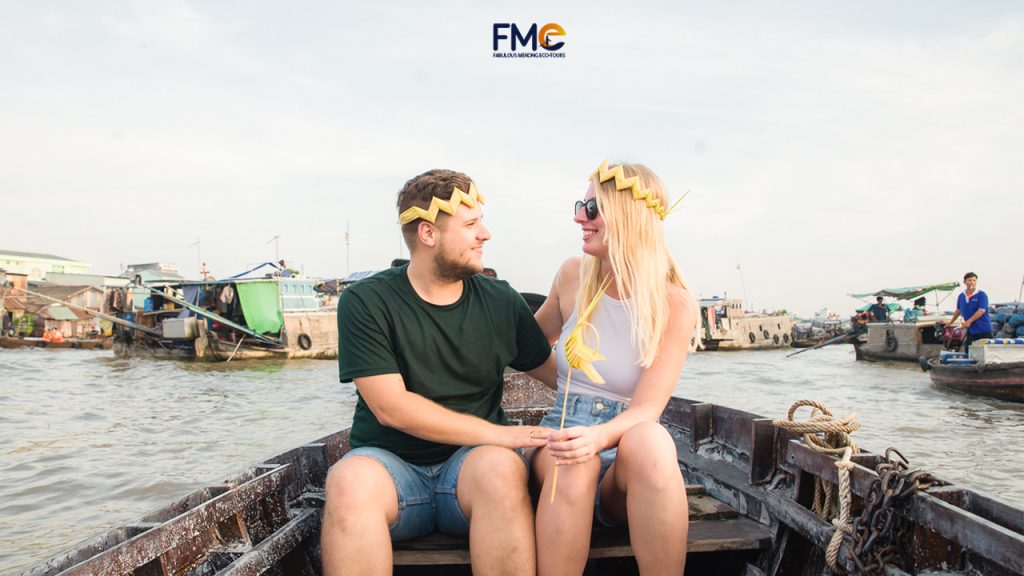 Is using a flycam possible at the market?
The bustling scene of Cai Rang floating market in the morning is always wonderful and attractive to tourists. From juggling fruits between boats scene to people moving agricultural products to the mainland, they are all fantastic photography backgrounds for visitors.
If you want to capture the whole scene of Cai Rang floating market from the above, then using a flycam is a great way to do that.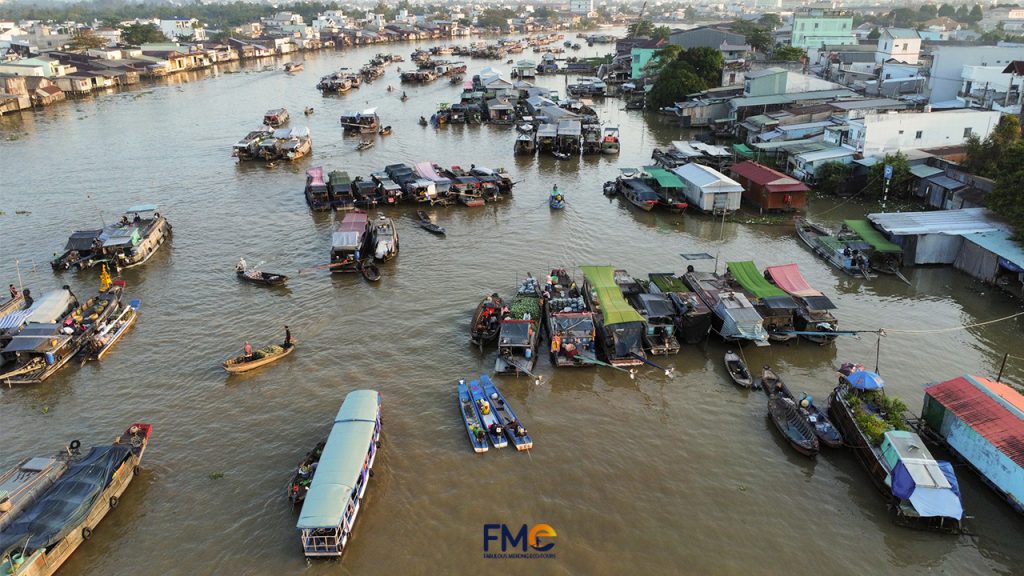 Where to stay?
You can either stay in Can Tho city center, or opt for a homestay or guest house along the canals of the Mekong Delta.
Staying in the city center means that you can choose a more comfortable hotel, or easily get access to everything you need including simple things like ATMs, supermarkets and pharmacies, which are difficult to find if you decide to stay at homestays in the countryside.
However, as the homestays in Can Tho are mainly located around the canals of the Mekong Delta, they offer a rustic and unique experience that is hard to find in other regions.
Here is the best hotels, resorts and homestays list you can stay in Can Tho: Where to stay in Can Tho?
What travelers can buy at the Cai Rang floating market?
Cai Rang floating market is one of the largest gathering and trading places for sellers not only from Can Tho but also from neighboring provinces. Therefore, it can be said that this place is full of the regions' specialties.
You will have a wide range of choices from fruits to agricultural products which you can taste and buy at the floating market. Let's check out the time fruits are available!
Rambutan: from June to August
Durian: from the end of May to August
Jackfruit: all year round
Mangosteen: from May to July
Burmese grape: from June to August
Star apple: from December to February
Mango: from April to May or from December to January
How to get a boat to Cai Rang floating market by yourself?
You have 2 options to get to the Cai Rang floating market.
1- At Ninh Kieu wharf
If you choose to start from Ninh Kieu wharf, the journey will be longer. It takes about 30 – 45 minutes to get to the floating market by boat, but it also offers more joy as you can experience the feeling of being on the water. Furthermore, you get more time to hear the tour guide tell you more about the region and the special things here. Especially, starting an early trip on the boat, you will have a chance to enjoy the picturesque sunrise on the Mekong river.
The boat ride is around 400,000 – 500,000 VND.
2- At An Binh market
An Binh Market is only about 100 meters from Cai Rang floating market. If you do not want to spend too much time moving on the river, you can take a boat from An Binh market to go to Cai Rang floating market. If you choose to start at An Binh wharf (near Cai Rang bridge), it will take about 10-15 minutes to reach the floating market.
The boat ride is around 300,000 VND.
Looking for more information: How to get to Can Tho? Best way to travel to Can Tho.
Cai Rang floating market tour
If you want to explore the local life on the Mekong river, we recommend these following itineraries to visit Cai Rang Floating market combined with other highlighted destinations.
Itinerary: From Ninh Kieu wharf – Cai rang floating market – Traditional rice noodle factory – Small canal ( 4 hours)
Itinerary: From Ninh Kieu wharf – Cai rang floating market – Traditional rice noodle factory – Small canal – Cocoa farm ( 4 hours)
Let's check out one of the best tours to Cai Rang floating market via.
Find out more:
Explore Mekong's Nature & Wildlife: Boat service from Phnom Penh – Chau Doc, An Giang – Can Tho 3 Days. Visit Tra Su Forest, local expert guide.

---

Can Tho city tour takes you to visit the 3 special temples, herbal tea factory and where you can find the nostalgic vibe in an ancient house.

---

Unleash your inner chef with our unique cooking class in Can Tho, where you'll immerse yourself in local culture with a talented local chef by your side.

---
Nearby tourist destinations
Traditional rice noodle factory
Come to the traditional noodle-making factory, you will have a chance to learn the process of making noodles which are famous all over the land of Can Tho. The workers here with their creativity also produce all kinds of noodles in many colors, each color is made from natural ingredients such as turmeric, beetroot, pandan leaves, dragon fruit,…
The creativity in the processing and blending of ingredients has really created a new dish that attracts both domestic and foreign tourists.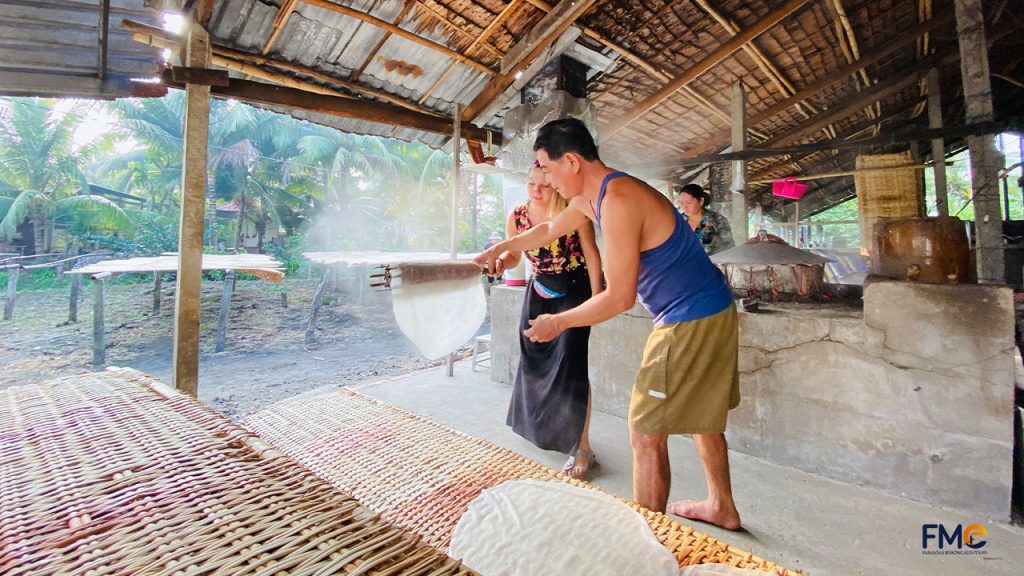 The rice noodle house is located on 474c/14a, area 7, An Binh Ward, Ninh Kieu District, Can Tho City, about 6,5km from Can Tho City center. The opening hour is from 6 am to 4 pm. This site does not charge any entrance fee.
Interested in learning more: 40 years traditional rice noodle factory in Can Tho.
Muoi Cuong cocoa farm
Muoi Cuong cocoa farm is located in Phong Dien district, Can Tho city. The ticket price to visit Muoi Cuong cocoa farm in Can Tho is 50,000 VND, including the fee to visit the farm, enjoy cocoa drink and learn about cocoa processing.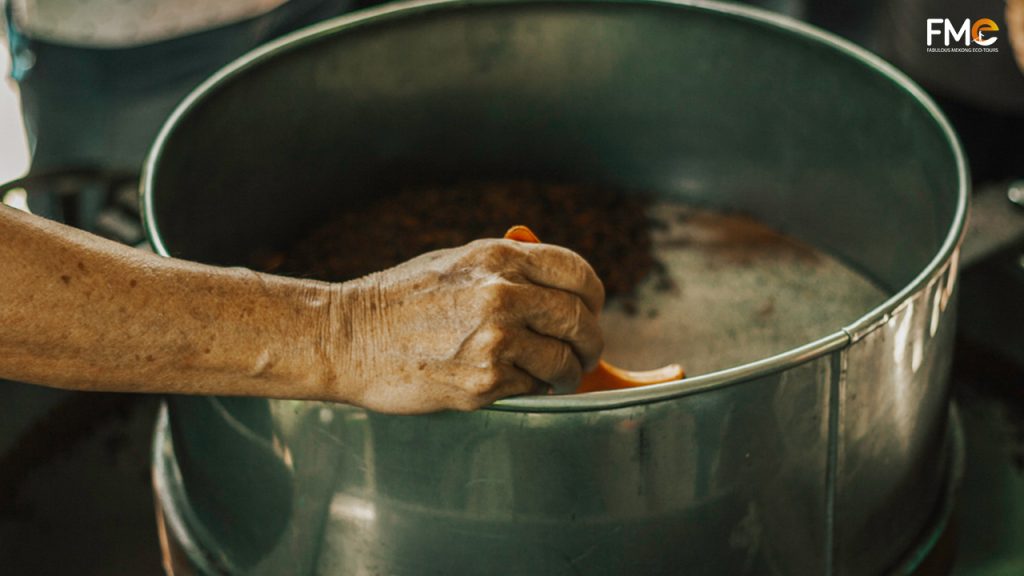 Surrounding the small path leading to the garden are two rows of green trees with fresh air. The farm has more than 2,000 cocoa trees. There are trees that have been planted for a long time, from 30 to 40 years.
Coming to Muoi Cuong cocoa farm, you not only have the opportunity to enjoy products made from cocoa beans but can also buy fresh cocoa if it is in season. In addition, you can also witness and learn about the preliminary and processing stages of cocoa, such as: incubation of cocoa beans, drying, grinding into powder, and processing of products.
Especially, enjoying wine Cocoa is something that you cannot ignore when coming to the place. This is an aperitif, created from fermented cocoa juice. If you have a chance to come here, don't forget to buy some cocoa products such as cocoa wine, cocoa butter, cocoa powder, chocolate candies, etc.
Interested in learning more: Muoi Cuong Cocoa Farm in Can Tho.
My Khanh tourist village
Come to My Khanh Tourist Village, you can join various activities to explore and experience the countryside life such as: visiting the Southern traditional house, enjoying the traditional music performance "Don ca tai tu", experiencing "One day being a Landlord" with a farmer's meal, "One day being a farmer", catching fish from ditches, visiting craft villages and orchards, etc.
Mekong delta is like a part of my life. I really enjoy living in this gorgeous region and want to bring it to the world. I usually tell myself: "my homeland dream, my dream" which means my FME team and I will try our best to contribute to building it better and better.
We hope that this information helps you plan your trip to visit the Cai Rang floating market with ease. Let's explore the Cai Rang floating Market!
FAQ
What time does the Cai Rang floating market open?
Cai Rang floating market opens quite early in the morning, at about 5.30 am.
Where is Cai Rang? 
Cai Rang is a district in Can Tho city, Viet Nam. This district shares the borders with Ninh Kieu district and Phong Dien district. 
How much to rent a boat to Cai Rang floating market from Ninh Kieu Wharf? 
– 550.000 VND (about $22) for a group of 1-6 passengers.
– 1.200.000 VND (about $50) for a group of 7-20 passengers.
– 60.000 VND (about $3) per person for a group of 21-40 passengers.  
Where to rent a boat?
You can rent a boat at Ninh Kieu Wharf or at An Binh market (near Cai Rang Bridge).
Why was the Cai Rang floating market formed?
The market, which has thrived for over a century, is the commercial center in Can Tho City and its neighboring provinces, such as An Giang, Vinh Long, Dong Thap, Tra Vinh, and Soc Trang. It was formed in the early 20th century when roads and transportation had not been developed yet.
What kinds of products are sold at the Cai Rang floating market?
It is a wholesale market selling fruits and vegetables from Can Tho City as well as from neighboring provinces in Mekong Delta.
Should you visit Cai Rang floating market in Tet holiday?
No, Vendors at the floating market spend most of their time at here which means the market is open almost year round. However, it is closed during Tet (5-7 days) as at that time they will go back to their village or visit their relatives and families.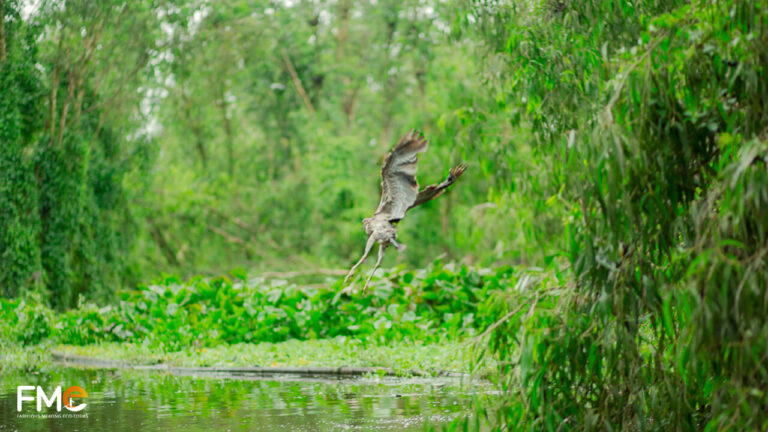 Image of Tra Su Forest ecological forest in An Giang Vietnam. This ecological forest is a tourist destination for nature lovers and local explorers.
The Most Popular Tours offered by FME Travel