Muoi Cuong Cocoa Farm in Can Tho - Handcrafted Chocolates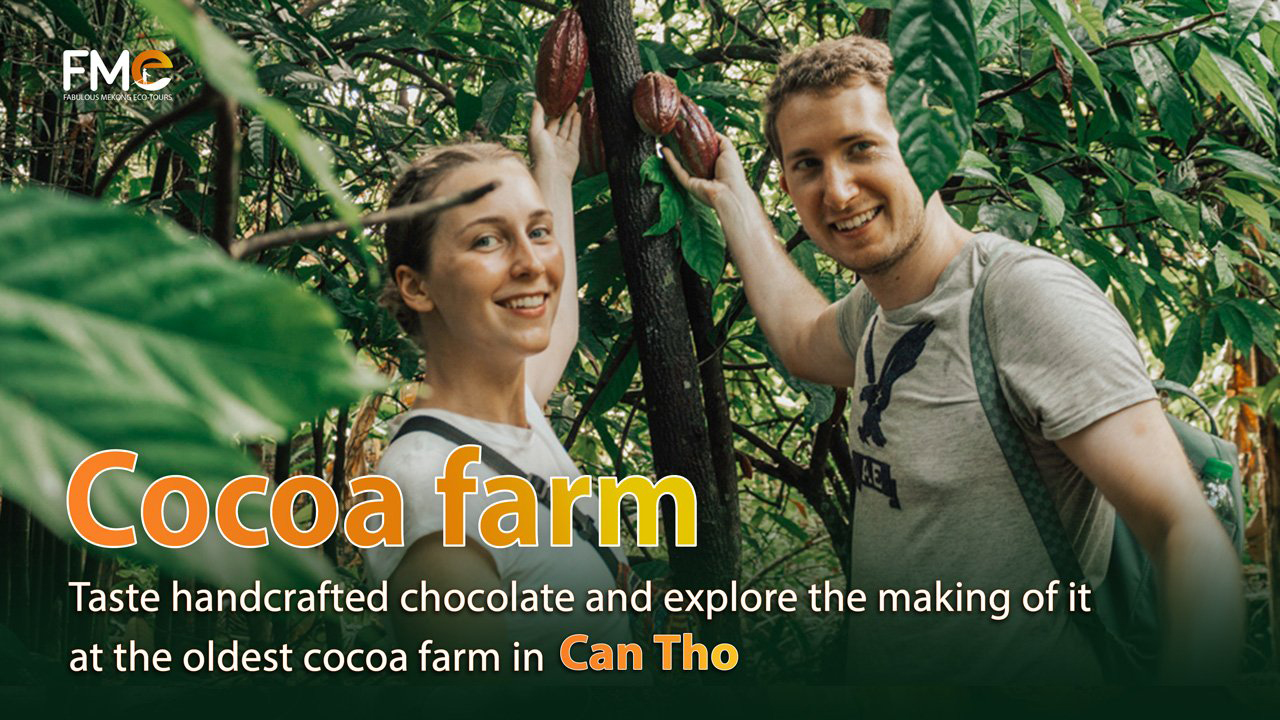 This cacao farm is the only and the oldest cacao farm in Mekong delta. If you have a lot of time in Can Tho, please give it a try to visit this cacao farm. FME Travel has been doing ecotours in Can Tho, by hoping to bring our local lives and culture to tourists, especially this unique cacao farm, we really want to share those experiences with our curious travelers by giving them tips and information so that their trips to our homeland are not a big deal anymore.
When coming to Can Tho city, visitors are often attracted by a large number of fruit orchards with a variety of kinds of fruit. Muoi Cuong cocoa farm, a 60-year-old cocoa farm, is one of the most attractive destinations that you must visit. Coming to Muoi Cuong farm in Can Tho, you have an opportunity to enjoy the tranquil atmosphere, and especially learn how to make Chocolates from cocoa beans.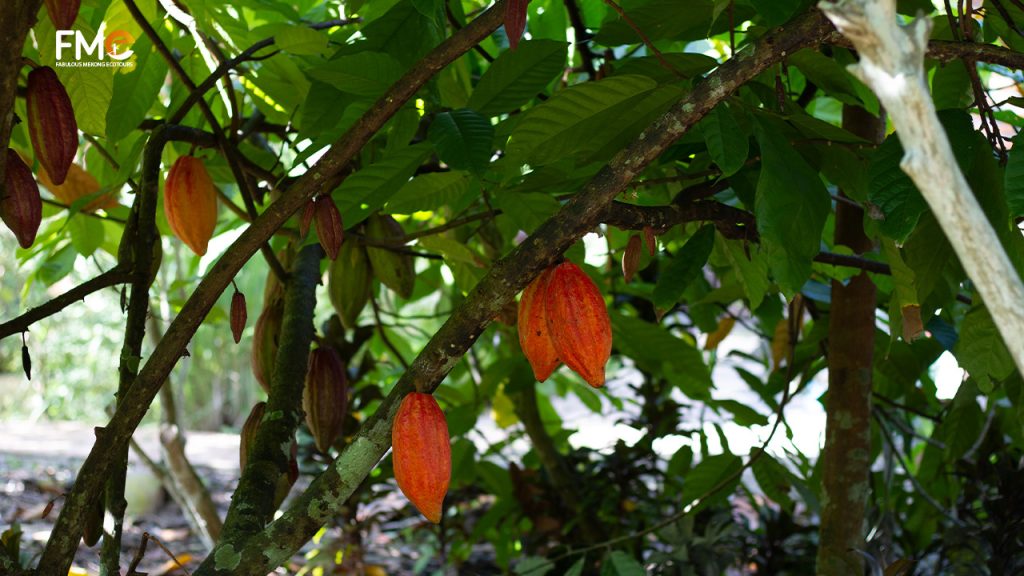 Then, it will not be better to taste the handcrafted chocolates. In addition, listening to the owner's stories about the cocoa farm will make you curious and impressed.
What's in Can Tho Cocoa Farm?
Coming to the farm, not only do you visit one of the oldest farms in Mekong delta, but also experience and discover the cocoa process. Here are some fascinating activities that tourists cannot miss when visiting Muoi Cuong cocoa farm.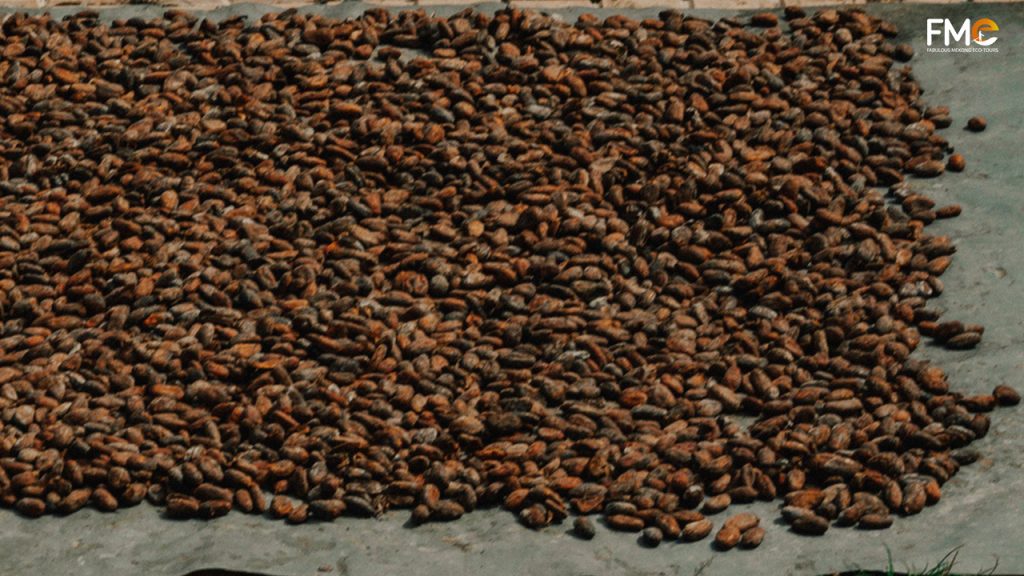 Walking around the cocoa farm in Can Tho will be an ideal activity
It is entirely fascinating to walk around the farm so as to see many cocoa trees which cover the shade and listen to the owner's passionate stories about cocoa. It is undeniable that Muoi Cuong is considered as the first cocoa farm in Mekong delta covering an area of 1.2 hectas. These days, the farm has got over 2000 trees with 2 different kinds of cocoa.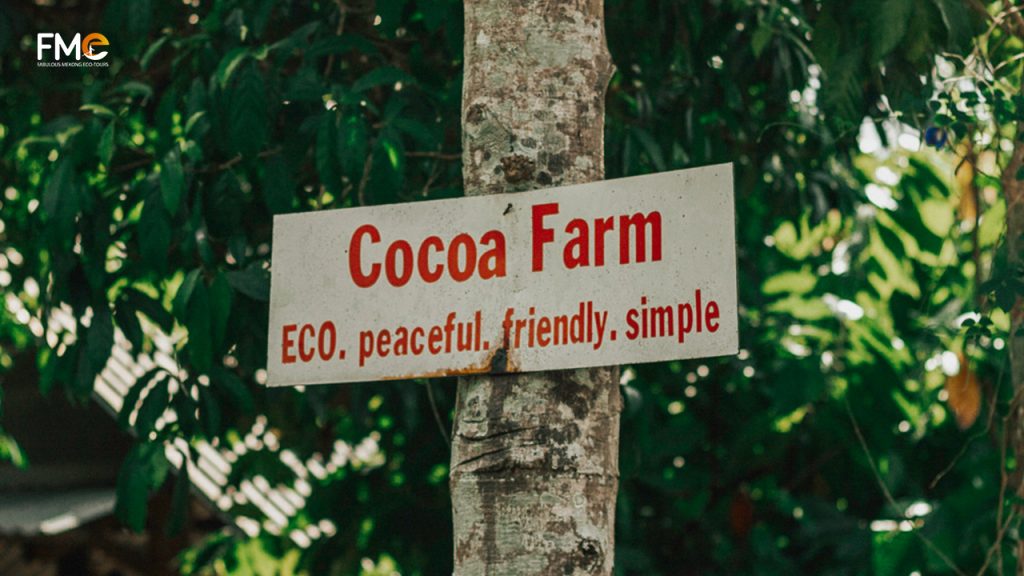 Visiting the farm, tourists will surely enjoy the fresh atmosphere because the perennial trees are covered on two sides of the road. In addition, you can see diverse colors of cocoa fruits on the trees.
Tasting the cocoa fruit, drink, chocolate and wine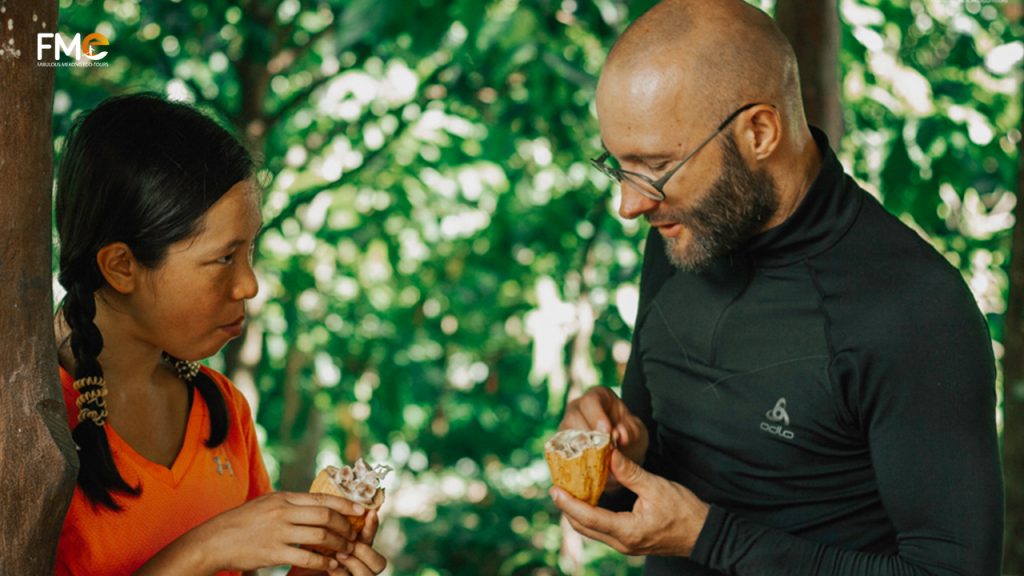 Have you ever directly tried fresh cocoa fruits on a farm? If you have not, it will be a great experience. You will have an opportunity to taste fresh cocoa fruits under the trees first. Then, you can try the cocoa drink, wine, and chocolate. Surely, you will be impressed by their special tastes.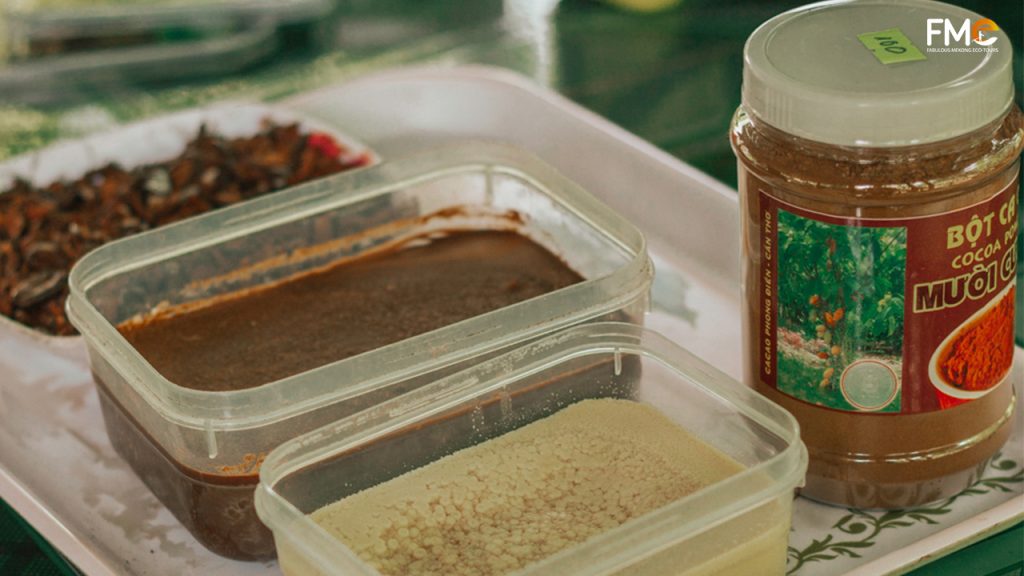 Observing the process of making cocoa products
After enjoying a glass of delicious cocoa drink, visitors will have an opportunity to learn the process of making chocolates and other cocoa products. Those are made with traditional techniques by Mr Muoi Cuong.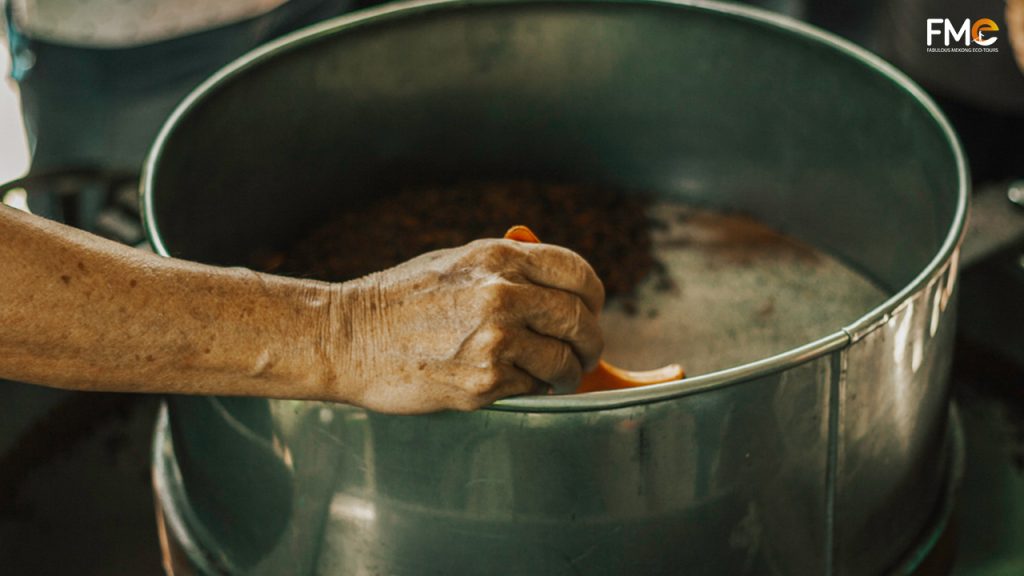 If you see him at the farm, he will show how he makes the products as he can speak English and French. Otherwise, you should have a tour guide who will explain to you that process.
Explore local food in Can Tho: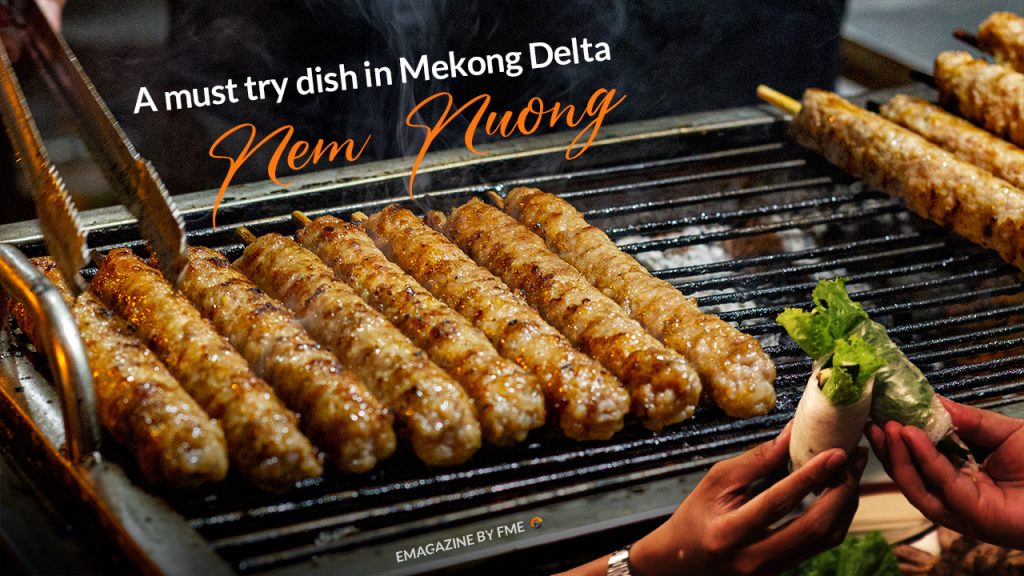 Where is Muoi Cuong cocoa farm?
Muoi Cuong cocoa farm is located in My Ai hamlet, My Khanh commune, Phong Dien district, Can Tho city which is not too far from Can Tho city. It just takes you approximately 30 minutes to get there by motorbike or 40 minutes by boat.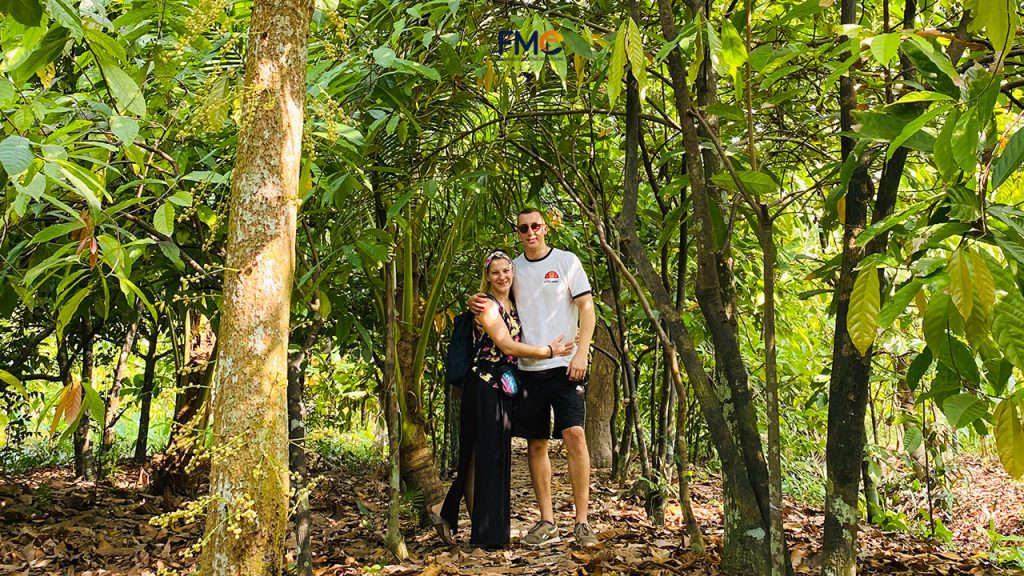 The road to Muoi Cuong farm is quite easy to travel. You can depart from Nguyen Van Cu Street and then go straight to Ong De ecotourism village which is located on the same road. Then you will see an alley on the left which leads to Muoi Cuong cocoa farm. If you cannot find the destination, do not hesitate to ask local people because they are so friendly and enthusiastic to show you its location.
Besides, if you want to discover many interesting things on the way to the farm, you can ride a bicycle because it is not too far from the city center. Plus, you should have some food to be energetic for a fascinating trip.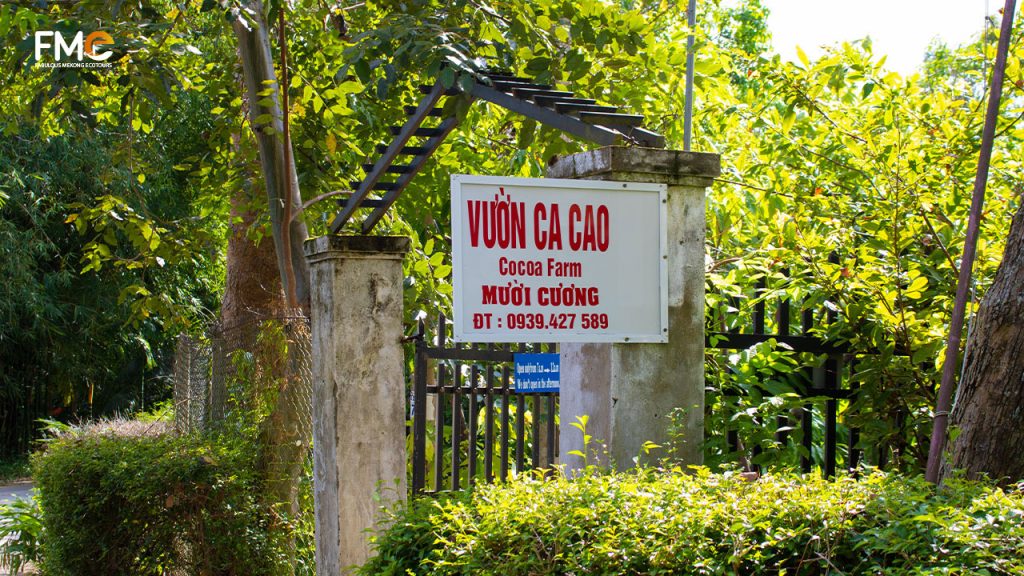 Ticket: 100,000 VND (including entrance fee, trying cocoa drink, chocolate candy, and cocoa wine).
Adress: My Khanh, Phong Dien, Can Tho city, Vietnam.
Google Maps: https://goo.gl/maps/wLFkXgWmaNfHocPJ6
The best time to visit Muoi Cuong cocoa farm in Can Tho
You can visit the farm all year round on weekdays. However, it is a fact that the cocoa started ripening in October and November. Therefore, it is a wonderful time for you to visit so that you can completely hear the story from Mr. Muoi as well as enjoy the fresh atmosphere and eat this special fruit at Mekong delta.
However, there is a remarkable note that the farm just opens from 7 to 12 in the morning. If you want to visit to learn the process of making chocolates, you should make contact with the owner as soon as possible.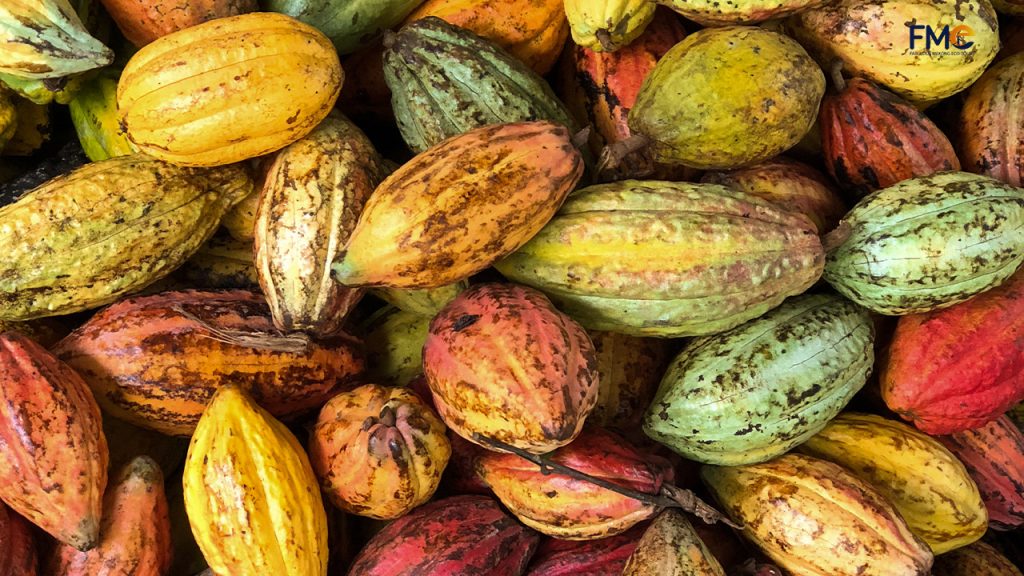 Suggested itinerary
As a local guide, we suggest 2 ideal itineraries for you:
Routes:
If you go by boat: Depart at Ninh Kieu Wharf – Cai Rang floating market – Traditional rice noodle factory – Cocoa farm – come back to the hotel.
If you go by motorbike: Depart at your hotel – Muoi Cuong Cocoa Farm – Thien Vien Truc Lam Phuong Nam (Biggest Pagoda in Can Tho).
If you are looking for a well-organized trip with a local tour guide at Can Tho, you can contact Fabulous Mekong Ecotours. We are pleased to bring you the best travel experience.
Cocoa Farm Tours & Activities: Explore Floating Market And Cocoa Farm Tour.
History of Muoi Cuong cocoa farm in Can Tho
According to Mr. Muoi Cuong, the owner of this cocoa farm, his father initially went to Malaysia to bring 100 cocoa trees back to Vietnam to grow in 1960. At that time, cocoa was still strange in Can Tho. However, because of unsuitable climate conditions, the cocoa trees were not grown well. Mr. Muoi said that there were roughly 300 cocoa trees which could be grown. Nevertheless, it took him 2 to 2.5 years to have the first fruits.
Although this fruit is not easily grown well, he never gives up. He decided to research its characteristics from many books which could show him the remarkable techniques to grow this fruit. Overcoming the difficulties and challenges as well, Mr. Muoi finally succeeded in growing the cocoa tree.
In addition, he gradually created different products, especially the chocolates made from cocoa beans leading him to succeed today. When the Cargill Company expanded the planting and technology for Vietnamese farmers, they bought the cocoa beans so as to produce chocolates.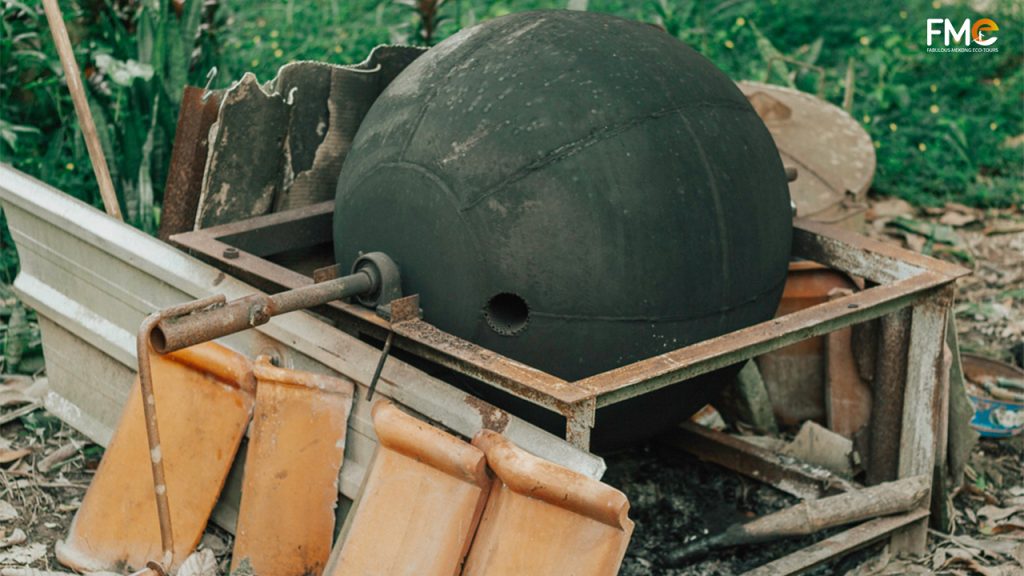 At that time, Mr. Muoi started buying morden machines for producing chocolates made from cocoa beans in his farm. Visitors have given cocoa products good compliments. Therefore, they make chocolates from cocoa to welcome guests on every occasion such as Tet holiday.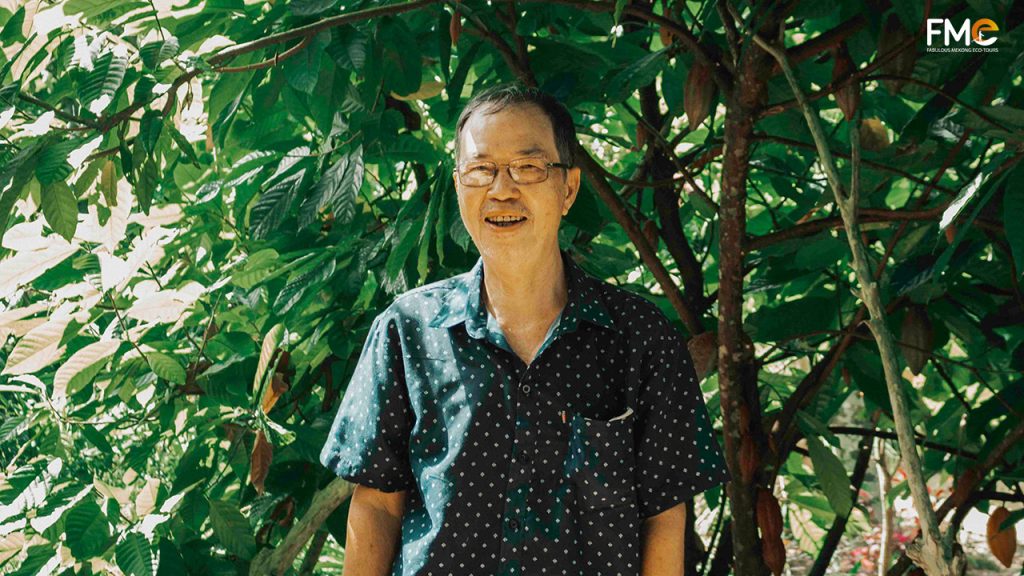 Furthermore, in order to create the best quality and healthy products, he would rather use biotechnology to plant than pesticides or fertilizers which negatively affect the environment and consumer's health as well.
For example, instead of using pesticides to treat the insects, he prefers using natural enemies like weaver ants. It is undeniable that the story of growing cocoa trees from Mr. Muoi will be making an unforgettable impression when coming to the farm.
He said: Cocoa is his life. He spent many years reading books both in French and English to find out the unique recipe to make products from cocoa fruits. Mr. Mười Cương is very passionate about sharing his story with everyone whom he has met in life. We are so lucky to be working with him for the last few years to hear his story as well as his passion.
Cocoa gifts & merchandise
It is a fact that all of the parts of cocoa fruits are used to create diverse products that you can buy as gifts for family and friends such as cocoa butter, cocoa powder, cocoa wine, dark chocolates or even cocoa lotion.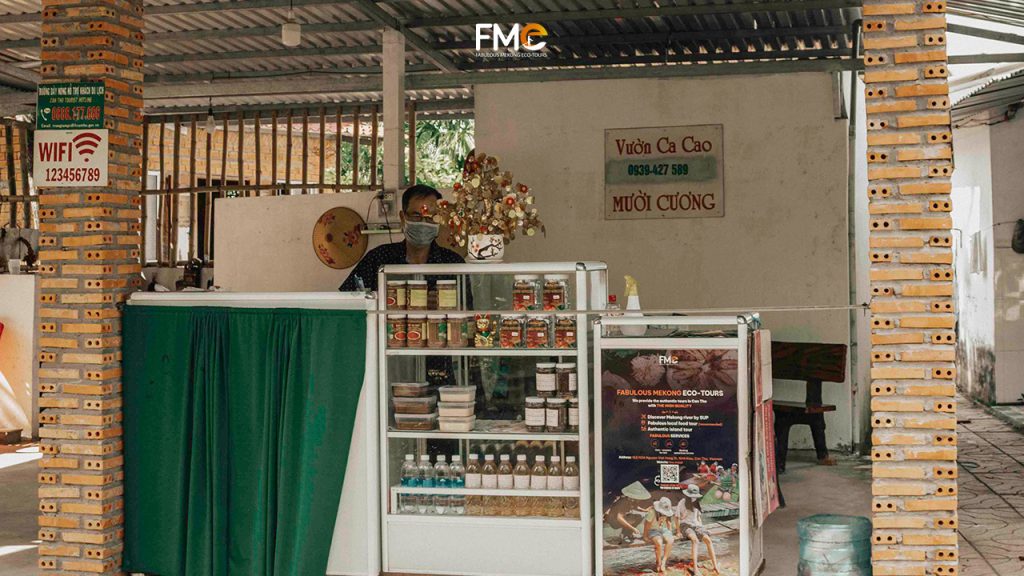 Cocoa butter is the fat of cocoa totally purified and deodorized. One common use of cocoa butter is to smooth scars, wrinkles, and other marks on the skin. You can also use it for bakery preparations to enhance the chocolate flavor. Cocoa powder can be used to make homemade chocolates drinks, and it is often a popular ingredient for recipes.
Cocoa wine is quite easy to drink because it has a sour and slightly sweet taste like lychee. You can drink directly or mix with soda, which is suitable for hot days. Cocoa wine will taste better when chilled or taken with ice cubes. It will be an interesting drink to enjoy with family and friends.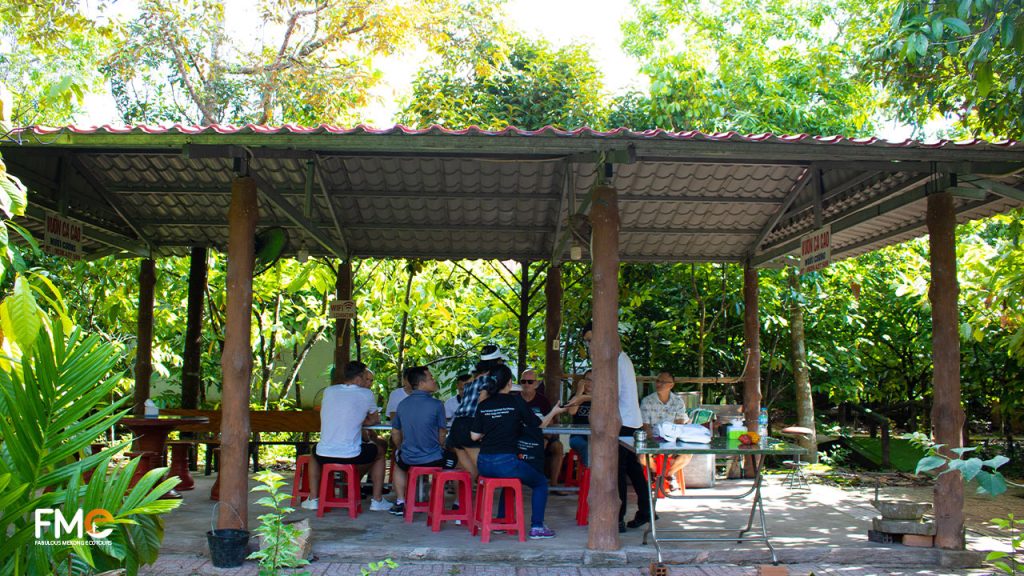 Moreover, the white cocoa beans will be used to make tasty drinks with milk and ice. In addition, you can try eating the outer part of the cocoa bean which has a sweet and sour taste. However, it is chewy and slightly sticky to the teeth.
If you have the opportunity to come to Can Tho, you should spend a morning visiting this place. What could be more enjoyable than slowly drinking a cup of hot cocoa while listening to stories in the fresh air?
One the best chocolates farm experience
There are thousands of tourists visiting Muoi Cuong cocoa farm that makes an unforgettable impression.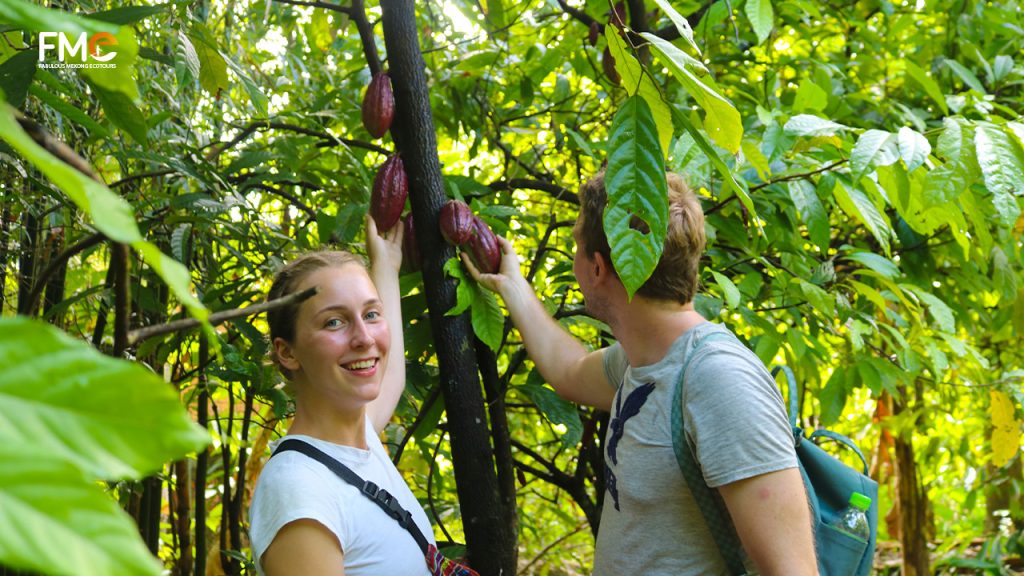 It was very interesting tasting the different products which were made right at the Muoi Cuong cocoa Farm. The family is very proud of their business. The iced chocolates were delicious!

Mikayla
My friends and I went to Muoi Cuong cocoa Farm during our stay in Can Tho. What made the visit extraordinary, was the "storyteller" who happened to be the owner, as well. Our visit exceeded my expectations, and I would definitely recommend this.

Emil
You can walk around and see how to make cocoa powder, white chocolates and you can taste these and the cocoa "wine" as well. I think it's actually a liqueur.

David
Interesting to see the whole process of chocolates making from the plant to the ready product. We saw the plant, dried cocoa beans, the chocolates, the process of getting the cocoa butter out and alcohol made of cocoa

Isabella
For more information about Can Tho:
Frequently Asked Questions
Are chocolates a handmade product at Muoi Cuong farm?
Yes, it is. The chocolates are made from cocoa by the family of Mr. Muoi. He has used traditional techniques to make it. There must be many stages starting from harvesting to packaging to be sold in the market. Visiting and learning the process of making handmade chocolates will impress you much.
Is the farm far away from the city center?
The farm is about 10km from the city center. It just takes you roughly 30 minutes by motorbike and up to 40 minutes by boat. It will be easy to get there.
What's the best time to go to Muoi Cuong cocoa farm?
It's the best time to visit Muoi Cuong cocoa farm from 7 to 12 a.m
Is it convenient for me to ride a bike visiting the farm?
Yes, it is. The farm is not too far from the city center. You can fully ride a bike to discover something new on the way to the farm. However, in order to get there safely and conveniently, you should eat up to have full energy for the trip. 
What special gifts can I buy at Muoi Cuong farm?
You can buy chocolates which are regarded as a remarkable product because they are made of cocoa grown at Muoi Cuong farm. Besides, you can also buy cocoa butter, cocoa powder, or even cocoa wine or fresh cocoa fruits to give to family or friends to make juice for hot days.
What makes Muoi Cuong farm different from others?
The thing that makes the farm different from others is that Mr. Muoi uses biotechnology instead of pesticides or fertilizers to treat the insects like weaver ants. This helps protect the environment and consumer's health as well.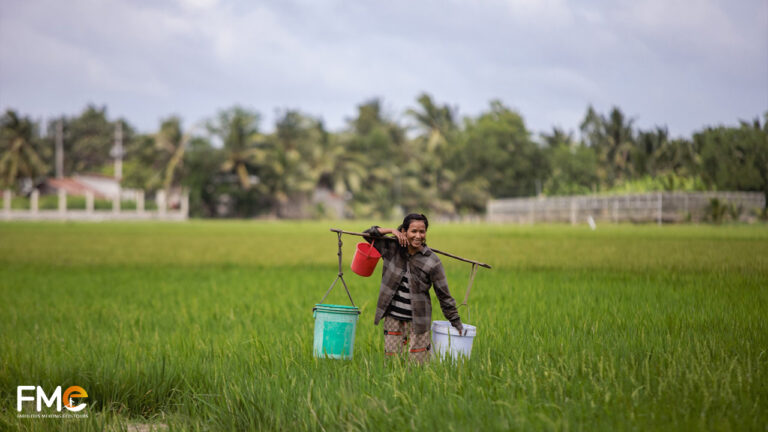 Images of the countryside in An Giang Vietnam, where honest farmers, rice fields, trees, cows, green rice-colored roads,... Explore photos now!
The Most Popular Tours offered by FME Travel