10 Best Festivals in Mekong Delta That You Must Experience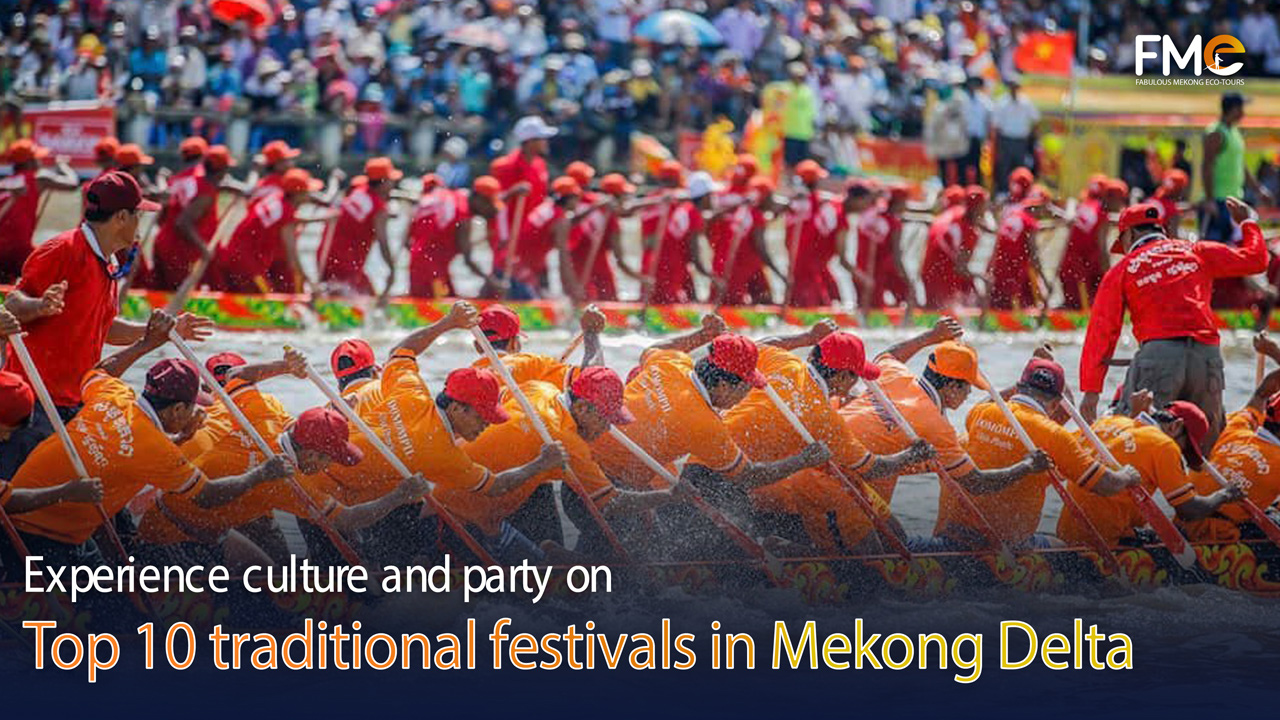 The Mekong Delta is rightfully proud of its cultural and ethnic diversity and is the origin of prominent festivals in Vietnam. Each festival always has its own meaning and story. People in the Mekong delta organize it to pray for good things and show their thanks.
The Mekong Delta will be an ideal choice in learning about culture and customs. Fabulous Mekong Eco-tours are pleased to provide you with some information about its festivals to plan your trip in the most effective ways.
Note: many festivals are planned according to the lunar calendar, so the exact date varies each year.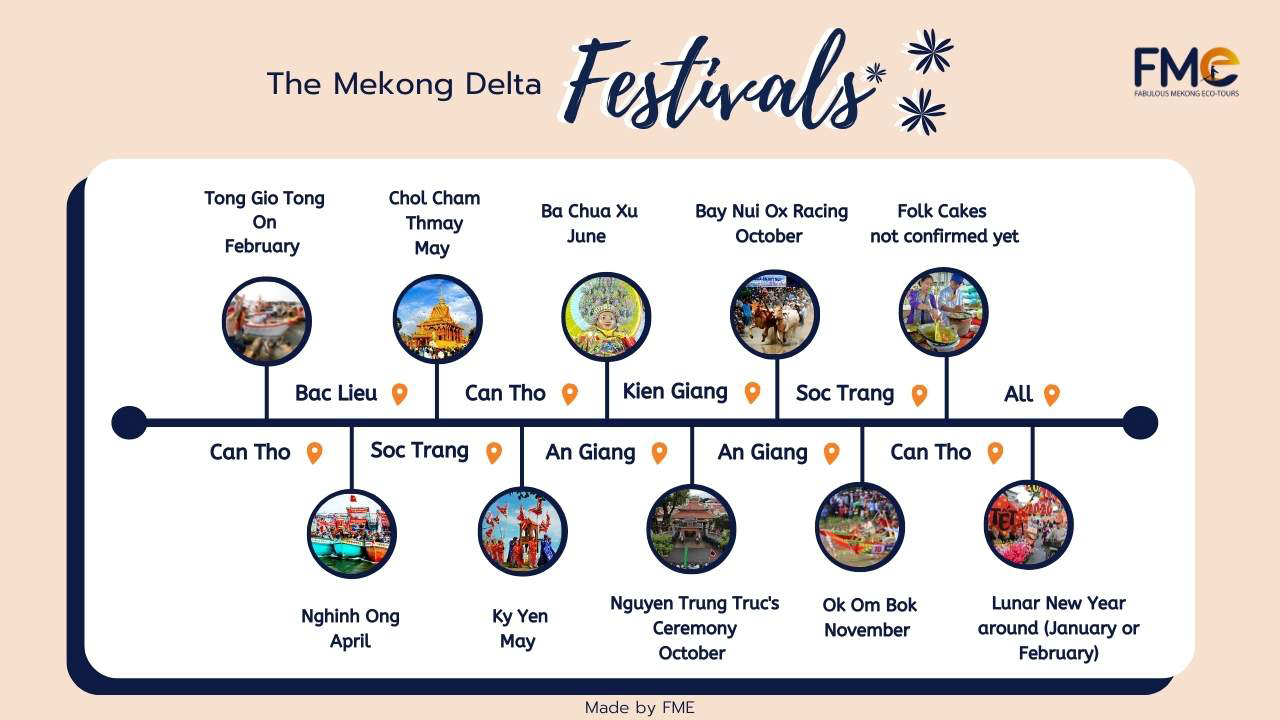 Here are the best festivals in Mekong Delta you have to experience.
1. Tong On – Tong Gio
Tong On – Tong Gio is a long-standing custom in southern Vietnam. It is no longer common now, in spite of being once quite popular in the past. Some towns and cities such as Can Tho and Vinh Long organize this ceremony.
The locals meticulously prepare a sacrifice boat and the offerings on the days of this festival. There will be a parade of people moving and launching that boat into the river. After placing offerings and charms in it, the locals release the boat into the middle of the river, expelling bad luck and obstacles to the unknown.
This festival's meaning is to pray for peace, wealth, and prosperity for the family and town, to expel bad luck, and to look forward to good things to come in the future.
This festival is held primarily on January 15th and 16th of the lunar calendar. Worship times, however, vary according to location.
2. Nghinh Ong Festival (Whale Festival)
Nghinh Ong Festival is a special traditional festival of fishermen taking place in the coastal provinces of Vietnam from Quang Binh to the South (including Phu Quoc). 
Nghinh Ong is a tribute to the merits of whales which has a very strong tie with fishermen. The festival always begins with the procession of Ong on a beautifully decorated dragon boat.
The boat, carrying the Ong altar and the offerings, was prepared earlier along with small boats carrying lion dance teams and local people. The main celebrants will perform rituals when the procession starts.
Nghinh Ong Festival is held annually to pray for prosperity for people and peace for fishermen when in the water's body. The organization time depends on the area. Let's take a look on the time and some particular cities that organize Nghinh Ong festival:
| | |
| --- | --- |
| Province | Time (all days and months on Lunar Calendar) |
| Bac Lieu | March 9th & 10th |
| Ca Mau | February 14th, 15th & 16th |
| Soc Trang | March 21st, 22nd & 23rd |
| Can Gio, Ho Chi Minh | August 14th, 15th, 16th & 17th |
| Tien Giang | December 15th |
| Vung Tau | July 15th |
| Khanh Hoa | June 14th |
| Kien Giang | October 15th & 16th |
| Phan Thiet | August 15th, 16th & 17th |
| Tra Vinh | May 10th, 11th & 12th |
3. Chol Chnam Thmay (Khmer's New Year festival)
Chol Chnam Thmay is the biggest festival of the year for more than 1.3 million Khmer ethnic people in Vietnam. This festival, also known as the Khmer's New Year festival, is one of the unique cultural heritages of the Khmer people that has been preserved and fostered for years.
The Chol Chnam Thmay celebration is held in mid-April and lasts for three days (4 days for the leap year).
People visit pagodas on these days to wish each other luck, health, and prosperity. They also play a variety of traditional games between themselves. They also have to perform some rituals such as the Maha Sangkran, the Monk Bathing Ceremony,… before coming back to normal life.
4. Ky Yen
The Ky Yen Festival is an agricultural festival held twice a year: Thuong Dien (harvesting) is held on April 12th while Ha Dien (planting) is held on December 14th (both are in lunar calendar).
This traditional festival is held in many places, including Binh Thuy communal house in Can Tho, one of the 3 biggest communal houses in Western Vietnam, attracting and drawing both visitors and locals.
In this holiday, people come to the communal house to worship Bon Canh Thanh Hoang (also known as the soil god guarding the land) to pray for favorable weather conditions, prosperity, and bountiful crops.
5. Ba Chua Xu Temple
Ba Chua Xu Festival, also known as Via Ba Ceremony, is a religious festival of the people of the South located at the foot of Sam Mountain in Chau Doc City, An Giang province.
Ba Chua Xu is a goddess belonging to the worship of mother goddesses in the tradition of the Vietnamese people. The locals worship her to pray for peace, health and the country's integrity.
Ba Chua Xu festival, which is honorably held in Ba Chua Xu's temple in the Sam mountain of An Giang, takes place annually from the 23rd to the 27th of the 4th lunar calendar. 
The festival, involving a lot of rites such as the statue washing rite and activities like offering incense, wine, and tea, attracts millions of pilgrims. It is an opportunity for people to show their thanks and respect to their ancestors and to Ba Chua Xu.
6. Nguyen Trung Truc Temple
One of the most significant and well-known festivals in Kien Giang is the ceremony festival honoring Nguyen Trung Truc, the national hero who defended the nation by fighting against the French colonies in the past.
Every year, a myriad of people congregate at Rach Gia City (Kien Giang province) on the 26th, 27th, and 28th days of the 8th lunar month.
This festival starts with rite performances by the celebrants and then the people can attend lots of other activities like worshiping Nguyen Trung Truc by offering incense, cakes or food to his altar on the Nguyen Trung Truc's temple to express the honor to his illustrious features.
Thanks to the investment of the public and private enterprises, tourists can try free food and to experience all the interesting aspects of this festival ticket-free.
7. Bay Nui Ox Racing
In the middle of the annual rainy season, it is the time when the Khmer people of An Giang enter the Dolta festival, the largest traditional holiday of Khmer people's holidays.
Watching the race is the main activity of this festival. The atmosphere there is always jubilant and exciting, with applause and cheers for those who drive good and strong oxen.
Every year, the celebration, held between August 29 and September 1 according to the lunar calendar, serves as a meaningful mass sports and amusement playground for Khmer farmers after long days of laboring in the fields.
8. Ok Om Bok (Moon Offering Festival)
The Ok Om Bok Festival, commonly referred to as the Moon Offering Festival, takes place on the 14th and 15th of the 10th lunar calendar.
Ngo Boat Racing Competition is the most fascinating activity among the rites performed to welcome this festival.
A huge number of boat teams from different provinces come to the Ngo boat racing tournament, Soc Trang – the center of this festival, to compete for the winner's prize. This also attracts a huge number of spectators who come here just to experience the busy atmosphere.
This festival is held to worship and to thank the Moon God for the bumper crops and the prosperity.
9. Southern Folk Cakes festival
This is a festival that you should not neglect if you visit Can Tho. An annual gathering of the diverse and rich cuisines of the southern provinces, hosted at Binh Thuy District Square, has drawn thousands of people from all over Vietnam to observe and enjoy the food.
The Folk Cakes Festival has approximately 200 stalls of traditional folk cakes, OCOP products, modern cuisine and cakes, regional cuisines,… brought by food artists and groups of young people to contribute to the preservation and enhancement of culinary culture, particularly the traditional folk cakes of the South in general and Can Tho in particular.
With such rich diversity, if you genuinely love food in general and Vietnamese traditional cuisine in particular, this is a festival you should not miss.
10. Vietnamese Lunar New Year (Tet Holiday)
Tet Holiday, the most important holiday in Vietnamese culture, carries love and hope, represents family and friend affinity, and promises a brighter year ahead. If you want to learn about Vietnamese culture, there is no better time than Tet.
No matter where Tet is celebrated in Vietnam, it must be clarified from the beginning. That means that Tet is not a day but several days of celebration.
Before Tet, on December 25th of the lunar calendar, people will have to buy and store food, clean their houses, and decorate them with apricot blossoms (if in Southern Vietnam) or peach blossom flowers (if in Northern Vietnam).
After New Year's Eve is the time for everyone to spend time with family, visit relatives, and relax after a long year of hard work.
If you get the chance to visit Vietnam during Tet, don't miss out on the joyful and happy moments of the Vietnamese people!
FAQ
What is the most popular festival in Vietnam?
Tet, or the Vietnamese Lunar New Year, has to be one of the most popular celebrations among Vietnamese people.
Things to remember when travel to Vietnam on Tet holidays
Normally, all shops and stores are closed until the third day of the Lunar New Year. As a result, you should check carefully when shopping or visiting any location.  
What foods are eaten during Tet?
Banh Chung and Banh Tet are the traditional Vietnamese cakes, it's always served on the tables of every family on Tet. 
What are the most common Southern Vietnamese folk cakes presented during the Folk Cakes Festival?
More than 90 sorts of folk cakes prepared by 173 food artists are shown and sold to visitors, such as bánh bò ( Vietnamese sweet and chewy sponge cake), bánh da lợn (a kind of steamed layer cake), bánh khọt (Vietnamese mini rice pancakes), and others, as well as long – forgotten cakes such as "the poor's cakes."
Where to go to experience the Chol Chnam Thmay festival?
Because the Khmer are Buddhists, the pagoda is considered the community's cultural center. Therefore, aside from a few rites done at each home, most people assemble at pagodas to perform rituals and amuse events.
Are there any games to play or experience in the Chol Chnam Thmay festival?
Currently, in the Mekong River Delta, certain Khmer pagodas in Soc Trang, Bac Lieu, and elsewhere host games for visitors during the three days. Apart from traditional games such as Chôl-chhung (Vietnamese: Ném Còn), tug of war, pushing trees, and Lek-kon-sêng (Vietnamese: Bịt mắt bắt dê), they also organize mini football, volleyball.
Where to see the Ngo boat racing competition in Soc Trang?
If you have the opportunity to visit Soc Trang on the 14th and 15th of the 10th lunar month (November 13-14), you should head to the Ngo boat racing stand on the Maspero River, Soc Trang city, to observe and enjoy the incredible atmosphere of the boat racing competition.
Looking for more information: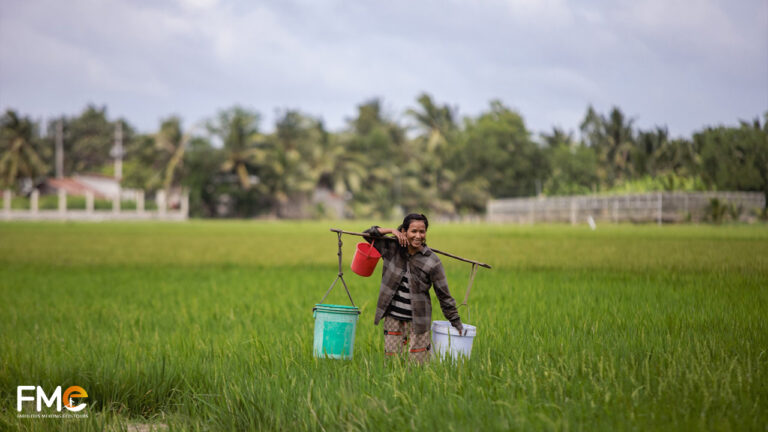 Images of the countryside in An Giang Vietnam, where honest farmers, rice fields, trees, cows, green rice-colored roads,... Explore photos now!
The Most Popular Tours offered by FME Travel