Motorcycle vs Car: which is better for Mekong Delta trips?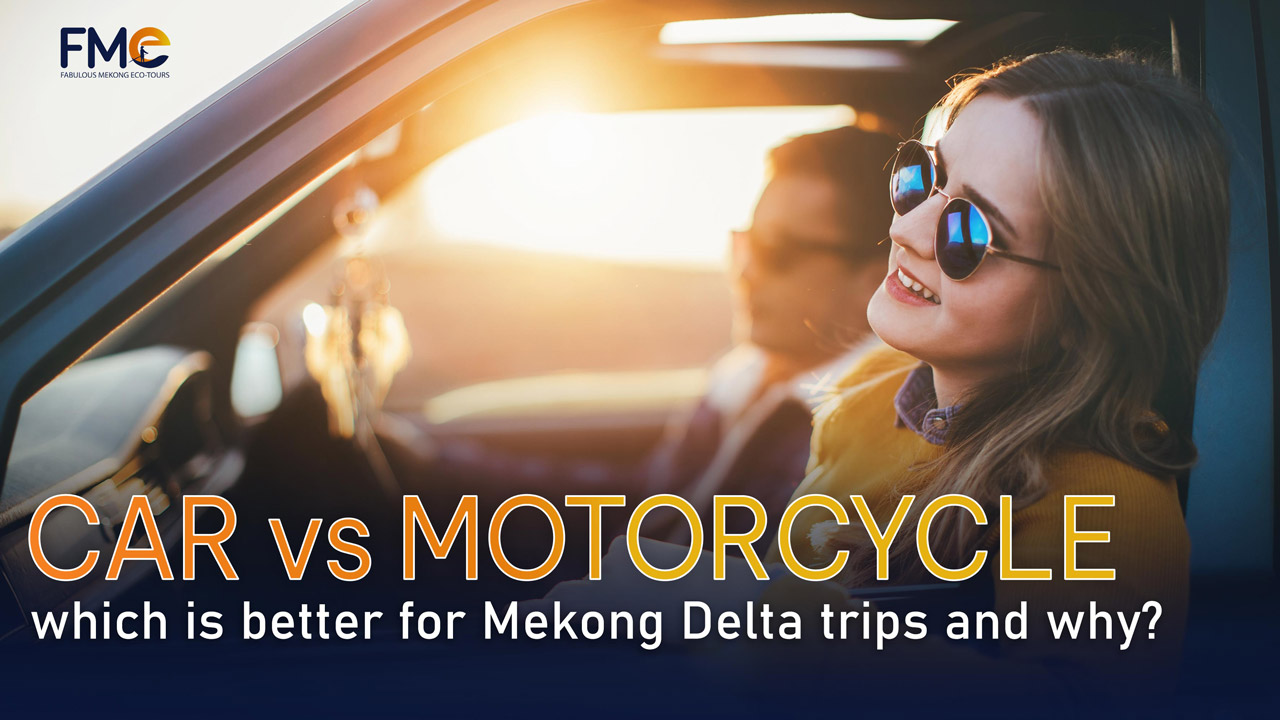 Are you thinking about taking a road trip to the Mekong Delta but aren't sure whether to go by car or motorcycle? From packing issues to petrol costs, complete your plan and start your trip with our informative blog.
Motorbikes and automobiles are two of the most common modes of transportation in Vietnam; however, they shall provide you with different experiences when travelling to a specific location, such as the Mekong Delta, where you are planning to go now.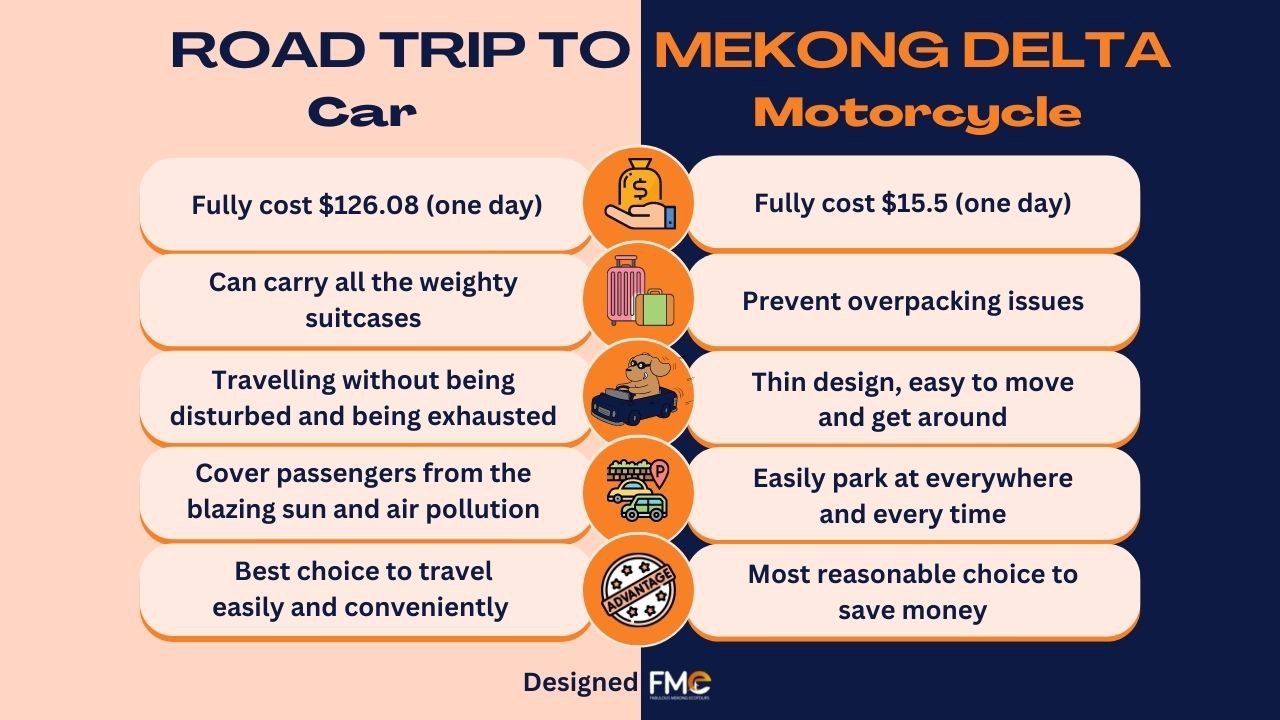 *Choosing an appropriate means of transport before travelling to this vast region shall improve your trip experience. We'd like to provide you with some information to help you make the best vehicle choice for your trip.
Packing issues
One of the most common issues when travelling on a road trip is packing heavily and travelling with heavy suitcases.
When you go travelling, you may, sometimes, desire to make every moment you are outside to be as convenient as being at home. You, then, pack too many pieces of stuff that, in fact, you may rarely touch until going home.
Many people have a tendency to go travelling by car because of its large space which shall help them carry all the weighty suitcases, and prevent or inhibit the issues of packing. Consequently, they shall desire to bring along more and more pieces of stuff because of that reason.
Whilst, motorcycles set people a limit on packing and prevent them from packing overly much. They force travellers to pack lightly. Instead of carrying a lot of suitcases, a backpack shall be one of the best optimal choices for packing and carrying. With a small amount of stuff you have to care for, you shall feel more relaxed and enjoy your trip better.
*Both these two means of transport can be a good choice for packing for your long road trip, the important thing is that you should pack lightly and be more streamlined.
Spending on rental costs
It's quite easy for you to find a vehicle rental service at a reasonable price because there are hundreds of them in the Mekong Delta region.
Certainly, rental prices are very varied and different between the two means of transport. The prices are low or high depending on which brands you are going to select. The car's rental price is always higher than the motorcycle's.
We would like to give you an average price list of vehicle rental services for you to plan your road trip most optimally:
| Seat | Price |
| --- | --- |
| 4 Seats | $102 |
| 7 Seats | $115 |
| 14 Seats | $132 |
| Type | A day | A week |
| --- | --- | --- |
| Vision | $9 | $45 |
| Nouvo | $9 | $45 |
| Hayate 125 SS | $9 | $45 |
*Something you should avoid when renting a vehicle to limit controversy with the leaser:
Checking the vehicle's condition before picking up
Ask them about preparing service if the vehicle breaks down
Do not repair the car without acknowledging the leaser
Find out about vehicle rental services of FME:
Dealing with traffic congestion and gridlock
Being on a long road trip in the Mekong Delta, you shall more recently come across traffic congestions and gridlocks, yet, most of the time you don't know how to tackle them.
No one can dismiss the convenience of motorcycles since they can allow us to go past some small traffic jams with their thin designs, however, they may turn into a big disadvantage when encountering and then getting stuck in traffic congestion. If you try to go past them hurriedly, you can pose a serious threat to yourself and others.
Traffic congestion and gridlocks' surrounding temperatures occur in the Mekong Delta, having a particular seasonal system involving dry and rainy seasons which makes this place sometimes pretty dry and hot but rains a lot other times, can steadily rise to a 40°C peak in just a few minutes. It also causes an intense and chaotic atmosphere involving excessive noise and air pollution which badly impacts your health. As a result, motorists in this circumstance shall not be in trouble.
On the other hand, cars seem the more optimal option when they provide you with a safe zone to shield from the heat, pollution, or sudden rain that was mentioned before. Cars, however, can only move deliberately when stuck in traffic congestions and gridlocks. It leads you to do nothing instead of delaying your whole trip.
*Here are some tips for you to avoid being stuck in a gridlock or traffic congestion:
Maintain a 3-metre gap between cars
Stay at a consistent speed
Avoid changing lanes too often
Allow other drivers to merge into your lane
Pay attention to the road conditions
Avoid taking your eyes off the road
Pull over quickly and completely if you have a problem
Spending on petrol gas
Fuel consumption and cost is also an aspect that is in needs to be considered when going on a road trip.
Many car drivers believe that a car's fuel consumption is reasonable and not so high, but actually not. For instance, on average in Vietnam, 7.8 litres is the amount that a car may consume for a distance of 100km. Going on a long road trip by auto surely leads to the fuel cost rising significantly and your previous budget plan shall be adjusted under that influence.
Conversely to auto, motorcycles are a lot of people's favourite because they consume approximately just 2.5 litres of petrol for a distance of 100km. They may also help you, tourists, to save some money to do other things.
*Here are some tips for you to optimise the fuel consumption of both vehicles:
Accelerate gently
Maintain a steady speed
Anticipate traffic
Avoid high speeds
Don't carry unnecessary weights
Finding places to park
We cannot deny that it is simpler for us to discover appropriate parking slots when road tripping on a motorcycle. Even when riding in a motorcycle squad, you only need a few regular parking spaces to accommodate everyone. Moreover, this will be less of an issue in rural and less populated areas than in the city.
Most people in Vietnam own motorcycles, so, there is often a lack of parking slots for automobiles and larger vehicles. Therefore, you may meet parking issues. Luckily
*Parking a car is prohibited in the following locations:
Where no-parking signs are posted
On bridges and flyovers
At bus stops
On pedestrian-only roads
Within five metres of crossroads
On curves
At the top of hills
On pedestrian crossings
Over manholes for sewers
Tackling road conditions
Vietnam is an extremely safe country, but the roads are some of the most dangerous in the world.
Vietnam's traffic is significantly different from other countries. Traffic congestion and gridlock happen frequently making it chaotic and dangerous for foreigners but typical for the locals.
It shall be easier when travelling by car in Vietnam traffic because It will be a little bit challenging when you choose to travel by car since the local roads are narrow and may have lots of obstacles. Make sure that you have advanced driving skills or skills on how to tackle "being-stuck" problems.
Travelling by motorcycle makes your trip a bit more effortless because you can get around more freely. However, it is still very dangerous when travelling by motorcycles because motorists often travel (illegally) against the flow of traffic. Outside the cities, livestocks such as dogs compete with vehicles for road space. Sudden stops by motorcycles and bicycles make driving particularly hazardous.
Additionally, the road condition here is not adequate when compared to other areas and the quality is not the same among provinces. Major city centre areas may have adequate roads paved and well looked after whilst the remote and local areas are narrow, wet and sometimes flooded during the rainy season. Therefore, you should prepare yourself before being inhibited by lots of blocks.
Both vehicles have pros and cons when you put them in Vietnam's traffic, thereby, we would like to give you some tips for safe driving to limit the danger and problems you may encounter:
| Car | Motorcycle |
| --- | --- |
| Wear your seat belt | Buy a Good Helmet |
| Be cautious with careless motorists | Turn Left in a Group |
| Drive at moderate speed | Only Use the Back Brake |
Enjoying the great outdoors, having fun and exciting time 
Alexander Supertramp Mccandless once said "The joy of life comes from our encounters with new experiences, and hence there is no greater joy than to have an endlessly changing horizon, for each day to have a new and different sun."
Coming out to the open world will not depend on which means of transport you are driving, because a different vehicle may give you a unique experience.
Road tripping on a car always gives you a chance to fully witness the beauty of Vietnam towns without being disturbed by other things if you drive at a moderate speed.
Travelling by car may suit the family's travelling style because, while in it, your family will have an enjoyable and secure voyage filled with pleasant chats and interactions.
Motorcycles are for people who enjoy high-speed adventures and want to enjoy the warm sun, which fires up their outdoorsy hearts.
What I like best about travelling by motorcycle is that I can feel as if I and the outdoors are merging, with the high speed of the motorcycle transforming me into a wind floating unquestionably.
*What outdoor activity that you can do when travelling to the Mekong Delta:
Enjoy a romantic evening at Ninh Kieu Wharf, Can Tho
Browse Cai Rang Floating Market, Can Tho
Stroll the brilliant Vinh Trang Pagoda, My Tho
Disappear into Tra Su Melaleuca Forest, An Giang
Relax in Phu Quoc National Park, Kien Giang
A Little Planning Goes a Long Way
If you've made it this far, we hope that you shall know which vehicle will suit you and your travelling style best.
There will be no perfect means of transport that can meet all the requirements.
Follow some of our tips and choose your most suitable vehicle, we wish that you'll have a much greater chance of having an incredible travelling experience.
FAQ
How long is a good road trip?
When you start planning your road trip, no more than 6 hours driving per day – about 800 kilometres shall be reasonable. If you want to travel more kilometres, consider breaking your trip up over 2 days, split the driving between you and your friends or hire a driver.
Which vehicle is faster a car or a motorcycle?
Motorcycles have traditionally enjoyed an advantage over cars in acceleration due to their lighter weight. In contrast, cars normally have higher top speeds because they are more aerodynamically efficient, leaving two-wheeled and four-wheeled advocates at odds over which is truly faster.
How far can a motorcycle journey in a day?
Generally, most experienced motorcycle riders can handle about 500 kilometres on a daily average.
How to stay comfortable on a long motorcycle ride?
– Stretch
– Hydrate
– Dress Appropriately
– Compress Your Muscles
– Avoid Monkey Butt
What I shouldn't do when travelling by motorcycle?
– Don't tie shoelaces in loops
– Don't watch the speedometer, watch the road
– Don't change speed in the middle of a corner
– Avoid riding behind the centre of a car
Will my car break down on a road trip?
A long-distance drive is not harmful to your car if you have serviced it and have enough motor oil, coolant, water, and fuel. Short-distance road trips with frequent acceleration and lower speeds put more stress on engine components.
How often should I let my car rest on a road trip?
Stop for at least 15 minutes every 2 hours to let your car rest on a road trip. A car doesn't mechanically need rest if it is well maintained, and in a good state of repair.
Breaks from the road, however, are important for your own safety, health, and level of alertness. Take a break every couple of hours to stretch your legs, and keep on top of the engine, tires, and fluid checks.
Is driving my car all day bad?
It is not bad to drive your car all day if your vehicle has been properly serviced and has sufficient fuel. A car can easily drive for 12 hours or even 24 hours straight without mechanical issues, provided it has undergone scheduled maintenance.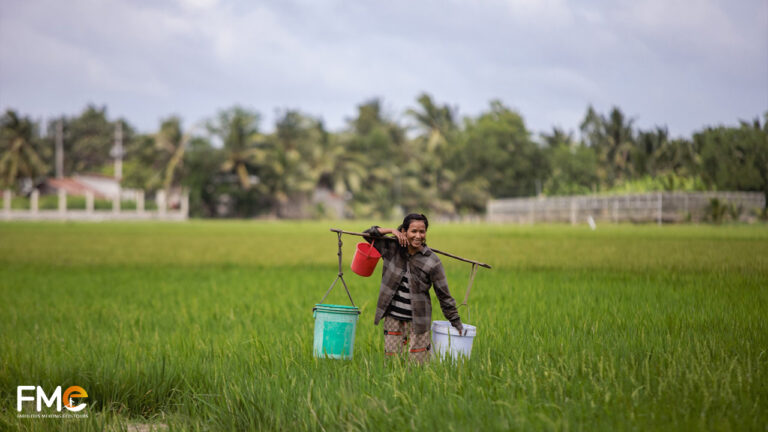 Images of the countryside in An Giang Vietnam, where honest farmers, rice fields, trees, cows, green rice-colored roads,... Explore photos now!
The Most Popular Tours offered by FME Travel