Ninh Kieu Wharf - A must-visit attraction in Can Tho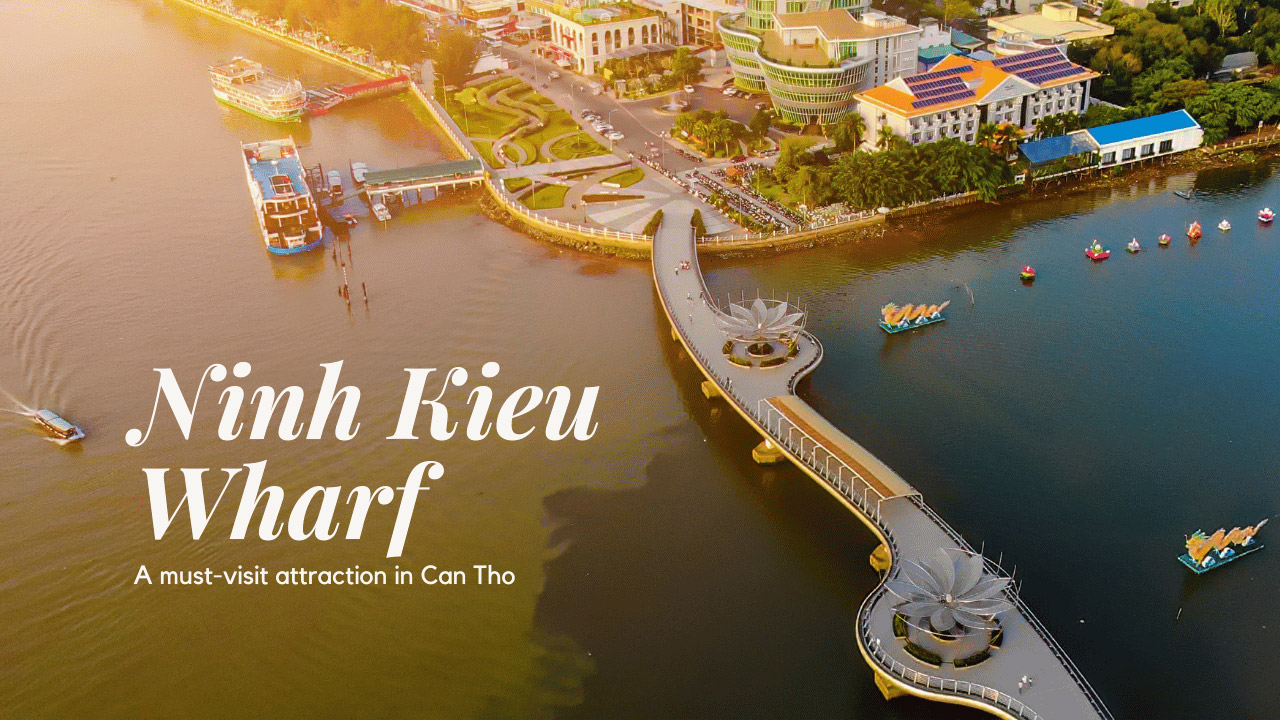 Ninh Kieu Wharf is considered one of the most famous tourist destinations in Can Tho. Discovering Ninh Kieu Wharf, you will experience interesting sightseeing activities which surely leave you memorable moments during your Can Tho travel.
Here are the top reasons that you should come to this place once:
Enjoy beautiful views of the Hau River and surrounding scenery.
Experience a dinner cruise on Hau River and watch the scenery of Ninh Kieu Wharf at night
Enjoy local food and drink options in Can Tho
Explore the vibrant nightlife of Can Tho people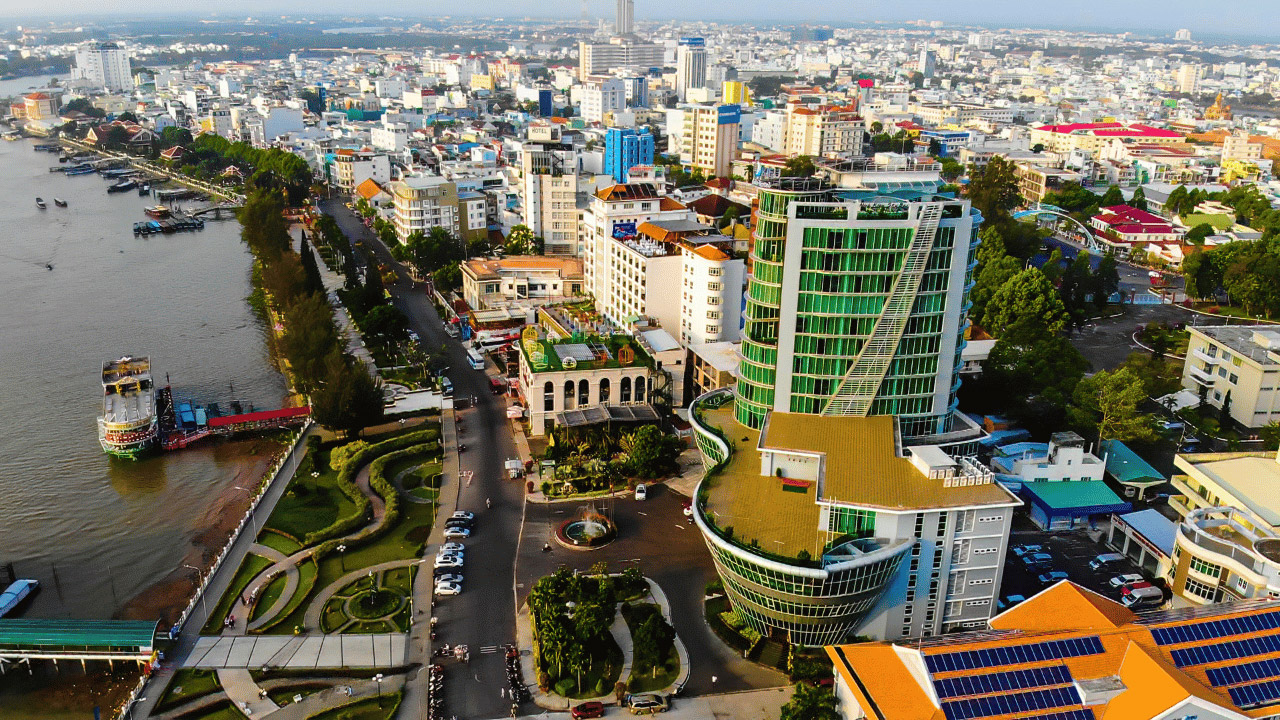 So let's find out about this Ninh Kieu Wharf in Can Tho with Fabulous Mekong Eco-tours.
Where is Ninh Kieu Wharf?
Ninh Kieu Wharf is renowed as Ninh Kieu Park, situated on the right bank of the Hau River, between the confluence of the Hau and Can Tho Rivers. The wharf adjoins Hai Ba Trung Street, Tan An Ward, Ninh Kieu District, Can Tho.
How to get to Ninh Kieu Wharf?
From Can Tho city center, you only need to travel about 7km by motorbike or taxi to Ninh Kieu wharf. After coming here, you can choose to visit the wharf by walking or by motorbike.
Google Maps: https://goo.gl/maps/Wc9wGeuzN1cSmmZv9
Things to experience in Ninh Kieu Wharf in Can Tho
Ninh Kieu Wharf is an important symbol of Can Tho city and represents the inherent luxury and prosperity of the Mekong Delta. It's a very popular and bustling destination in western Vietnam, where you can have lots of fun experiences, especially the ones listed below.
1. Taking a stroll around Ninh Kieu Park Can Tho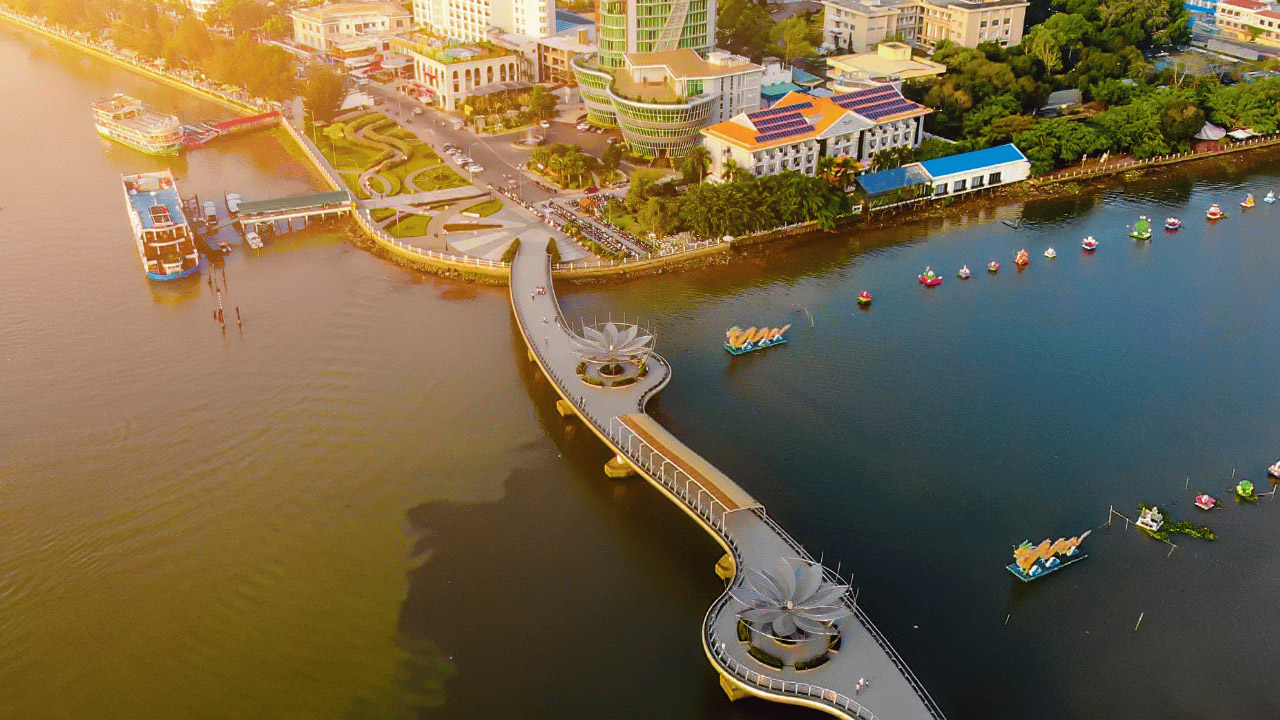 Ninh Kieu Park covers an area of around 7,000 square meters and is home to a tall statue of President Ho Chi Minh, which stands at 7.2 meters and weighs 12 tons. It sits on a 3.6-meter pedestal and is a significant symbol of the park. Don't miss the chance to see it if you visit Ninh Kieu Park.
Additionally, from the park, you can admire the stunning view of the Can Tho Bridge, which looks even more beautiful at sunset and nighttime.
When you're in the park, you can relax and enjoy the cool, refreshing breeze. In the evening, many people gather here to walk, eat and have fun together. If you take a walk to Ninh Kieu Park at night, you won't regret it!
2. Enjoying local food at Ninh Kieu night market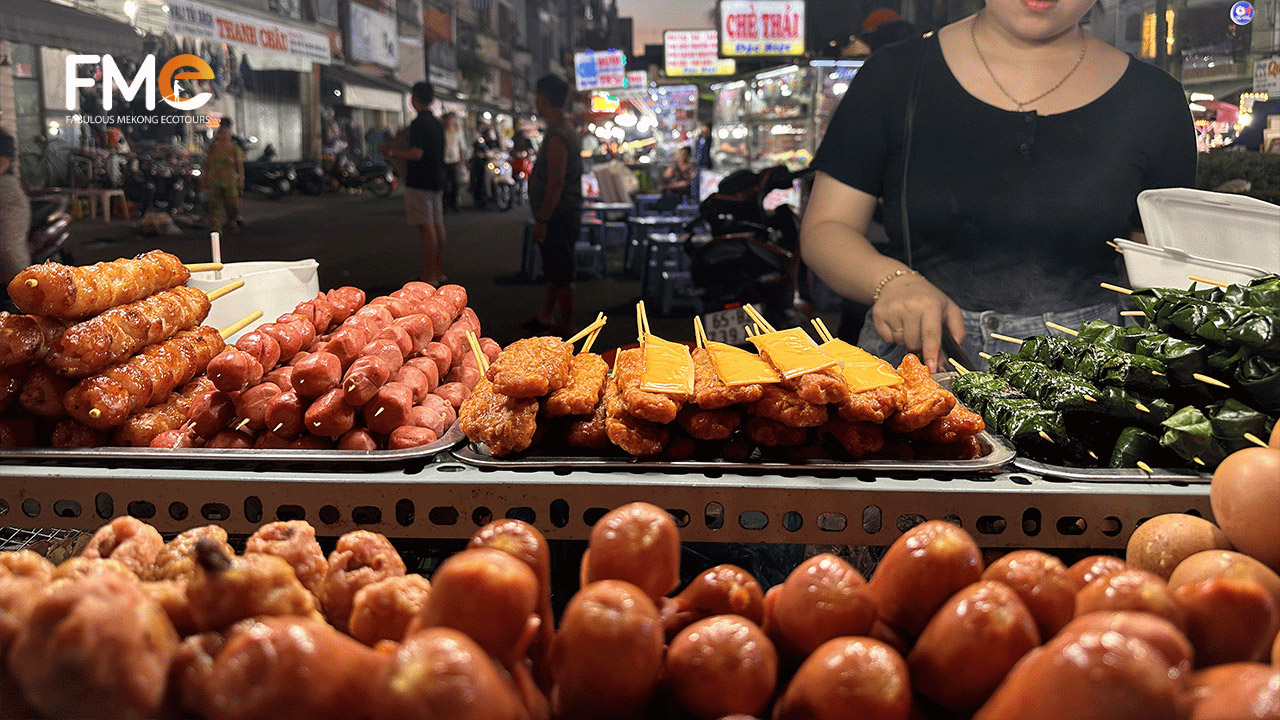 Ninh Kieu Night Market is a great place to visit at night and a perfect option for those who love street food in Can Tho.
You can enjoy all kinds of delicious food here from dumplings to grilled rice paper, mixed rice paper, fried fish balls, many famous fruits of the Southwest region, such as mango, jackfruit, orange, and mangosteen, and many other local delicacies.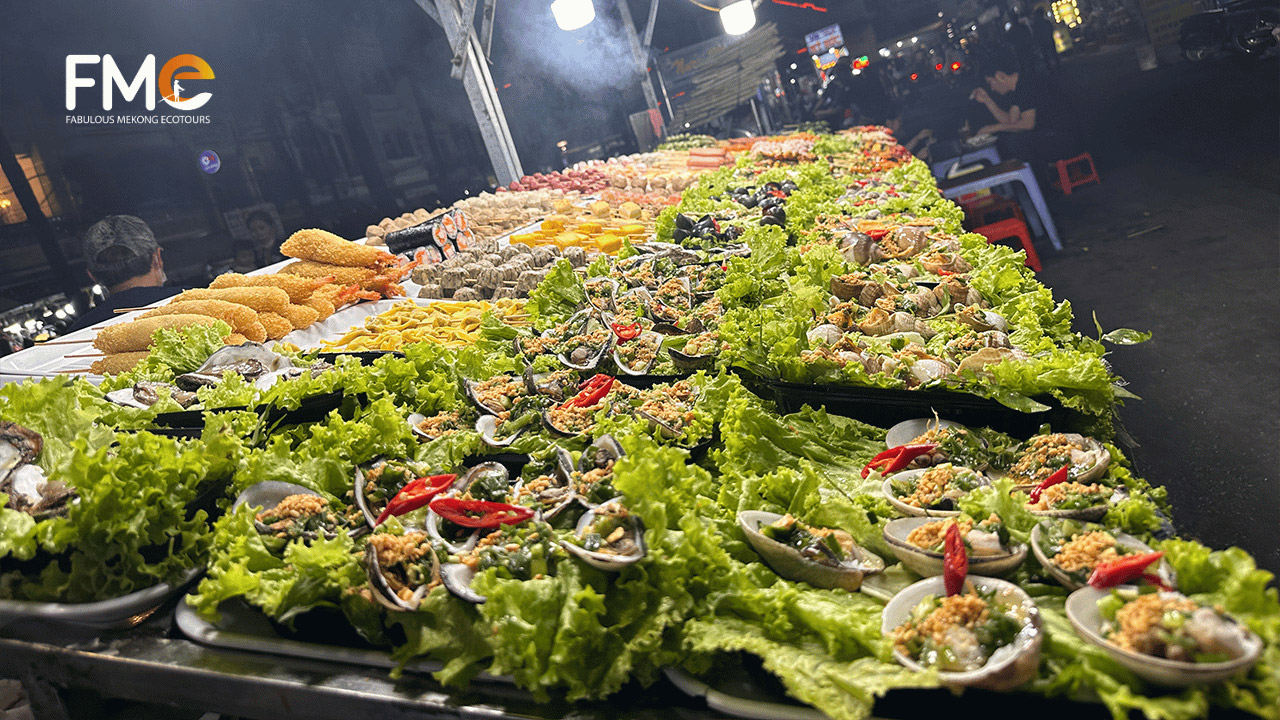 Moreover, the night market also offers many other items that you can buy, such as clothes, shoes, bags, hats, and accessories. You can find both trendy and traditional pieces at reasonable prices.
Address: Corner of Hai Ba Trung – Nguyen Thai Hoc Street, Tan An Ward, Ninh Kieu District, Can Tho City.
Opening hours: 5:00 pm to 11:00 pm.
3. Listen to the traditional Don Ca Tai Tu concert every Friday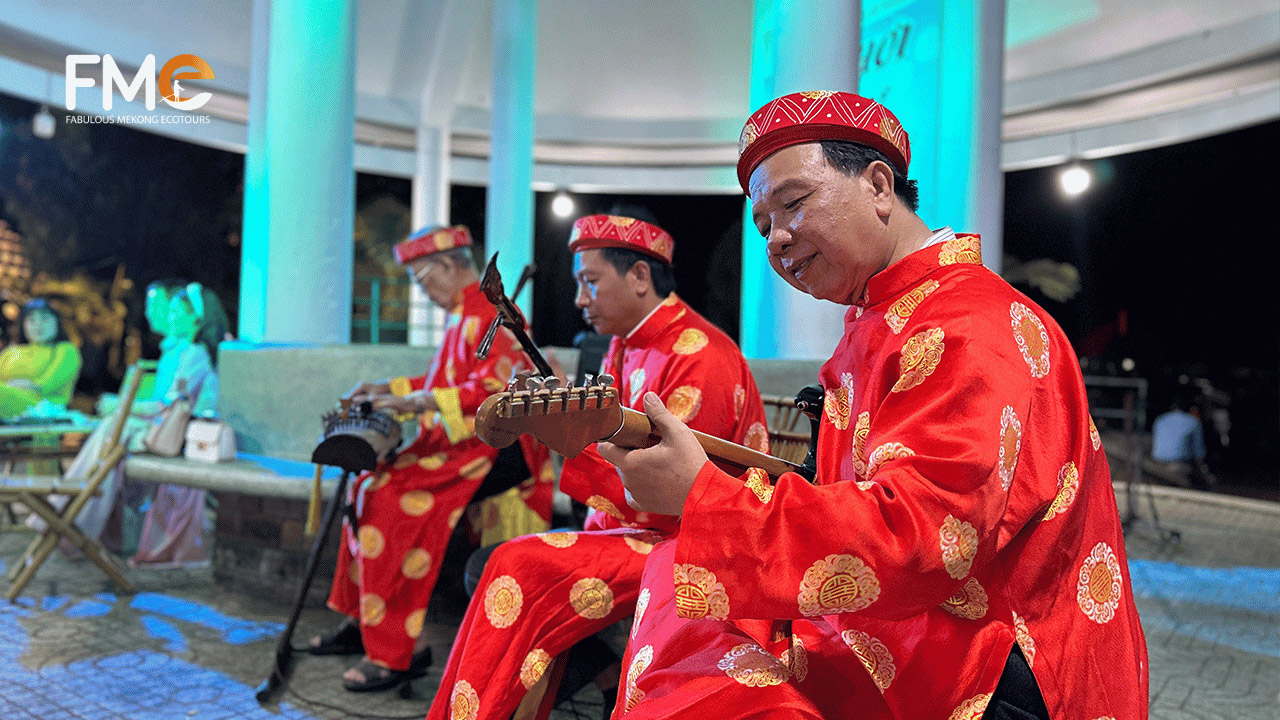 Don Ca Tai Tu is a traditional musical art form that originated in the southern region of Vietnam. It has been recognized as a UNESCO Intangible Cultural Heritage of Humanity since 2013.
In the city of Can Tho, located in the Mekong Delta region of Vietnam, there is a weekly Don Ca Tai Tu playground held every Friday at the Ninh Kieu Wharf. This event has become a popular gathering place for local residents and tourists alike, who come to enjoy the beautiful melodies and performances of the musicians.
Visitors to the Ninh Kieu Wharf on Friday evenings can experience the lively atmosphere of the Don Ca Tai Tu playground, surrounded by the bustling sounds of the city and the gentle flow of the Mekong River. It is truly a unique and memorable cultural experience that showcases the rich heritage of Vietnam.
4. Check-in at the Can Tho Pedestrian Bridge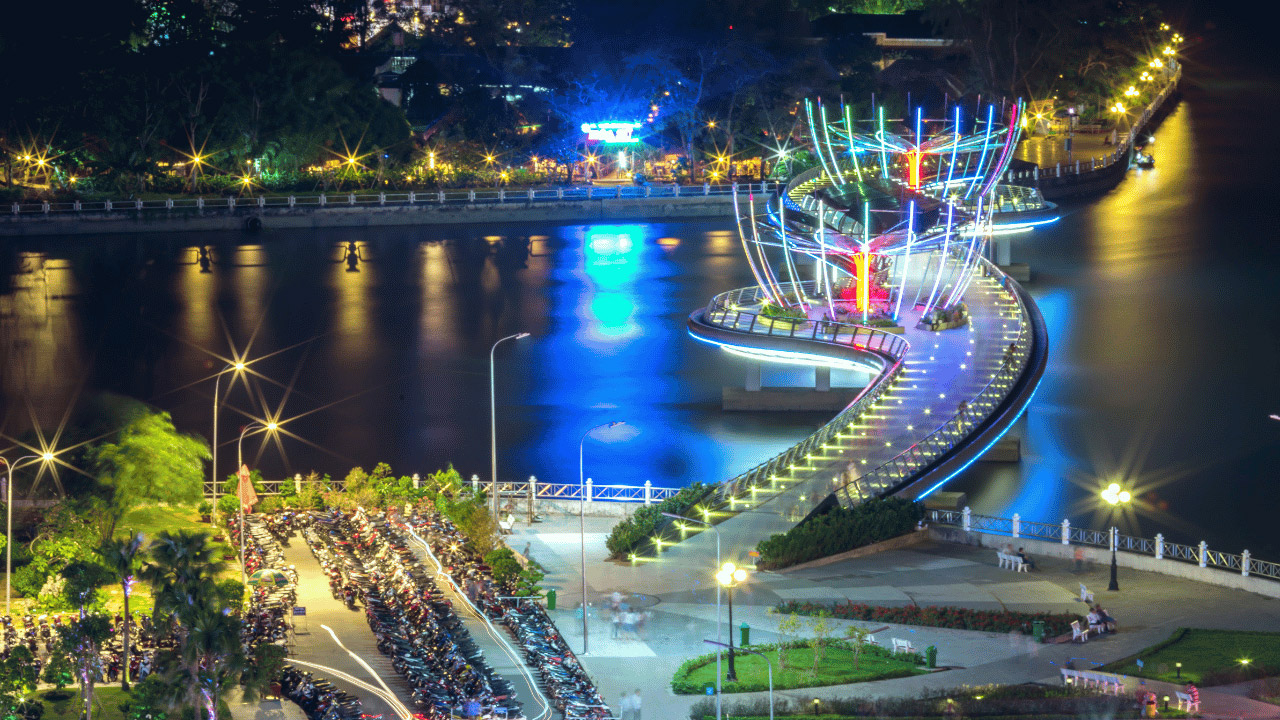 The Can Tho Pedestrian Bridge, which is also called the Love Bridge, connects Cai Khe Islet with Ninh Kieu Wharf and was inaugurated in February 2016. The S-shaped design of the bridge is similar to the shape of Vietnam, and it is adorned with two large lotus lamp stations on either side.
The bridge is illuminated with LED lights that come in various colors, which adds to the modern and lively atmosphere of the place. It has quickly become a popular destination for tourists who come to Ninh Kieu Wharf.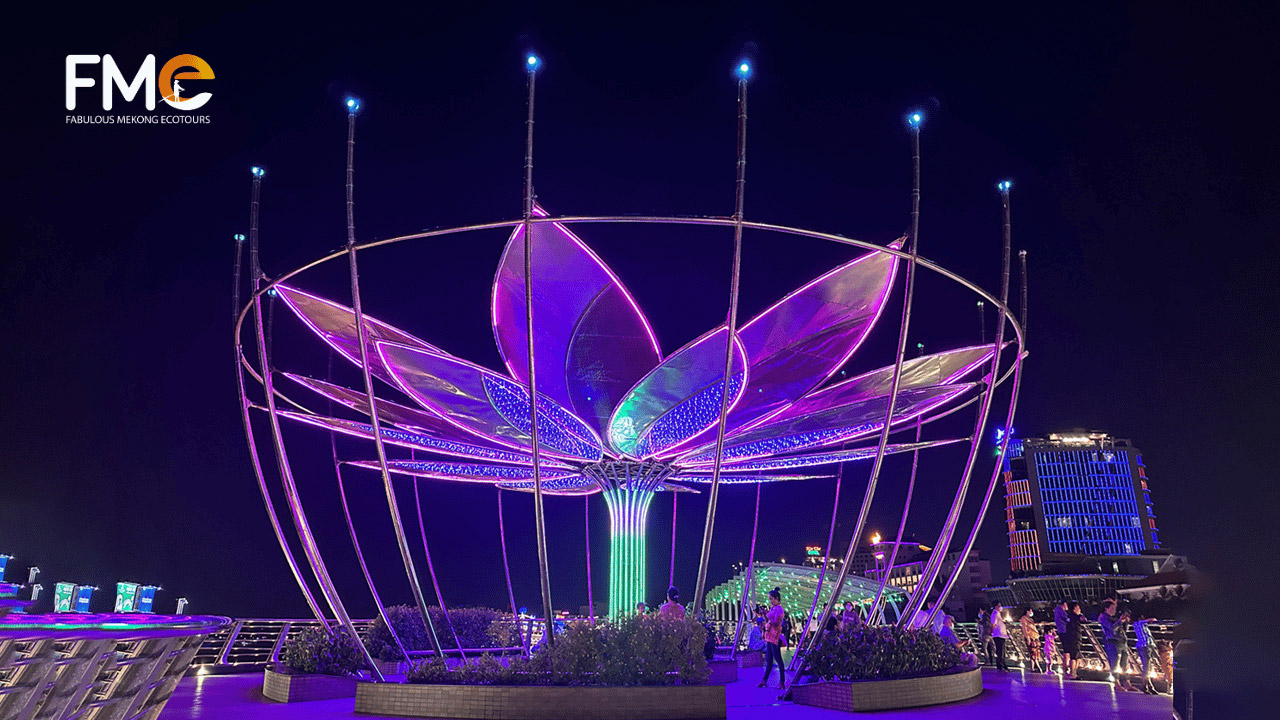 Walking on the bridge at night gives a relaxing experience and a chance to enjoy the fresh air. The Can Tho Pedestrian Bridge has also become a favorite spot for young people to take their instagram photos.
Moreover, it is a suitable location for both groups of friends and dating couples. The bridge has a romantic ambiance, making it an ideal place for couples who are looking for a place to create memories. Additionally, the bridge is the chosen location for the annual Lantern Festival, a significant event that is celebrated in Can Tho.
5. Experiencing a dinner cruise on Hau River
When you visit Can Tho, you simply cannot miss the chance to explore Ninh Kieu Wharf and experience its enchanting night scene. A delightful way to do so is by taking a cruise that typically operates from 7:30 pm to 9 pm every day. These cruises cater to all tourists who want to witness the breathtaking beauty of Ninh Kieu Wharf at night.
While on the cruise, you can indulge in the many famous delicacies of Western Vietnam and enjoy traditional performances such as Reformed Theatre and Southern amateur music, which are unique to the people of the Southwest region. All of this combines to offer a truly memorable experience that you won't forget in a hurry.
6. Exploring Ong Temple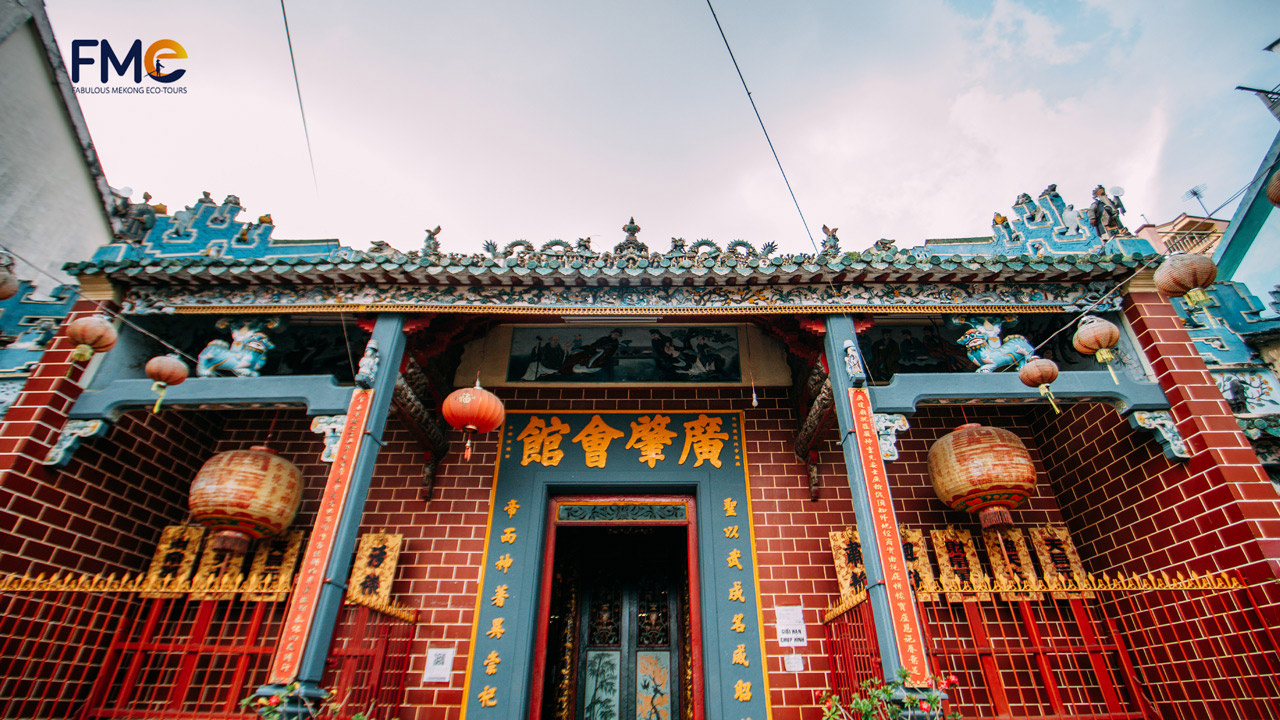 A must-visit destination for tourists in Can Tho is Ong Can Tho Pagoda, a sacred and representative Chinese temple in the city.
Upon arrival, you will be struck by the hundreds of incense sticks suspended from the ceiling. Exploring the halls, visitors can immerse themselves in the Chinese living in Vietnam (the Chinese) culture and customs, while also admiring the historical architecture of the temple. It is important to note that visitors should dress modestly when visiting the temple.
Address: 32, Hai Ba Trung Street, Tan An Ward, Ninh Kieu District, Can Tho.
Click here to learn more about some other temples in Can Tho.
The best time to visit Ninh Kieu Wharf
You should go to Ninh Kieu Can Tho wharf on the full moon day or December of the lunar calendar every year because this is the time when Ninh Kieu wharf takes place many special festivals such as Ong Pagoda Festival, Lantern Festival, etc. extremely bustling.
In addition, you can also come here in any season of the year because it has a cool and pleasant climate, but the best time to have a complete trip and enjoy the experience is during the dry season, which is from December to April of the following year.
Things visitors need to take into account
You should take into account some things before visiting the Ninh Kieu Wharf:
Ninh Kieu wharf in Can Tho is usually only busy and vibrant at night, so if you want to enjoy the bustling atmosphere and experience the cruise as well as enjoy the food at the night market, you can go to Ninh Kieu wharf at night.
You should enjoy the food in the Ninh Kieu market area because the prices of the dishes here are quite cheap, delicious, and affordable.
You should visit Ninh Kieu Wharf by walking so that you can slowly visit and enjoy the atmosphere here.
Note that when visiting Ong Pagoda, you need to dress politely to match the sacred space of the temple.
Other travelers feel after they visit Ninh Kieu Wharf
"This is the most famous place for your journey if you visit Can Tho city! Really nice, espencilly at night, you can explore the local lifestyle of local people!" – Kim
"It is very wonderful to walking around this area in the evening for relaxing, chating with the locals, sightseeing" – Lee Chok
"Well worth a visit, an incredible insight into local life experiences. Sooooo interesting and vwer much to see and do. You will want to return again and again." – PhilGibbs
FAQ
How much does it cost to visit Ninh Kieu Wharf?
This place can be visited freely at no fee if you just simply admire the scenery and discover the beauty here.
What can visitors experience at Ninh Kieu Wharf?
Visiting Ninh Kieu Wharf, you can enjoy the fresh air of Hau river, enjoy dinner on the cruise, and local cuisine at Ninh Kieu night market.
Where is Ninh Kieu Wharf in Can Tho?
Ninh Kieu Wharf adjoins Hai Ba Trung Street, Tan An Ward, Ninh Kieu District, Can Tho.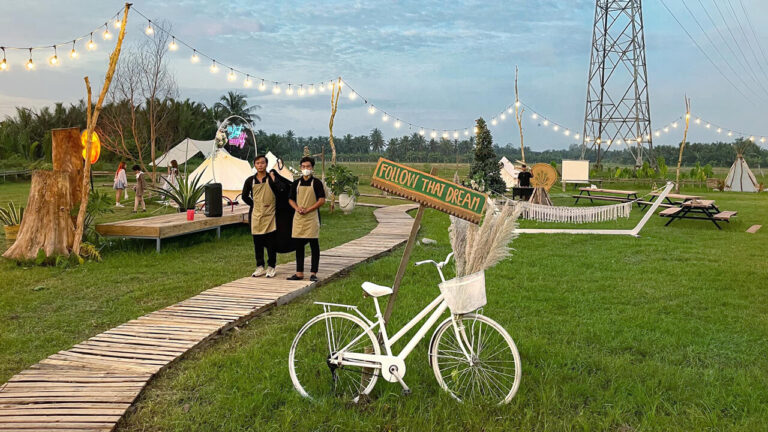 Classique Farm in Tra Vinh emerges as a brand-new outdoor camping destination that has captured the attention of the youth in the Mekong Delta.
The Most Popular Tours offered by FME Travel