Top 8 must-visit temples in Can Tho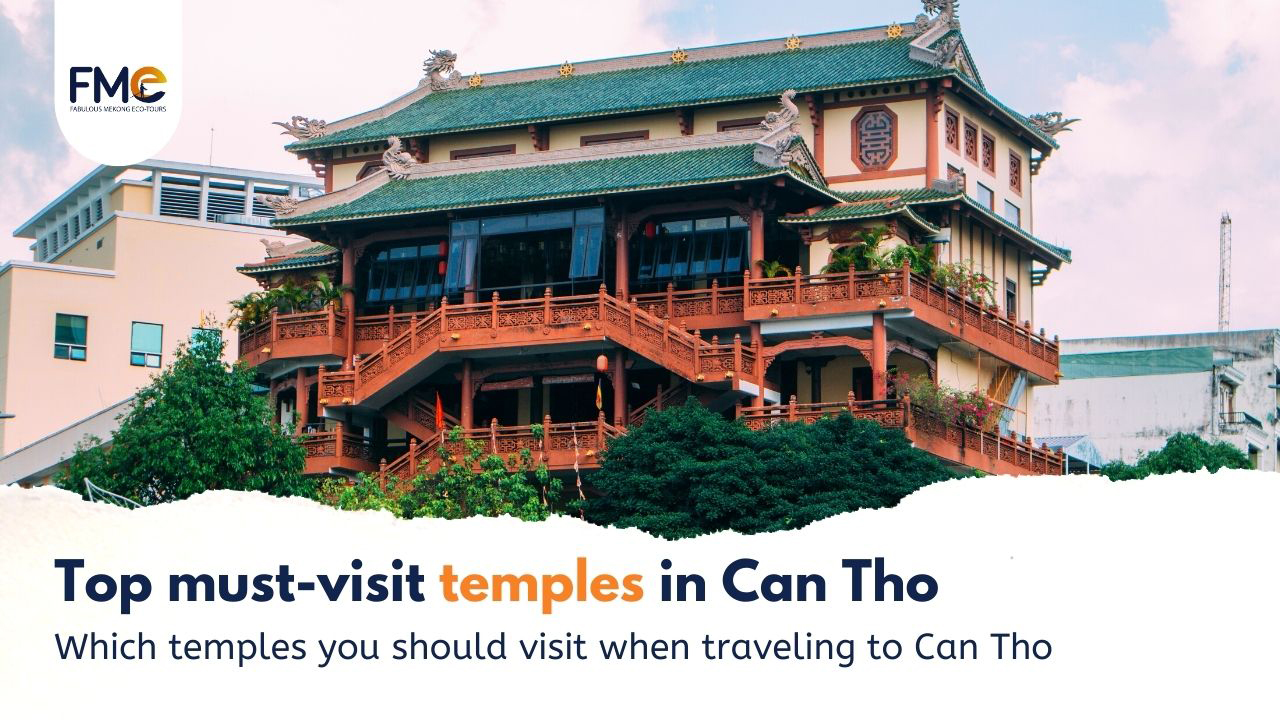 Historically, there are a variety of developments that make spiritual life and mental life become important and inseparable from Vietnamese people's life, so traveling to spiritual places has become an "in" thing. 
And when traveling to Can Tho, in the Mekong Delta, which temples should tourists visit and discover? In this blog, FME is about to introduce top temples tourists should come to when traveling to Can Tho.
What are do's and don'ts when visiting temples in Vietnam?
Dress in an appropriate way: long sleeve/trouser.
Keep silent: Don't make noise, talk loudly, and laugh.
Don't take photos: Many temples prohibit taking photos inside. If they allow it, people shouldn't pose inappropriately or stand in front of Buddha.
1. Pitu Khosa Rangsay Temple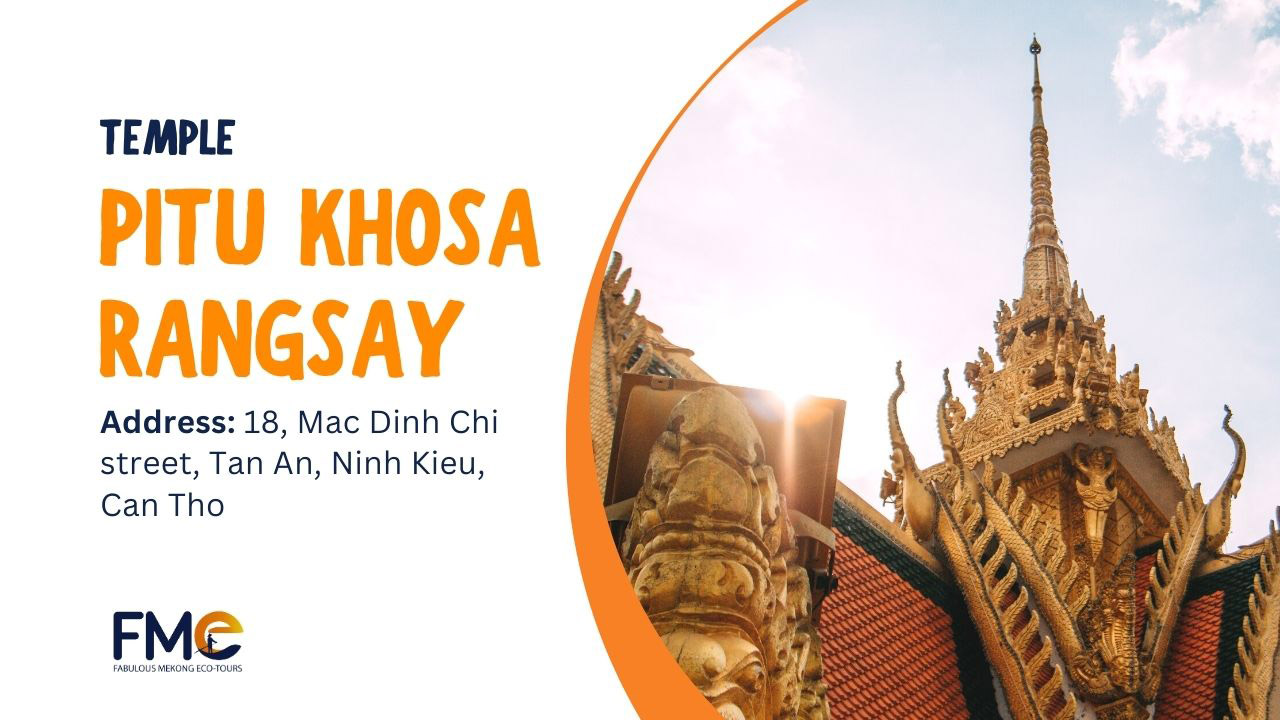 Built in a combination between traditional standard and new design of Khmer temple, Pitu Khosa Rangsay Buddhist temple really looks out of the city of agricultural products in the south of VietNam – Can Tho.
It's special that when coming there, tourists can explore and contemplate the special architectural features of a Khmer Buddhist temple that are rare and distinct from other young Khmer temples. And the majority of these features in the ancient Khmer temples have been declined such as the reliefs of Buddha's life, Khmer's epics, and flowers on the walls. 
2. Ong temple (Kuang Tsao assembly hall)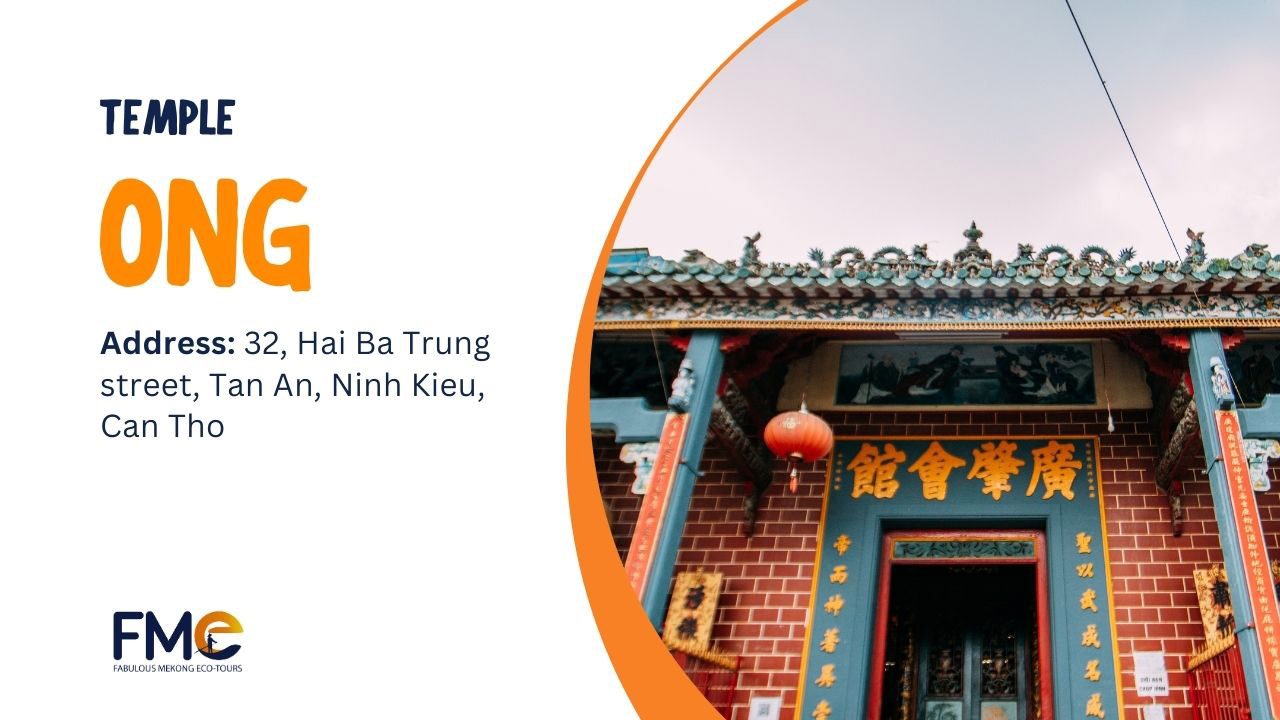 Located in the most hustle and bustle place of Can Tho city – Ninh Kieu Wharf, Ong temple has become a place that people must come whenever they visit this city. Tourists can easily be attracted by the old, beautiful design that captures the traditional and cultural Chinese architecture. 
While many Vietnamese people popularly call this building as Ong temple, the real name of this place is Kuang Tsao assembly hall. 
Stepping into this assembly hall, not only will visitors explore an ancient building but discover the customs and beliefs of Chinese people living in Viet Nam (Hoa people).
3. Phat Hoc temple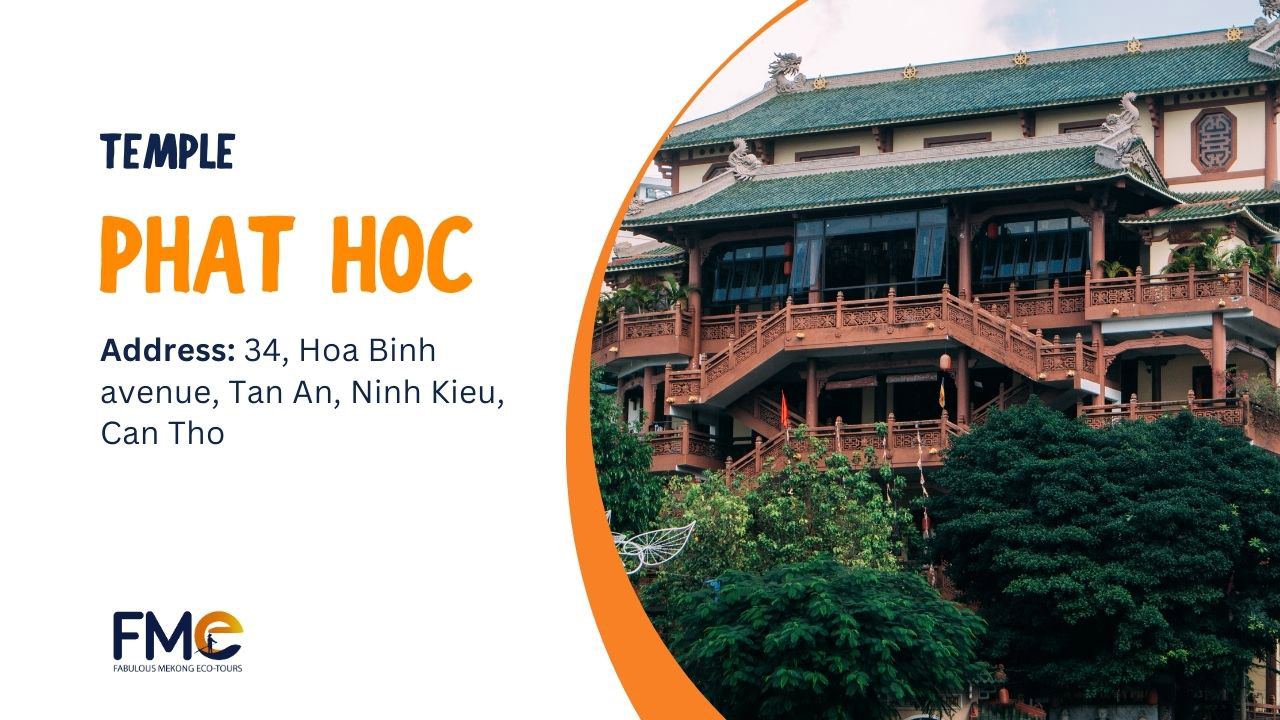 Set in the center of Can Tho city and built in a beautiful design, Phat Hoc temple possesses all the prosperous elements to become an attractive temple for pilgrims as well as tourists.
Phat Hoc temple is one of the most beautiful Mahayana Buddhist temples designed in oriental style constructed with five levels in Can Tho. Despite being situated within a hustle and bustle city, the temple is really calm and peaceful, so when coming there, people can shed their burden of life and pray for their family and friends.
The best way to explore the temples is to hire a vehicle to get around:
4. Nam Nha temple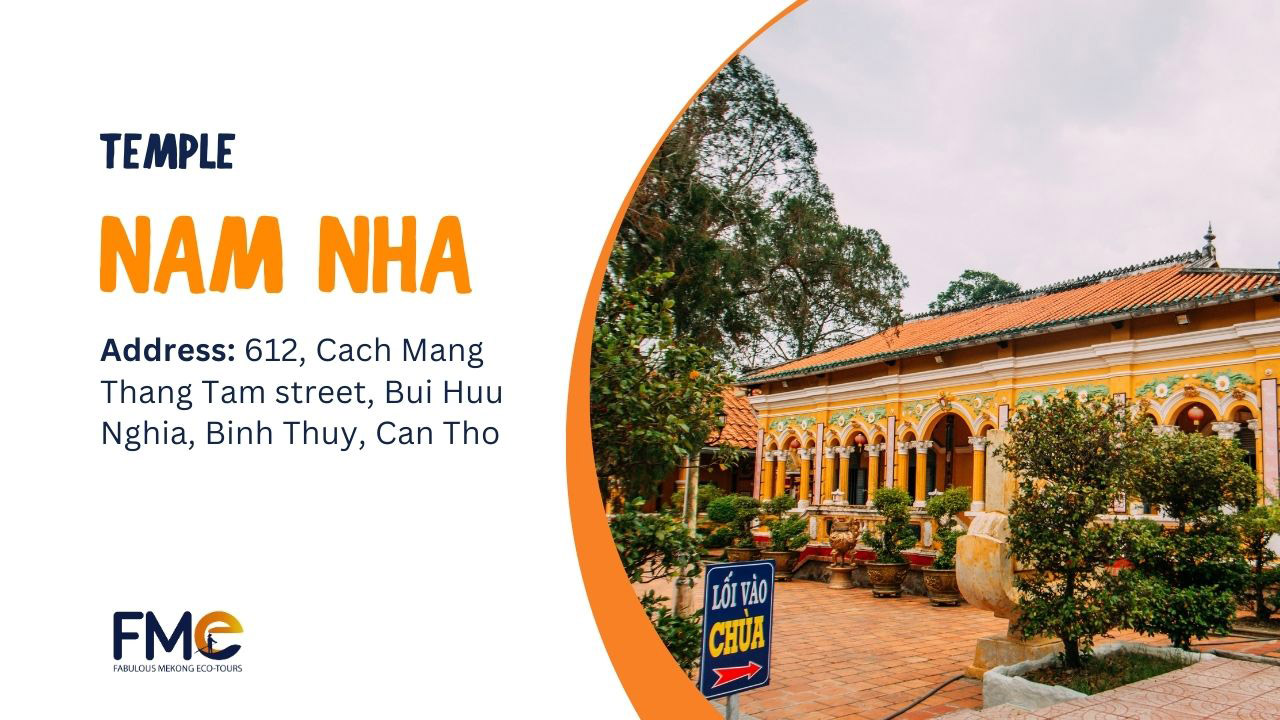 Built as a Chinese pharmacy at an early time, Nam Nha quickly changed its functions as a temple and revolutionary base. 
This temple is also famous for its architecture. Constructed in the colonial period, Nam Nha temple's architecture is the combination between the Western and the Eastern styles. 
Nam Nha temple is not just famous for its beautiful structure, peaceful atmosphere but also for supporting revolution and raising people's education at that time.
5. Truc Lam Phuong Nam monastery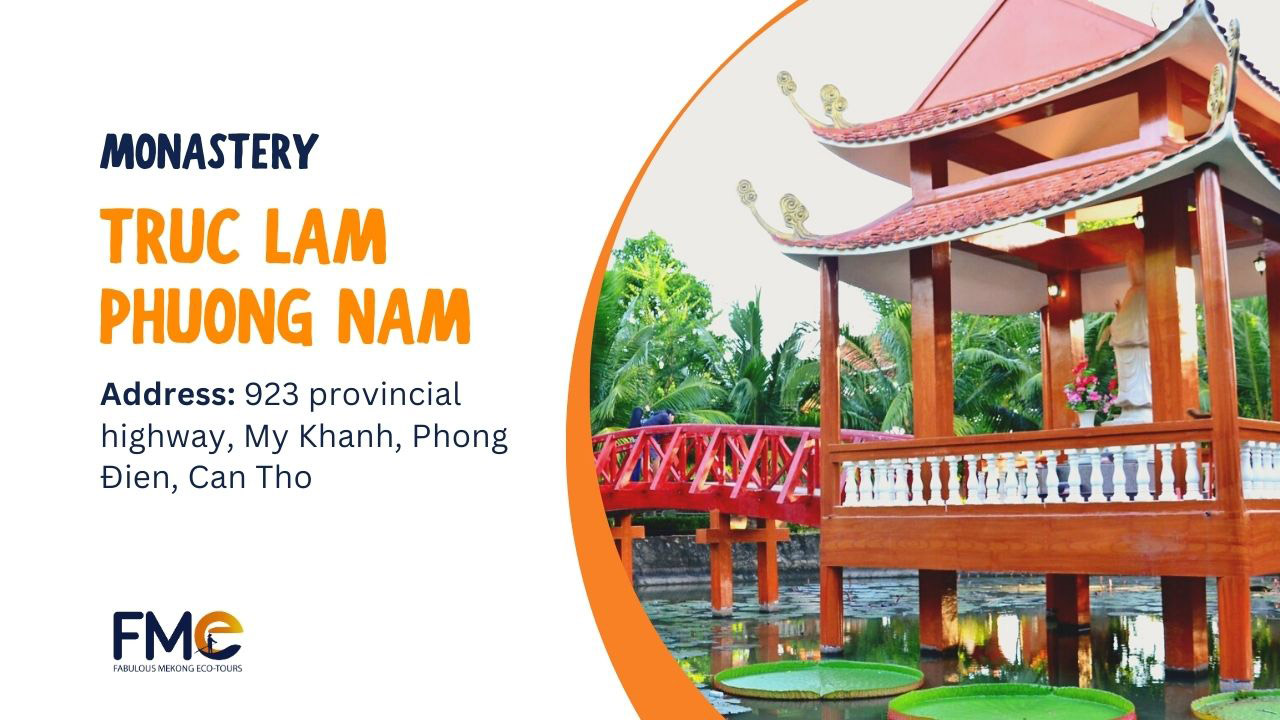 Located far away 15km from the center of Can Tho city, Truc Lam Phuong Nam monastery is the biggest monastery in The southwest of Việt Nam, and it is imbued with the dignity of Ly and Tran dynasties' architectural features.
Despite being a small school of Zen Buddhism, Trúc Lâm Yên Tử get many new and innovatory thoughts. Coming to Truc Lam Yen Tu, people would not necessarily have to join the monkhood that they can get Nirvana, but they can join their real life, do their own duties, and take their own responsibilities to get Nirvana. 
Containing many great thoughts, this monastery can help people to contemplate many philosophies toward life whenever coming there.
In addition to beautiful temples, Can Tho also has many interesting cafes to explore: Best local coffee shop in Can Tho.
6. Quang Duc temple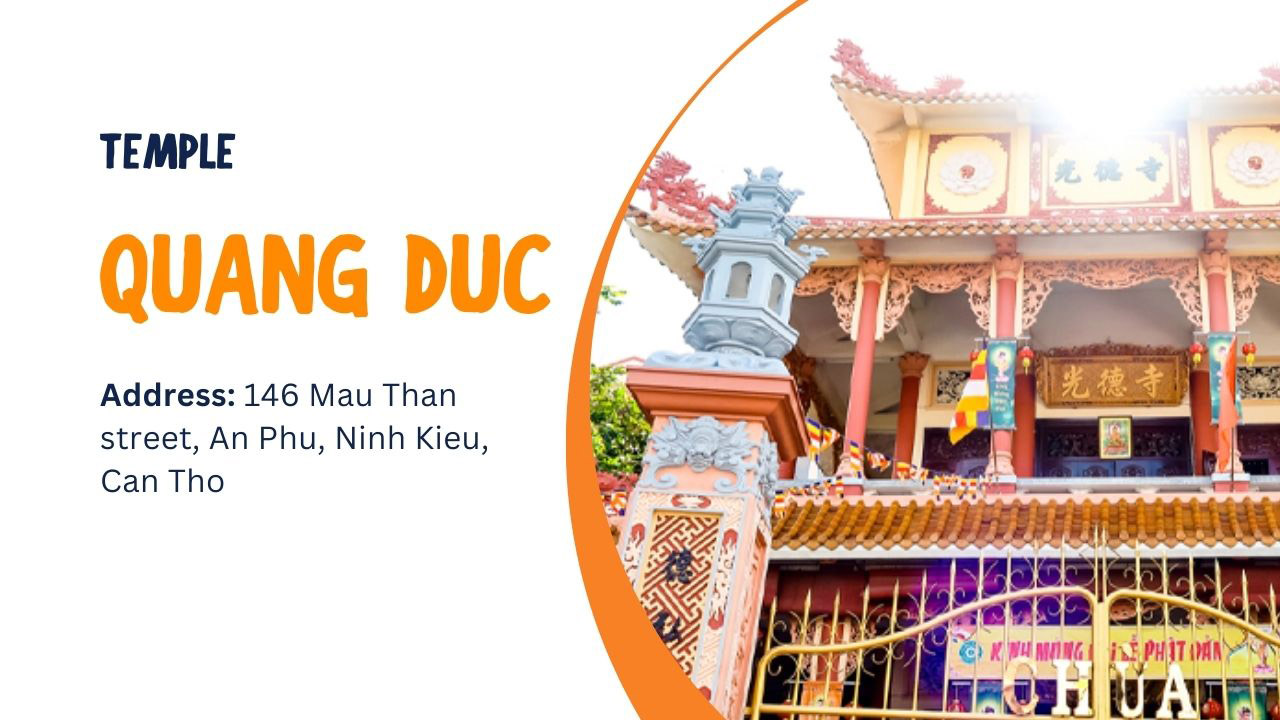 Located in the center of Can Tho, Quang Duc temple is a popular spiritual tourism destination. Quang Duc temple was established in 1958 and was restored in 2006. Since the restoration, Quang Duc temple's architecture has been taken care of carefully.
Being famous for all of its meticulous sculptures and architecture. Taking your first step into the temple, you can admire the exquisitely sculpted Buddha statues, visit the stupa on the side of the temple and see the gilded picture of the Bodhi tree.
On major holidays such as Buddha's Birthday or Vu Lan festival, big festivals will be held in Quang Duc temple, attracting hundreds of Buddhists coming to visit and worship.
See more: Best festival in Mekong Delta.
Withstanding the test of time for more than 60 years, Quang Duc temple is definitely one of the icons of spiritual tourism in Can Tho.
7. Hoi Linh temple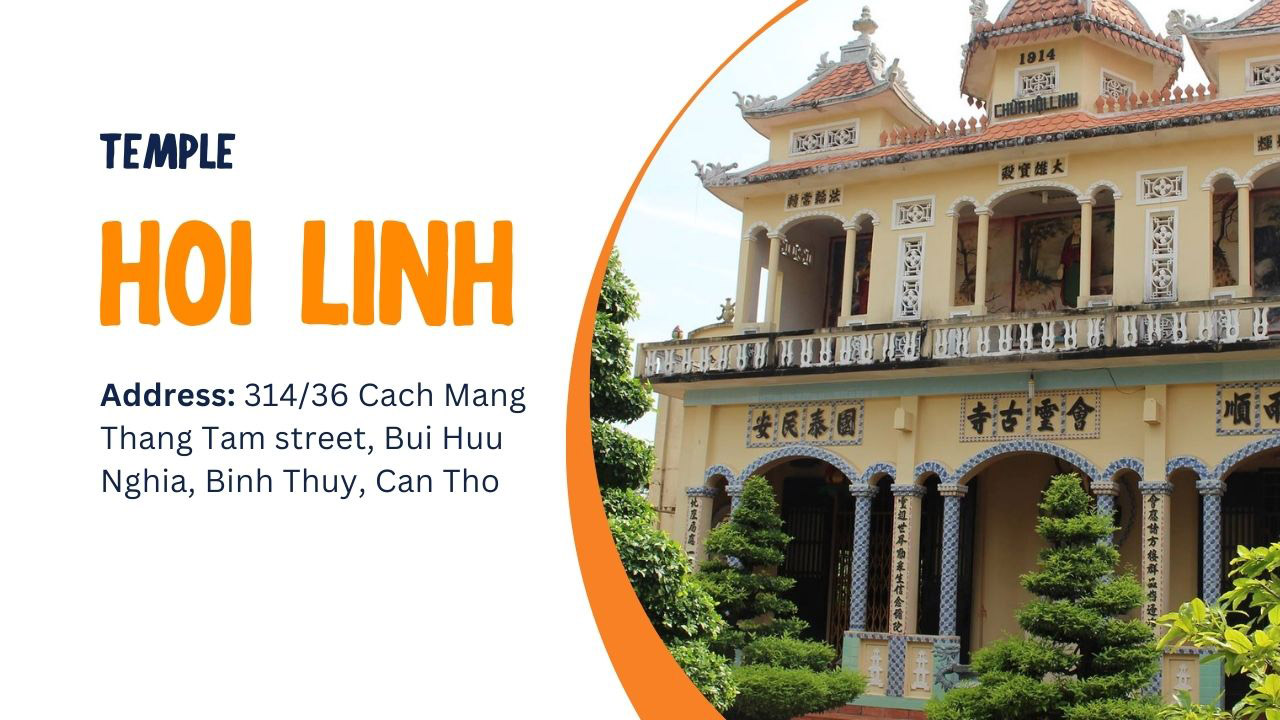 Being established in 1907, Hoi Linh temple is one of the most famous and long-age temples in Can Tho.
Every tourist or visitor will have a strong impression once coming to Hoi Linh temple by its large campus of more than 2500 square meters. Hoi Linh temple is surrounded by unique architecture and sculpted Buddha statues with different materials.
Although built with modern materials, Hoi Linh temple still retains the style of Vietnamese temples and temples. Hoi Linh temple is a must-visit destination for those who love spiritual tourism and desire to get to know more about Vietnam's ancient architecture.
8. Khmer Munirensay temple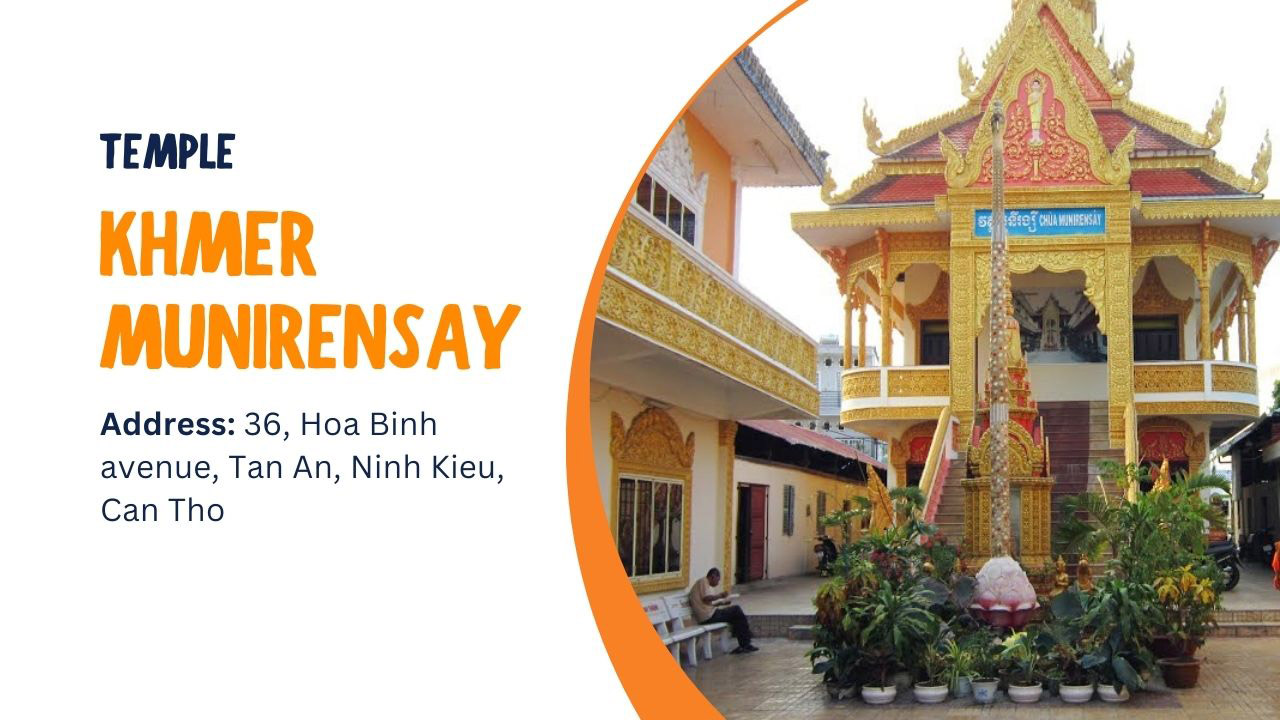 This is one of the most famous Khmer temples here in Can Tho. Khmer Munirensay temple attracts hundreds of tourists to visit by its unique architecture.
When you visit Munirensay temple, you will have a chance to visit the typical "Angkor" architecture temple of Khmer people with the gold color appearing everywhere and standing for the lucky, wealthy and the affluent.
Munirensay temple is decorated with embossed and meticulously carved statues and features, showing the images of gods and goddesses related to Khmer Buddhist religion.
Not only a place of cultural and religious activities, Munirensay temple is also the pride of Khmer people because of the traditional Khmer cultural values that it brings.
Not only culture, rural life in Mekong Delta is also very special: Rustic boat life at Viet Nam Floating Market.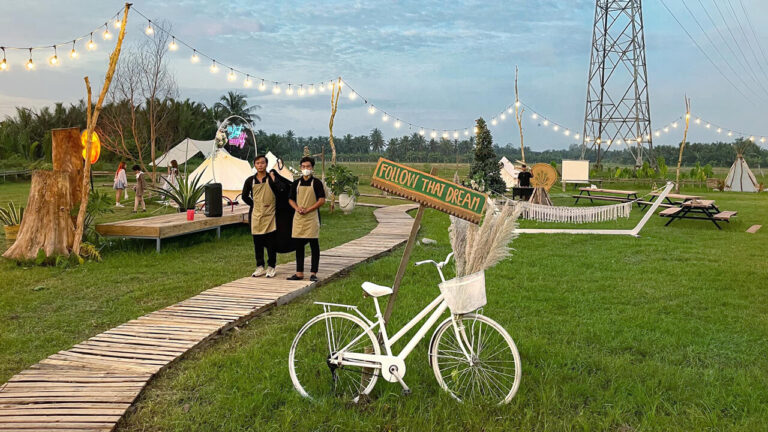 Classique Farm in Tra Vinh emerges as a brand-new outdoor camping destination that has captured the attention of the youth in the Mekong Delta.
The Most Popular Tours offered by FME Travel