Exploring the Enchanting Tra Su Cajuput Forest in An Giang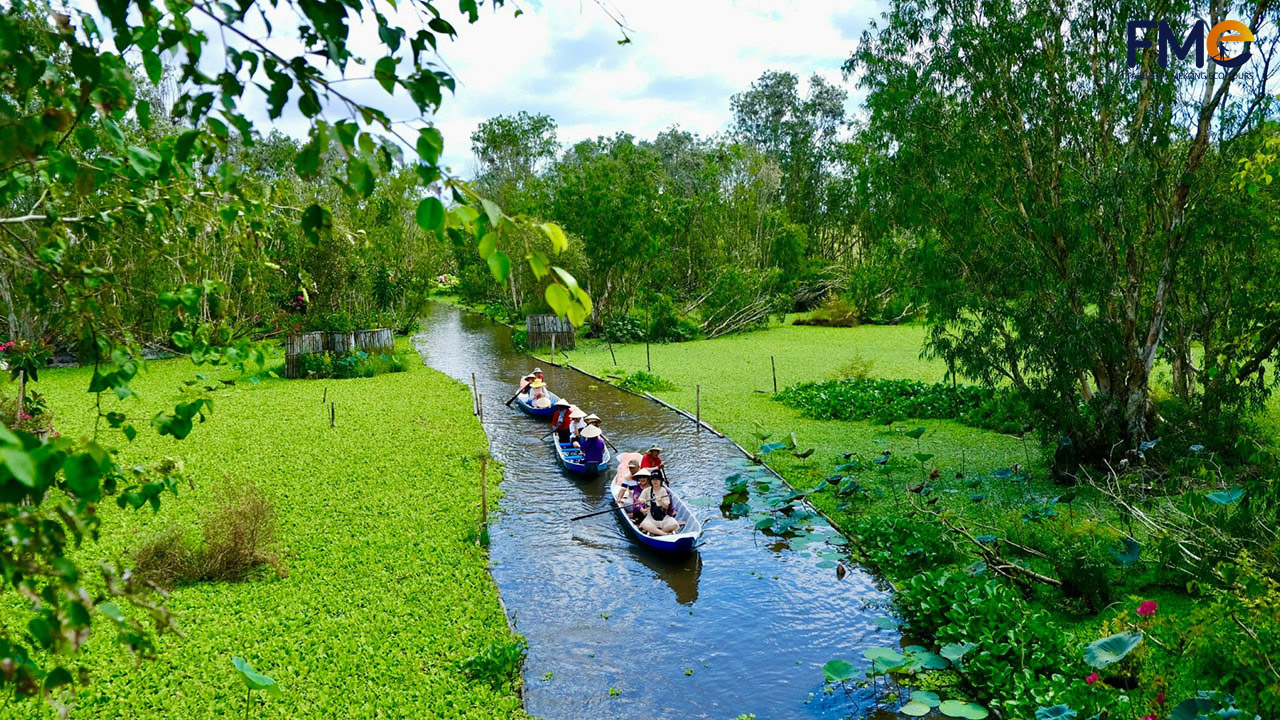 When it comes to eco-tourism in Vietnam, the Tra Su Cajuput Forest in An Giang province is a must-visit destination. This enchanting forest is a lush haven for nature lovers and adventure enthusiasts alike.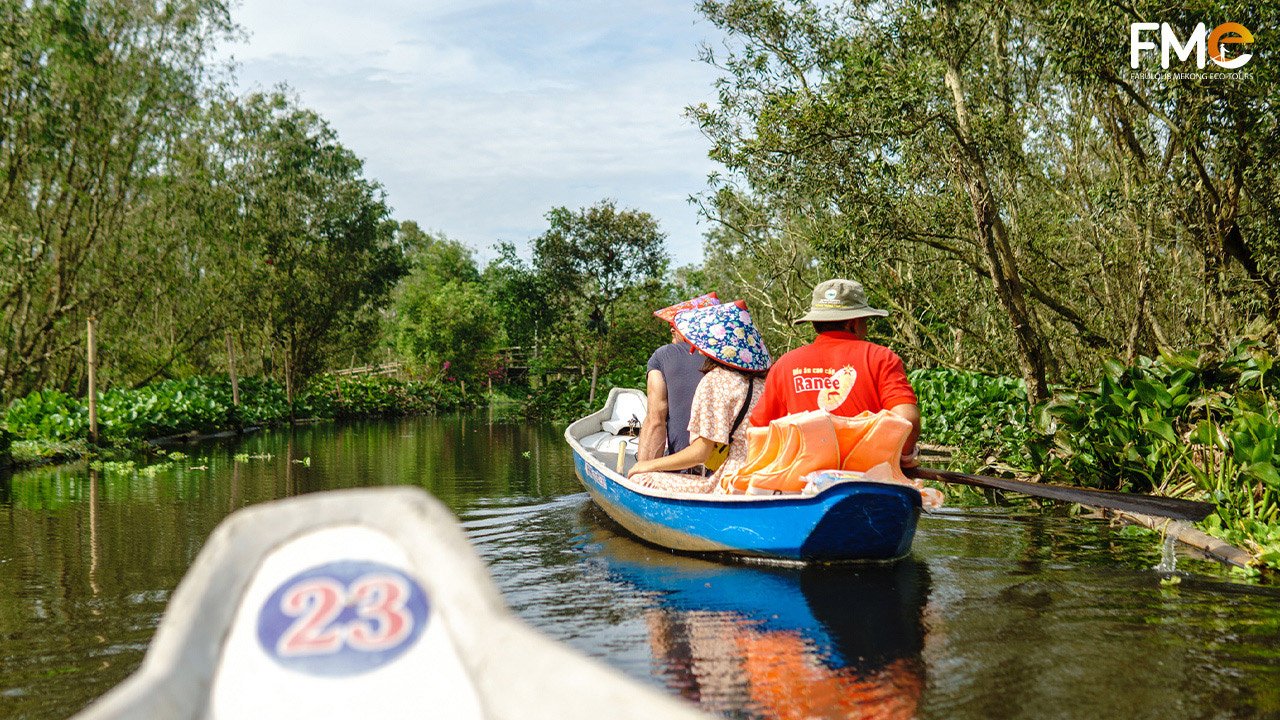 Explore the beauty of the lush jungle and marvel at the rare and exotic plant and animal species that call it home. Immerse yourself in the ultimate check-in spot, with countless photo-worthy angles throughout the forest.
If you're feeling adventurous, take on the longest bamboo bridge in Vietnam, navigate the twists and turns of the swamp, and paddle through the tranquil waters of the jungle. Breathe in the serene natural surroundings and immerse yourself in the majesty of the towering reeds.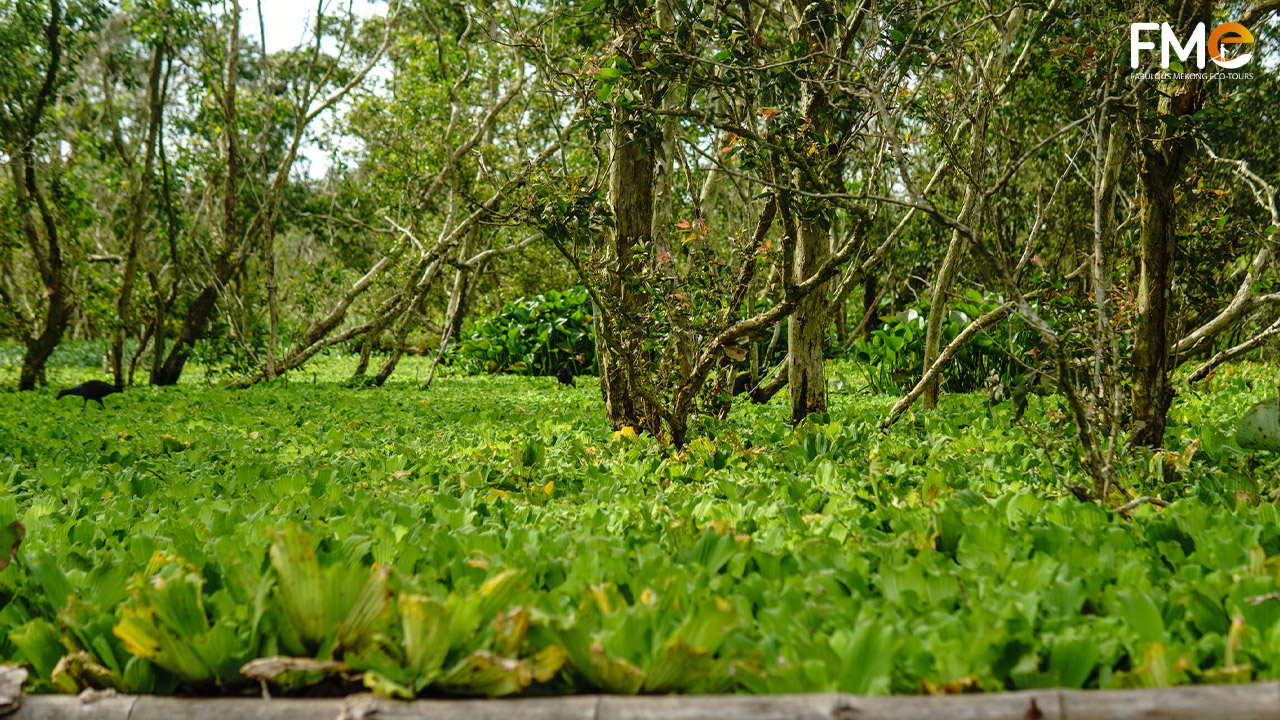 This article will take you on a journey through the fascinating features and activities that the Tra Su Cajuput Forest has to offer.
Introduction to Tra Su Cajuput Forest
The Tra Su Cajuput Forest is located in the An Giang province in southwestern Vietnam. The forest spans across an area of approximately 850 hectares and is home to a diverse range of flora and fauna.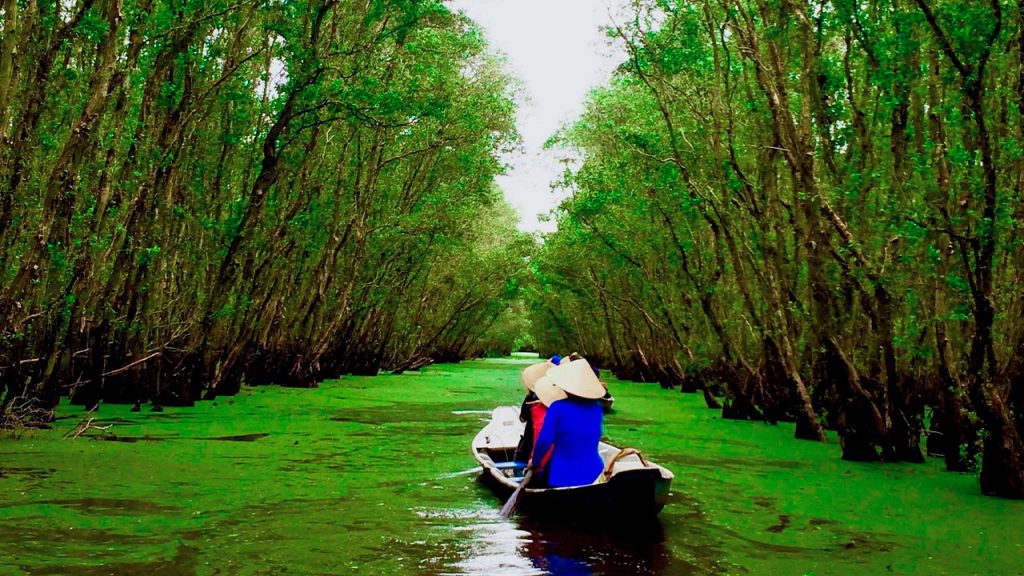 The forest is known for its breathtaking landscapes, including lush greenery, waterways, and stunning wildlife. Visitors can explore the forest on foot or by boat, making it a unique experience.
How to get to Tra Su Cajuput Forest
The Tram Su Forest is located in Van Giao commune, Tinh Bien district, An Giang province. It is situated approximately 60km from the city center of Long Xuyen, about 120km from Can Tho city center and about 30km from Chau Doc.
By motorbike
Motorbike is the most popular means of transportation for travelers who enjoy exploring Tram Tra Su Forest. Riding a motorbike is very convenient but can take quite a bit of time.
However, with motorbike trips, you can stop anywhere you encounter beautiful scenery to take pictures. The travel time by motorbike from Can Tho to Tram Tra Su Forest is about 4 hours.
See detail: Motorbike rental in Can Tho.
By car
This safe, convenient, and comfortable mode of transportation is ideal for large groups of tourists. You will save a lot of time and effort on your trip. In addition, you can visit many other famous destinations in An Giang.
You can also consider renting a car service from Can Tho to Chau Doc in An Giang at a fairly reasonable price.
See detail: Car rental in Can Tho.
The Best Time to Visit Tra Su Cajuput Forest
One of the most beautiful seasons in Tra Su Forest, Tra Su, specifically, and the Mekong Delta region in general, is the flooding season. This period usually falls from September to November every year. During this season, Tra Su Cajuput Forest appears to be wearing a new, charming and lightweight coat made up of the green mats of water lilies and elephant ear plants.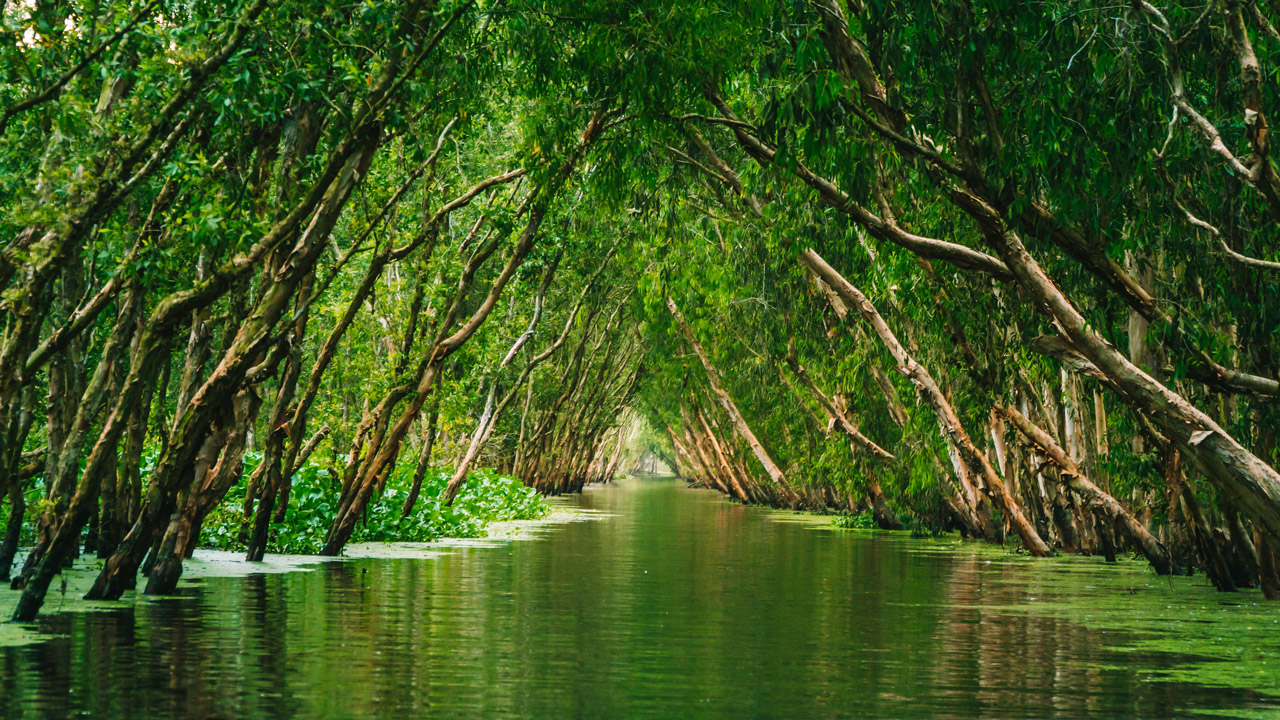 The forest is incredibly mystical and romantic during the flooding season, offering visitors the chance to explore the full splendor of this famous flooded forest.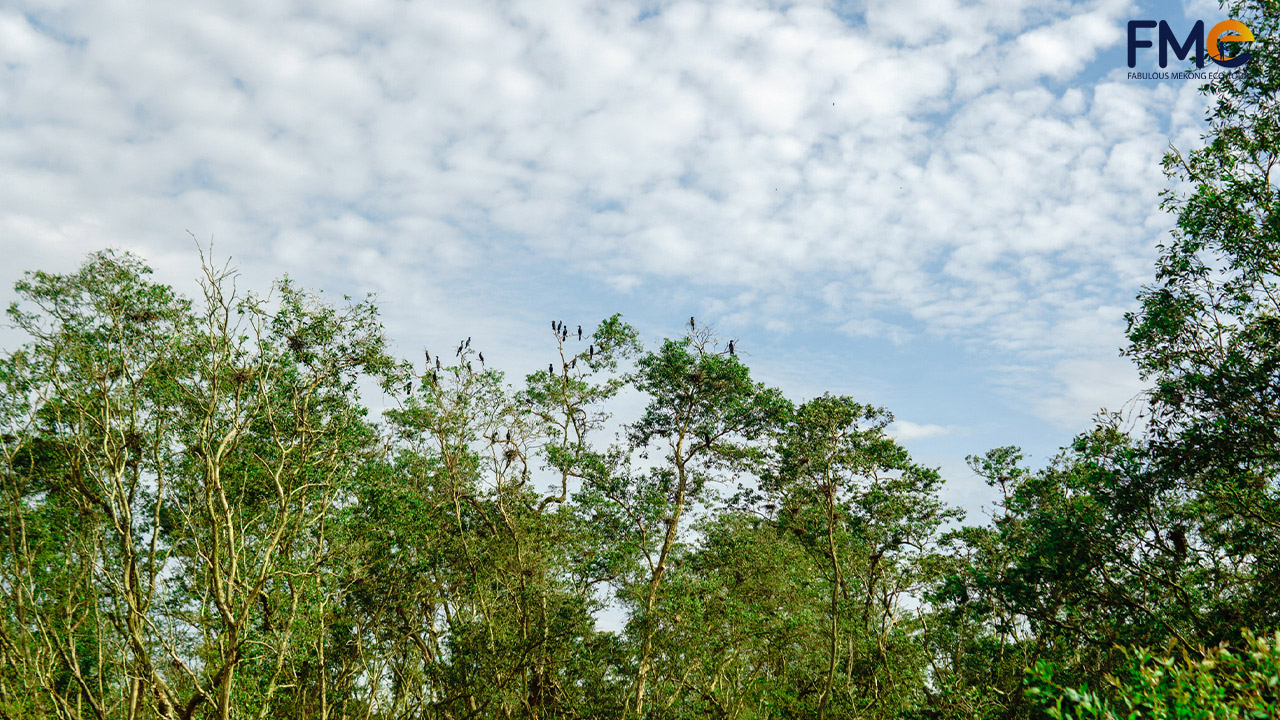 However, Tra Su Cajuput Forest is still stunning during the dry season, offering its own unique beauty. While the number of water lilies is lower compared to the flooding season, the water level is still maintained for tourist activities. Whether visiting during the flooding or dry season, visitors can capture stunning photos with their own unique charm at Tram Forest.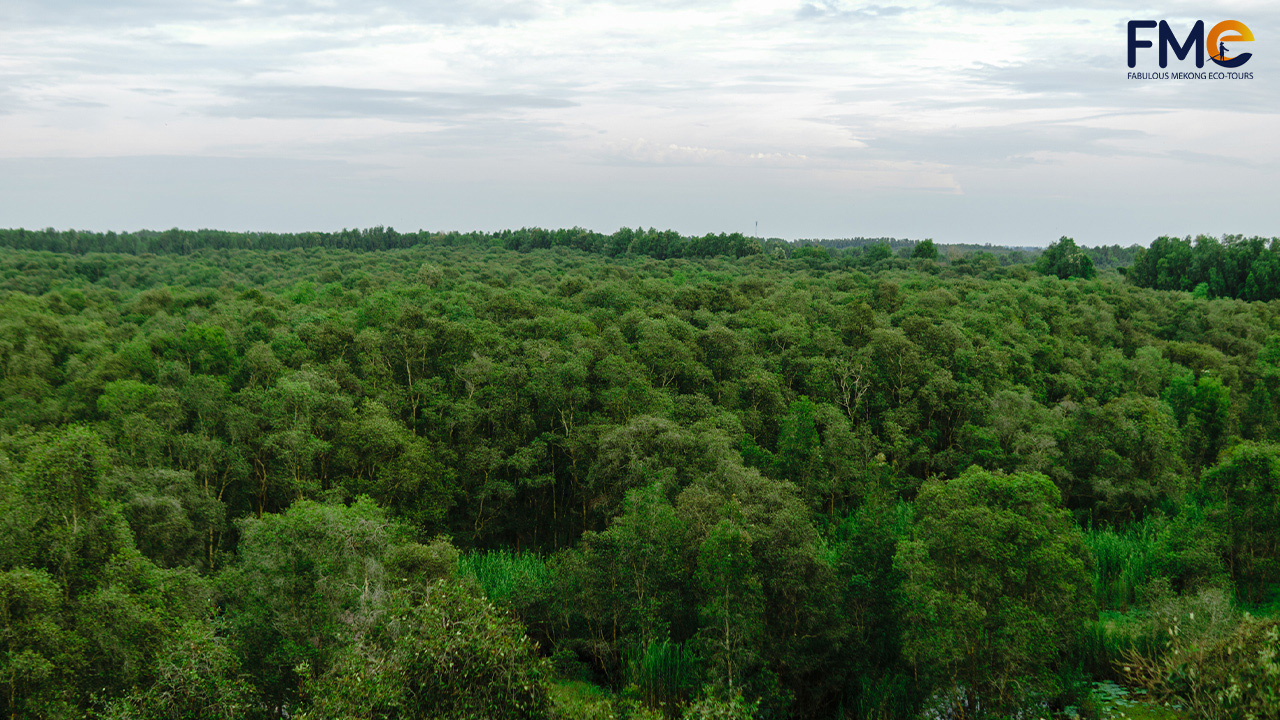 The best times to visit Tra Su Cajuput Forest during the day are from 6:00 – 9:00 am and from 2:00 – 7:00 pm. During these times, visitors can stand on observation towers to admire the daily life and habits of the stork populations living in the forest. A breathtaking natural painting emerges before your eyes, making this experience an unforgettable and exciting one.
Activities to Enjoy in Tra Su Cajuput Forest
Tra Su Cajuput Forest is a must-visit destination when traveling to An Giang. It's an adventure that takes you into an endless green space, where you can immerse yourself in the poetic beauty of the wetland landscape. But what makes this flooded forest so exciting that visitors can't resist taking countless stunning photos?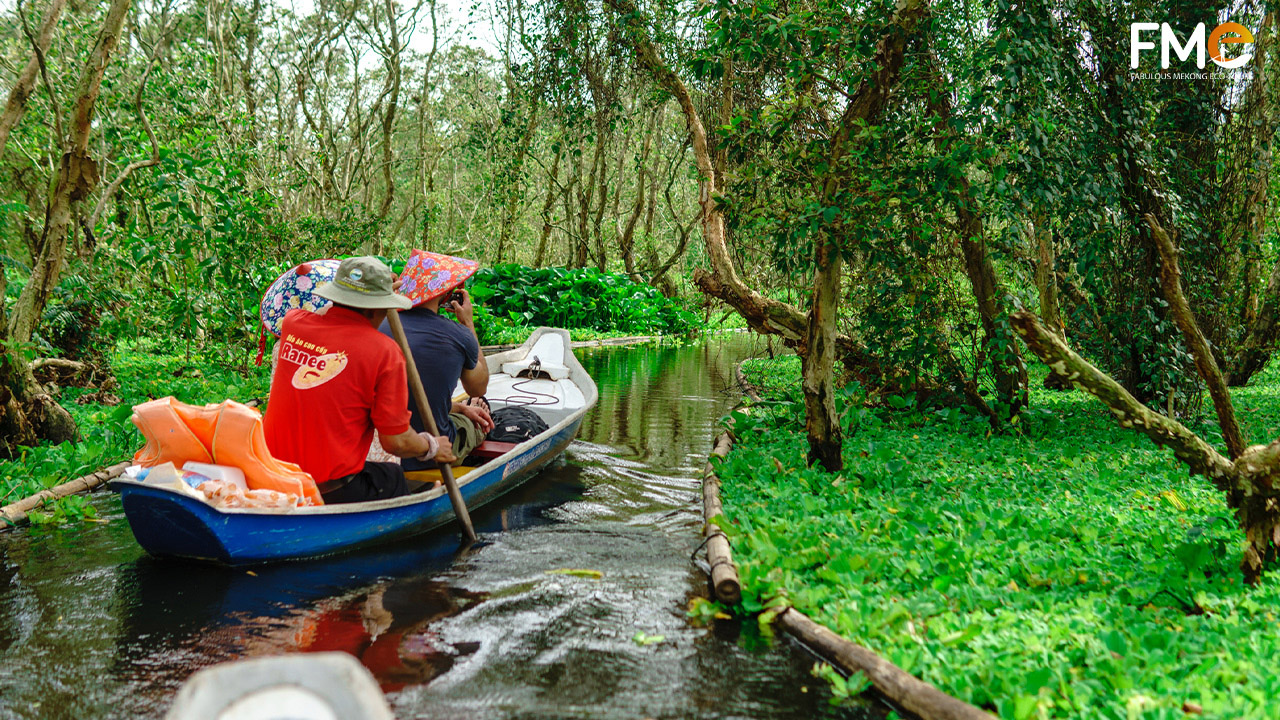 Let's explore this unique forest with the passionate team of FME Travel!
1. Check-in "pigeon city" in Mekong
Immerse yourself in the magical world of the 'City of Pigeons' and get ready to capture the most stunning photos of your life. If you're planning a trip to Tra Su cajuput forest, make sure to bring a phone with plenty of storage, because the boat dock there is designed to be the ultimate background for your Instagram shots.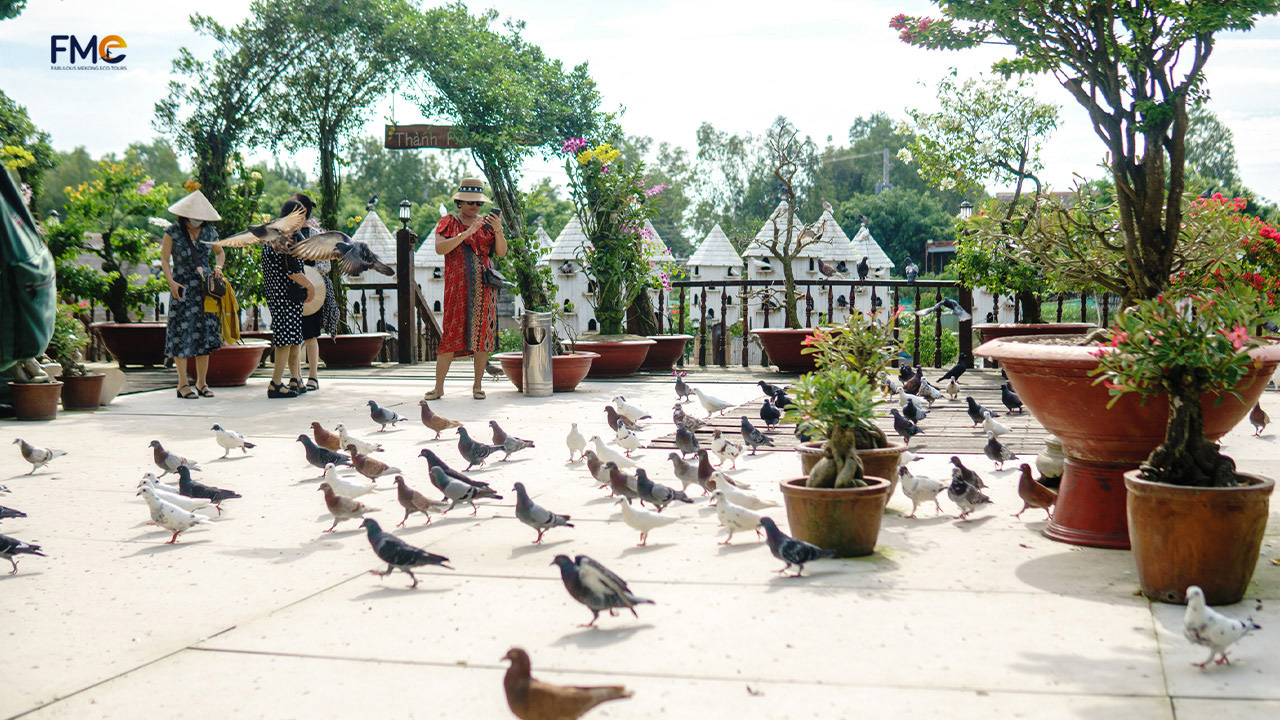 As you stand on the dock, you'll be surrounded by the charming pigeon nests and have the opportunity to witness these gentle birds soaring freely in the sky. Take advantage of this moment and snap a picture with the most breathtaking backdrop you could ever imagine.
2. Conquering the longest bamboo bridge in Vietnam
"Thousand-Step Bamboo Bridge" – is an experience you won't forget when visiting Tra Su cajuput forest. This stunning bridge spans over 2 km and leads you into the heart of this pristine green paradise. The bridge has become a viral sensation among young travelers, who come here to capture the perfect Instagram shot.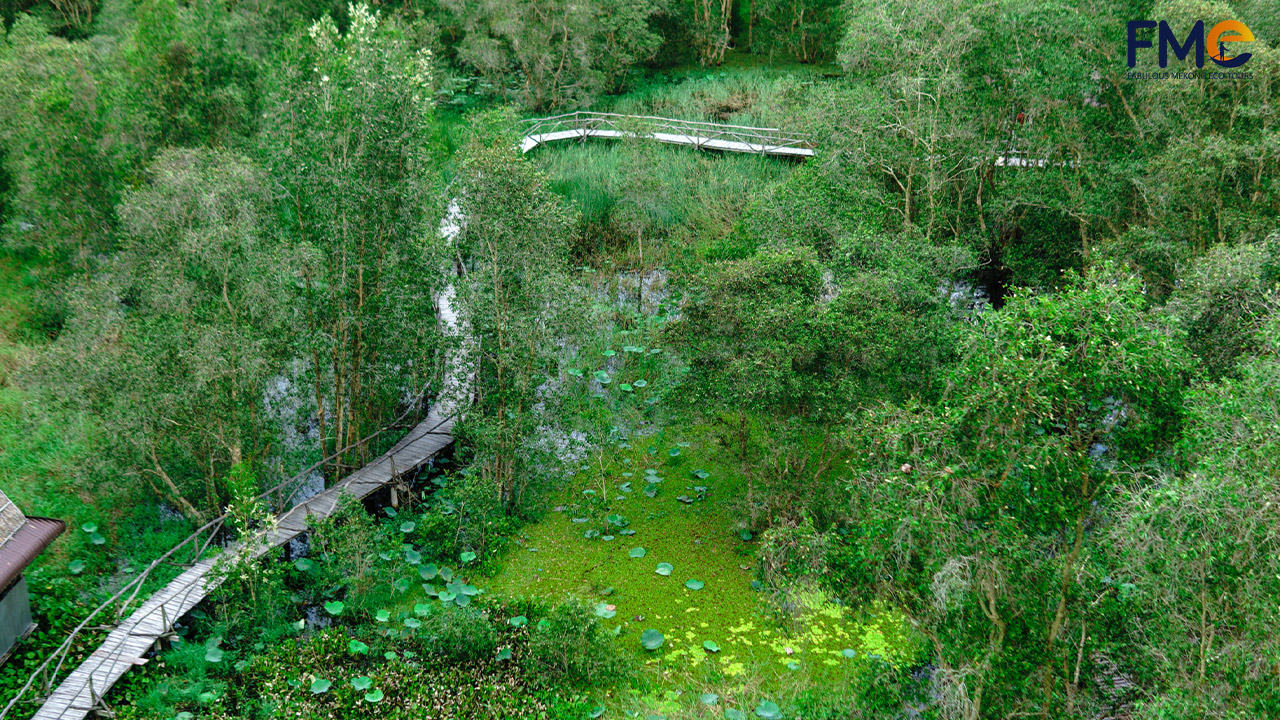 The lush green bamboo forest and the floating water hyacinths create a picture-perfect scenery that is simply mesmerizing. Walking on this bamboo bridge, surrounded by the tranquil beauty of the Tra Su cajuput forest, is an experience that will leave you in awe. Don't miss out on this magical adventure!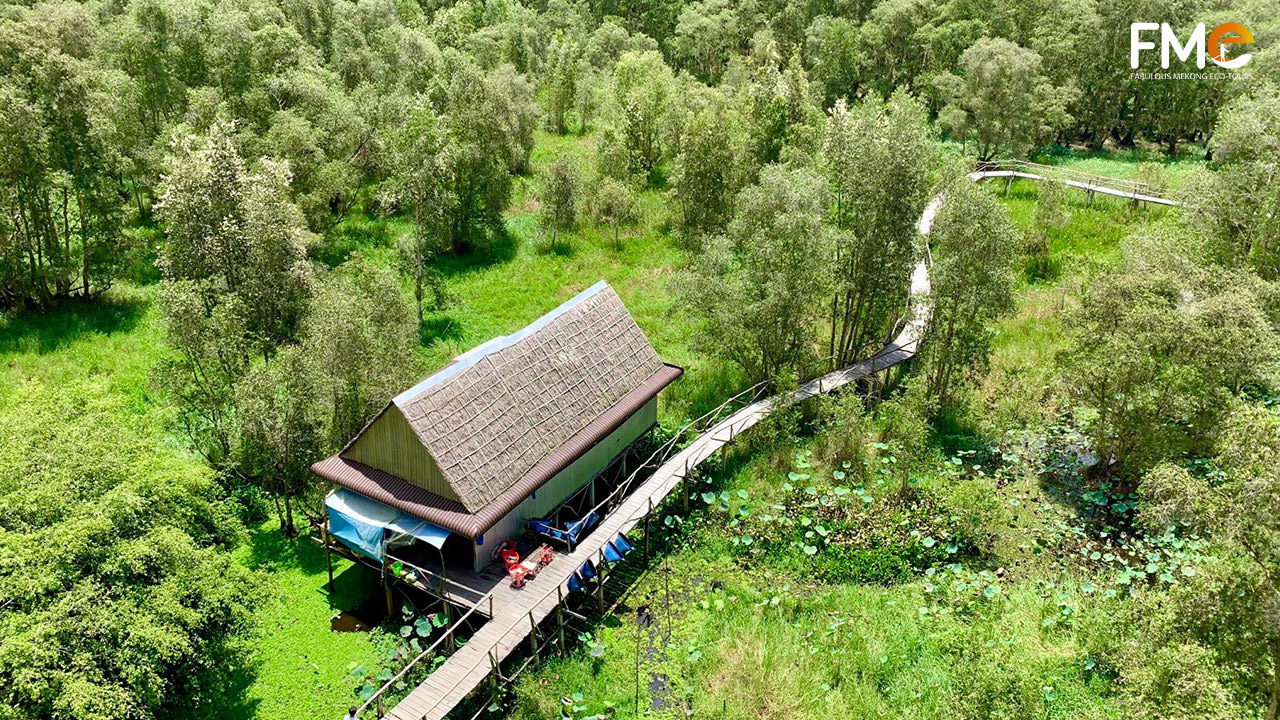 3. Boat Rides
The best way to explore the Tra Su Cajuput Forest is by boat. Visitors can hire a boat and an experienced guide to take them on a scenic tour of the forest. The boat ride takes you through narrow channels surrounded by tall cajuput trees and allows you to spot a variety of wildlife, including waterfowl and other bird species.
4. Bird Watching
The Tra Su Cajuput Forest is a bird lover's paradise, with over 70 species of birds that call it home. Visitors can enjoy bird watching on their boat ride or take a walk through the forest to spot these beautiful creatures.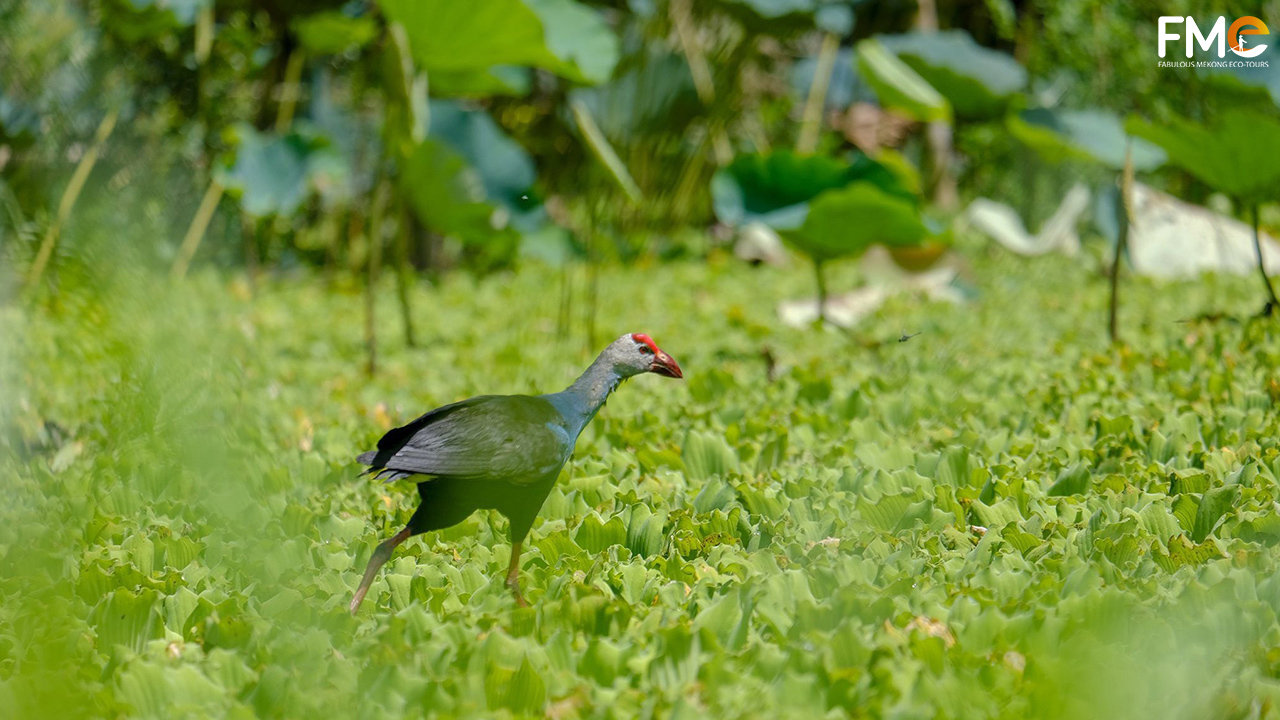 5. Discover the Diverse Ecosystem of the Tram Forest in An Giang
The Tra Su Cajuput Forest spans an impressive 845 hectares and is home to a plethora of diverse plant species, mostly consisting of the native Tram Noi trees (as opposed to imported or yellow-flowered Tram trees).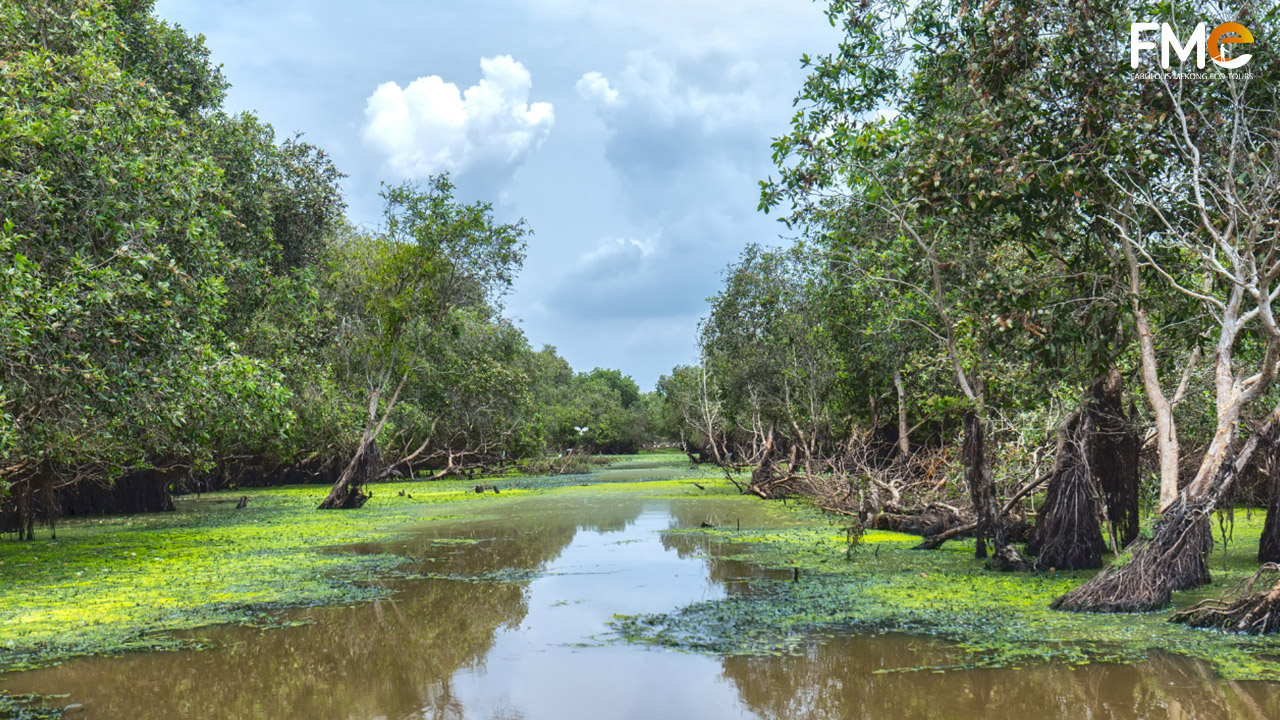 The forest's ecosystem boasts approximately 140 plant species across 52 families and 102 genera, with stunning and picturesque green moss carpets featuring moss rice, moss elephant ear, and lotus flowers. This is undoubtedly the main attraction that draws many visitors to come here to capture memorable photographs and explore this unique environment.
6. Enjoy Mekong specialties in the middle of the forest
Besides enjoying the beauty of the Tra Su Cajuput Forest, tourists can also savor the famous Mekong Delta delicacies here. An Giang's specialty dishes such as thot not cake, fresh thot not juice, and various thot not-based snacks are waiting for visitors to try.
Especially, tourists can have a delicious lunch with the true flavor of the Mekong Delta at a restaurant nestled in the Tra Su Cajuput Forest. What could be more wonderful than enjoying a meal in the wild nature of the forest? Before arriving at the restaurant, visitors can pre-order their dishes. The restaurant's menu serves local delicacies that anyone would want to try.
From traditional Mekong Delta dishes such as crazy fish hotpot, crispy fried fish, and sour hotpot with gun flower fish to unique dishes of Tra Su Cajuput Forest like honeycomb grilled chicken, grilled soil chicken, and grilled snakehead fish, just the thought of them is mouthwatering.
Sitting with friends under a thatched hut, admiring the beautiful scenery of the Mekong Delta while eating a traditional meal, chatting about life, and sipping on iced tea or beer, what could be better?
7. Conquer the monkey bridge in the middle of the Cajuput forest
Next to the Trà Sư restaurant, visitors can discover a small but long monkey bridge that everyone wants to conquer and capture amazing photos on. This bridge may be a bit challenging to cross, so it's not recommended for elderly people or young children.
But for those who are up for the challenge, crossing the bridge is an exciting adventure and a unique opportunity to get a thrilling perspective of the surrounding forest.
Don't miss out on this chance to conquer the monkey bridge and add an extra level of excitement to your visit to Tra Su Cajuput Forest!
8. Buy honey from the forest as a gift
One of the most exquisite products of the Tram forest is its honey. While exploring the flooded forest of Tra Su, visitors can stop by the beekeeping area to learn about beekeeping practices and purchase some of the forest's delicious honey.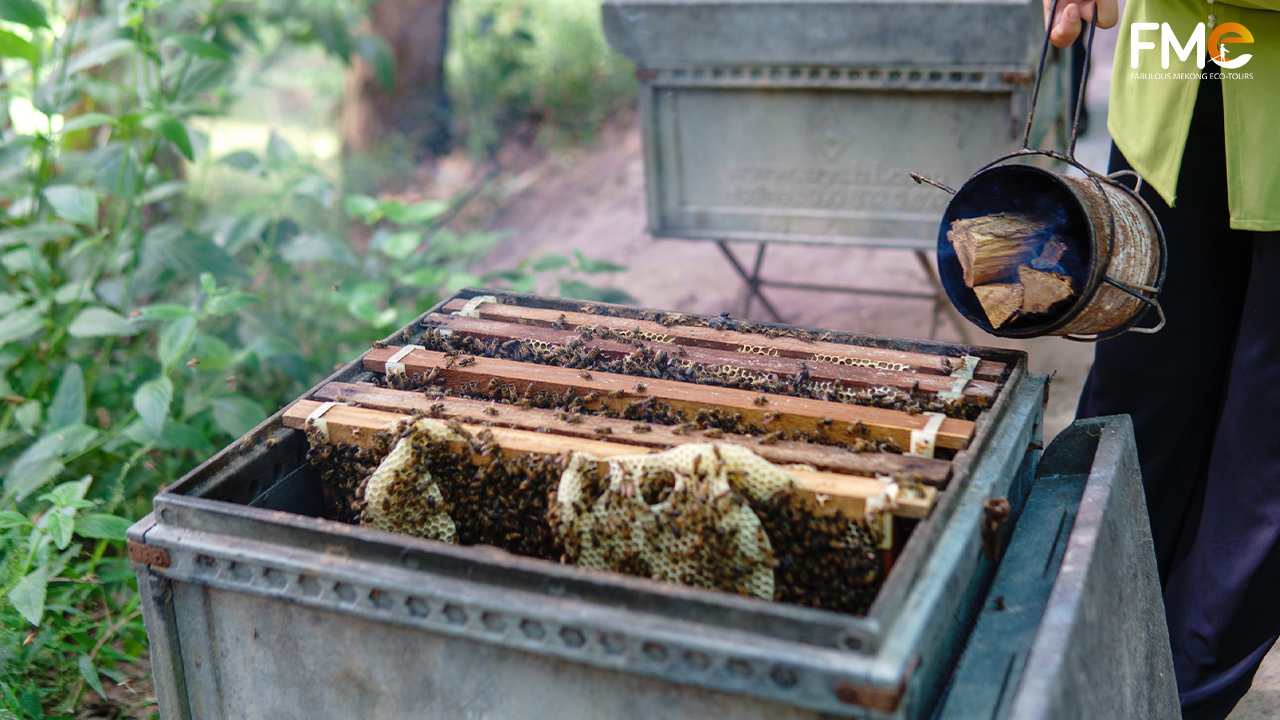 Tra Su Cajuput Forest honey is pure, highly fragrant with a delicate scent of Cajuput flowers, and of exceptional natural quality. It is sold at a price of 300,000 VND per liter. You can select from a variety of options to choose a gift for your loved ones and family.
9. Trekking
Visitors can also explore the forest on foot by taking a trekking tour. This allows you to get up close and personal with the forest's lush greenery and wildlife.
10. Photography
The Tra Su Cajuput Forest offers some of the most stunning photo opportunities in Vietnam. Visitors can capture the beauty of the forest's landscapes, waterways, and wildlife to create unforgettable memories.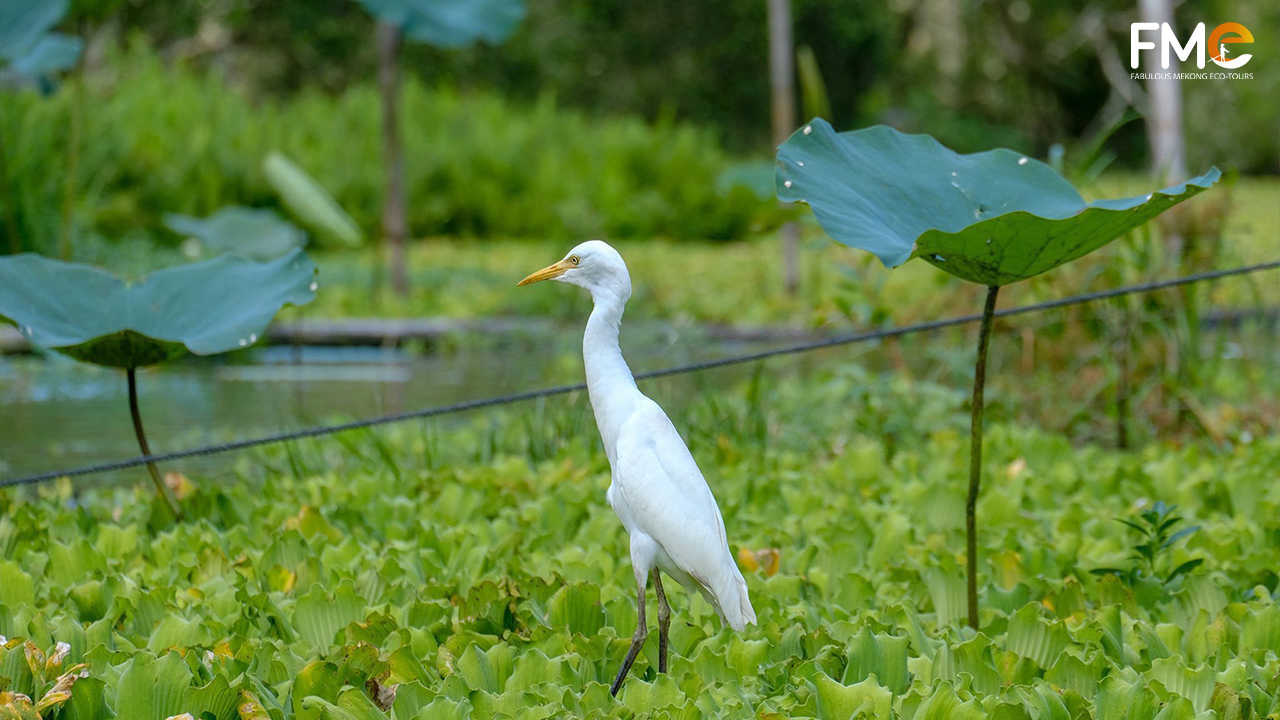 Together with Fabulous Mekong Ecotour, create an attractive eco-tourism itinerary to Tra Su Forest: An Giang full day tour.
Ticket price for Tra Su Forest
The Tra Su forest is a highly sought-after destination in the Mekong Delta that attracts many visitors. Knowing the ticket prices is crucial before embarking on your trip.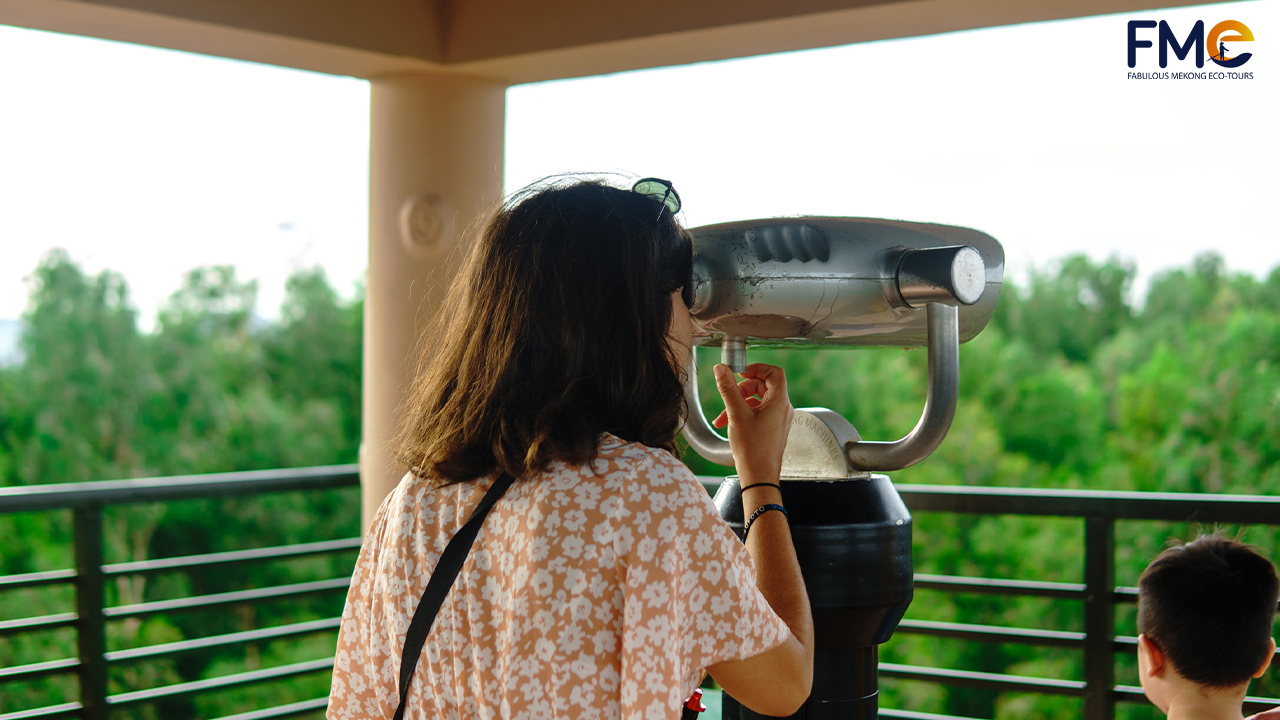 Below is a list of the ticket prices for the various services available at Tram Tra Su forest that you can refer to. The all-inclusive ticket price for all services at Tram Tra Su forest is 200,000 VND/person (about $8). However, you can also buy tickets for each individual service as follows:
Admission ticket (mandatory): 100,000 VND/person (about $4). Visitors are free to explore and enjoy the scenic beauty of the tourist area. Additionally, you can experience walking on the longest bamboo bridge in Vietnam.
Tuk-tuk service ticket (optional): 50,000 VND/person (about $2). Visitors can explore the Tram Tra Su forest ecosystem by train for both round trips.
Paddleboat service ticket (optional): 50,000 VND/person (about $2). Visitors can experience paddling a traditional boat, touching the reeds, enjoying the scenery, and taking photos.
Observatory ticket (optional): 5,000 VND/person (about $0.2) per use.
Note: After taking the tuk-tuk inside the Tram Tra Su center, there will be a separate route for paddling the traditional boats. I encourage you to try both types of boats to fully experience the Tram Tra Su forest. It will be an unforgettable experience that you don't want to miss.
Tips for Visitors
Wear comfortable clothes and shoes suitable for trekking and boat rides.
Bring insect repellent to avoid mosquito bites.
Respect the wildlife and natural environment by not littering or disturbing the forest's inhabitants.
Follow the instructions of your guide to ensure a safe and enjoyable experience.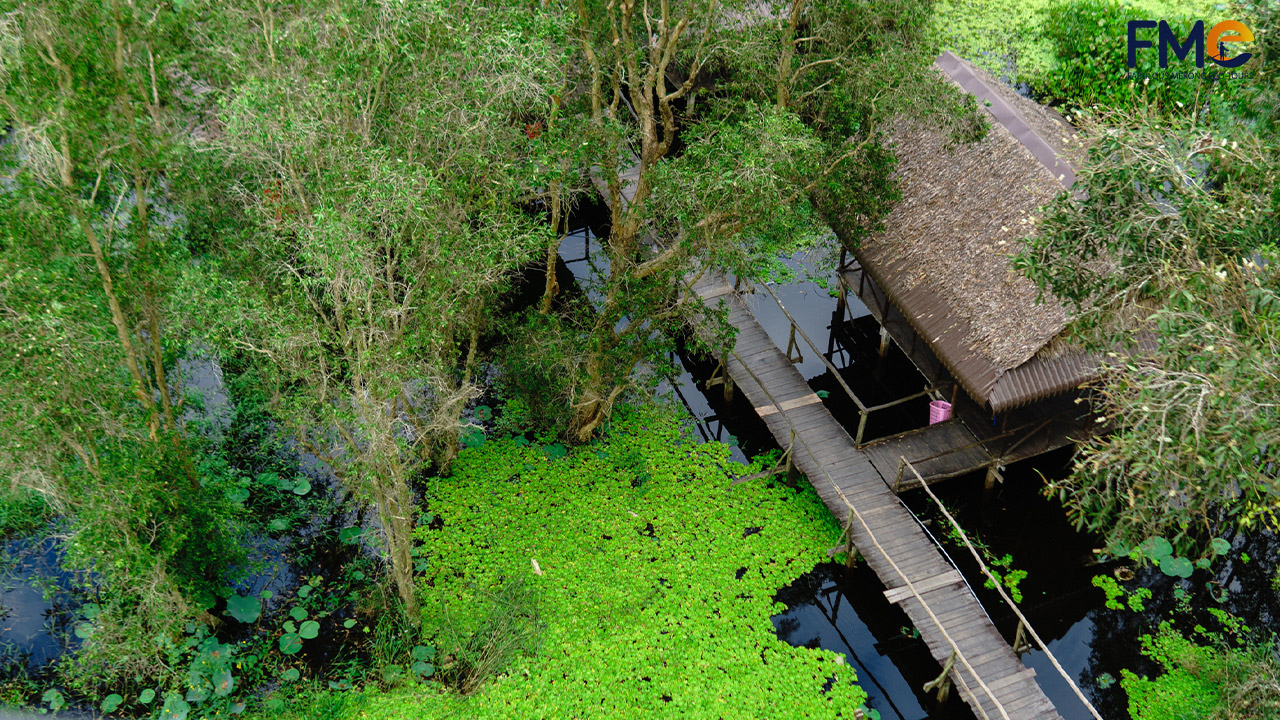 Conclusion
The Tra Su Cajuput Forest in An Giang is a natural wonder that every nature lover should visit. With its stunning landscapes, diverse wildlife, and unique activities, it is an experience that will stay with you forever. So, plan your visit today and get ready to be enchanted by the beauty of this enchanting forest.
FAQs
Is Tra Su Cajuput Forest easy to access?
Yes, it is easily accessible by road from the nearest town, Chau Doc.
Are there any entrance fees to visit the Tra Su Cajuput Forest?
Yes, there is an entrance fee that varies depending on the time of year.
How long does a boat ride in Tra Su Cajuput Forest last?
A boat ride typically lasts around 30-45 minutes.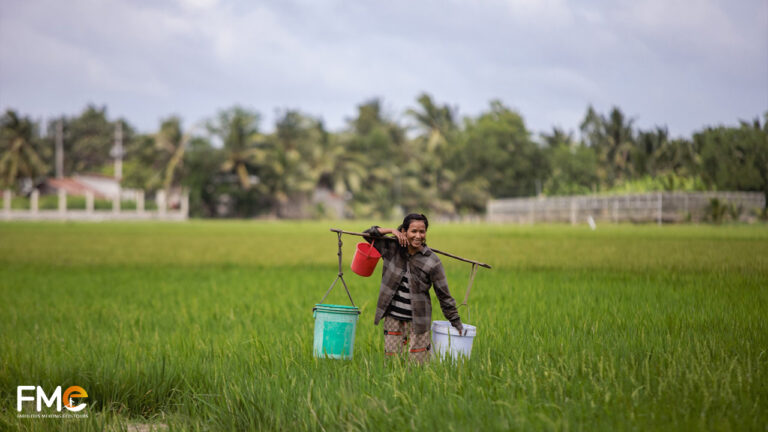 Images of the countryside in An Giang Vietnam, where honest farmers, rice fields, trees, cows, green rice-colored roads,... Explore photos now!
The Most Popular Tours offered by FME Travel