The Cham Village - A unique cultural destination of An Giang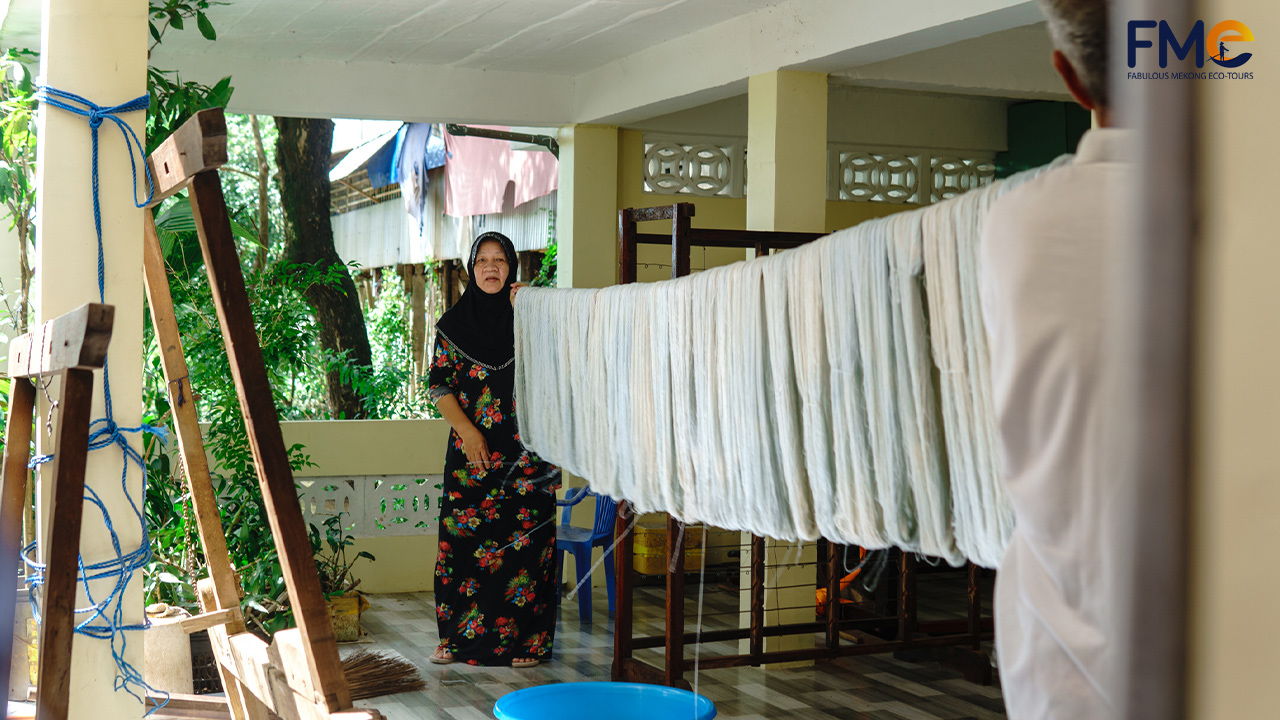 When you embark on a journey through the mystical land of An Giang, you'll find that there's no need to second-guess your destinations. However, wherever your travels take you, don't forget to visit Cham Chau Giang Village, an essential stop on any An Giang cultural exploration.
Learn about the Cham ethnic minority community in Vietnam: Wikipedia about Chams in Vietnam.
The life of the Cham community in An Giang has a unique appeal and has inspired many tourists to learn about culture and daily life in the villages of the Mekong Delta region.
How to Get to Cham Chau Giang Village?
Cham Chau Giang Village is a community of Cham people located just across the river from Chau Doc. To reach this fascinating village, you can take one of two routes:
By Road: You can use an automobile or a motorbike to reach the Chau Giang ferry, situated about 3 kilometers from the center of Chau Doc. After arriving at the ferry, you'll have a short journey of just over 1 kilometer to reach Cham Chau Giang Village.
By Water: Alternatively, you can reach the Cham Chau Giang Village by boat from the Chau Doc junction (approximately 500 meters from Victoria Hotel) or at the Chau Giang ferry on the other side of Chau Doc. Boat rental prices may vary based on your itinerary and group size, but rest assured, it's an affordable and popular choice among tourists.
Google Maps: https://maps.app.goo.gl/HQtoavXAeZoEvhXE7
Exploring Cham Chau Giang Village
Among the Cham villages in An Giang, Cham Chau Giang Village stands out as a hub of unique cultural practices. Notably, it is home to traditional silk weaving, stilt houses, and the Islamic faith beneath the sanctuary of the Mubarak mosque. This unique blend makes Cham Chau Giang Village a preferred source of inspiration for writers, musicians, and artists.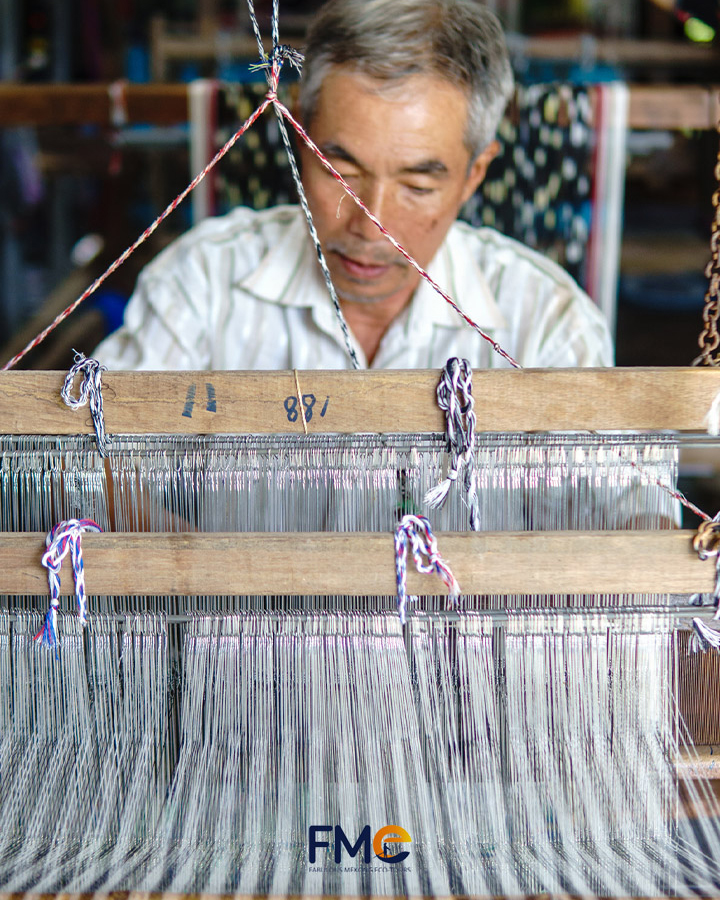 Stepping into Cham Chau Giang Village is like entering a different world. Amidst the tranquil rural surroundings of the Mekong Delta, you'll experience the warm hospitality of the local community. With a predominant Islamic faith, An Giang boasts a range of mosques and small prayer houses.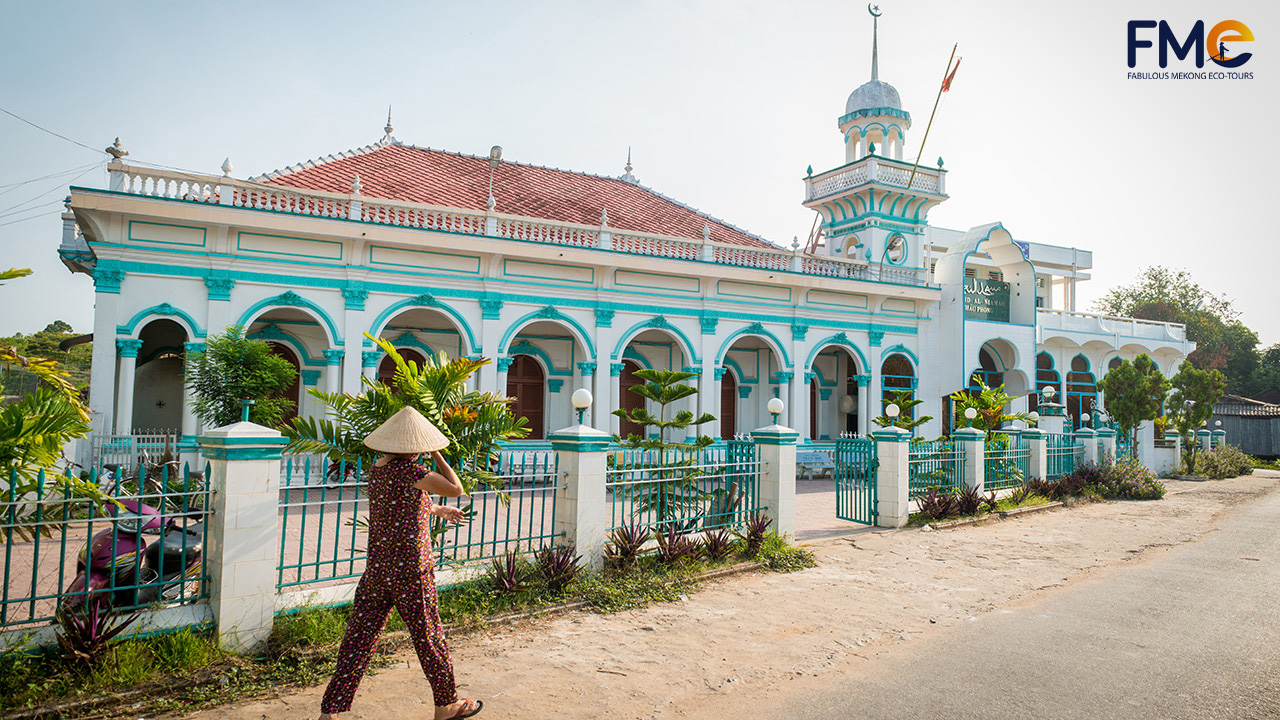 The most prominent of them is the Mubarak mosque, recognized as a national heritage site. From the Chau Giang ferry, you can easily witness the magnificence of this cultural and religious hub. The mosque's distinctive architecture, including a round tower and arched entrance, is a remarkable sight. The crescent moon and star on the tower symbolize the Islamic faith.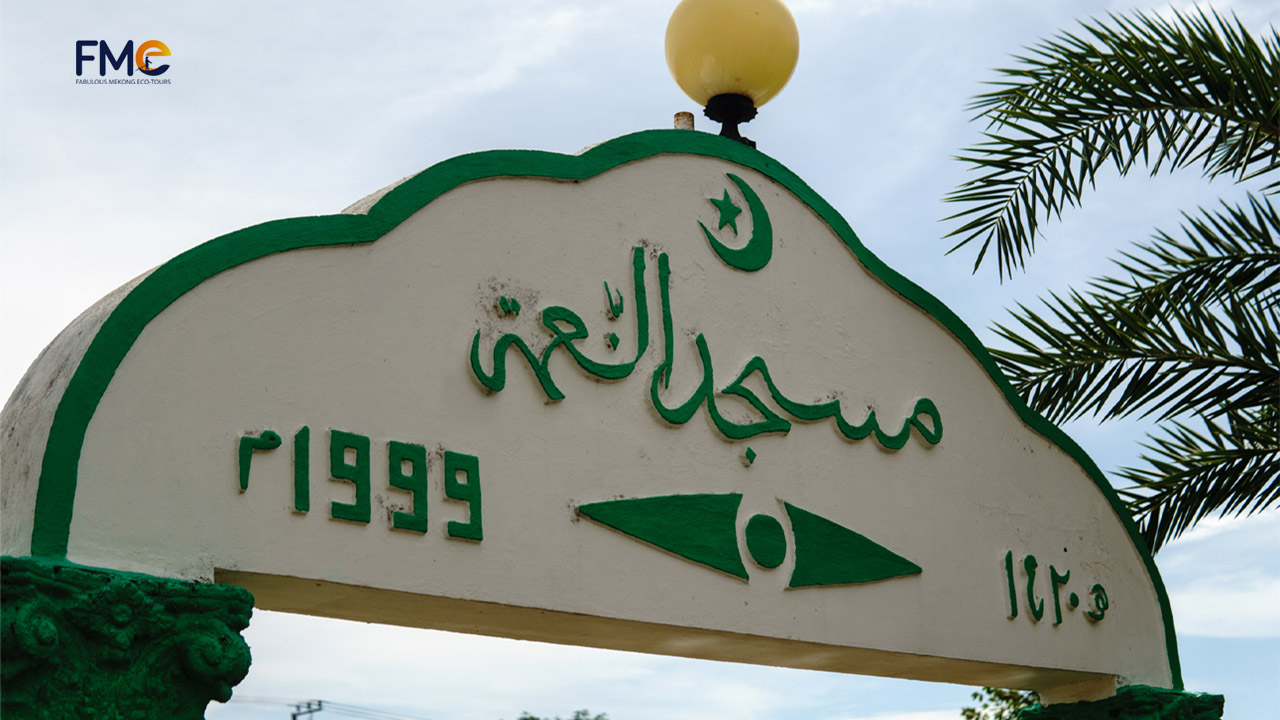 The Cham community celebrates three major annual events: Roja on the 10th of December in the Islamic calendar, Ramadan (the fasting month) from the 1st to the 30th of September, and the birthday of Prophet Muhammad on the 12th of March.
Devotees visit the mosque five times a day for prayers, with each session lasting about 15 minutes. Fridays, in particular, see a congregation at noon for an hour-long sermon by the imam.
As for the origins of the Cham people in Chau Giang, it's a diverse group with roots in Malaysia, Indonesia, Cambodia, and possibly even the Champa kingdom of Ninh Thuan. An intriguing blend of languages and cultures has shaped their unique identity.
In this village, you can explore the traditional art of silk weaving, which has been practiced for centuries. While Cham silk in Chau Giang may share similarities with that of Cham people in Ninh Thuan and Binh Thuan, it showcases distinct patterns and designs influenced by cultural nuances and religious beliefs.
Learn about the comprehensive guide: An Giang Travel Guide.
Aside from traditional silk weaving, you can also find exquisite handmade jewelry, including bracelets, necklaces, earrings, and more, crafted with great care by the Cham artisans in the village. These items make for meaningful souvenirs or thoughtful gifts for your loved ones.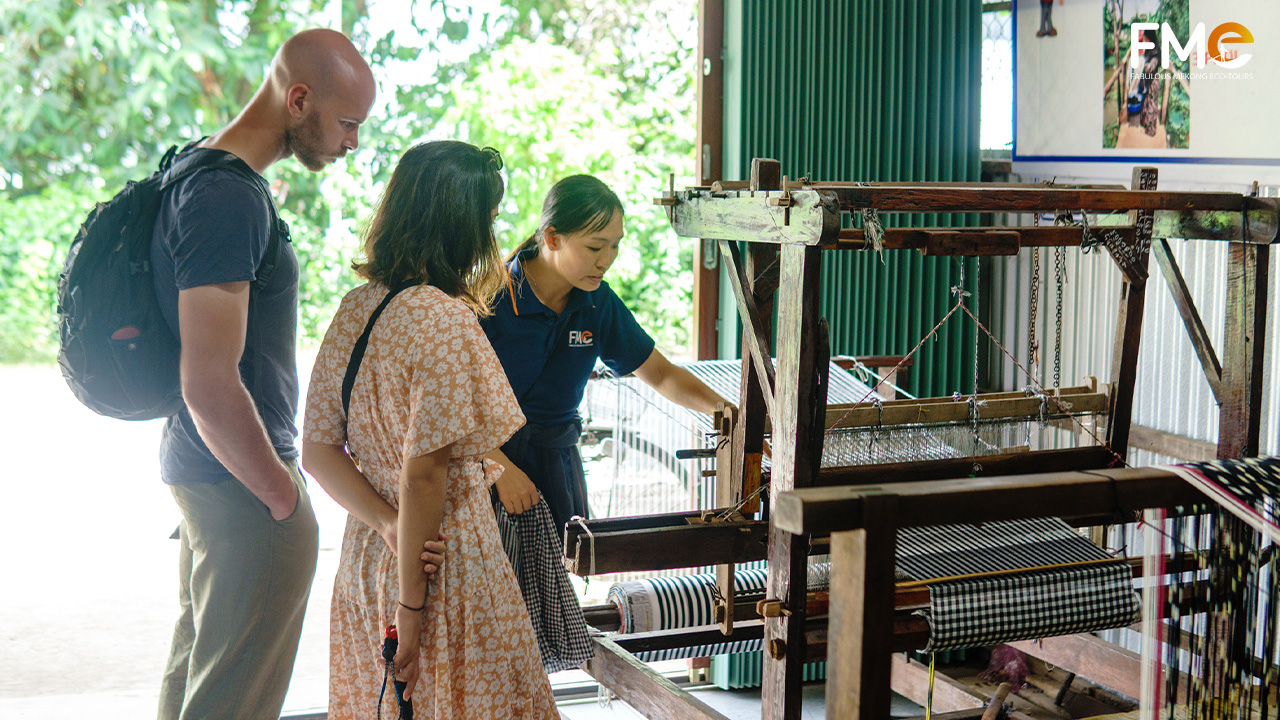 What makes Cham Chau Giang Village truly remarkable are the centuries-old stilt houses. These houses are raised high off the ground, using precious timber like cay lai, cam xe, and ca chat, showcasing the family's social standing. They're designed to be spacious and airy, in harmony with nature.
The front of the house always faces south, and a wooden staircase is used to enter or exit. The two doors are lower than the head, signifying respect when entering a home. There's a designated area for women and girls, separated by a decorated curtain, which men are not allowed to enter. This area holds great significance when guests or relatives visit.
Notes to know when visiting Chau Giang Cham village
Respectful Behavior: Be mindful of your actions, gestures, and language, and avoid any disrespectful or culturally insensitive behavior.
Mosque Etiquette: The mosque is a sacred place for Islamic worship and cultural activities. Seek permission from the caretakers before entering and be respectful of their customs.
Respect for Women: Show restraint when interacting with unmarried women and avoid standing too close to them out of respect for their cultural norms.
Souvenir Shopping: The souvenir items available here are reasonably priced, so there's usually no need to haggle. Supporting local artisans is a great way to appreciate their craftsmanship.
House Visits: If you are invited into someone's home, be sure to adhere to the host's rules and customs. Respect their traditions and practices during your visit.
Feel this village directly through the journey: An Giang Full Day Tour – Top Venue For Nature Lovers.
And other places that will interest you in An Giang: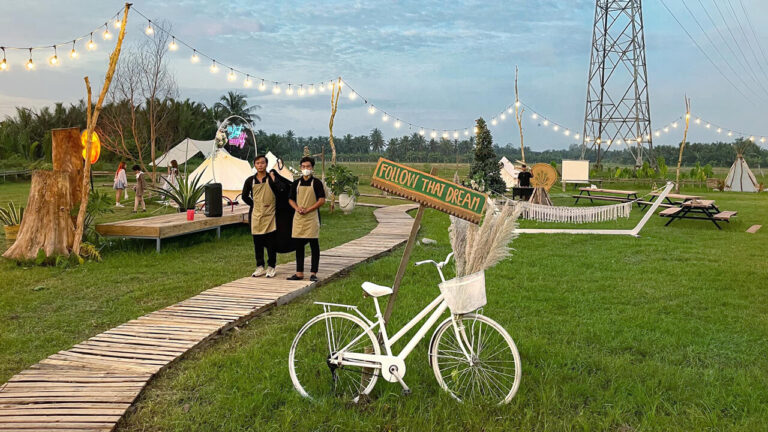 Classique Farm in Tra Vinh emerges as a brand-new outdoor camping destination that has captured the attention of the youth in the Mekong Delta.
The Most Popular Tours offered by FME Travel