Where to Celebrate Halloween in Can Tho?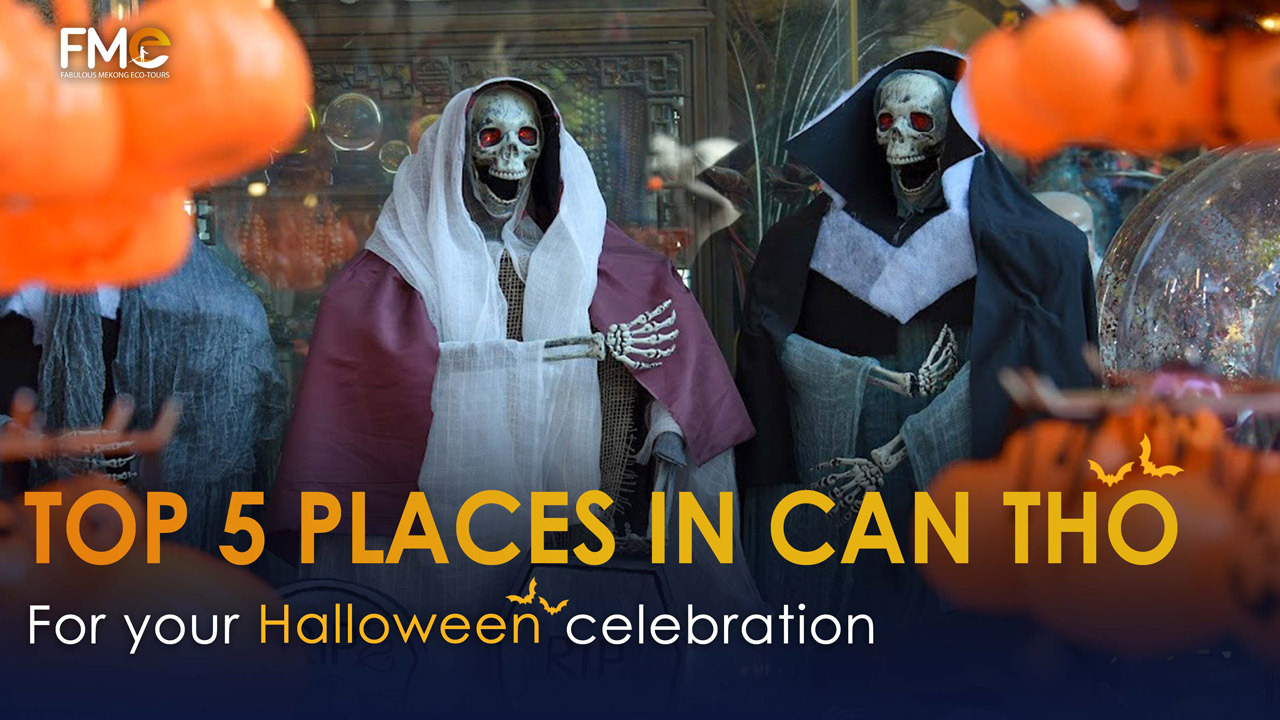 Many people wonder: "Does Can Tho celebrate Halloween?". Of course! This traditional Western festival has been introduced to Vietnam for nearly 2 decades and has become more and more popular in developed cities like: Ho Chi Minh, Da Nang, Ha Noi, etc and Can Tho is no exception.
Vietnamese people and mostly the younger generation often do not organize Halloween in the grand scale like Western countries, but they consider it as an opportunity to join small masquerade parties in clubs or simple wine parties with friends.
Some interesting tourist places in Can Tho that you should explore:
Fabulous Mekong Eco- tour are pleased to introduce you the places where you can come to celebrate Halloween in Can Tho.
1. Thompson Taproom – Craftbeer and Cocktail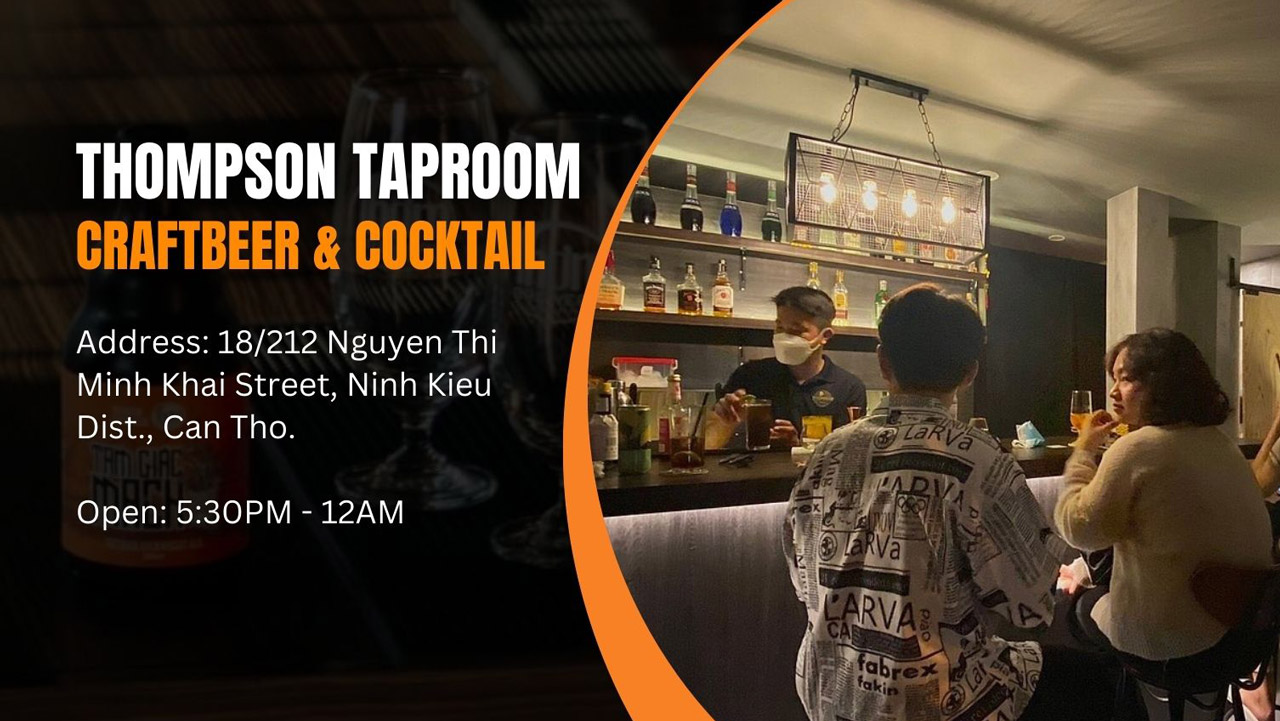 Thompson Taproom, one of the city's rare craft beer shops, is one of the cosiest and most intimate bars. When you visit Thompson Taproom, you will undoubtedly be drawn to the handcrafted beers and alcoholic beverages served cool, flavorful, and dazzling.
Glasses of draft beer as thick as blood, fragrant with chocolate, mixed with coffee and caramel flavors, were piled up on the shelves. White faces accompanied by smiles as you walk to the counter.
Are these enough to draw you to Thompson this Halloween? If not, there's another creepy thing that will appeal to you more.
2. Déjà Vu Cocktail & Wine Bar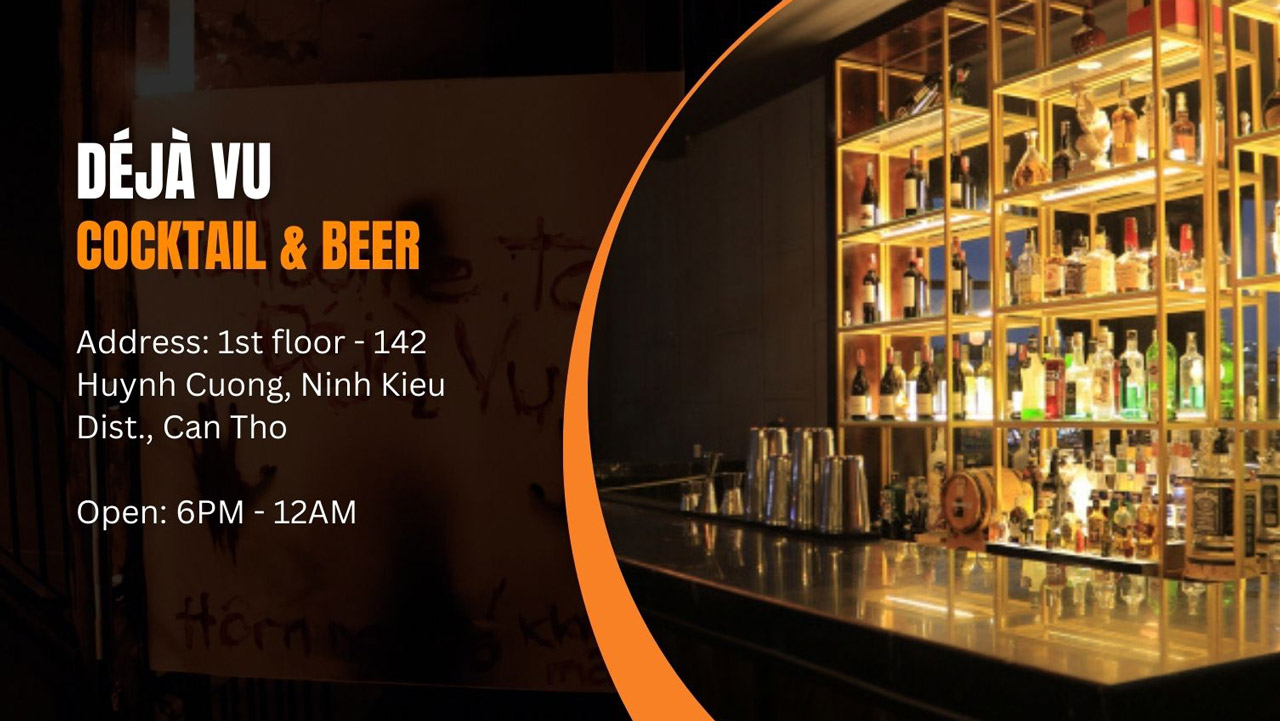 Inspired by the Speakeasy Bar 90s in terms of "stealth" and completely different from the usual night-life places, in Déjà Vu also harmonizes with a modern pub atmosphere and creates a space to chill with friends.
The quality of the drinks was pioneered, creatively transformed with the skilled bartenders of the Bartender, and designed the bar with the depth of a new pub. Many special cocktail menus are served just for Halloween to match the bar's ghostly style.
The menu at Déjà Vu Cocktail & Wine Bar is quite diverse, including classic cocktails and signature lines. The cocktail price at the bar is quite affordable, making it convenient for tourists to satisfy their "pub-tour" energy around Can Tho city
3. The Heo Bistro – Hidden Cocktail Bar & Kitchen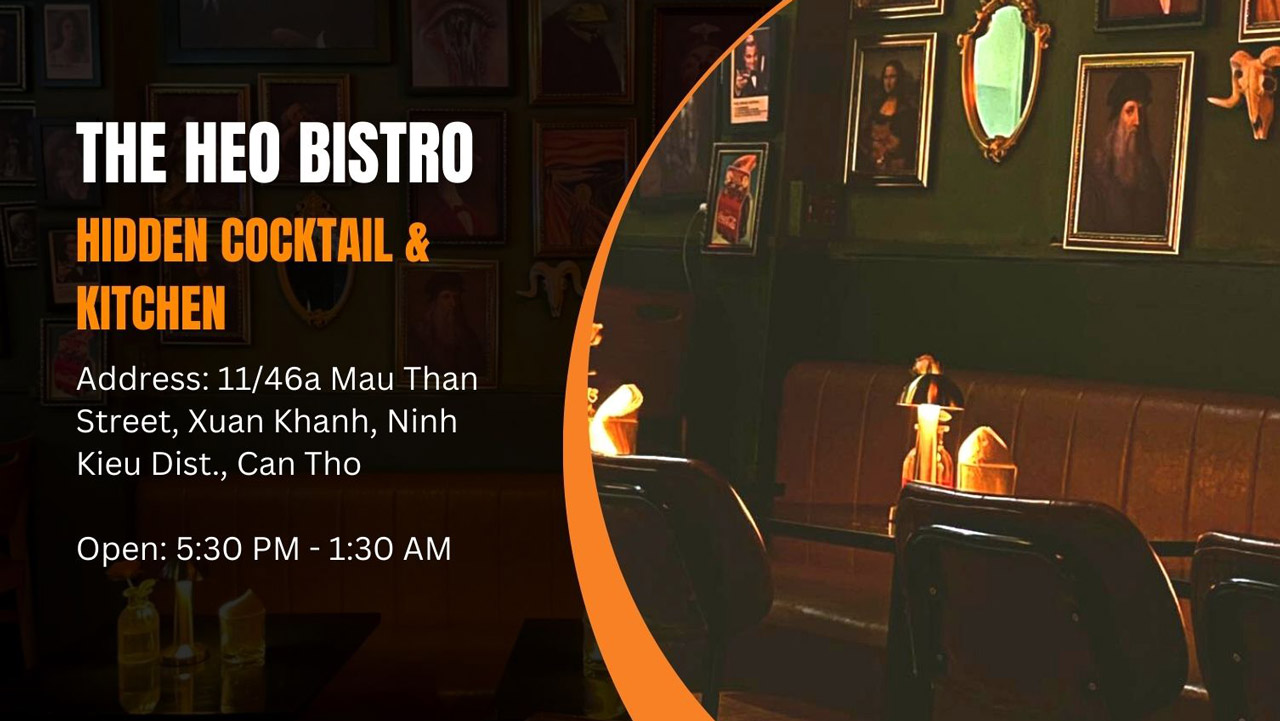 Based on the passion for golden cocktails in the 60s, The Heo Bistro brings a cozy retro chilling space for people who are passionate about cocktails and have dinner with family or lovers with romantic jazz music.
During Halloween, the bar will bring a lot of deals, Halloween-style games and especially you will get the opportunity to enjoy the Cocktail flavor according to Mixology style. This is an excellent experience if you try the signature cocktail named " Canh chua Mien Tay" (Vietnameѕe Sweet and Sour Soup).
According to the concept of Speakeasy bar, The Heo Bistro is hidden behind a row of student hostels and residential areas at the end of alley 11, but there is still a car park for you to go by car on Cao Thang side.
4. Iris Sky Bar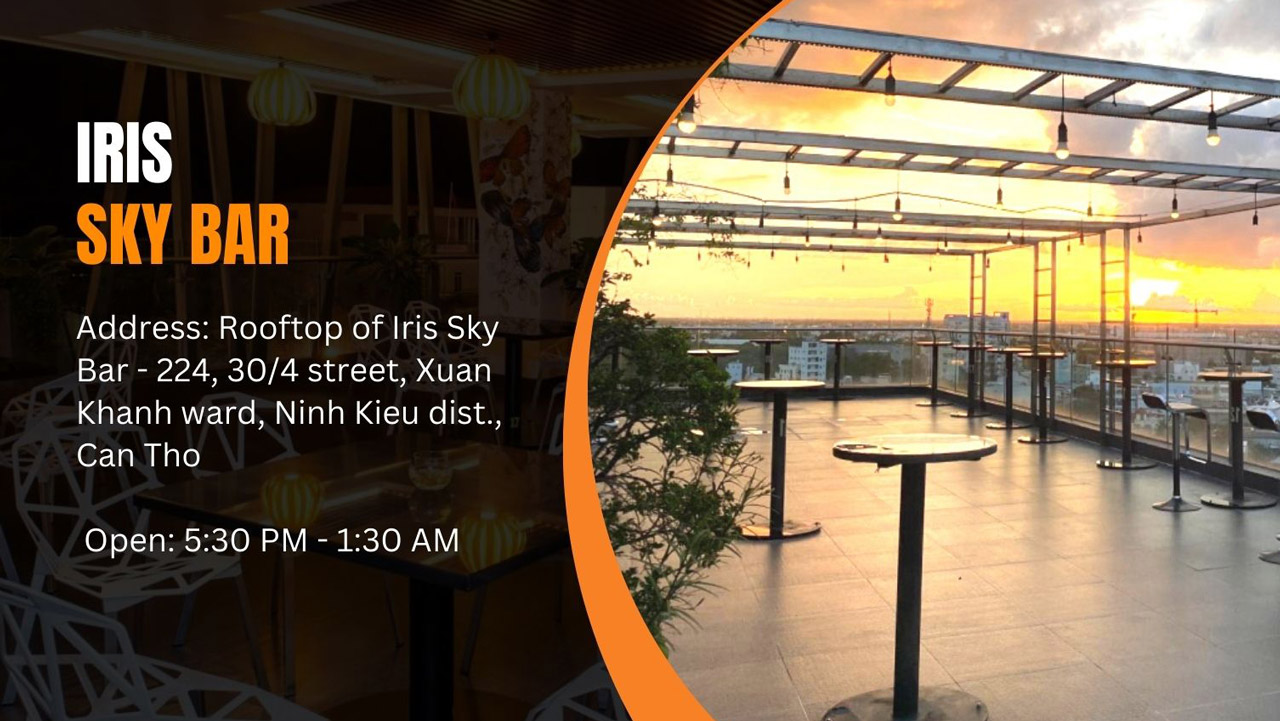 Iris Sky Bar located on the rooftop of Iris hotel, from here you can look directly down to 30/4 street, one of the most beautiful streets in Can Tho. The design of Iris Sky Bar is simple, delicate and located on a high place, suitable for those who love peace and lightness.
If possible, try coming here on a sunset afternoon, enjoying a cocktail with your loved one to explore the city will definitely give you a very new feeling.
During special festivals like Halloween, Iris Sky Bar has set aside a large space decorated with impressive pumpkin lanterns, effigies,… so that customers can take unique pictures to check in for free.
5. Helios' Cocktail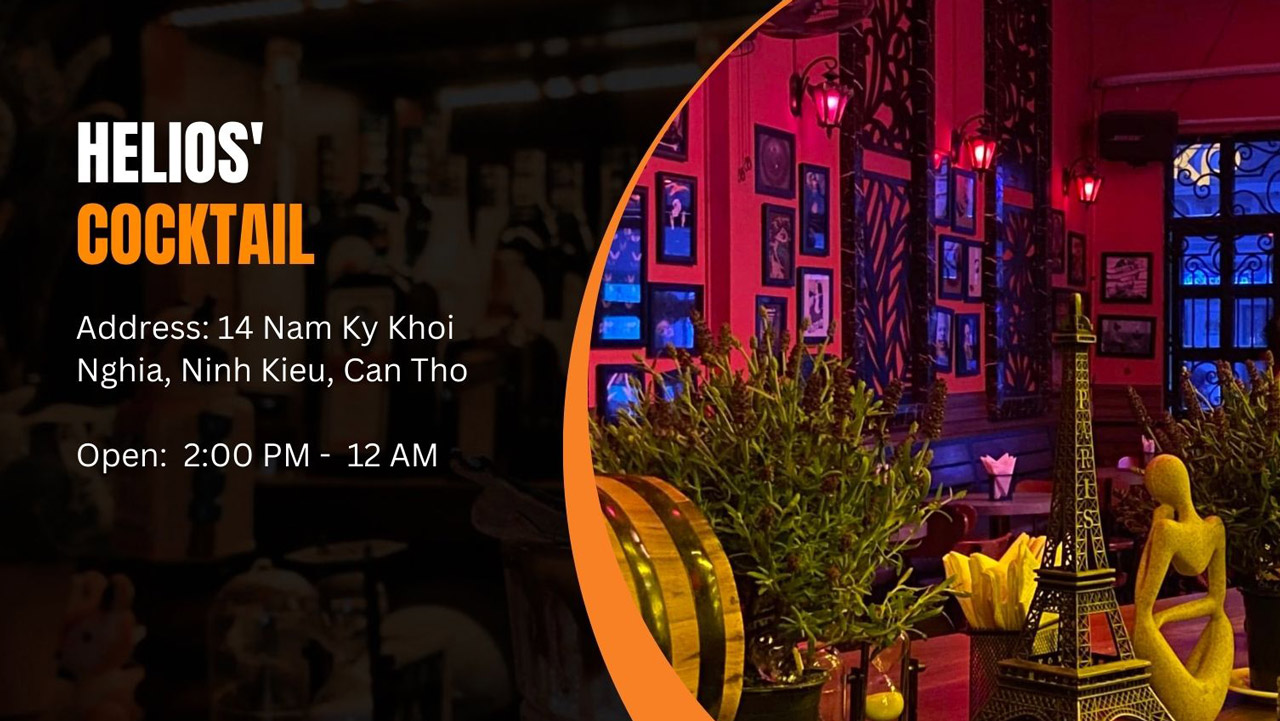 The atmosphere is convivial but discreet, so you're more likely to hear quiet conversations than raucous partying. Coming to Helio bar, you can not only enjoy seasonal cocktails in a cozy space, return to your childhood with classic game consoles but also relax through the performance of music night bands.
In the Halloween festival, Helios' bar will have a completely different atmosphere from daily, a lively and spooky Helio's bar will appear with some masquerade parties and have many chances to gain discounts.
Normally, music nights will take place every Friday night in the time frame 8:30 PM – 10:30 PM  If you are a music lover and have an interest in singing, you can also ask the band to play accompaniment so that you can perform with them.
6. INU Beer Club & Lounge Can Tho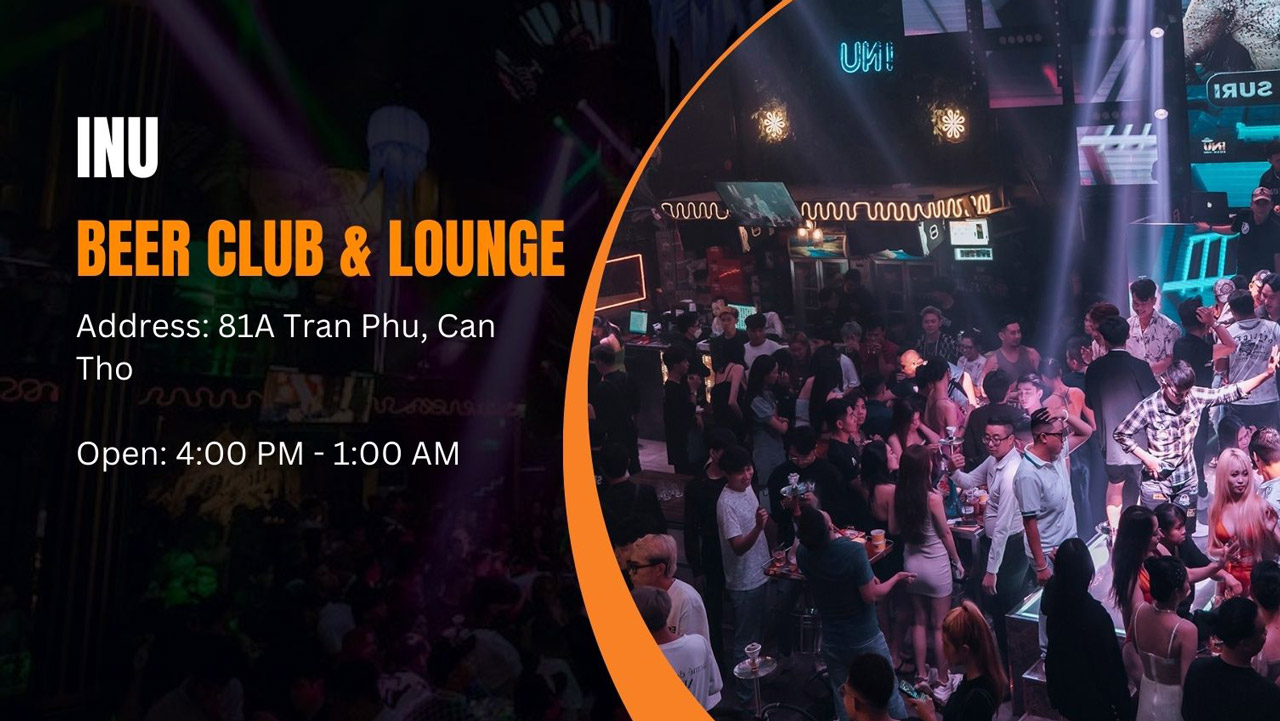 INU Beer Club & Lounge owns a luxurious, spacious space and eye-catching decoration, helping you to save beautiful moments. Coming to Can Tho bar – INU Beer Club & Lounge, you can both enjoy delicious drinks and immerse yourself in a comfortable, airy space, vibrant music and beautiful scenery.
With high-class bar quality, this will be an interesting place if you need to find an ideal place to meet friends on weekends.
On Halloween and other popular festivals, the Inu Beer Club will invite some famous DJs such as: Wu Kong, Mie, and colorful performances of the dancing bands so that the atmosphere inside the club becomes more vibrant and flickering.
Address: 81A Tran Phu, Can Tho
Open: 4:00 PM – 1:00 AM
FAQ
Where to buy Halloween masquerade costumes in Can Tho?
It is easy to catch many shops that sell Halloween masquerade  costumes along the fashion street around the Ninh Kieu Quay or you can visit some bookstores like: FAHASA, Phuong Nam. 
Are Halloween masquerade parties common?
Halloween is only popular among young people in Vietnam, and masquerade festivals often appear in small forms in clubs, English centers, high schools and universities.
Is Halloween the same as ghost day in Vietnam?
Some people will confuse Halloween and Miss Soul day in Vietnam. However, the ghost day takes place in the 7th lunar month, this is a traditional holiday showing the spiritual cultural characteristics of the Vietnamese people and is not related to the Halloween festival.
What means of transport can tourists use to get to the places mentioned above?
Generally, These places are located in the inner city of Can Tho, so the transportation is quite convenient. It is really reasonable to book tech motorbikes or tech taxis in Can Tho.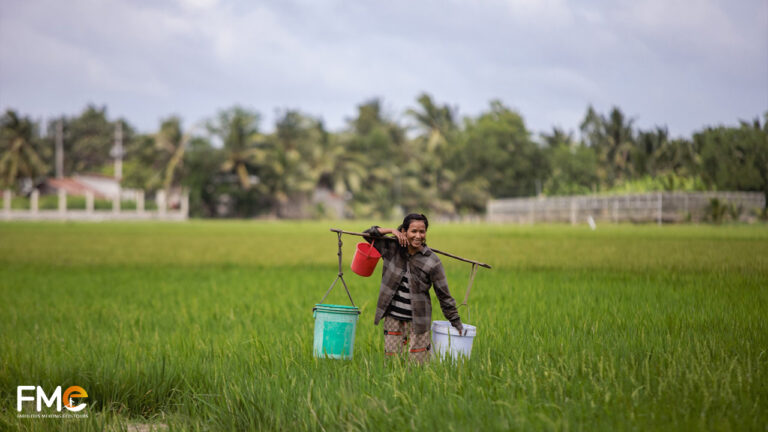 Images of the countryside in An Giang Vietnam, where honest farmers, rice fields, trees, cows, green rice-colored roads,... Explore photos now!
The Most Popular Tours offered by FME Travel