Dong Thap Travel Guide: Ultimate Travel Guide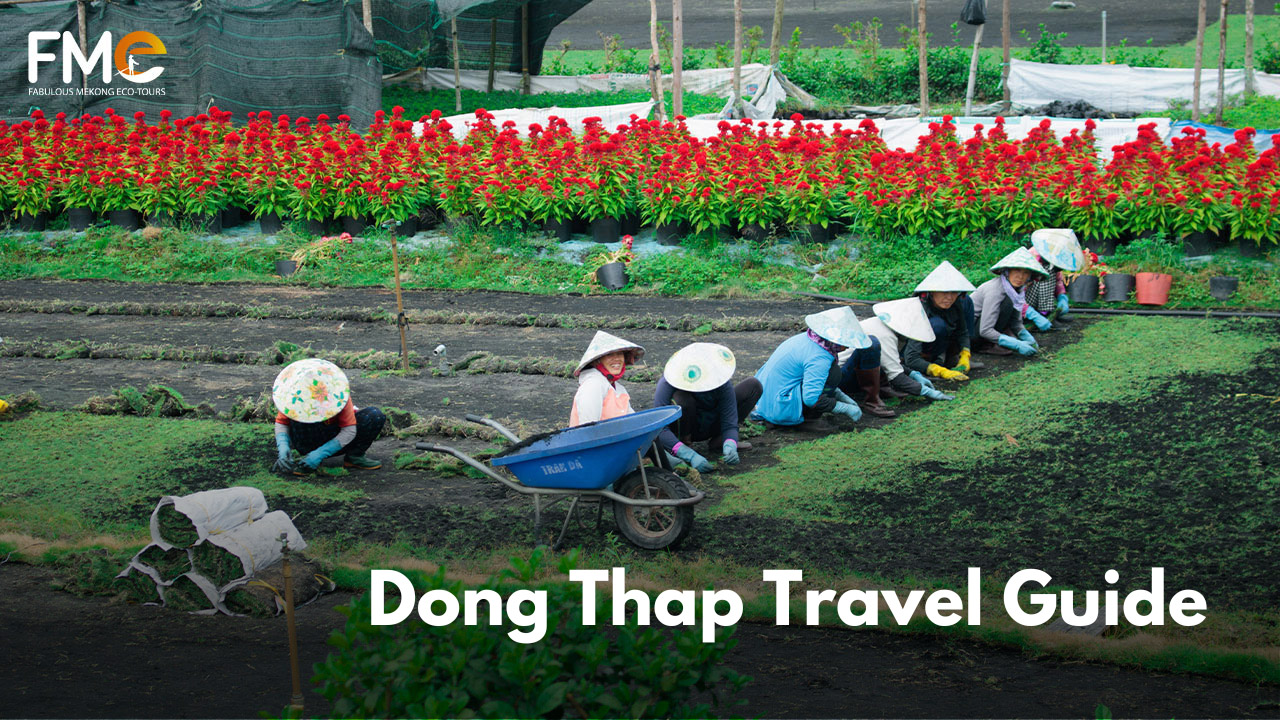 Dong Thap, is a province located in southern Vietnam's Mekong Delta region. It is renowned for its fertile land and abundant agricultural produce.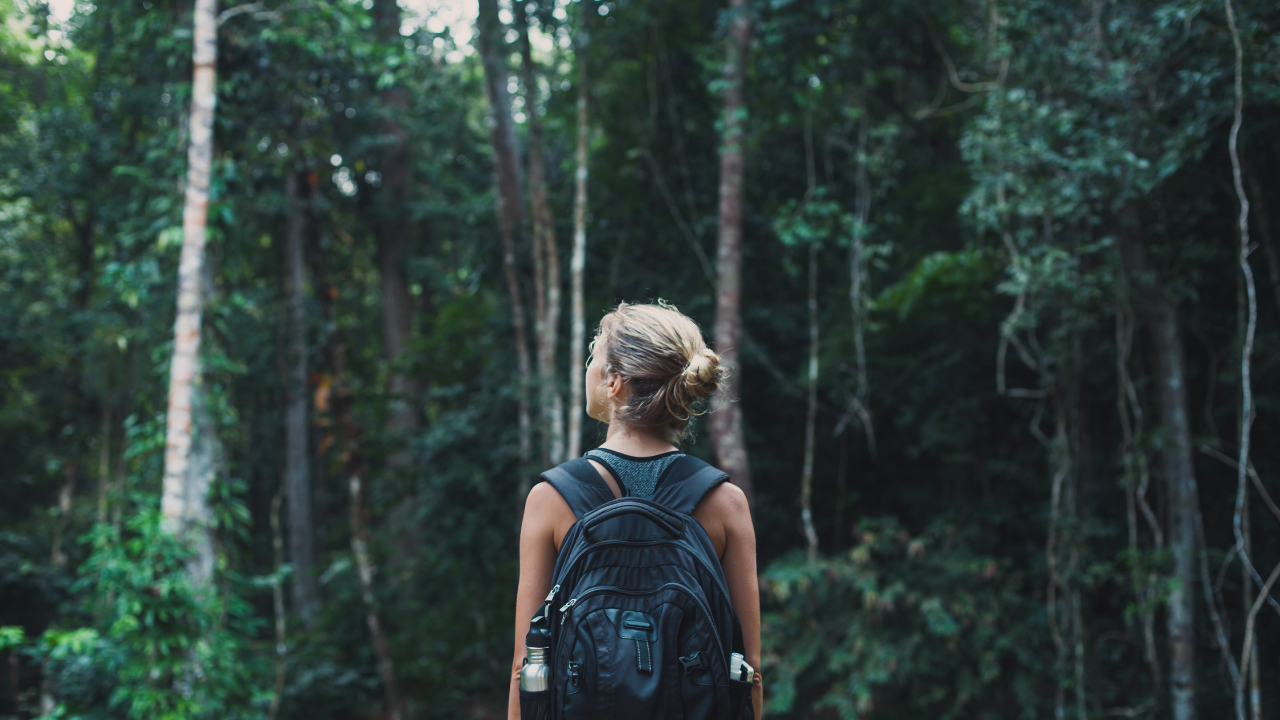 If you are a tourist and visiting our city Dong Thap for the first time, you will need to know what Dong Thap has to offer such as food, attractions, and tourist information about safe travel guides. Let's find out in our Dong Thap Travel Guide!
Explore: Dong Thap Full Day Tour.
Where is Dong Thap?
Dong Thap is a Vietnamese province covering 3,370 sq km and home to around 1.6 million people (in 2019). Bordering Cambodia to the west, the province is well-connected to other cities in the region, with Ho Chi Minh City located 140 km to the northeast and Can Tho City 60 km to the south.
Best time to travel to Dong Thap
Dong Thap, located in the Mekong Delta region, experiences a tropical climate characterized by two distinct seasons: the dry season (Dec-Apr) and the rainy season (May-Nov). The temperature in Dong Thap remains relatively consistent throughout the year, ranging from around 22°C (72°F) to 33°C (91°F).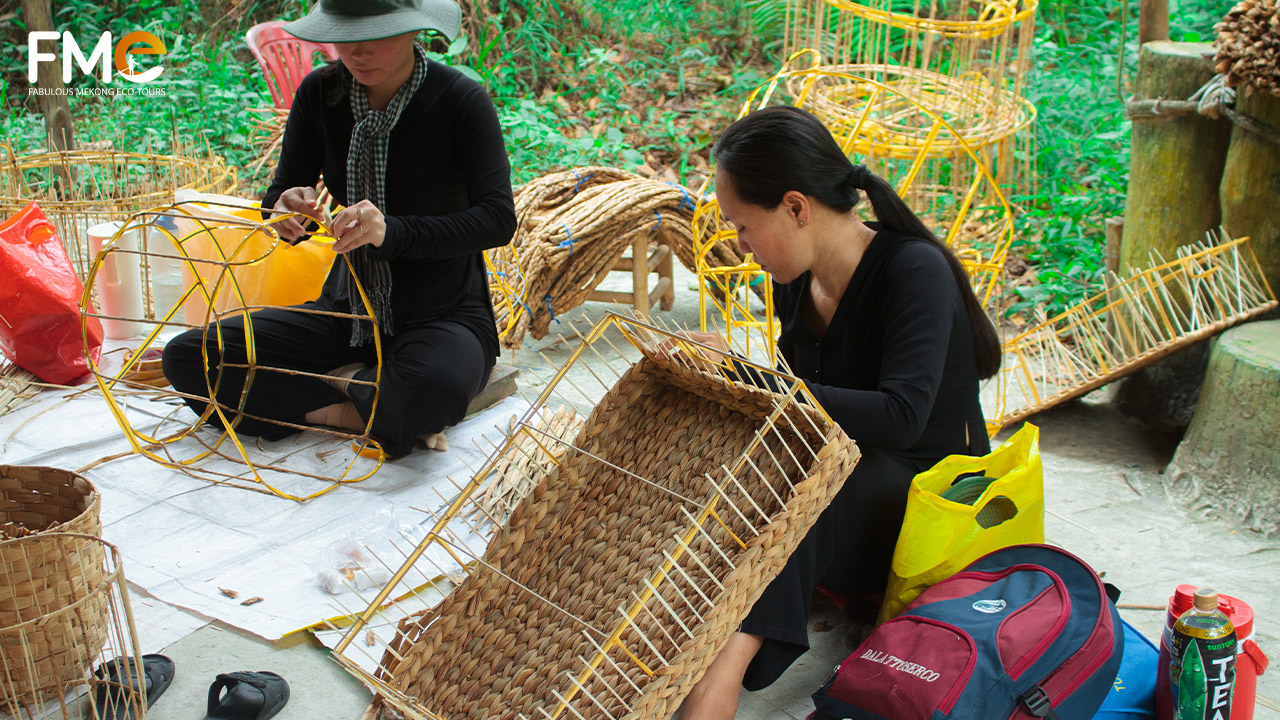 The best time to visit Dong Thap depends on personal preferences and travel plans. For those seeking comfortable temperatures and clear skies, the dry season from December to April is recommended. On the other hand, those looking for a more immersive experience with the region's natural landscape may find the rainy season from May to November more appealing.
Top things to do in Dong Thap – Tourist attractions in Dong Thap
Whether you're a nature lover or a history buff, there's something for everyone to enjoy in Dong Thap. We'll take a look at the top things to do and see in Dong Thap, from exploring fruit gardens and flower fields to uncovering fascinating historical sites.
1. Sa Dec Flower Village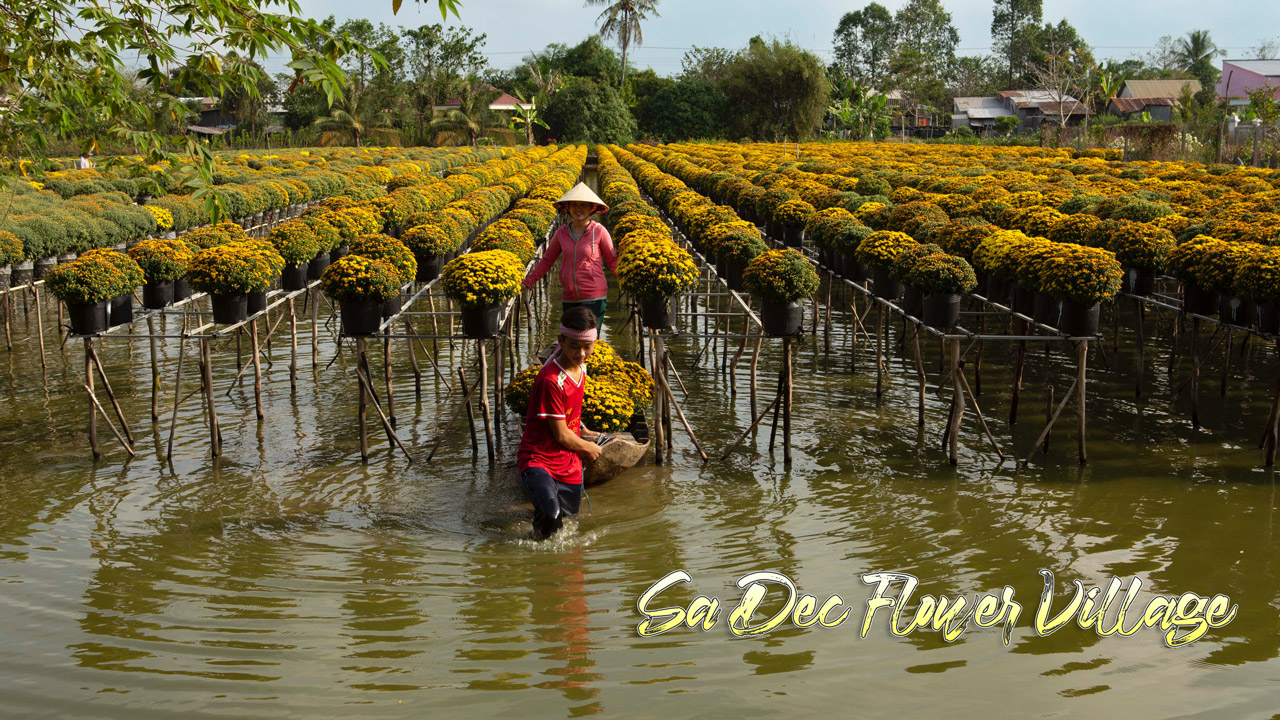 Sa Dec flower village is a must-visit destination in Dong Thap, particularly for flower enthusiasts. With more than 60 hectares of land, it boasts hundreds of flower species cultivated by local farmers. Visitors will be transported to a fantastical garden full of colors and fragrant scents, providing an immersive experience like no other.
2. Date Palm Garden in Dong Thap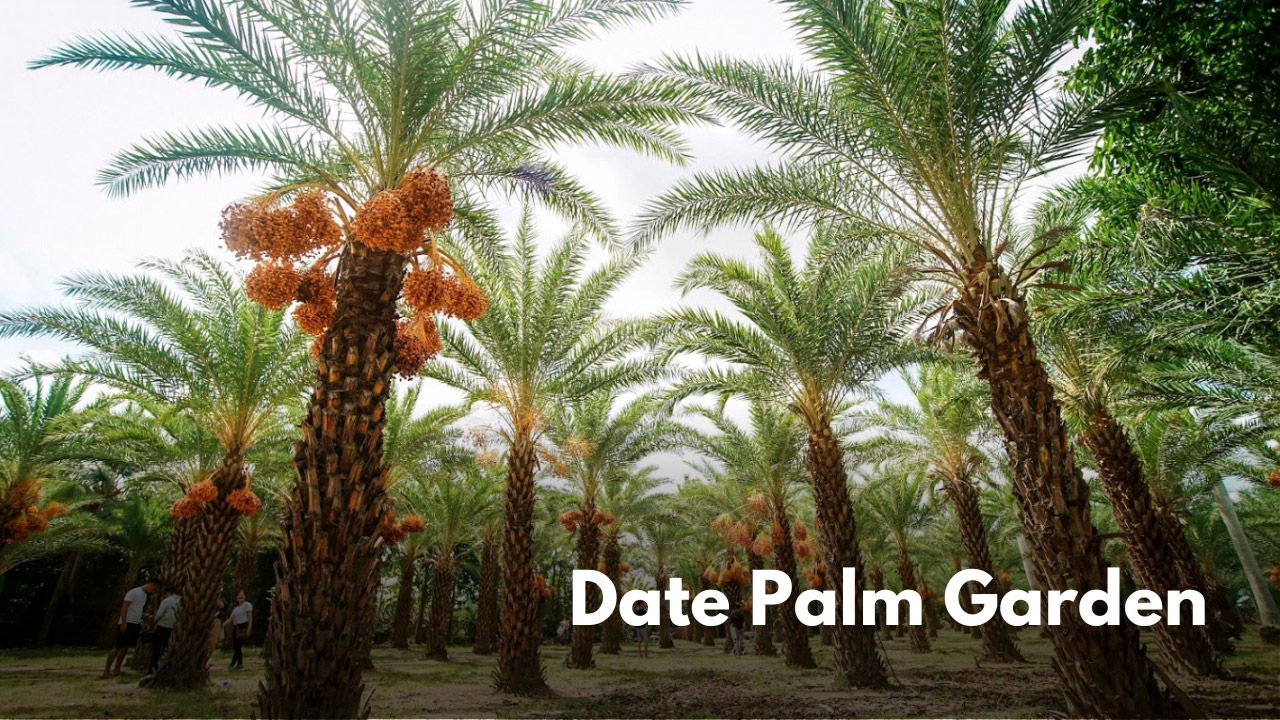 The Date Palm Garden, located on the same road as the Sa Dec Flower Garden, is a popular tourist spot in Dong Thap. The garden has over 200 ten-year-old date palm trees imported from Cambodia, which bear fruit during two months in the summer.
Visitors can enjoy the breathtaking scenery of the golden garden during this time while indulging in delicious date palm fruit and purchasing dried dates as souvenirs.
Address: Sa Nhien – Ca Dao Street, Tan Quy Dong Ward, Sa Dec, Dong Thap Province
Opening hours: 7 am – 6 pm
Entrance fee: 20,000 VND per person (~$0,84)
3. Lai Vung Tangerine Garden
The Lai Vung Tangerine Garden in Dong Thap is a must-visit for those seeking to taste some of the most delicious tangerines and witness breathtaking scenery.
Located just over 10 kilometers from Sa Dec city, this area is known for its large and sweet mandarin oranges, which are harvested only once a year at the end of the year. Visitors should plan their trip accordingly to enjoy these unique fruits and the stunning Lai Vung Tangerine Garden.
Address: Long Hau, Tan Phuoc, and Tan Thanh Communes belonging to Lai Vung District, Dong Thap Province.
4. Xeo Quyt forest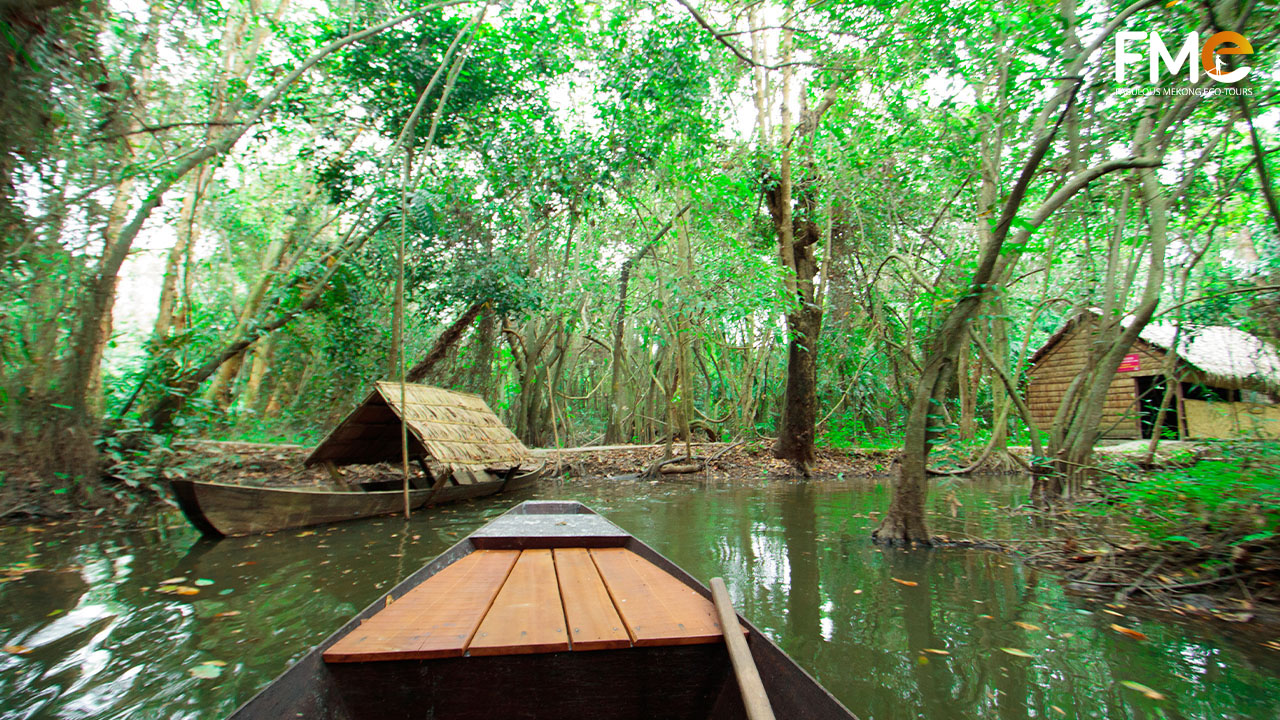 Xeo Quyt is an interesting destination for those who love to explore historical sites. This 50-hectare site, with 20 hectares of untouched cajuput forest, offers a unique and mysterious beauty.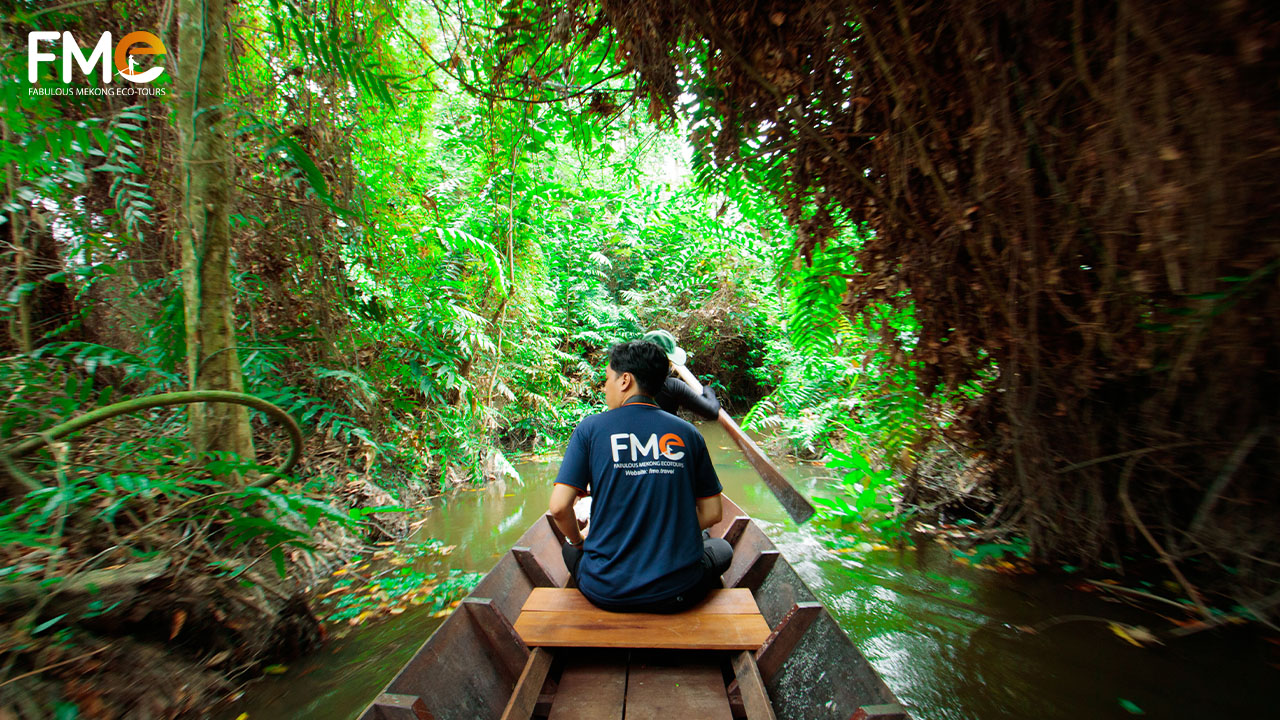 It was recognized as a national historical relic in 1992, preserving traces of the Dong Thap army and people's struggle during the war. Visitors can explore the site's natural wonders by walking along a 1.5km path or booking a peaceful boat ride along the small canals.
5. Huynh Thuy Le Ancient House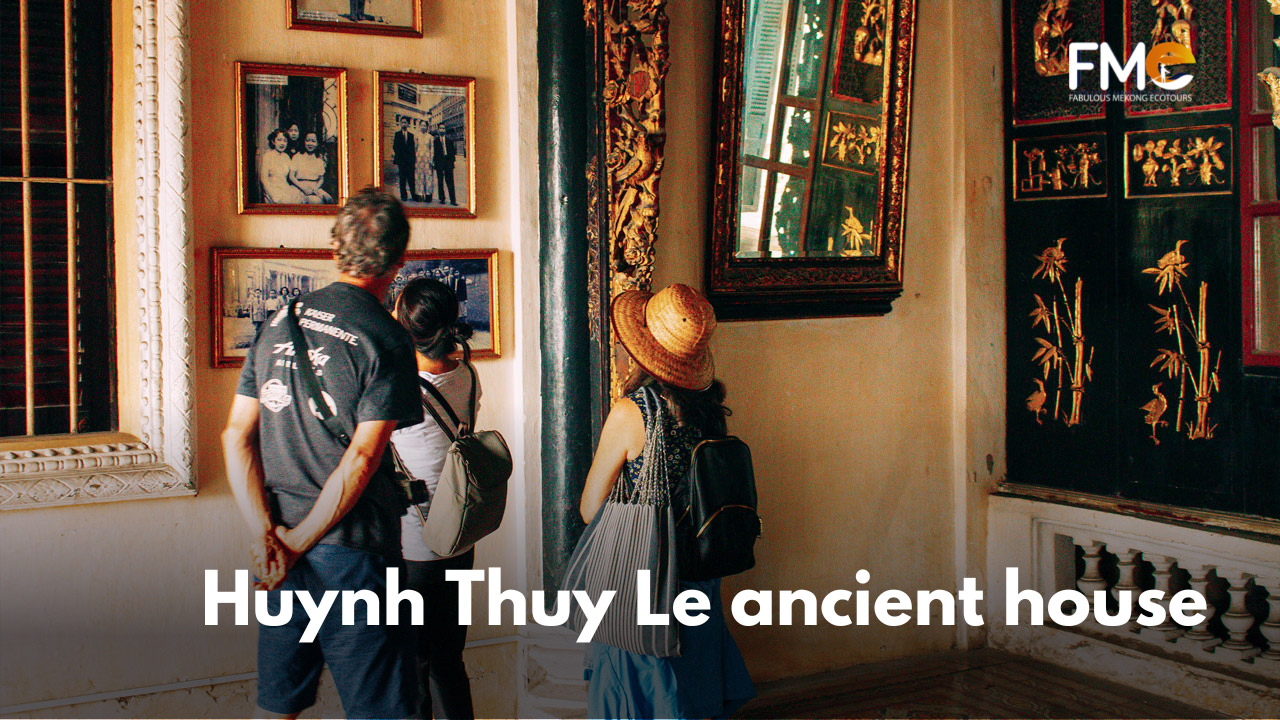 Huynh Thuy Le ancient house is an attractive place in Sa Dec, blending Eastern and Western architectural styles. But it's not just the unique design that makes it attractive – the house is also the setting of a romantic and tragic love story between a wealthy Sa Dec man and his lover, Marguerite Duras, a French writer.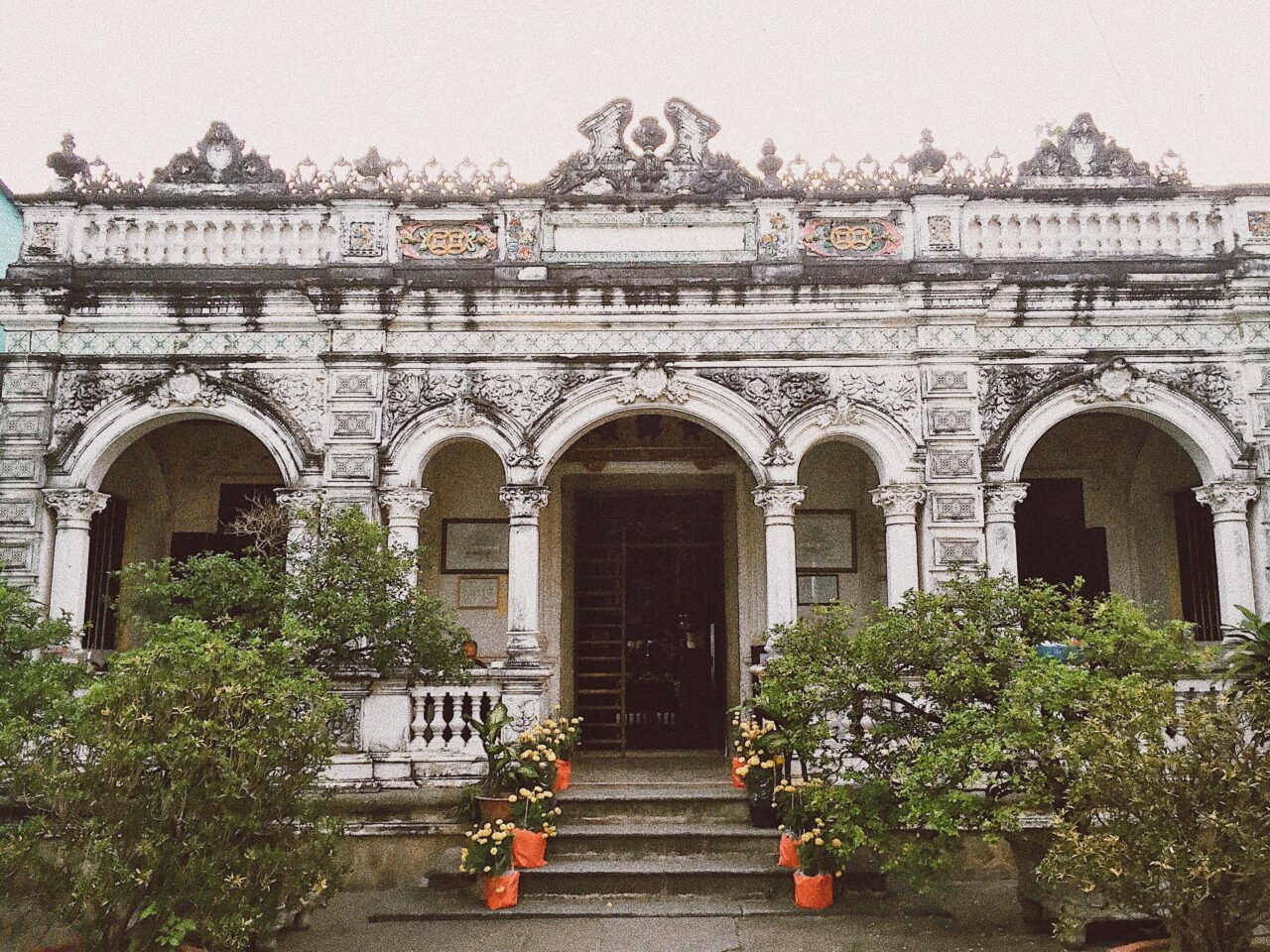 This love story became the inspiration for Duras' famous novel The Lover and was adapted into a movie in 1992.
What to eat in Dong Thap – Must-try food in Dong Thap
The culinary experience is one of the experiences that visitors cannot ignore when coming to Dong Thap. The delicious and bold flavors of Western Vietnam in every dish in Dong Thap will awaken your taste buds.
1. Hu Tieu Sa Dec (Sa Dec Rice Noodle Soup)
Sa Dec Noodle Soup is a must-try food in Dong Thap. This dish features tender rice noodles in a flavorful pig bone broth, topped with pork, herbs, and vegetables. For a unique twist, try it without the broth.
2. Ca Loc Nuong Trui (Grilled Snakehead Fish In Rice Straw)
Ca Loc Nuong Trui is a Dong Thap must-try dish. Grilled snakehead fish is usually wrapped in lotus leaf and rice straw, offering a slightly sweet and chewy texture. Best enjoyed with fresh vegetables and sweet and sour fish sauce.
3. Lau Ca Linh Bong Dien Dien (Linh Fish Hot Pot With Common Sesban)
Lau Ca Linh Bong Dien Dien (Linh Fish Hot Pot With Common Sesban) is A hotpot featuring Linh fish, cooked in pork bone broth with spices and fresh local vegetables like common sesban (Dien Dien).
4. Nem Chua Lai Vung (Lai Vung Fermented Pork)
Nem Chua Lai Vung is a unique blend of sweet, sour, salty, and spicy flavors in fermented pork made from lean pork, pork skin, and banana leaves. It's sure a must-try dish in Dong Thap.
5. Vit Nuong Sa Dec (The Sa Dec Grilled Duck)
The Sa Dec Grilled Duck is famous for its distinctive cooking technique, leaving visitors impressed with its tender, chewy meat, crispy skin, and soft meat inside. The grilled duck turns a delicious-looking yellow-brown color after being cooked.
How to get to Dong Thap
Dong Thap is easily accessible by both air and land transportation.
By Air
At present, Dong Thap province does not have an airport, which means that to reach the province by air, visitors would need to fly to an airport located in a nearby city and then take a land-based transportation option to reach Dong Thap.
The nearest airport to Dong Thap is the Can Tho International Airport, located about 60 kilometers from the provincial capital of Cao Lanh. The airport serves several domestic destinations, including Hanoi and Ho Chi Minh City. From the airport, visitors can take a taxi or bus to Dong Thap.
You can learn more about other transportation to Can Tho here: How to get to Can Tho.
By Land
Dong Thap is connected to several major cities in Vietnam by a network of highways and bus routes. The provincial capital of Cao Lanh is located about 140 kilometers from Ho Chi Minh City. Travelers can take a bus or private car to Dong Thap from these cities. It takes around 2-3 hours to travel between the two cities.
How to get around Dong Thap?
Getting around Dong Thap by scooter
Scooters are the preferred mode of transportation in Dong Thap, Vietnam, and renting one is an affordable and flexible way to explore the area. Rent a scooter for around 100,000-150,000 VND daily but make sure you're comfortable driving in Vietnam's traffic.
Getting around Dong Thap by taxi
In Dong Thap, a taxi is a convenient mode of transportation as you can simply make a call or hand signal to any taxi passing by. The prices are reasonably average and available throughout the city. However, if your location is distant from the urban center, you may need to wait for a while.
Dong Thap accommodations
Dong Thap offers a range of accommodations for travelers when coming to this area. With various options to choose from, including medium-sized hotels and comfortable homestays, visitors are sure to find the perfect place to rest and recharge.
If you are planning a trip to Dong Thap, you have the option of selecting a place to stay in either Sa Dec City or Cao Lanh City as they are situated in the most central locations within the province.
Here is a price list of some accommodations in Dong Thap that you can refer to:
| | | |
| --- | --- | --- |
| Accommodation | Address | Reference price (may be changed) |
| Green Lotus Hotel | 217, Le Loi Street, Ward 2, Cao Lanh City | 250,000 VND – 600,000 VND per night |
| Huynh Duc Hotel | 1 Ngo Thoi Nham Street, Ward 1, Cao Lanh City | 250,000 VND – 600,000 VND per night |
| Huong Sen Hotel | 18, Vo Truong Toan, Ward 1, Cao Lanh City | 600,000 VND – 900,000 VND per night |
| Hoa An Village Homestay | 123/1 Pham Huu Lau, Ward 4, Cao Lanh City | 500,000 VND – 1,200,000 VND per night |
Tourist attractions near Dong Thap
Can Tho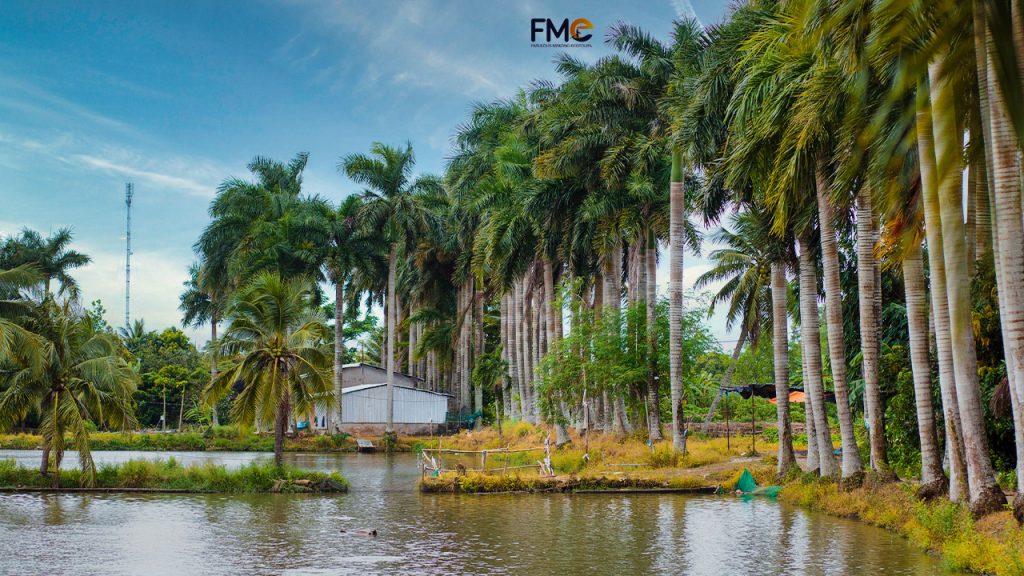 Can Tho is located 87 km from Dong Thap (it takes about 2 hours by car). This is a stunning destination with a unique charm that is sure to captivate any traveler. The city boasts an extensive network of picturesque waterways and has a lot of delicious and diverse food that incorporates fresh local ingredients and flavors. Can Tho is sure to be the next big destination of tourism.
You may want to read: Travel Guide to Can Tho.
An Giang
An Giang is located 100 km from Dong Thap (it takes about 2 hours by car). This is the land of nature, where there are many religions with distinct cultural features.
Some tourist attractions in An Giang: Tra Su Cajuput Forest, Sam Mountain, The Holy Mother Temple, etc.
You can book An Giang full-day tour in Can Tho here: https://fme.travel/tour/an-giang-full-day-tour/ 
Vinh Long
Vinh Long is about 50 km from Dong Thap (it takes about 1 hour by car). Vinh Long is famous for its ripe fruit gardens and interlaced canals. Vinh Long is very suitable for traveling, discovering the culture of the river region, and enjoying unique types of entertainment.
Some tourist attractions in Vinh Long: Hoang Hao Ecotourism Area, An Binh Islet, Vinh Long Pottery & Brick Kiln Factory, etc.
Tien Giang
Tien Giang is a province in the southwestern region of Vietnam, located 94 km from Dong Thap (it takes about 1-2 hours by car). It has many beautiful natural scenes and is imbued with the cultural history of the people of the South.
Some tourist attractions in Tien Giang: Tan Thanh Beach, Vinh Trang Pagoda, Cai Be Floating Market, Dong Tam Snake Farm, etc.
Ben Tre
Ben Tre is an ideal destination for those who love to explore green space. Not only to check in on famous attractions but also to immerse in the peaceful beauty of the West River region.
Dong Thap and Ben Tre are about 111 km apart (it takes about 2 hours – 2 hours 30 minutes by car). Ben Tre has many attractive tourist attractions such as Tuyen Linh Temple, Vam Ho Bird Sanctuary, Phung Islet, etc.
FAQ
What is Dong Thap famous for? 
Dong Thap is famous for its picturesque scenery of rice fields, lotus fields, and fruit orchards. It is also known for its unique cuisine, including snakehead fish grilled, hotpot made from Linh fish, and fermented pork.
What are some popular tourist attractions in Dong Thap?
Some popular tourist attractions in Dong Thap include Xeo Quyt Forest, Sa Dec Flower Village, and Huynh Thuy Le Ancient House.
What is the best time to visit Dong Thap?
The best time to visit Dong Thap is from December to April when the weather is cool and dry.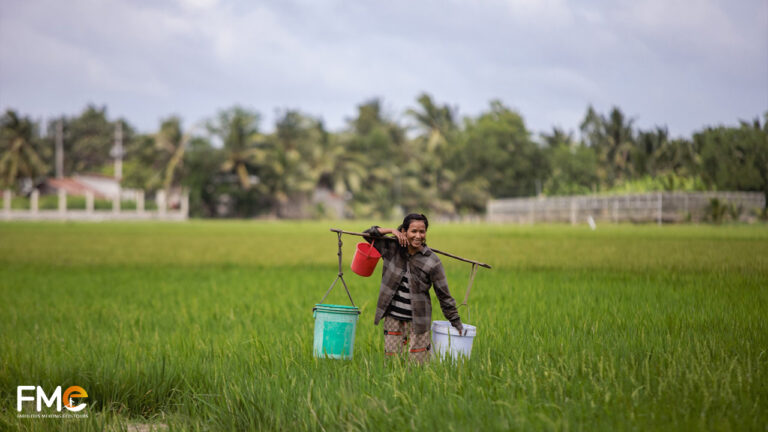 Images of the countryside in An Giang Vietnam, where honest farmers, rice fields, trees, cows, green rice-colored roads,... Explore photos now!
The Most Popular Tours offered by FME Travel