10 Reasons Why Can Tho is the Next Big Destination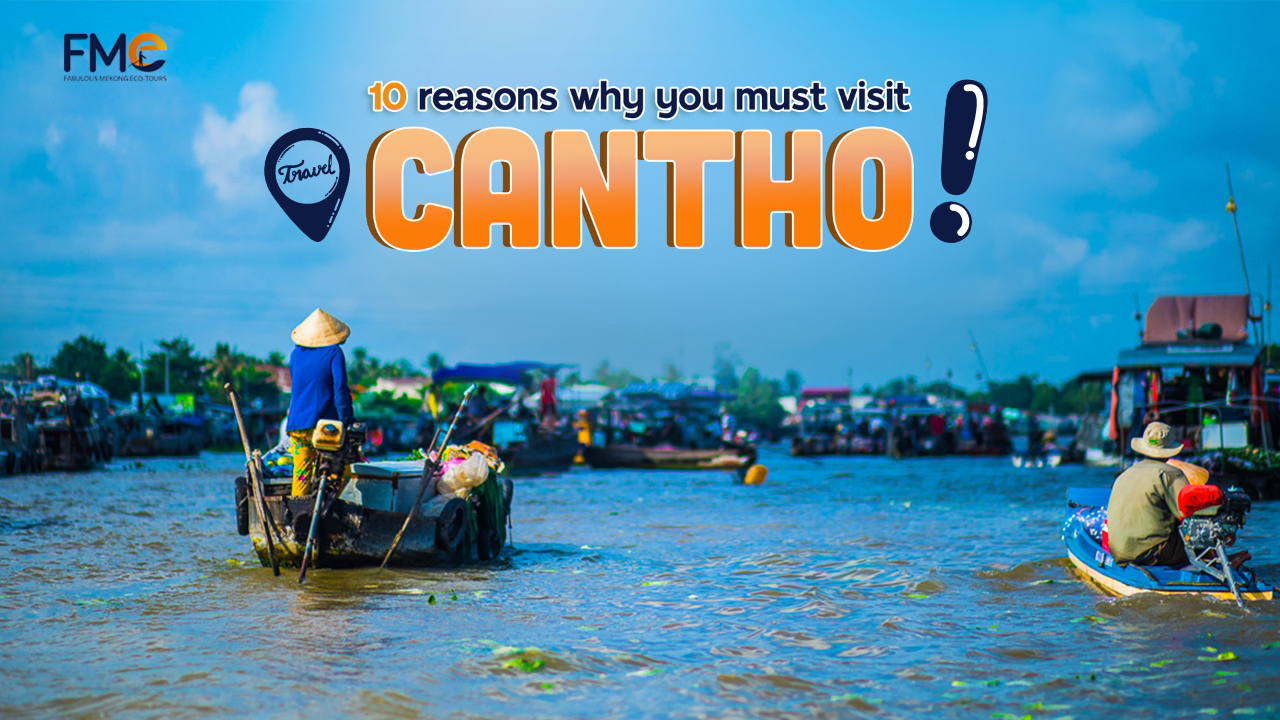 Can Tho, a city in the Mekong Delta region of Vietnam, is a hidden gem that is fast becoming a popular tourist destination. With its rich culture, stunning landscapes, and vibrant atmosphere, Can Tho offers a unique and unforgettable travel experience.
Here are 10 reasons why Can Tho is the next big destination.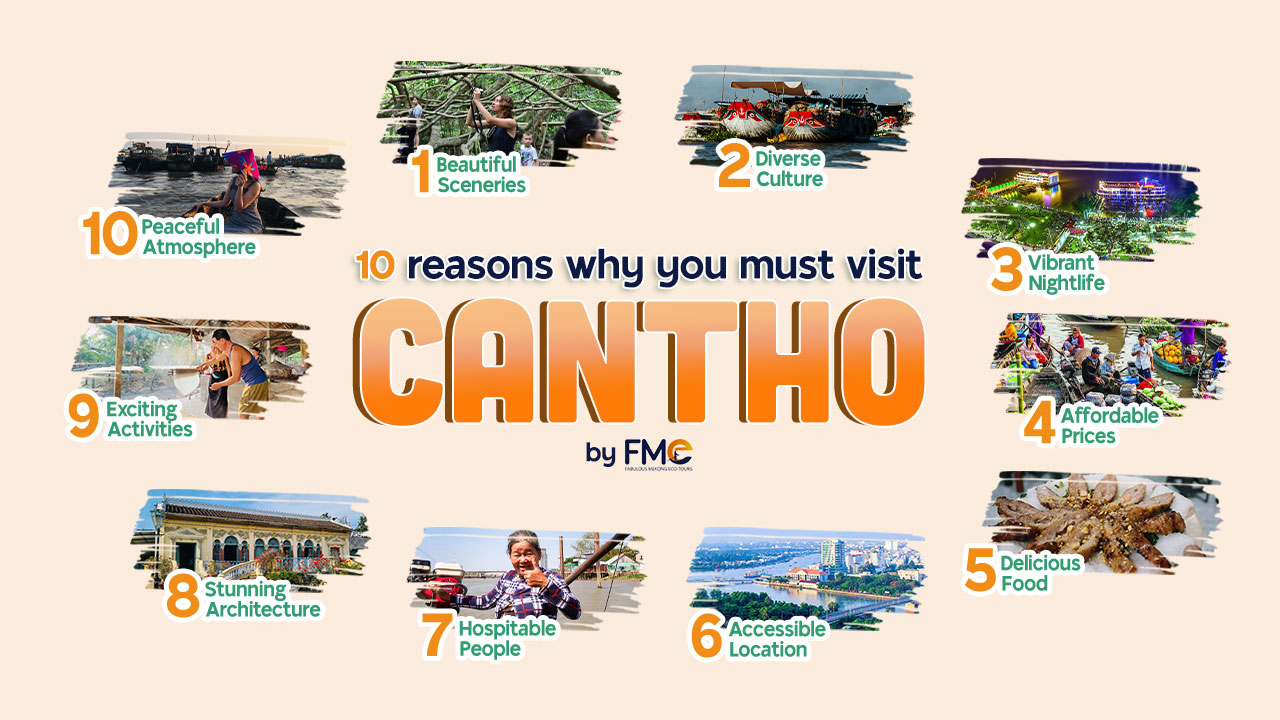 1. Beautiful Sceneries
Can Tho is surrounded by lush green fields and waterways, providing stunning scenery for visitors. Take a boat ride along the Mekong River and admire the picturesque views of the rice paddies and floating markets. Or, visit the Binh Thuy ancient house, a beautiful house with intricate carvings and stunning architecture.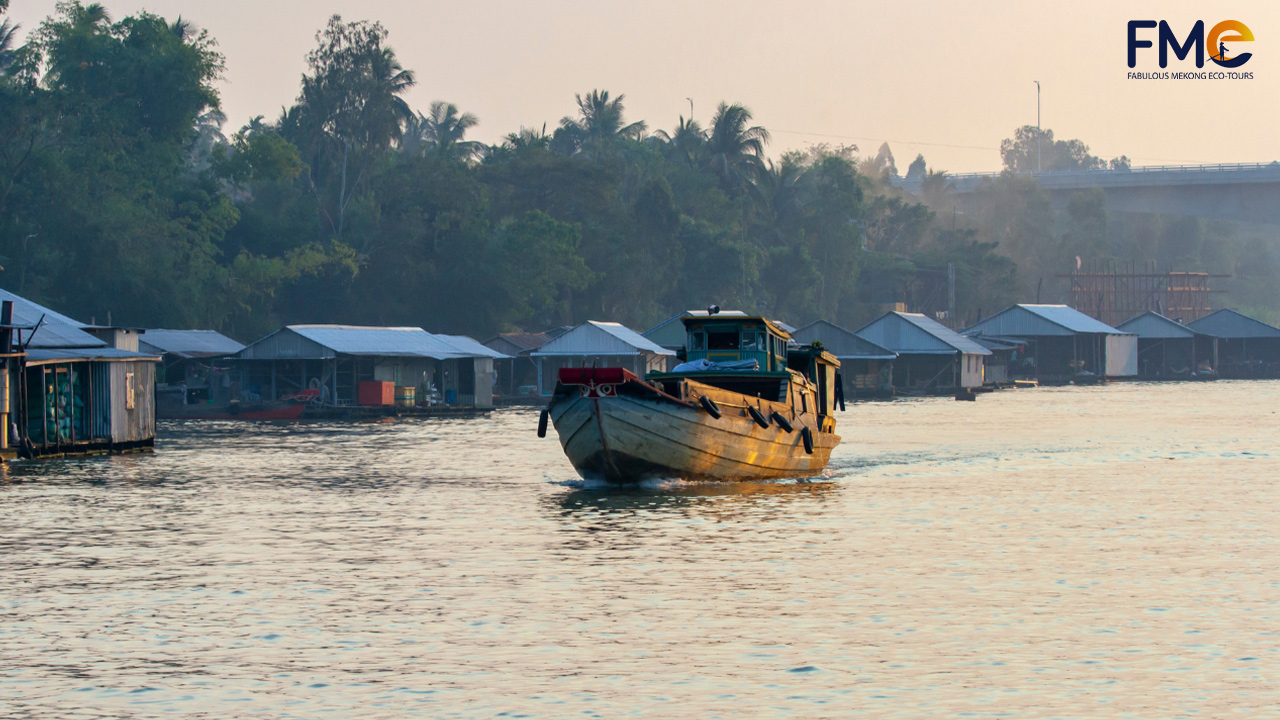 Below are some breath-takingly beautiful landscapes of Can Tho that are highly recommended to visit:
Cai Rang Floating Market
Located in the middle of the Can Tho river, Cai Rang floating market is the Top 1 hotspot that you should not miss visiting when arriving in Can Tho city. This floating market brings you an experience on Mekong Delta locals' lives which are busy but very lively.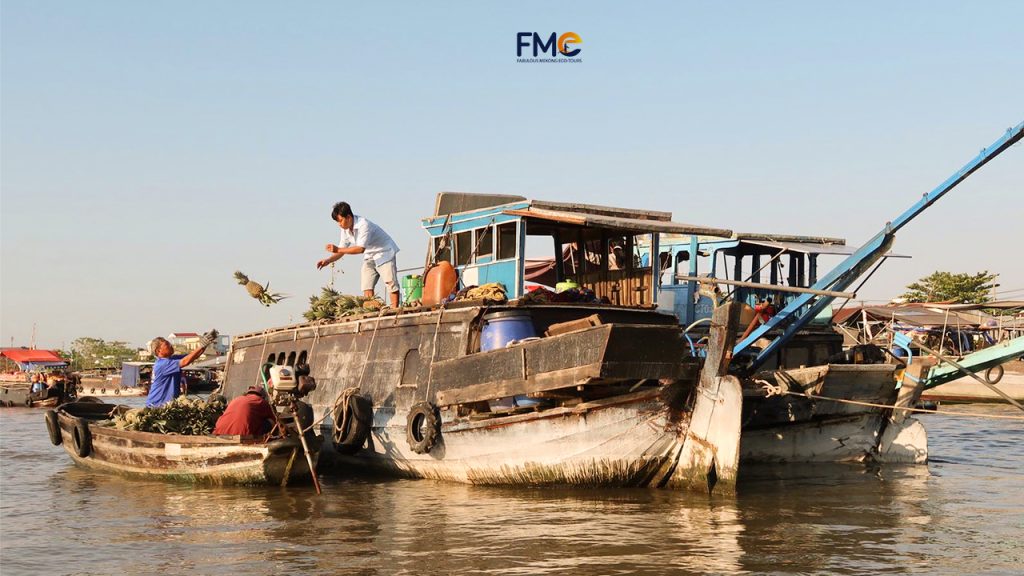 Coming to this place, you will have the chance to taste mouth-watering seasonal fruits, which are the main products sold here, and famous Vietnamese local dishes such as Banh Mi, Hu Tieu (Rice Noodle Soup) on the unique sampan boat.
We also offer Cai Rang floating market tours: Floating Market Cai Rang tour.
Son islet is a tourism-based community located in the Son Islet of Can Tho. Son islet is considered a "green pearl" which is the combination of nature and locals' accommodations. You can immerse yourself in the beautiful, peaceful, fresh atmosphere and rural architecture when coming to Son Islet.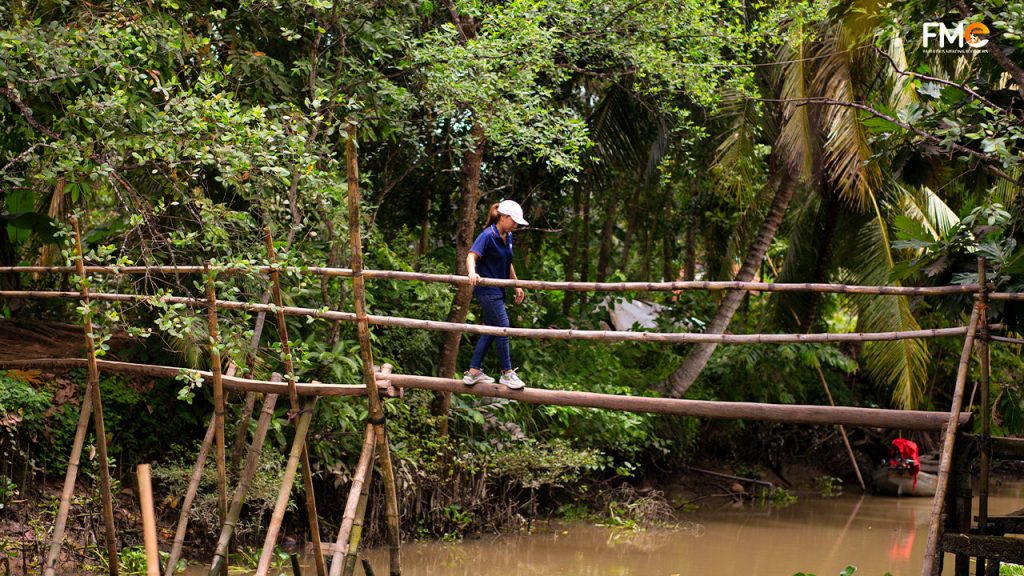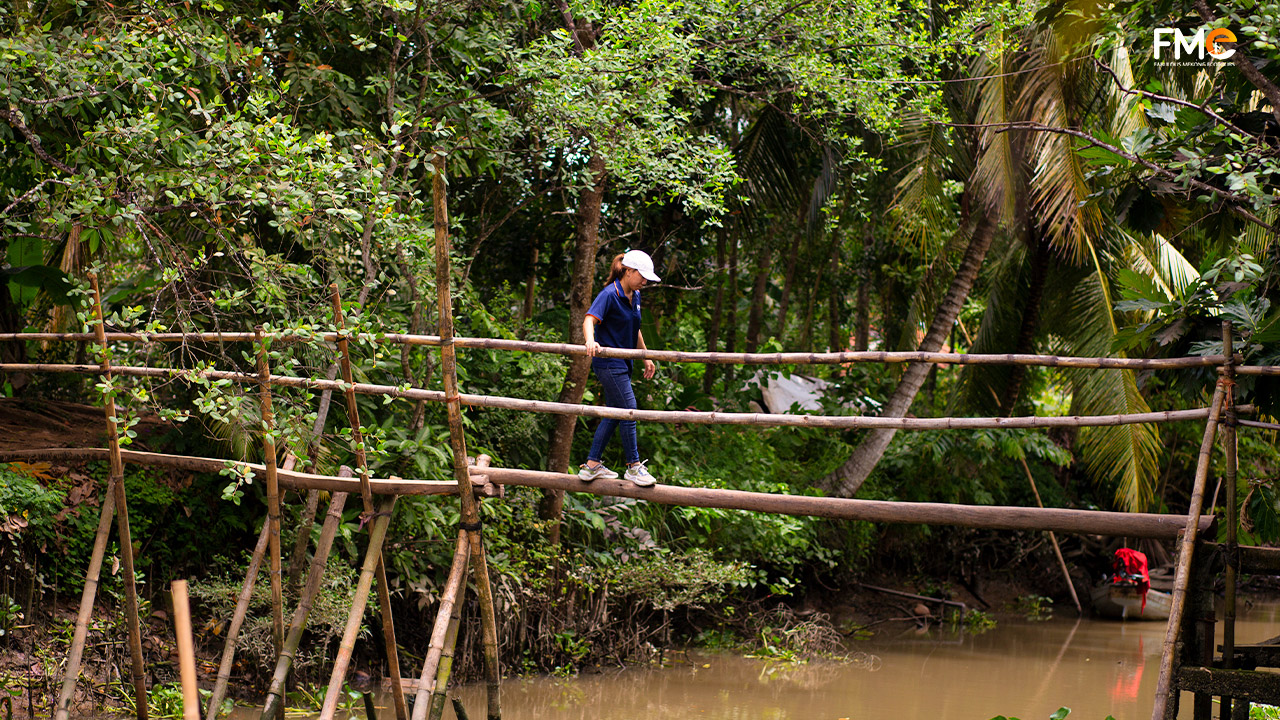 The activities you can do here are various in terms of cultural and agricultural, you can learn about how the locals here raise different freshwater fishes, learn about traditional handicrafts showcasing by handicraft artists, try local dishes and so on.
Click the link here to get more information about Son islet or book a Son Islet tour at our website: Son islet tour.
Arriving in the land of Tay Do, Can Tho, we cannot help but visit a historical relic that is said to have been formed for a long time and it has maintained its beauty through the challenge of time, it is the Gian Gua Relic.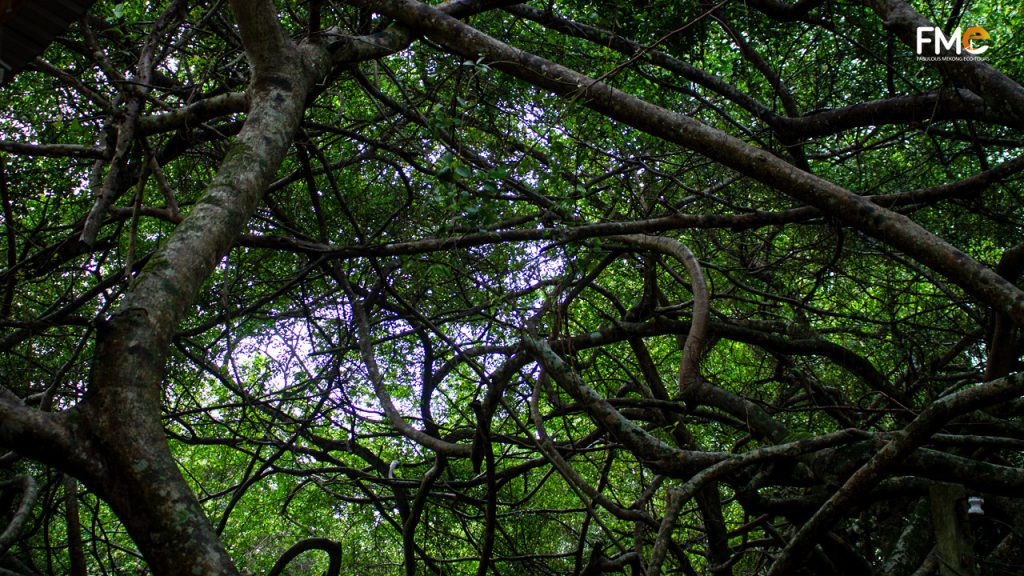 The historical site of Gian Gua is one of the pride of Can Tho. Today, this is also a place to keep many heroic historical vestiges of the nation's golden age. This is also a place for people's cultural and religious activities to pray for peace, good weather, good business and prosperity.
2. Diverse Culture
Can Tho is home to a diverse culture, with a history dating back to the 7th century. The city is known for its traditional crafts, such as woven mats and ceramics, and also boasts a vibrant food scene, with a variety of local and international cuisine.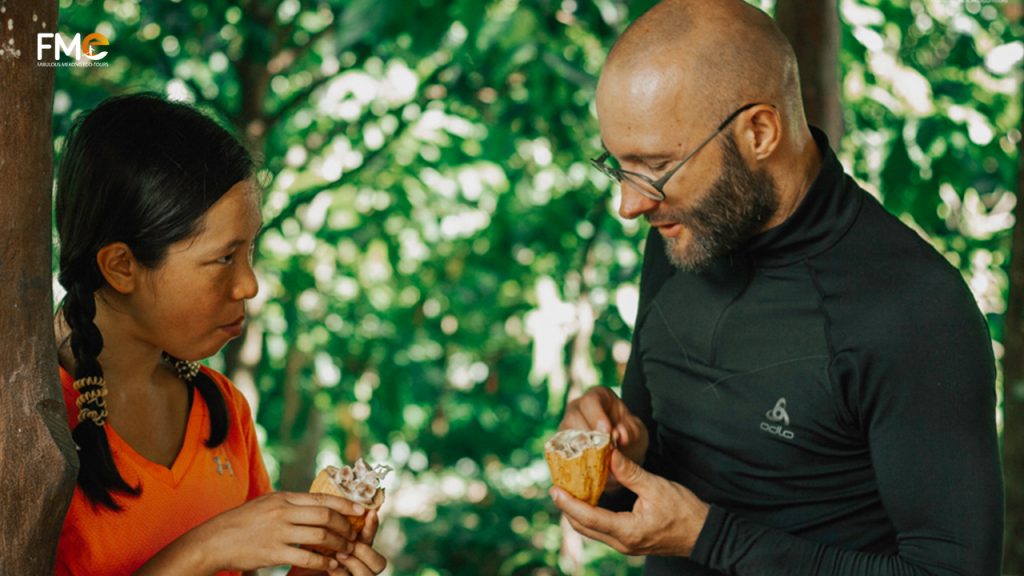 Visitors can learn about the local culture by visiting museums and traditional villages, or by joining in on the many festivals and events held throughout the year.
You may visit these following places to dig deeply into the Can Tho's culture:
Ong Temple
Located in the most hustle and bustle place of Can Tho city – Ninh Kieu Wharf, Ong temple has become a place that people must come whenever they visit this city. Tourists can easily be attracted by the old, beautiful design that captures the traditional and cultural Chinese architecture. 
While many Vietnamese people popularly call this building as Ong temple, the real name of this place is Kuang Tsao assembly hall.
Stepping into this assembly hall, not only will visitors explore an ancient building but discover the customs and beliefs of Chinese people living in Viet Nam (Hoa people).
Nam Nha Temple
Built as a Chinese pharmacy at an early time, Nam Nha quickly changed its functions as a temple and revolutionary base.
This temple is also famous for its architecture. Constructed in the colonial period, Nam Nha temple's architecture is the combination between the Western and the Eastern styles.
Nam Nha temple is not just famous for its beautiful structure, peaceful atmosphere but also for supporting revolution and raising people's education at that time.
You may be interested in reading: Top 8 Must-Visit Temples In Can Tho
Cocoa Farm
It will be a miss if you travel to Can Tho without stopping by Mr. Muoi Cuong cocoa farm. We believe that Mr. Muoi Cuong and his farm are absolutely worth a visit.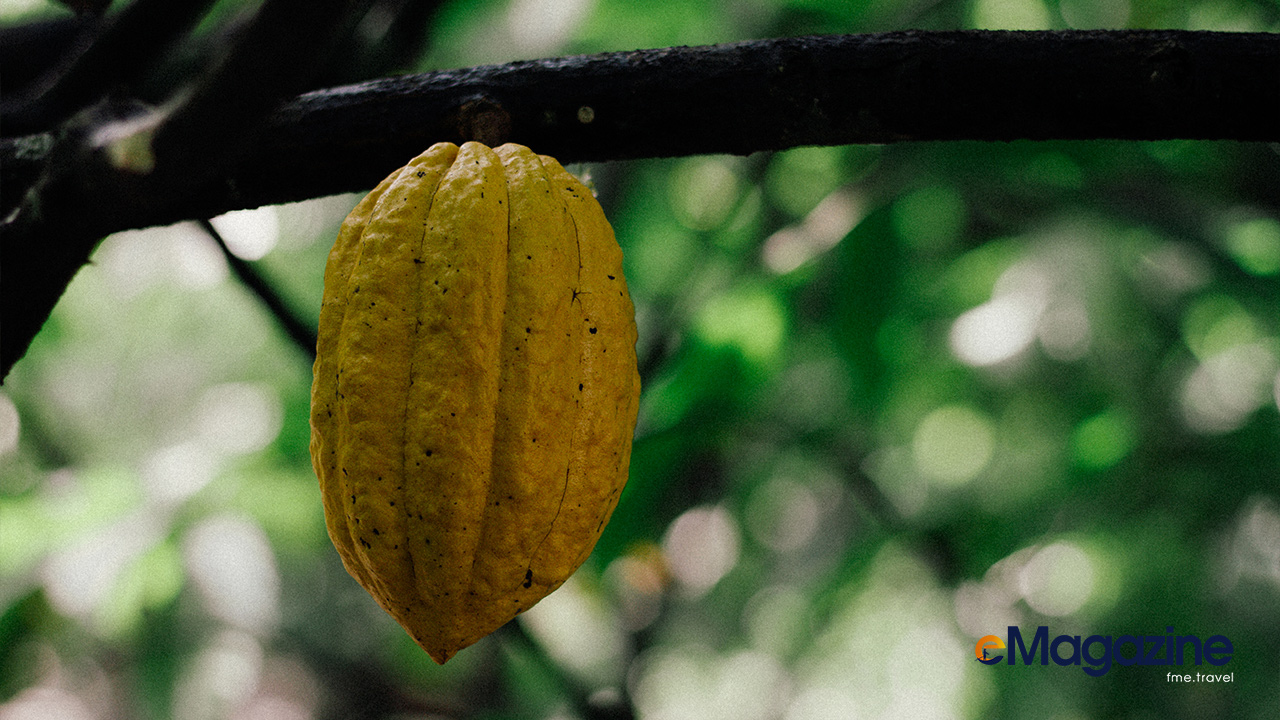 Muoi Cuong cocoa farm, a 60-year-old cocoa farm, is one of the most attractive destinations that you must visit. Coming to Muoi Cuong farm in Can Tho, you have an opportunity to enjoy the tranquil atmosphere, and especially learn how to make Chocolates from cocoa beans.
Click the link here to get more information: Muoi Cuong Cocoa farm.
Or book: Cocoa Farm Tour in Can Tho.
3. Vibrant Nightlife
Can Tho offers a lively and exciting nightlife, with a variety of bars, clubs, and restaurants to choose from. Whether you're in the mood for a quiet drink or an all-night party, you'll find something to suit your taste in Can Tho.
4. Affordable Prices
Compared to other popular tourist destinations in Southeast Asia, Can Tho offers affordable prices for accommodation, food, and activities. This makes it a great destination for budget-conscious travelers, without sacrificing on quality or experience.
5. Delicious Food
Can Tho is famous for its delicious cuisine, including traditional dishes such as Banh Xeo (Vietnamese pancakes) and Bun Bo Hue (beef noodle soup from Hue). With a variety of street food stalls and restaurants to choose from, visitors can sample the local flavors and experience the city's culinary heritage.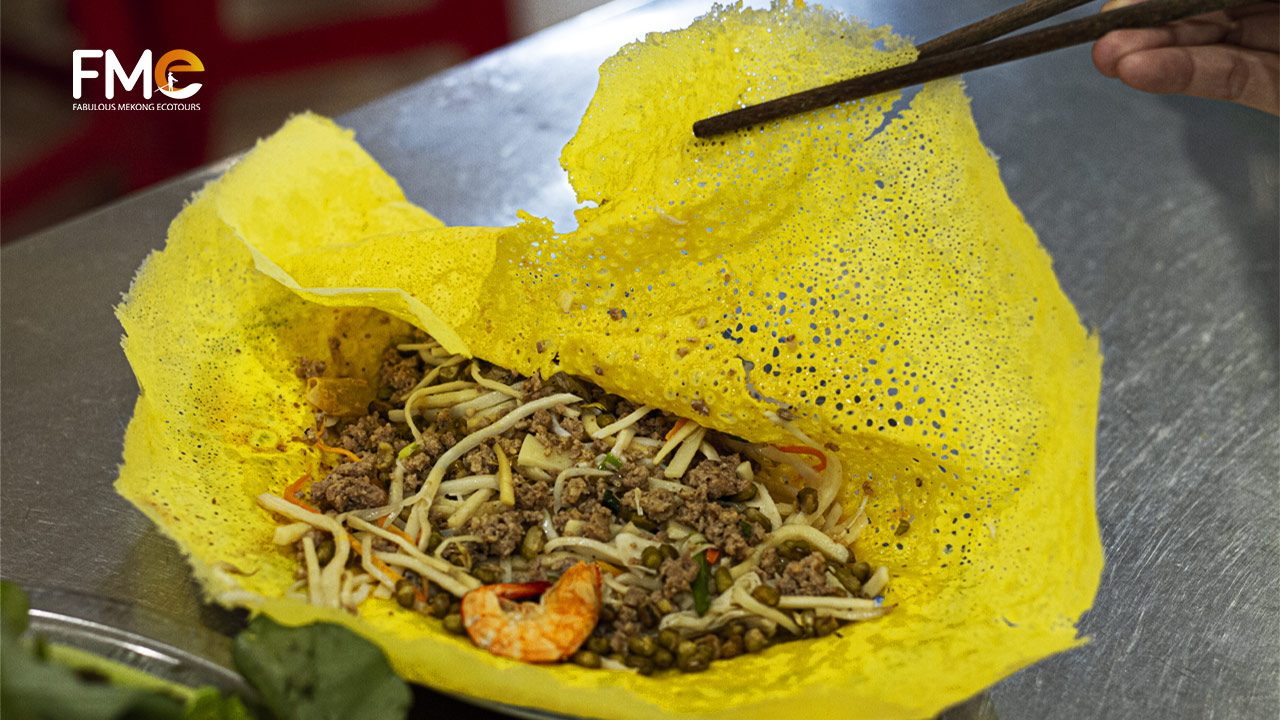 Check the list below to find out more unique and delicious traditional dishes in Can Tho:
Banh Cong (Vietnamese Fried Shrimp Cake)
Banh Cong, also known as Fried Shrimp Cake, is a common afternoon or evening snack in Can Tho. This food is made from rice and soy flour, mung beans, shredded taro, minced pork, and shrimp. It comes with lettuce, a variety of fresh herbs, and either a sweet or sour dipping sauce.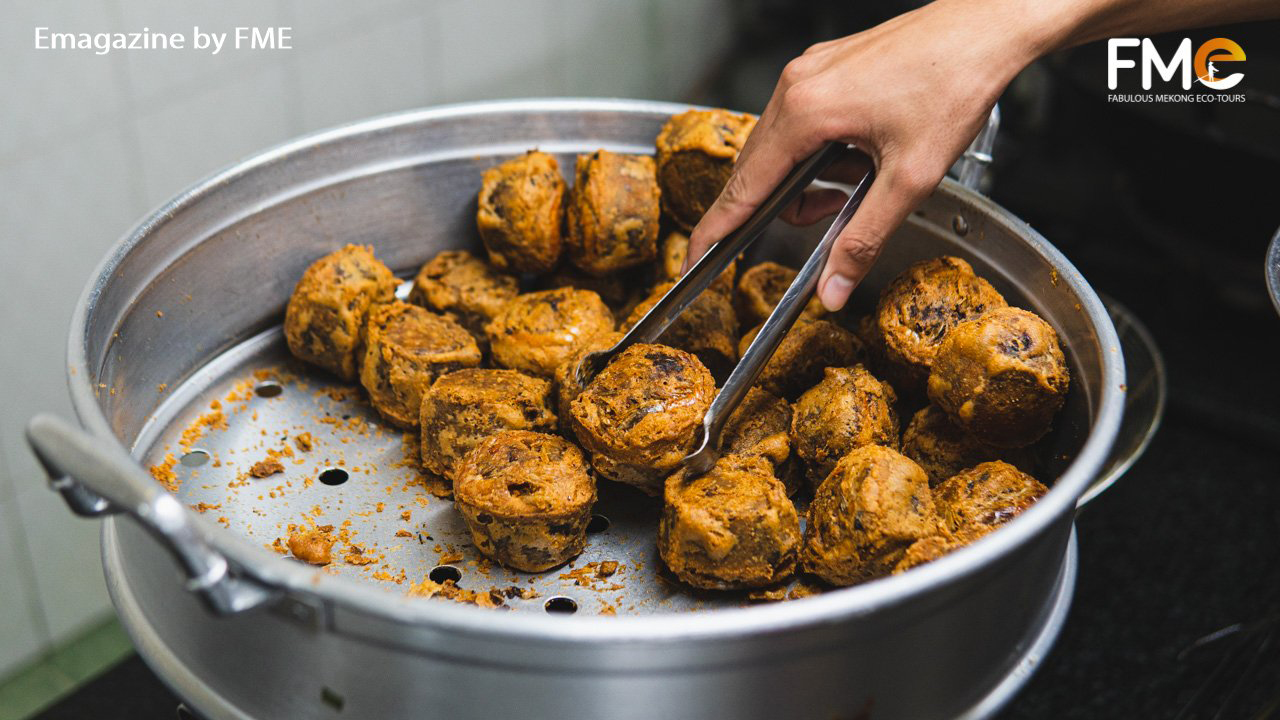 Find out more stories about Banh Cong dish via Emagazine: Banh Cong – A Mekong Delta crispy cupcake
Nem Nuong (Vietnam Pork BBQ Rolls)
Nem Nuong is a popular dish in Mekong Delta Vietnam, but each region has different flavors. It is a combination of minced pork, pork fat, and garlic which is kneaded until it becomes chewy. Pork that has been well-kneaded and made into balls is skewered on bamboo skewers and roasted over charcoal.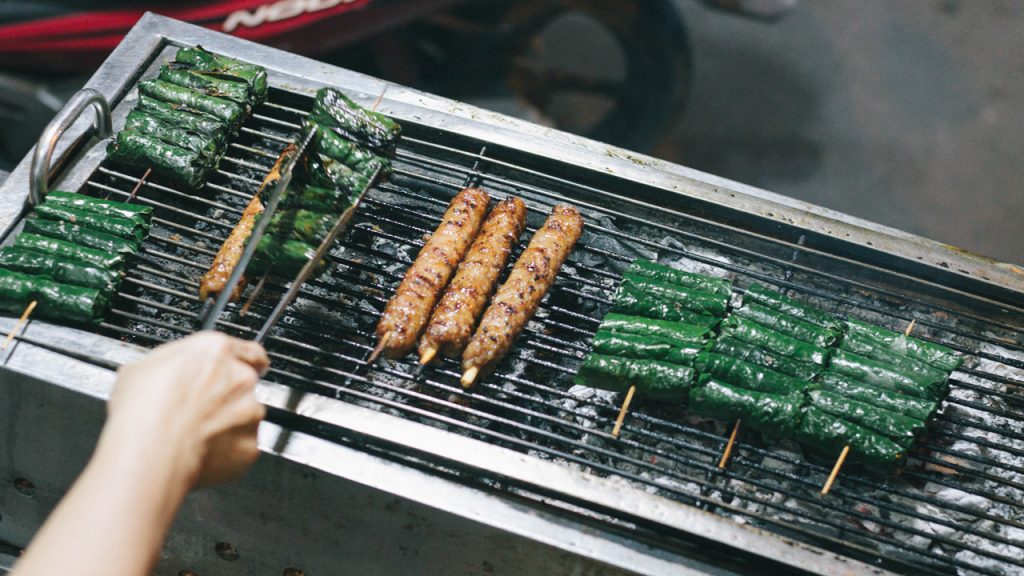 Nem Nuong is usually eaten with Banh Hoi and accompanied by herbs, carrot-daikon pickles, and vegetables. You can also roll all of them in the rice paper and dip it into a special mixture of fish sauce.
Learn more with inspiration via Emagazine: Nem Nuong – Vietnam Pork BBQ ROLLS in Can Tho
Vit Nau Chao (Vietnamese Duck With Fermented Bean Curd Hotpot)
Vietnamese duck with fermented bean curd hotpot is recognized by the Vietnam Record organization as one of the top 100 unique Vietnamese dishes. This dish has a very fragrant and attractive smell. Also, it has an eye-catching color so it will be very attractive to those who enjoy it.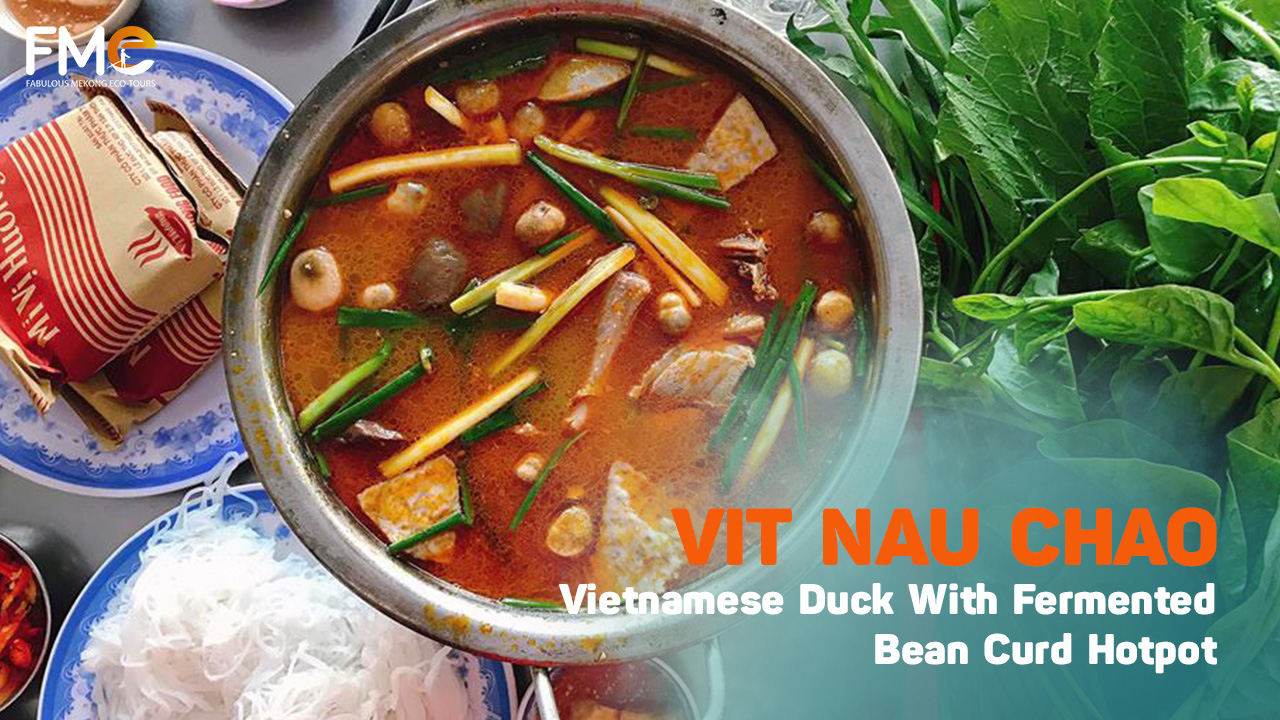 You may be interested in Top 10 Must-Try Local Food In Can Tho – FME Travel or Experience street food in Can Tho with FME Travel: Food tours in Can Tho
6. Accessible Location
Can Tho is located in the heart of the Mekong Delta, making it a convenient starting point for exploring the surrounding areas. Visitors can take day trips to nearby towns and villages, or embark on longer journeys to the nearby beaches and national parks.
Which provinces near Can Tho that you should pay a visit to:
Dong Thap
Dong Thap is located 90 km from Can Tho, and about 147 km from Ho Chi Minh City. Located in the Dong Thap Muoi area with cultural heritages bearing the mark of the time of reclamation, many revolutionary historical relics and beautiful landscapes. Dong Thap deserves a place that should be on your list of places to travel on the Mekong Delta travel itinerary.
An Giang
An Giang is a province located in the southwest of Vietnam, in the Mekong Delta bordering Cambodia, 126 km from Can Tho, and 187 km from Ho Chi Minh City.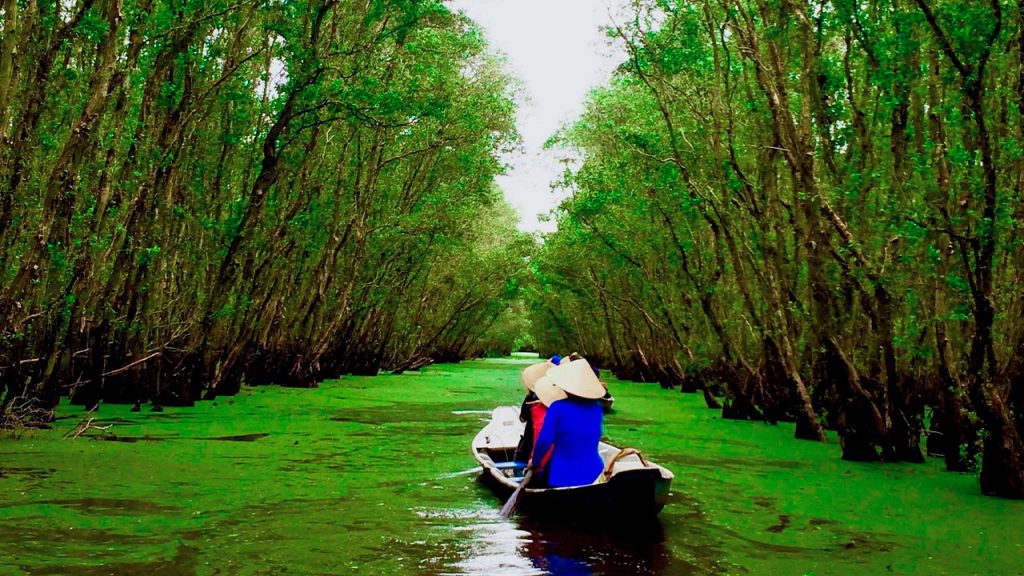 With the blending of breath-taking natural landscapes, lush green melaleuca forest and the long-term religious culture, An Giang is an ideal place to experience the Mekong Delta's eco-tourism in Vietnam.
7. Friendly People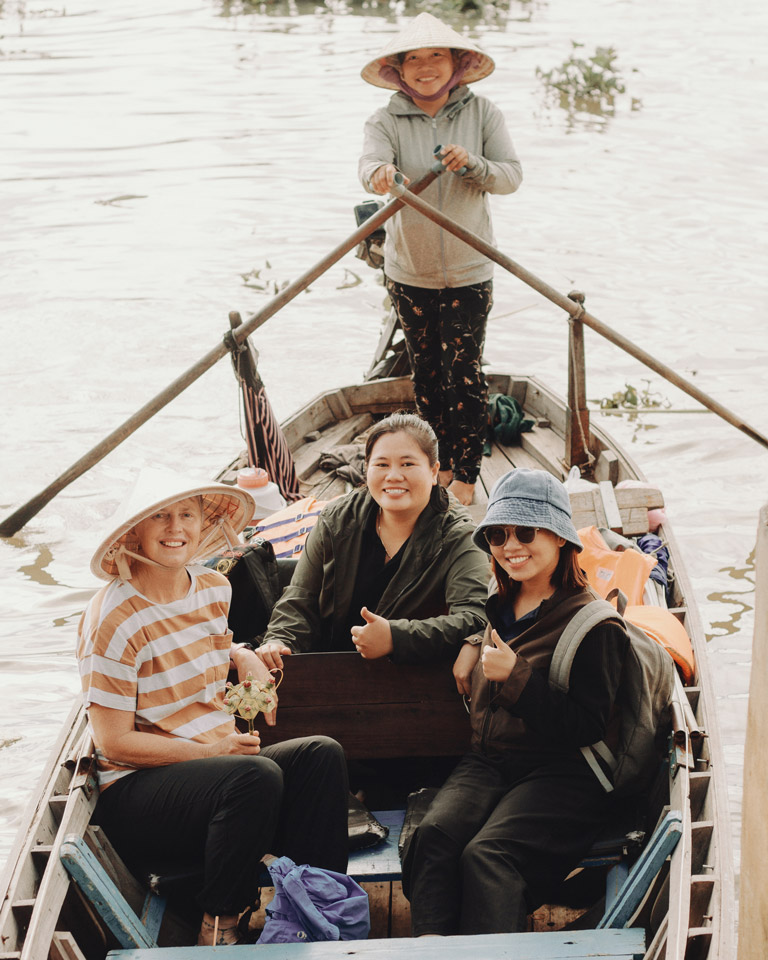 The people of Can Tho are known for their warm and welcoming nature, making visitors feel right at home. Whether you're looking for advice on where to go or just want to chat, the locals are always happy to help.
8. Stunning Architecture
Can Tho is home to a variety of architectural styles, including traditional Vietnamese, French colonial, and modern buildings. Visitors can admire the stunning architecture by taking a stroll through the city's streets, or by visiting the many temples and museums.
9. Exciting Activities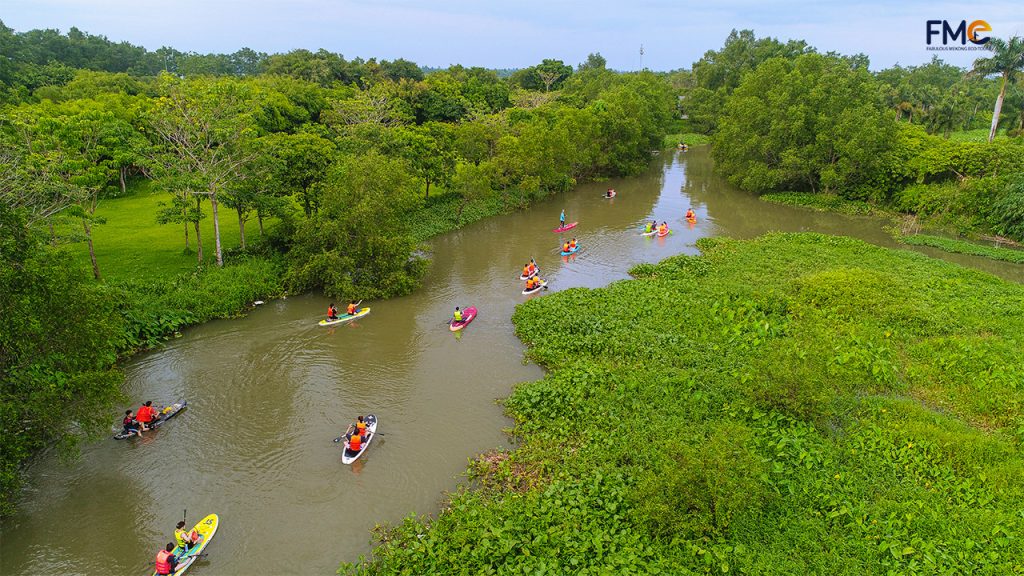 There's never a dull moment in Can Tho, with a variety of exciting activities to choose from. Take a bike ride through the countryside, go kayaking on the rivers, or take a cooking class to learn about the local cuisine. There's something for everyone in Can Tho.
Discover attractive and adventure tours in Can Tho that you should not miss:
10. Peaceful Atmosphere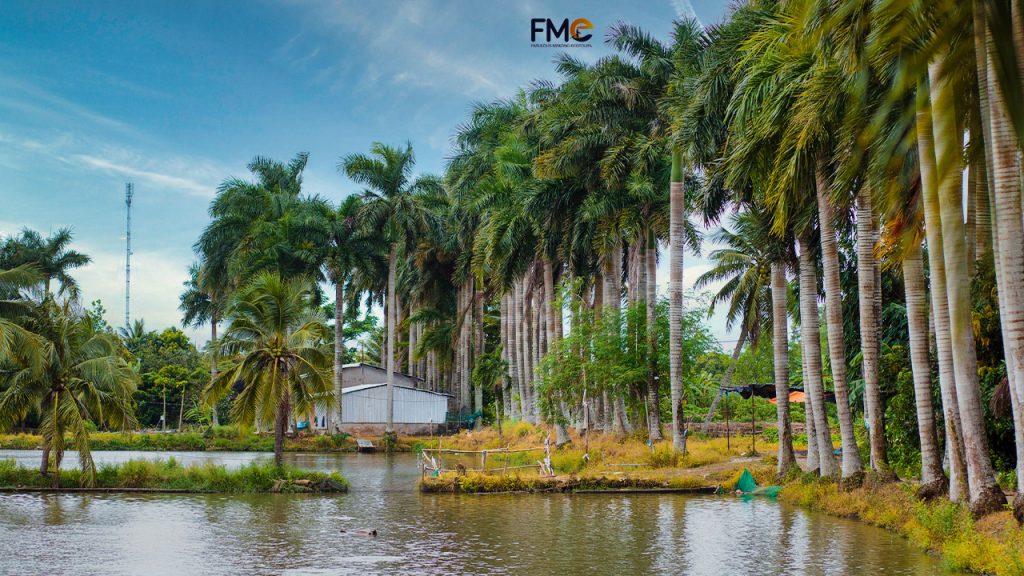 Despite its vibrant atmosphere, Can Tho is known for its peaceful and relaxed vibe. Visitors can escape the hustle and bustle of city life and enjoy the slow pace of life in the Mekong Delta.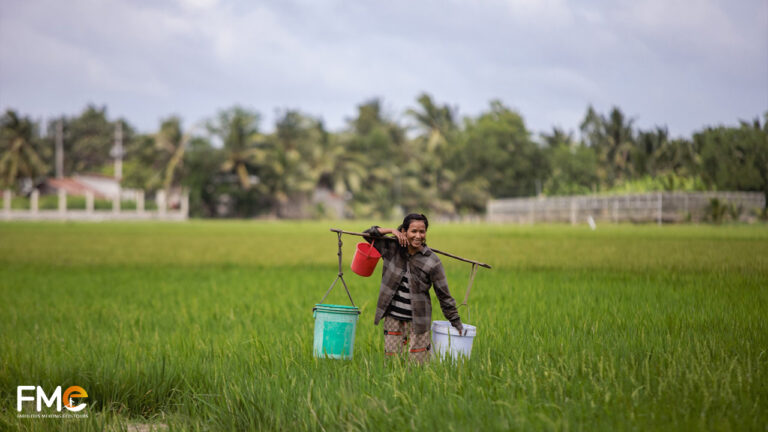 Images of the countryside in An Giang Vietnam, where honest farmers, rice fields, trees, cows, green rice-colored roads,... Explore photos now!
The Most Popular Tours offered by FME Travel