Top places for Christmas in Can Tho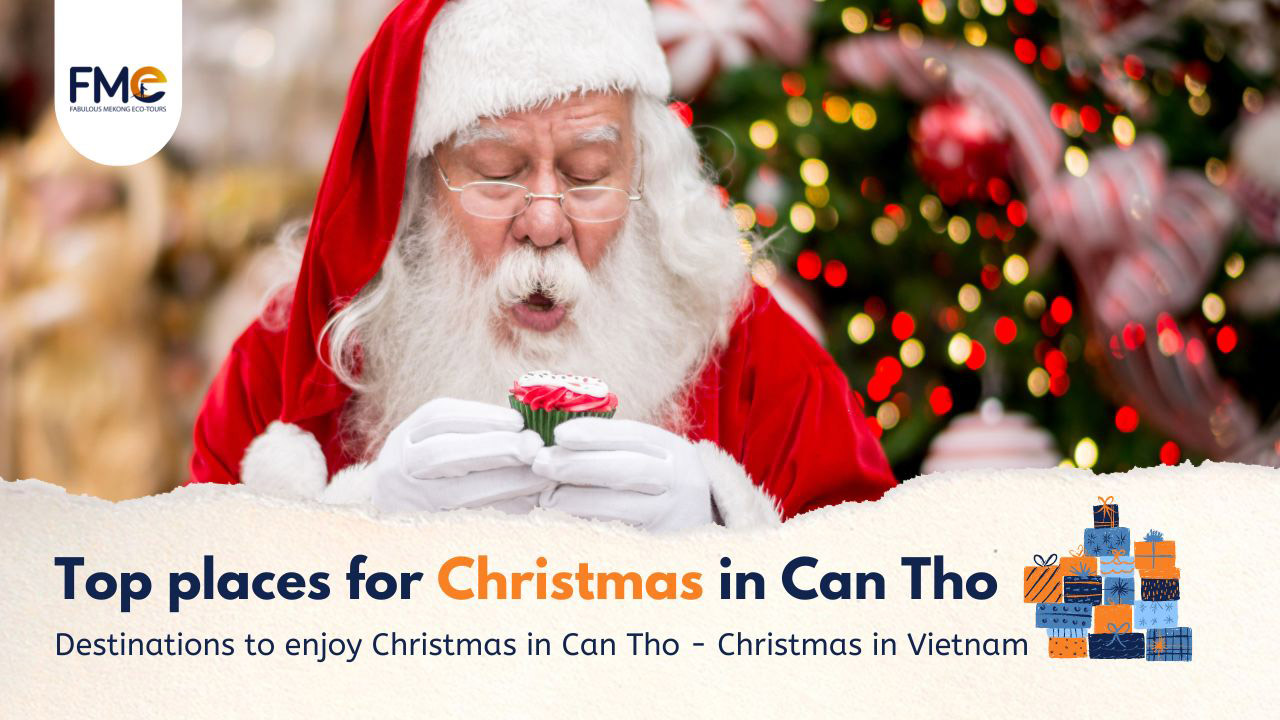 Christmas is a time to celebrate, relax and travel. Although there is no Christmas festival in Can Tho as a traditional festival, there are some of the places worth visiting during this festive season when you come to Vietnam.
At Christmas, the streets and the shopping centers in Can Tho are lit up and decorated with Christmas-themed items. So, have you chosen a place to spend Christmas in Can Tho yet? If not, you can refer to the proposal below from Fabulous Mekong Ecotours.
1. Vincom Shopping Center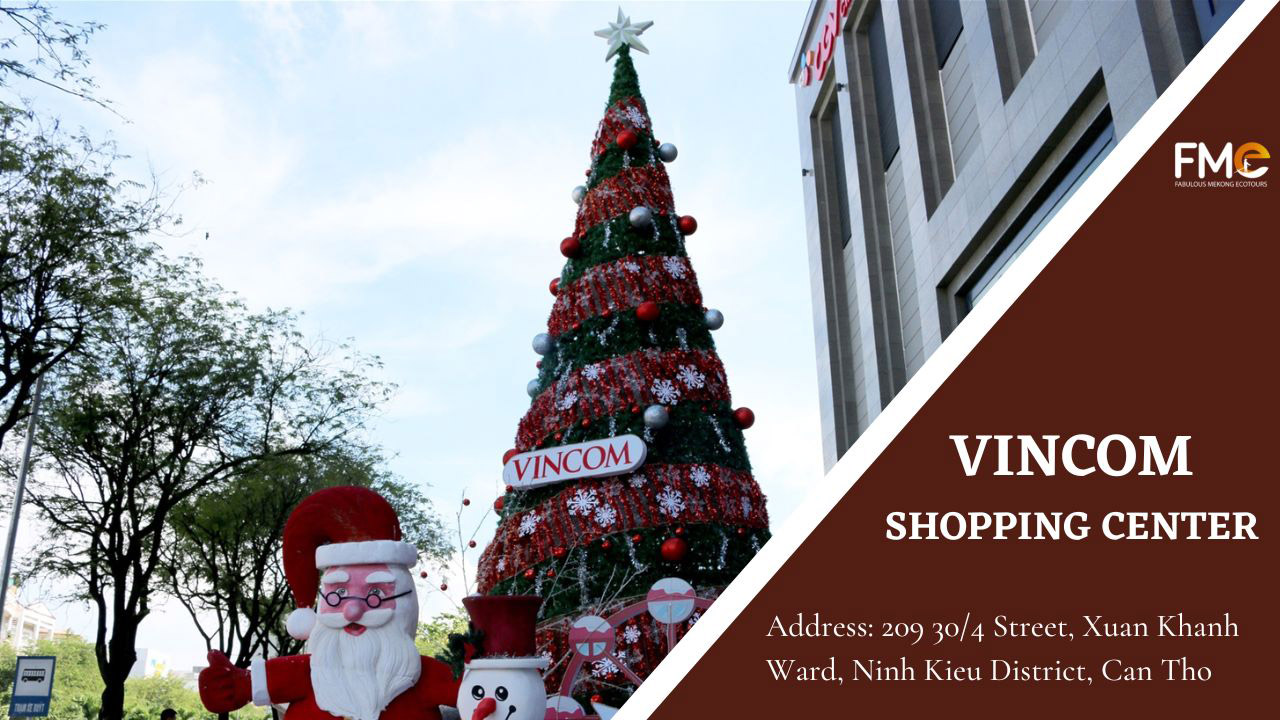 Vincom Shopping Center is one of the famous Christmas places in Can Tho. At the Vincom shopping center system, this place is always decorated with a specific theme every Christmas. This is one of the top Christmas check-in places in Can Tho that you should not miss.
From the beginning of December, this place has been decorated splendidly with the investment from the giant Christmas tree, Santa Claus, the snowman, etc. along with adorable penguins. Every year, Vincom attracts thousands of people to check in, including those from other provinces.
2. Check-in for Christmas at coffee shops in Can Tho
The cafes in Can Tho are decorated very impressively and magnificently every Christmas so that customers can enjoy a wonderful Christmas.
Tiệm Trà Cỏ Ngọt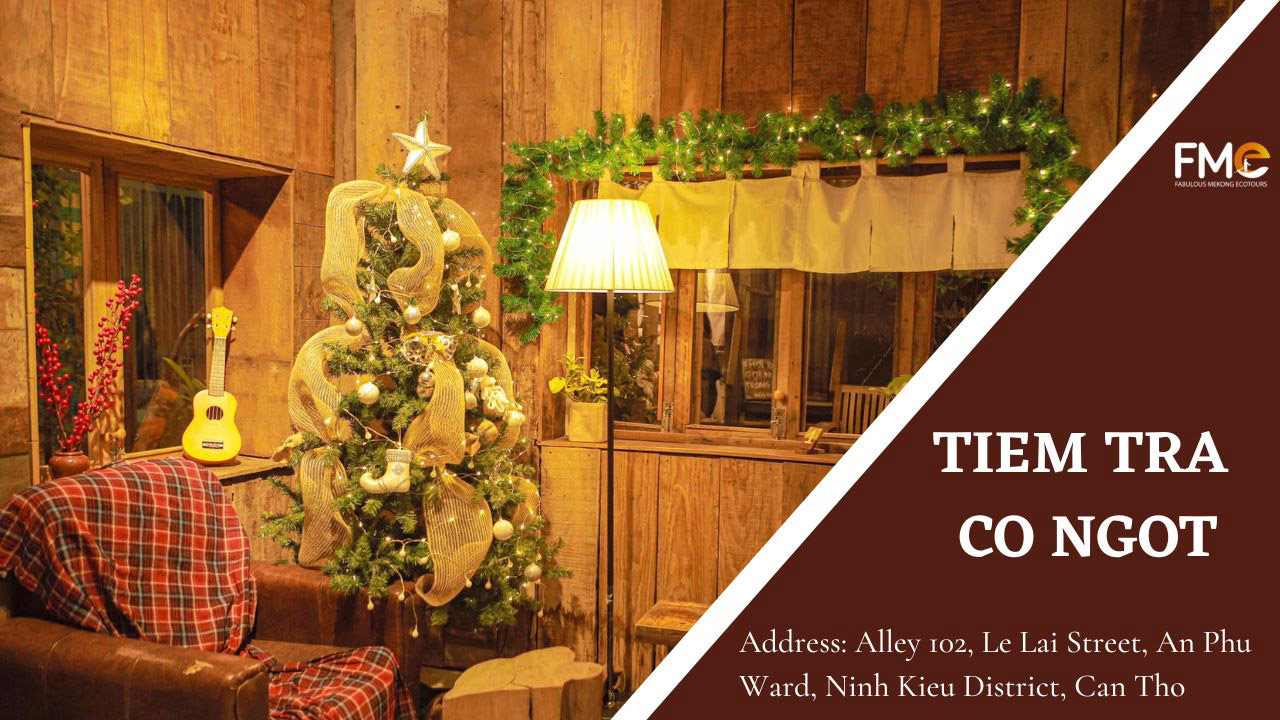 If you want to find a vintage style decorated place to hang out and spend your Christmas holidays, then "Tiệm Trà Cỏ Ngọt" will be a worthy destination.
This cafe is located in a small alley in Can Tho, so it is extremely quiet. Every Christmas, this place is decorated with extremely cute accessories such as Christmas trees with colorful gift boxes. The shop mainly uses brown tones, and the signs are hand-painted, so there is a hint of nostalgia.
"Tiệm Trà Cỏ Ngọt" is not only a famous Christmas check-in place in Can Tho, but it also serves a variety of drinks and cakes for you and your friends to enjoy.
Canh Nau Garden Coffee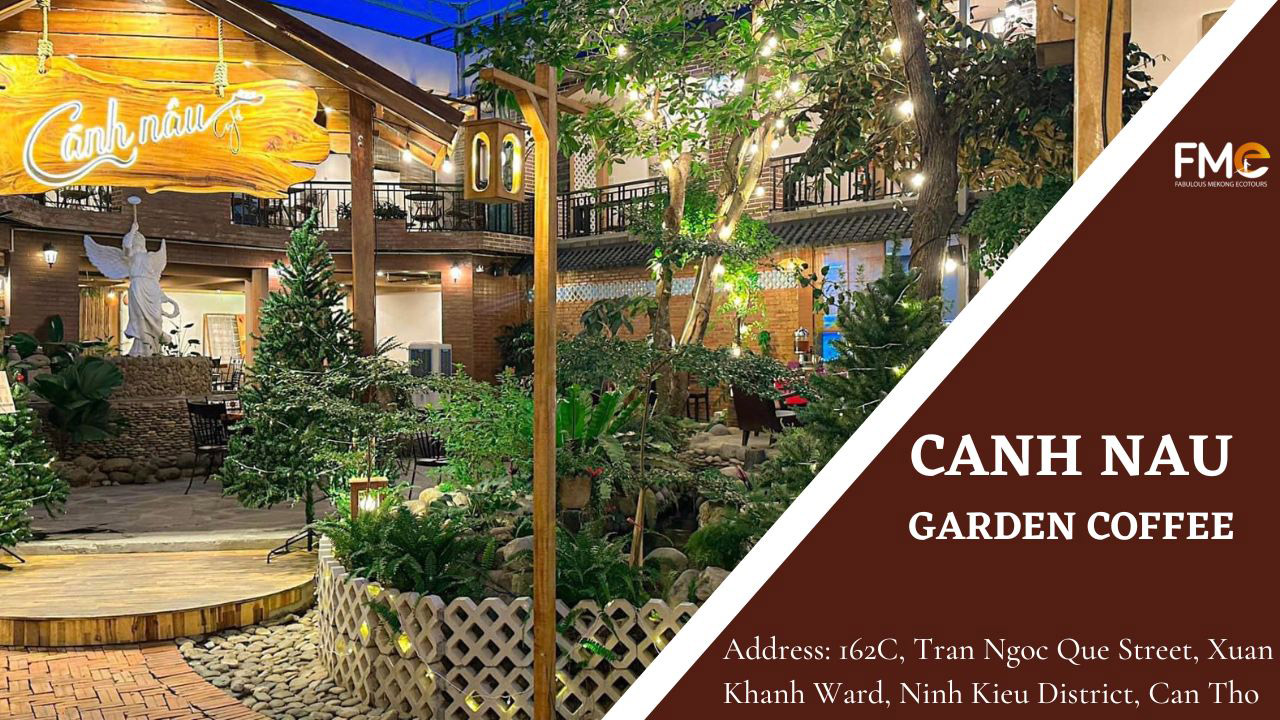 As one of the cafes with a spacious and airy space, Canh Nau Garden Coffee attracts a large number of young people to check-in. Not only that but on Christmas occasions, this place is beautifully decorated to create a joyful but equally romantic atmosphere. Couples who are looking for a place to spend Christmas in Can Tho can consider this place!
The NEE Kaffee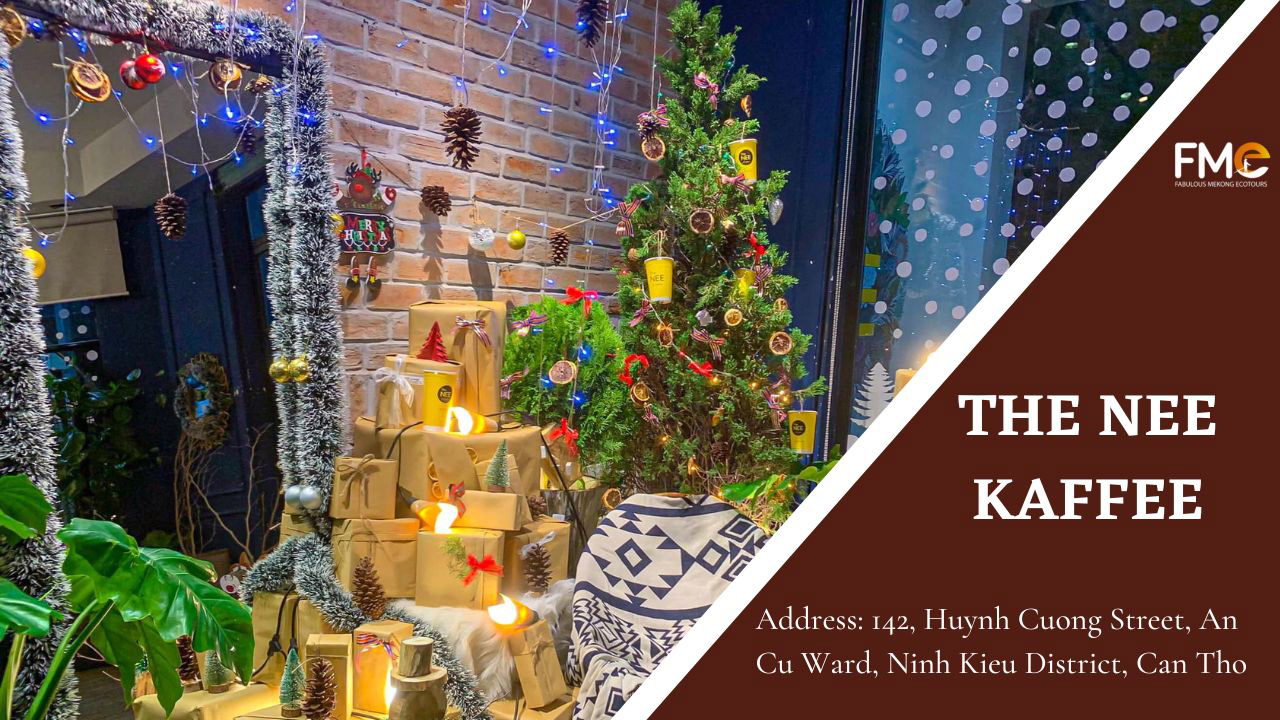 Although the prices at The NEE Kaffee are a bit high, if you try to visit this place once, you will not be disappointed. As one of the famous places to hang out at Christmas, the shop attracts visitors with its beautiful virtual living views. The restaurant is designed with a minimalist style but is extremely modern. In addition, when you come here, you can also see the romantic lakeside view.
Address: 142, Huynh Cuong Street, An Cu Ward, Ninh Kieu District, Can Tho.
Opening hours: 8 am – 10 pm.
Looking for more information: Best Coffee Shop in Can Tho.
3. Check-in for Christmas at bars in Can Tho
The bars in Can Tho are also places you should not miss at Christmas.
Iris Sky Bar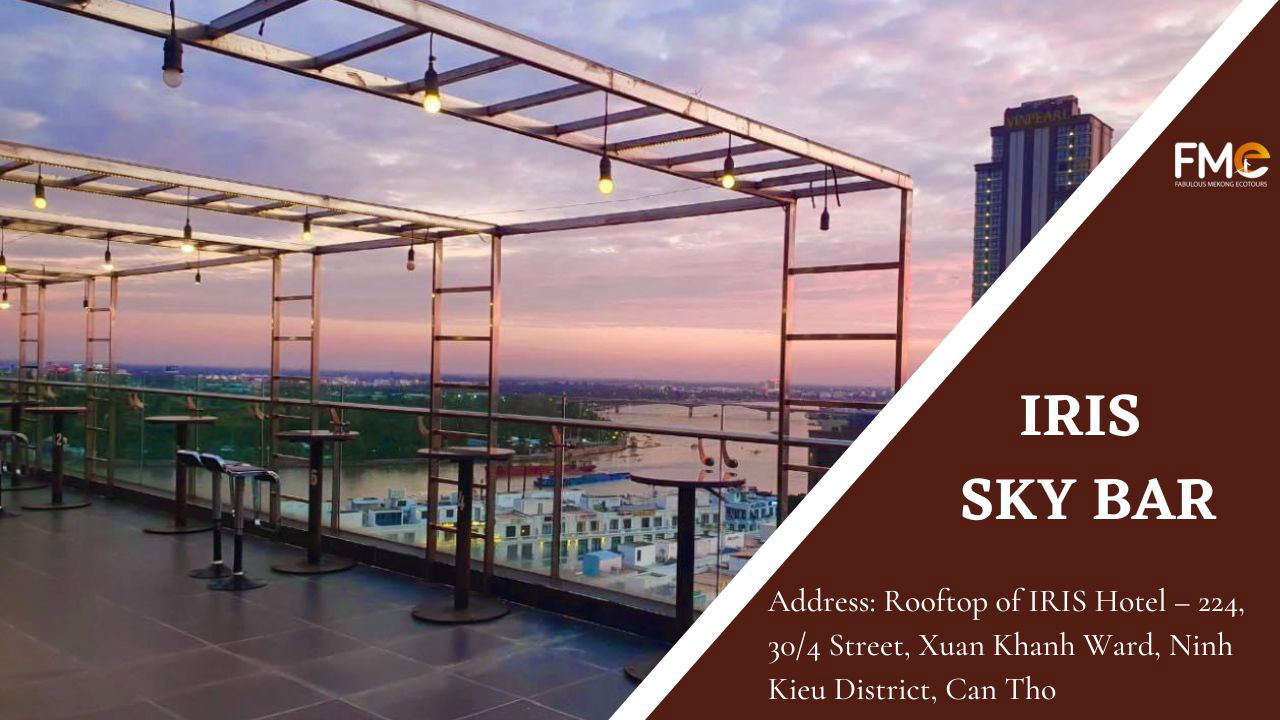 Iris Sky Bar with its luxurious, spacious, and beautifully decorated space is considered the ideal space to help you save beautiful moments for this Christmas. The bar is located on the rooftop of the IRIS Hotel, with a view overlooking the street 30/4 – one of the main and most beautiful streets in Can Tho.
Here, you can both enjoy delicious drinks, and see the panoramic view of Can Tho city from the top and feel the panoramic view of Can Tho shimmering to infinity. Comfortable, airy space, melodious music, and beautiful scenery are what Iris Sky Bar will bring to you.
During special festivals such as Christmas, Iris Sky Bar has dedicated a large space decorated with an impressive Christmas tree so that customers can take unique photos and check in for free.
This will be an interesting place if you need to find an ideal place to meet friends on these Christmas occasions. Come and enjoy the wonderful space here!
Déjà Vu – Cocktail & Wine Bar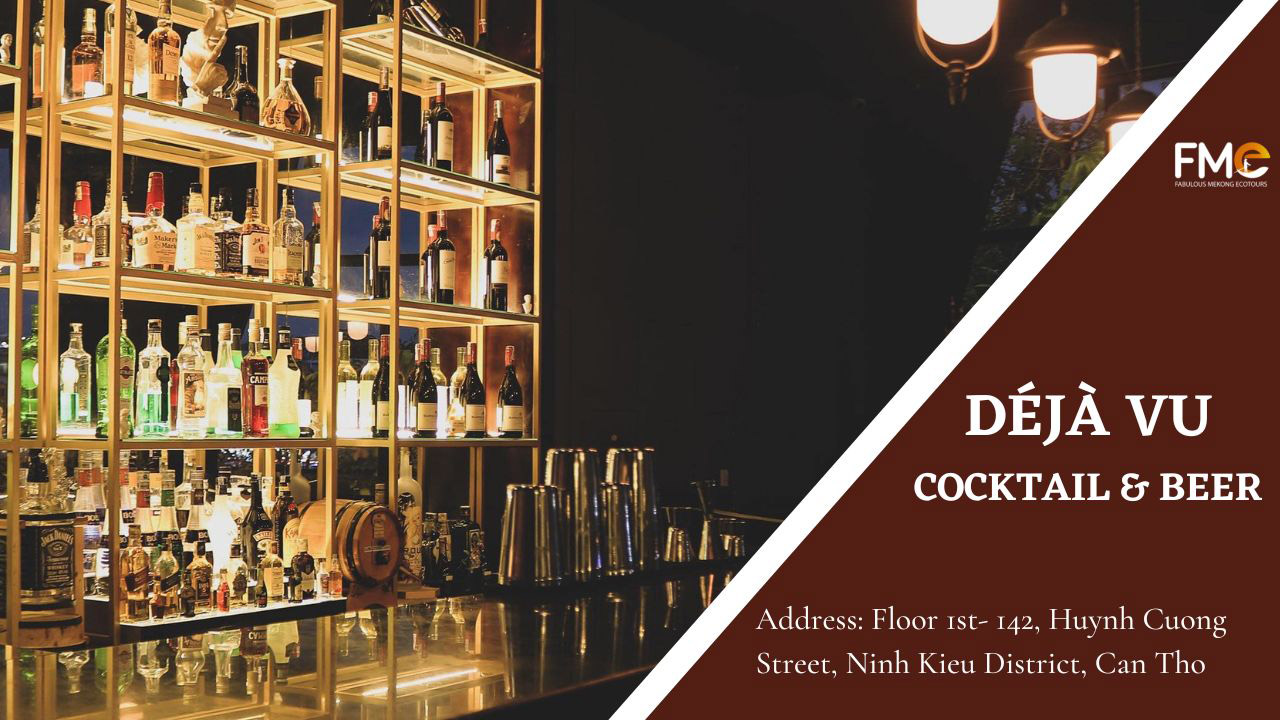 Déjà Vu – Cocktail & Wine Bar is a bar specializing in wine and cocktails in Can Tho. The shop is located on the 1st floor of a building with a very chill lakeside view. There is no loud music and no vibrant lights, but Déjà Vu – Cocktail & Wine Bar has the charm of a quiet space.
Coming to Déjà Vu – Cocktail & Wine Bar, you will feel extremely close and familiar. You can choose to sit next to the bar to watch the bartender prepare drinks or choose a position by the window to look out at the romantic scenery outside. At Christmas, the space of this bar will give you the cozy atmosphere of Christmas Eve.
Thompson Taproom – Craftbeer and Cocktail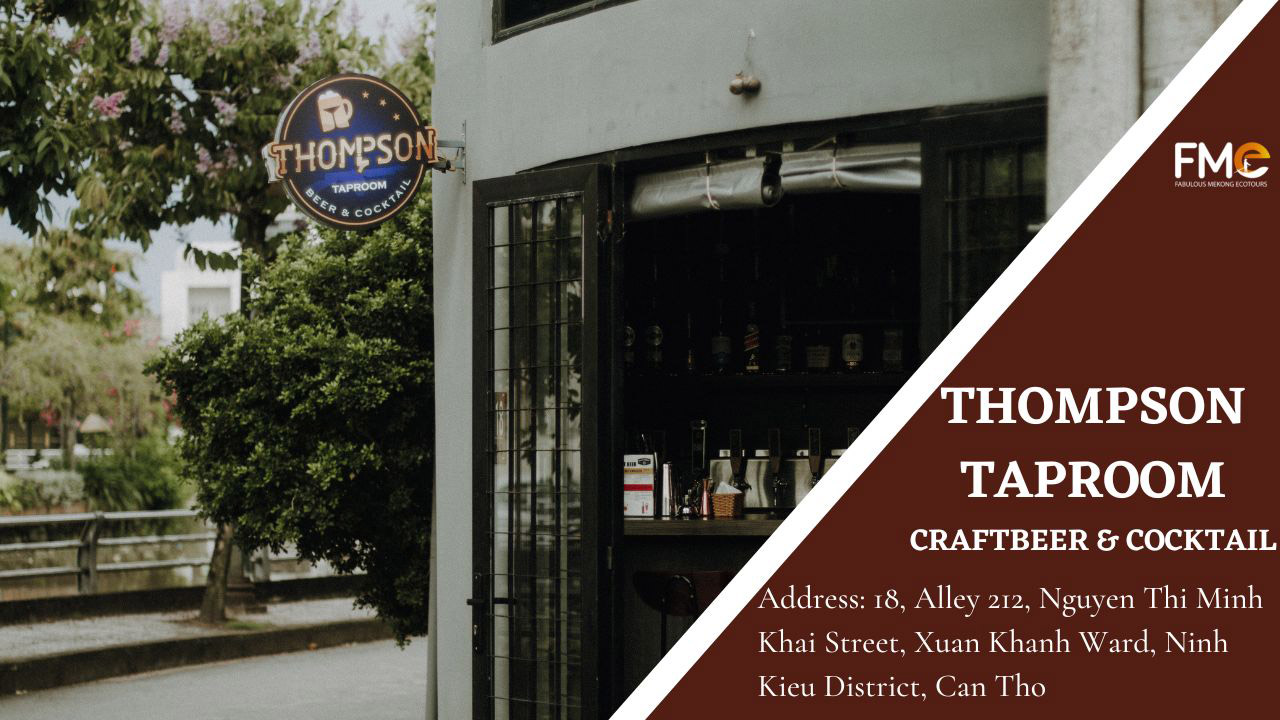 One of the coziest and most private bars in the city is Thompson Taproom – a unique craft beer business. Homemade beers and alcoholic beverages are served cool, flavorful, and tempting at Thompson Taproom along with a cozy atmosphere that is sure to make your Christmas Eve great.
The Heo Bistro – Hidden Cocktail Bar & Kitchen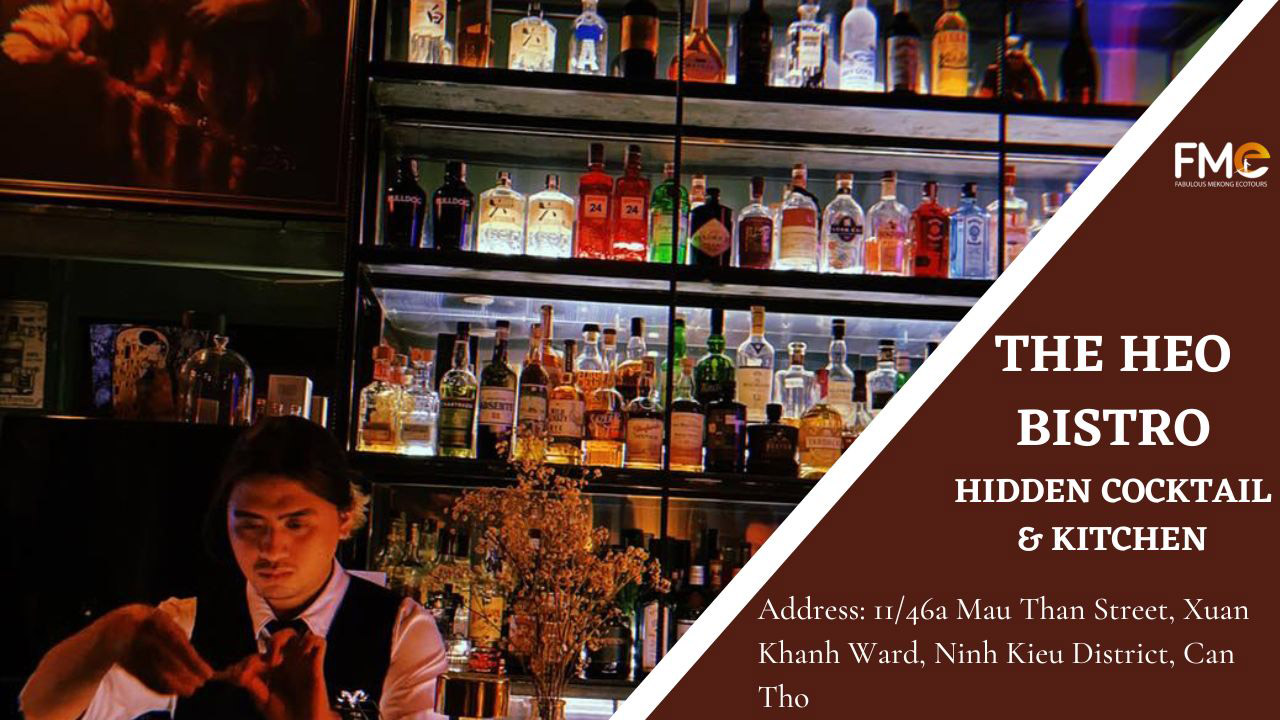 The Heo Bistro is a bar with the concept of a Speakeasy bar, located in an old house at the end of a small alley on Mau Than Street. This bar has a small, cozy and minimalistic space but is extremely friendly, each diner can still feel the freedom, closeness, and youth.
Besides serving cocktails, The Heo Bistro also serves delicious, luxurious, and romantic meals. This Christmas, come to The Heo Bistro to enjoy a small and unique space and enjoy the dishes meticulously prepared by the chef to the melodious 60s Jazz music.
INU Beer Club & Lounge Can Tho
INU Beer Club & Lounge owns a luxurious, spacious space and eye-catching decoration, helping you to save beautiful moments. Coming to Can Tho bar – INU Beer Club & Lounge, you can both enjoy delicious drinks and immerse yourself in a comfortable, airy space, vibrant music, and beautiful scenery. With high-class bar quality, this will be an interesting place if you need to find an ideal place to meet friends this Christmas.
See more: Local food in Can Tho.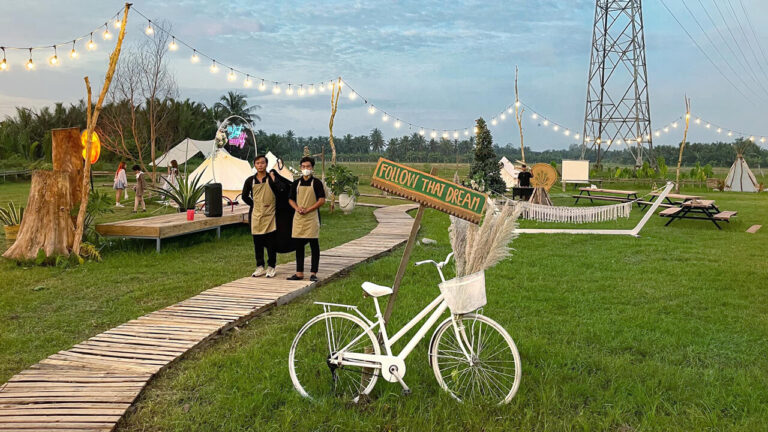 Classique Farm in Tra Vinh emerges as a brand-new outdoor camping destination that has captured the attention of the youth in the Mekong Delta.
The Most Popular Tours offered by FME Travel